Why do we work 5 days?
Market trading on a Monday is like going to a kids softball game when only 4 or 5 kids show up for each team yet they insist on playing anyway and the parents sit on a metal bench for 2 hours watching kids chase balls around. There's a human tendency to follow a plan – even if the plan already looks like a disaster. This just happened to my daughter's game on Saturday and I KNOW everyone would have rather gone out for pizza instead but it was on the schedule and would count in the league standings so we went through the motions – but no one, not even the kids, considered it a real game.
The markets are like that on Monday. Half the traders are still in the Hamptons and the ones that show up aren't into it and volume is usually 2/3 or less than that of a regular day and even the news isn't awake yet and very little data is scheduled (how often do you promise to have a report ready Monday morning?). Still, we go through the motions but I'm not going to pretend it matters – let's just try to enjoy a nice sunny day.
Europe is happy this morning as the Greeks have agreed to yet another round of Draconian austerity measures. Well, everyone but Italy is happy, because they are next on the EU chopping block. Though thousands of protesters rallied outside Parliament yesterday, the Greek lawmakers bowed to Germany's demands (over IMF objections) and slashed $6.2Bn (3% of GDP) worth of spending, mostly coming from pension cuts while, at the same time, increasing the amount workers must contribute into the dwindling pensions.
I have long warned that Greece is simply a petri dish in which the powers that be test just how much crap the people will take before they revolt – so far, it's an amazing amount of crap! What has "worked" for Greece (ie. allowed them to pay usurous creditors 20% interest on bonds) is now being pushed on Italy who, like Greece tried to do, are pushing back by electing a union leader to represent them at the EU. Most likely, he will fail as miserably as Greece's labor Government did ahead of their downfall.
In a strong rebuke to their Conservative Government as well as the EU, the UK gave parlimentary seats to Brexit proponents - indicating the referendum may be closer to passing than the Coporate Media (Rupert, et al) would have us believe. And, to really make the Conservatives' heads spin, London elected a Muslim mayor!
So certainly not nothing going on over the weekend and not much data this week but we do have notes to sell so expect a bit of gloom and doom from our 6 scheduled Fed speakers (to scare people into bonds) and Charlie Evans was already no help at 5:10 am in London, though it was just a panel discussion unrelated to Fed policy. Still, no news is bad news these days as market sentiment is downshifting and, as noted in our Option Opportunities Portfolio Review this weekend – we are heavily hedged and expecting a short-term correction.
We had yet another chance to short our levels this morning (same as last week) as we tested 2,060 on the S&P Futures (/ES), Nasdaq (/NQ) 4,350 and Russell (/TF) 1,120 and now we're looking to see if 17,600 holds on the Dow (/YM), which is the Must Hold line on our Big Chart. Our most recent options hedge, from our 4/26 post, was on the Nasdaq Ultra-Short (SQQQ), on the evening of AAPL's earnings, where I said:
If it all goes to Hell this evening, it will be Apple (AAPL)'s fault so it makes sense for us to add an Ultra-Short Nasdaq ETF(SQQQ) hedge that will pay us $15,000 in the STP, to offset some of the losses on the longs we haven't sold yet. Given that our immediate concern is a poor report from AAPL (and if there is one, we'll be buying that dip!) we can take a short-term cover in our STP for earnings season:

Buy 40 June SQQQ $17 calls for $2 ($8,000)

Sell 40 June SQQQ $21 calls for 0.85 ($3,400)

Sell 5 AAPL 2018 $85 puts for $7 ($3,500)

Consider how this hedge works. If AAPL has bad earnings, the stock drops but probably not 20% (now $105) and the short puts would be safe while the Nasdaq falls with AAPL (it's over 10% of the Nasdaq) and SQQQ (now $18.45) will shoot higher and we should be $4 in the money, collecting $16,000 on our spread.

We will be obligated to buy 500 shares of AAPL at $85 ($42,500) but we want to do that anyway (now $52,500 at $105). Less the net $14,900 we collect on the hedge, our net entry on AAPL would be $27,600 or $55.20 per share. If owning Apple at 50% less than it's trading today does not appeal to you – this isn't a hedge to make!
All did not go to Hell but, as we feared, AAPL did drag down the Nasdaq and that boosted SQQQ to $20.22 as of Friday's close as it languishes around $93, down from $105 but well over our $85 mark and those puts are now $10.60 ($5,300), for a loss of $1,800 (but we REALLY want to own AAPL for $85, so it's a non-issue) while the spread is now $2.45 ($9,800) for a net of $4,500 (up 309% so far) if we close it today but we're sticking with the hedge, which has a potential $14,900 upside.
Retail Sales are a big deal on Friday along with Thursday's Consumer Comfort and Friday's Consumer Sentiment but it's still all about earnings this week in the last big week of reporting. After this, things calm down and we'll look for some fun bets as the stragglers roll in (since we now have plenty of sector benchmarks and can make more educated guesses).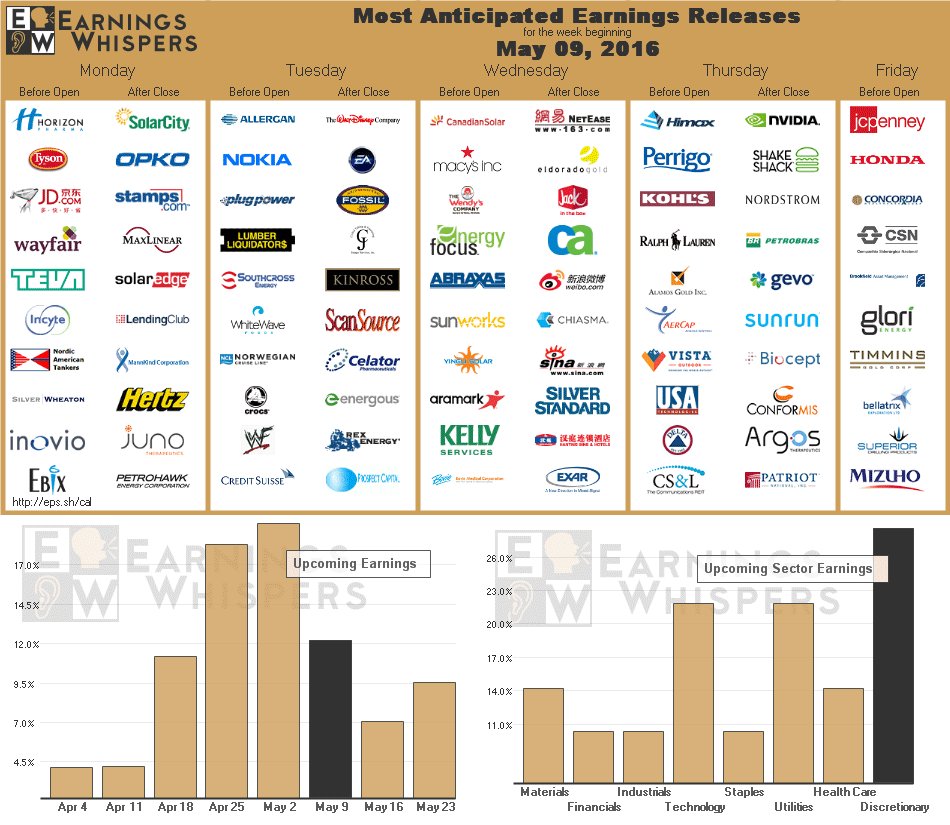 On our Big Chart – We're bouncing off the 50-day moving averages on all but the Nasdaq, which blew it already thanks to the Apple miss and we're keeping a close eye on the Russell's 200 dma at 1,123 – if we can get over that, it will be a bullish indicator but I'm not counting on it during an auction week – people don't buy 10-year notes for 1.7% unless they are very scared of putting their money in the market!
Do you know someone who would benefit from this information? We can send your friend a strictly confidential, one-time email telling them about this information. Your privacy and your friend's privacy is your business... no spam!
Click here and tell a friend!