No one was trading yesterday.
The markets may as well have been closed based on the volume trading on the S&P's ETF (SPY) and, as you can see, the TradeBots that did show up for work dutifully brought us right back to $210 (2,100 on the index) – to preserve the illusion that all is well – even though it's clearly not.
Obama made a great speech yesterday laying out the good and bad of our current economy and setting the tone for the next 6 months of debate as we decide who will replace him next year. The things that make me nervous about the markets have nothing to do with our economy – which is slowly recovering – it's about the economies of Europe and China and Japan. Those are the economic nightmares that keep me up at night.
Just yesterday, Bloomberg reported that the PBOC is looking to crack down on China's $8.1Tn on-line financing market (ie. shadow banking), which is used to finance everything in China from diamond mines to weddings. $8Tn is 80% of China's entire economy in unregulated banking and the fear is that it's become a massive Ponzi scheme as more and more small investors get involved in lending schemes in search of higher interest rates than the banks give them.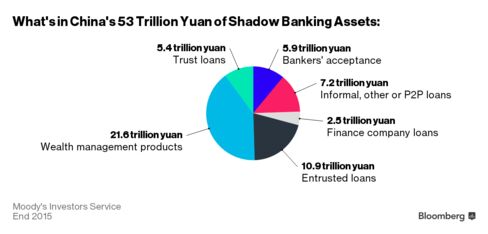 "Risks have also emerged because of the relatively loose regulations," Yu Xiangrong, an economist at China International Capital Corp. in Hong Kong, wrote in a recent note, citing reports of Ponzi schemes and operators disappearing with investor money. "We expect China to step up its efforts to address the risks associated with internet finance and to tighten regulations on fundraising, loan-pricing, lending and risk controls."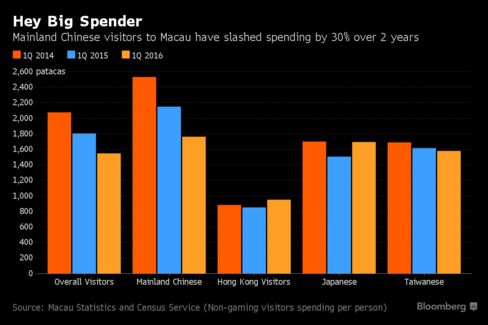 Meanwhile, casino revenues in Macau fell 9.6% – another indication of Chinese belt-tightening and April was down 9.5%. The average visitor spent $220, down 30% from 2014 and Macau's economy is down 13.3% in Q1 – it's 7th consecutive decline. Wynn (WYNN) opens the Palace in July – it will be interesting to see how that goes. Then Sands (LVS) opens the Parisian in September. While we wait, Moody's has downgraded the city's debt. Poor showings for these mega-casinos may panic people out of many other Chinese investments.
China's Yuan is at a 5-year low, at 6.58 to the Dollar but part of that is high expectations that the Fed will raise rates at their next meeting (15th) but I don't believe that's going to happen and more likely it will be the July 27th meeting or, at the latest, Sept 21st. Meanwhile, in other looming catastrophes, June 23rd is Brexit day and the Brexiteers just realized that the Government sneakily scheduled the vote on the day of the Glastonbury Festival, where 200,000 young voters will be otherwise occupied.
The Corporate Masters are out in full force to scare away the Brexit voters with the bosses of Siemens, Airbus and GKN issuing warnings that a vote to leave the EU would endanger future investment and manufacturing jobs. Nonetheless, an ICM telephone poll put "Leave" at 45% compared with 42% for "Remain." The pollster questioned 1,004 respondents from May 27 to May 29. A simultaneous online poll of 2,052 adults also gave "Leave" a 3-point lead. This is going down to the wire, folks.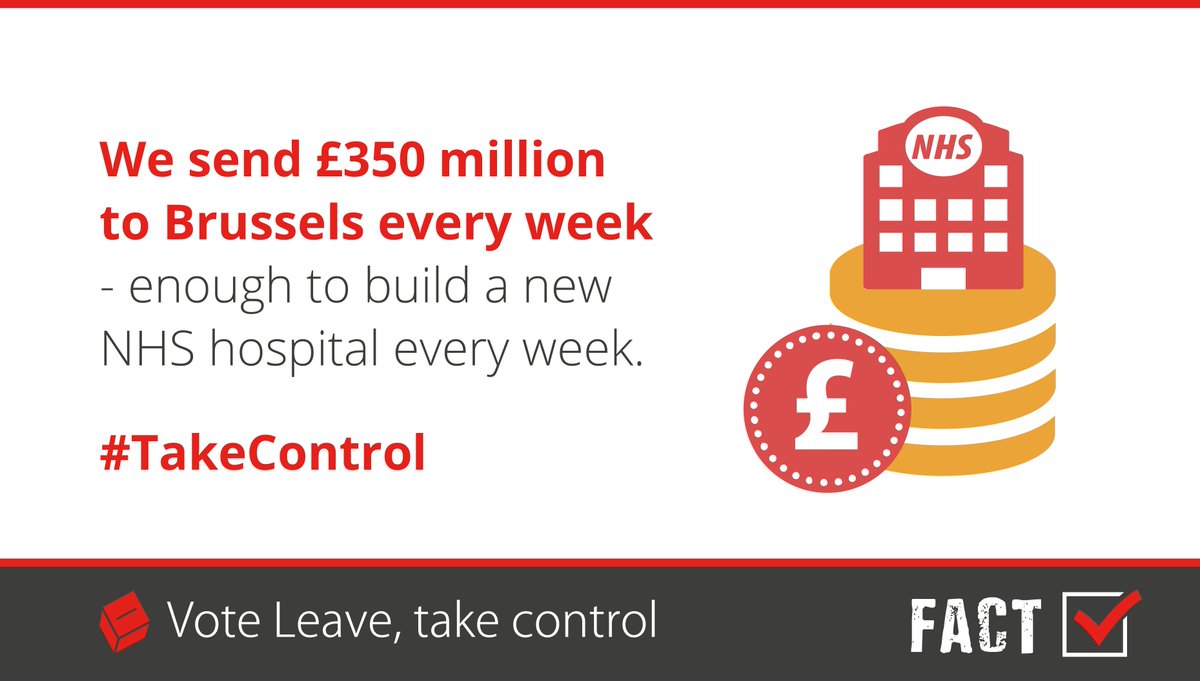 I cannot emphasize enough how totally screwed you can be if you don't properly hedge your portfolio against the possibility of and event that, in 3 weeks, can completely upend the Global Economy. Our 4 Member Portfolios are parked in neutral and have well over 50% of their balances in CASH!!! because we don't know what will happen and we don't know how the market will react so we are far better off WAITING PATIENTLY for more data and THEN we can play the markets again.
As noted by the OECD, a Brexit could spread "shockwaves" through the Global Economy but, of course, they're no fan of the Global Economy in the first place, saying:
"The prolonged period of low growth has precipitated a self-fulfilling low-growth trap. Business has little incentive to invest given insufficient demand at home and in the global economy, continued uncertainties and a slowed pace of structural reform. Negative feedback loops are at work."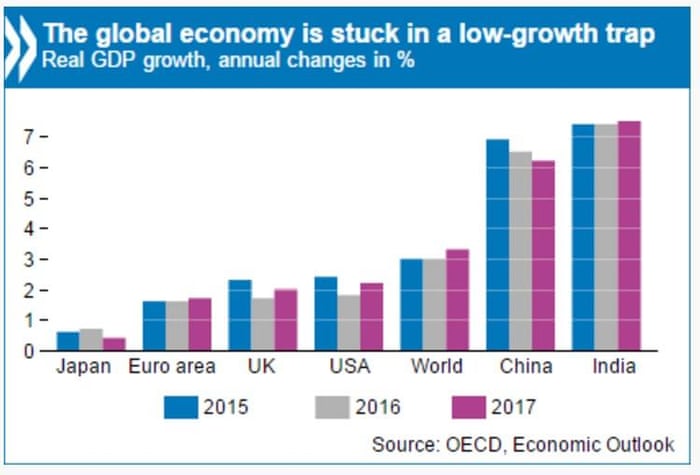 This morning we had an ECB meeting in which nothing happened yet, as usual, Draghi says he's "ready to take further action" while the OPEC meeting ended with no action to support oil, so down we go again and that's going to take the markets with it if we fail $47.50. Tomorrow we get the Non-Farm Payroll Report and anything over 200,000 jobs added will spur fears of Fed tightening and yesterday we didn't find anything to get excited about in the Fed's Beige Book so, as usual, we're short the S&P (/ES Futures) at the 2,100 line along with Dow (/YM) 17,750, Nasdaq (/NQ) 4,520 and Russell (/TF) 1,160 but, if those lines hold – we like the Nikkei (/NKD) long over the 16,500 line.