What will it take to stop this market?
Like Rasputin, the market has been Poisoned (by bad earnings), Shot (by Brexit), Stabbed (by negative economic reports including 50% reductions in GDP forecasts) and is clearly Drowning in debt – yet it will not die!!! What is up with that? Not even the threat of Donald Trump becoming President of the United States is enough to spook the bulls – so far.
This morning the Asian markets were flying, led by Japan gaining 2.5% off the strong US jobs report that led to a strong Dollar and a weak Yen, which makes all the Japanese exporters happy, for as long as that lasts, anyway. Also lifting the markets are fresh rumors of an OPEC production cut, which had oil (/CL) hitting $42.50 along with $45 on Brent (/BZ) this morning and had us getting back on the Futures shorts in our Live Member Chat Room earlier.
We're also shorting the Futures at Dow (/YM) 18,500, S&P (/ES) 2,180, Nasdaq (/NQ) 4,800, Russell (/TF) 1,230 and Nikkei (/NKD) 16,700 but only if 3 of 5 cross under in which case we short the next one to cross and that's then confirmed by the 5th cross under and then we stop out if ANY of them cross back over – very simple and it stops you from losing much money while letting a winner run wild.
If you are bullish you can play it the other way but I'm not and neither are:
Stan Druckenmiller (May 4th at the Ira Sohn Conference): "Get out of the stock market."
George Soros (June 9th, as reported in the Wall Street Journal): "The billionaire hedge fund founder and philanthropist recently directed a series of big, bearish investments, according to people close to the matter."
Carl Icahn (June 9th, on CNBC): "I don't think you can have (near) zero interest rates for much longer without having these bubbles explode on you" while also saying it's difficult to assess when exactly that might occur.
Jeff Gundlach (last Friday, in an interview with Reuters): "Sell everything. Nothing here looks good."
Bill Gross (in his monthly investment letter, released last week): "I don't like bonds. I don't like most stocks. I don't like private equity."
Still, so far, so wrong but this runaway market has blasted our bullish Long-Term Portfolio to 113% gains while our Options Opportunity Portfolio, which turns one year-old this very day, is up 81.3% – so our cautious outlook isn't killing us and we are well-hedged for a potential downturn – if such a thing is even possible anymore.
We still have plenty of earnings reports to play with but, so far, not only have the 2nd quarter earnings been down 3.5% from last year (when the S&P was at 2,100 and collapsed to 1,850 in August), but it's projected to be down 1.7% in Q3 led, of course, by the energy sector.
None of this matters, of course, as long as the free money keeps flowing and companies are able to buy back their own stock, reducing the share count that their lower earnings are being divided by to give investors the impression that all is well. Because, after all, it's all about the way things look on the surface in this very superficial decade, isn't it? In reality (and, believe me, you DON'T want to go there) actual S&P earnings growth has slipped from a 6% rate at the start of the year to -0.3% as of the August 5th measure. BUYBUYBUY???
This is MADNESS folks, when a market doesn't make sense, I feel better staying on the sidelines than "giving up" and playing the trend and, given the nightmare we had last August, when the Dow fell 2,000 points in 5 days – you'll have to forgive me for continuing to be a little cautious – even as we put on new highs.
This is the last big week for earnings and, now that we've gotten plenty of sector reports, we can look for potential winners and losers to play with – certainly we have plenty of cash in our portfolios – we may as well put some of it to work: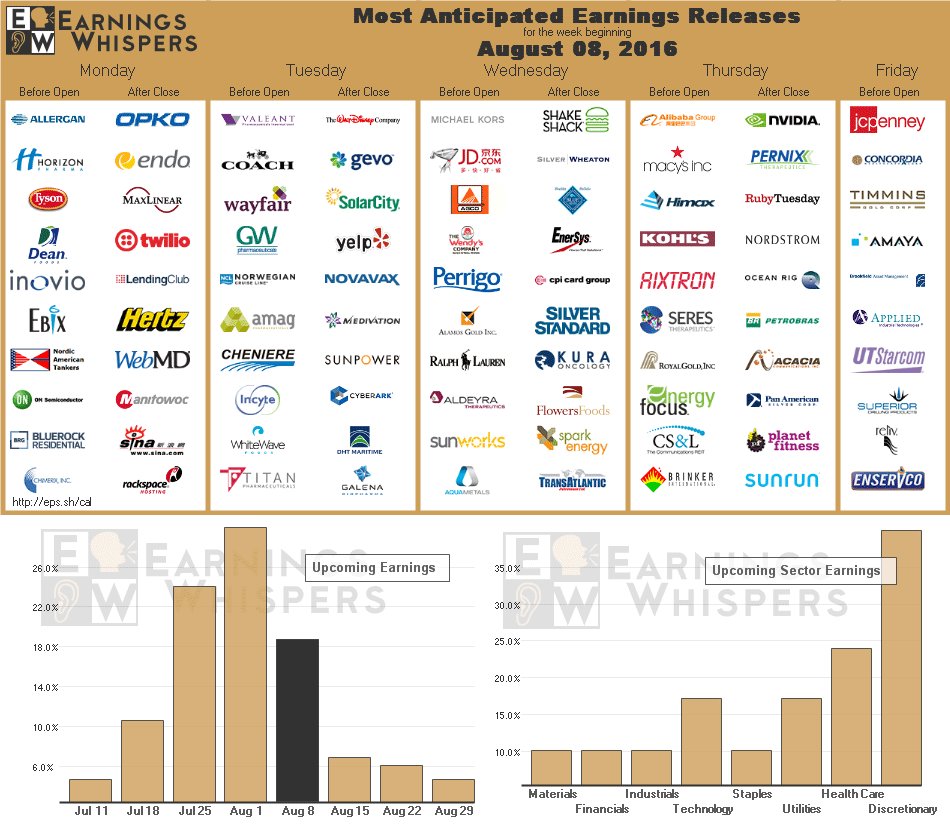 It's a very light data week until Friday's Retail Sales Report, so we'll be concentrating on earnings. I'll be live on the floor of the Nasdaq this morning for an interview at 10am and here's a quick preview of Nasdaq stuff I hope to discuss, though I think we only have 8 minutes!
Hedging: The Nasdaq 3x Ultra-Short (SQQQ) has been devastated by this rally – so it makes a wonderful hedge with the Nasdaq at 1999 highs (5,200). A 5% pullback in the Nasdaq would blast SQQQ up 15% from $14.31 to $16.45 and $18.60 would be the result of a 10% drop which means we can hedge with:
Buy 20 SQQQ Jan $15 calls for $1.70 ($3,400)
Sell 20 SQQQ Jan $23 calls for 0.70 ($1,400)
Sell 5 GILD 2018 $60 puts for $4 ($2,000)
Needless to say, we like GILD and would love to own 500 shares for a 25% discount at $60 ($30,000). You can sell puts on any stock you REALLY would like to own and the net of this spread becomes $0 while the upside potential at $23 on SQQQ is $16,000, so we're picking up $16,000 worth of crash protection in exchange for promising to buy GILD for a 25% discount – not a bad deal!
BioTech: GILD is our favorite pharma value and we'd also use the same short 2018 $60 puts to play the 3x Ultra Long Biotech ETF (LABU), which is already our very successful Top Trade for the 2nd Half of 2016 (see our Weekend Review). As a new trade, we like:
Sell 5 GILD 2018 $60 puts for $4 ($2,000)
Buy 10 LABU March $35 calls for $10 ($10,000)
Sell 10 LABU Dec $50 calls for $7.50 ($7,500)
That spread nets out at $500 but returns $15,000+ at $50 or better in December and you have until March to keep making money if the trend is in your favor. We're going to make this a PSW Top Trade Alert so we'll be keeping an eye on it going forward. December options expirations are only 130 days away and making a $14,500 return on cash would be a nice 2,900% return in just over 4 months – not too shabby!
Nasdaq short: Our favorite stocks to short on the Nasdaq at the moment are Amazon (AMZN) and Tesla (TSLA) along with Google (GOOGL) at $800. GOOGL is simply ahead of itself and TSLA is too crazy to play but AMZN is getting interesting as, just this weekend, Japanese anti-trust regulators raided their offices "on suspicion of pressuring retailers to offer products with more favorable conditions than rival sites."
That's just the cherry on top of our shorting premise with AMZN trading at $765, which is a ridiculous $363Bn market cap or roughly 200 times their expected earnings of less than $2Bn. It's taken them $107Bn in sales in 2015 to make $600M so, as a maturing company, let's say they grow into that $400Bn(ish) market cap with a generous p/e of 25 – that would require $16Bn in profits – 8 TIMES what they project to make this year. Seems a bit of a stretch – doesn't it?
So we like AMZN short but they are very dangerous to be wrong on, so we can limit our risk with the following bear put spread:
Buy 5 AMZN 2018 $850 puts for $154 ($77,000)
Sell 5 AMZN 2018 $650 puts for $59 ($29,500)
That's net $47,500 on the $100,000 spread and it's in the money so you make 100% of any downward move in AMZN up to your max gain ($52,500) at $650 and, unlike shorting 500 shares, there is no margin requirement and you can't lose more than the $47,500 cash commitment. If AMZN continues to move higher and begins to firm up over $800, we should be able to bail out without too much damage.
And, finally, how can we talk about the markets without talking about the looming disaster that is oil? Rumors of OPEC production cuts have blasted oil (/CL) back to $42.50 while Brent Oil (/BZ) is testing the $45 line so we took those shorts in our Live Member Chat Room (of course) this morning and I'll tell you why:
Over at the NYMEX, there are now over 1 MILLION open 1,000 barrel contracts for delivery to the US between now and December – that's 1 BILLION barrels worth of FAKE orders and yes, I said fake, Fake, FAKE!!! because those traders have no intention whatsoever of accepting delivery of physical trading – the entire thing is a gigantic scam (see "Goldman's Global Oil Scam Passes the 50 Madoff Mark!") designed to rip of the American people at the pumps.
Mark my words, they will end up accepting LESS THAN 20M ACTUAL BARRELS (20,000 contracts) for delivery by Aug 22nd, even though they are currently (Aug 8th) faking demand for 500 MILLION barrels for September delivery. If that's not a scam, what is it?
Click for
Chart

Current Session
Prior Day
Opt's
Open
High
Low
Last
Time
Set
Chg
Vol
Set
Op Int
Sep'16
41.99
42.47
41.81
42.35
05:36
Aug 08






-


0.55
64198
41.80
500623
Call Put
Oct'16
42.70
43.23
42.58
43.11
05:36
Aug 08






-


0.54
14449
42.57
229468
Call Put
Nov'16
43.54
44.01
43.40
43.88
05:36
Aug 08






-


0.50
3992
43.38
156748
Call Put
Dec'16
44.23
44.73
44.10
44.60
05:36
Aug 08






-


0.48
4828
44.12
253566
Call Put
As you can see, there are open orders for 1,140,405,000 barrels of oil between now and the year's end and, specifically, to a storage facility in Cushing, OK that has a handling capacity of just 50M barrels. It's completely ridiculous and there is bound to be some very painful unwinding of positions along the way.
If you can't play the futures, there is the Ultra-Short 3x Energy ETF (ERY) which is down at $15.05 and should do well if oil falls back to the mid $30s so we like them long and a good way you can leverage with options is:
Buy 10 Jan $12 calls for $4.50 ($4,500)
Sell 10 Jan $18 calls for $2.25 ($2,250)
That nets you into the $6,000 spread for $2,250 so the upside potential is $3,750 (166%) in 6 months and there's no margin required and the best way to manage a trade like this is to pick a sensible stop, like a $1,000 net loss vs. the potential $3,750 reward means you only have to be right one out of 3 times to have a very nice winning percentage (profit-wise).
That's probably all I'll have time for – we'll see how they work out!
Do you know someone who would benefit from this information? We can send your friend a strictly confidential, one-time email telling them about this information. Your privacy and your friend's privacy is your business... no spam!
Click here and tell a friend!