Financial Markets and Economy

Atlanta Fed trims U.S. third-quarter growth forecast to 2.4 percent (Reuters)
The U.S. economy is on track to grow at a 2.4 percent annualized rate in the third quarter, the Atlanta Federal Reserve's GDP Now forecast model showed on Friday, following the latest data on inventories, trade and consumer spending this week.
Satellite Data Show China May Have Stored More Crude Than Estimated (Bloomberg)
China, the world's largest energy consumer, may have stored more oil than official estimates, according to an analysis of satellite images by Orbital Insight Inc.

Oil in storage was about 600 million barrels as of May, according to the geospatial analytics startup based in Palo Alto, California.
OPEC oil output hits record on Iraq, Libya boost: Reuters survey (Reuters)
OPEC's oil output is likely to reach its highest in recent history in September, a Reuters survey found on Friday, as Iraq boosted northern exports and Libya reopened some of its main oil terminals.
What Moves Futures Markets [Infographic] (Value Walk)
We've always loved the CME Group's great infographics slicing and dicing the 'facts behind food prices', 'facts behind oil prices', and 'facts behind beef prices' going into items like the percent of Corn mandated for Ethanol, Bovine Spongiform Encephalopathy (mad cow), and oil rich Iran's nuclear ambitions.
Barclays, Deutsche Bank and Credit Suisse face billions in fines before the US election (Business Insider)
The banks face fines from the US Department of Justice, led by Attorney General Loretta Lynch, for the illegal sale of mortgage bonds in the US before the 2008 financial crisis.
Bond veterans say investors may not realize world's longest bull run is over (Reuters)
No one yet has made money from calling an end to 35 years of gains in world bonds, but that has not stopped investors fretting that an era of central bank largesse is drawing to a close and a seismic shift in global markets is under way.
Investors Today Prefer Companies with Fewer Physical Assets (Harvard Business Review)
Having physical stuff just isn't as great as it used to be.

At home, we're Marie Kondo–ing our way to minimalism, buying experiences rather than things, and using services — Netflix, Spotify, Uber — rather than owning assets such as movies, music, and cars.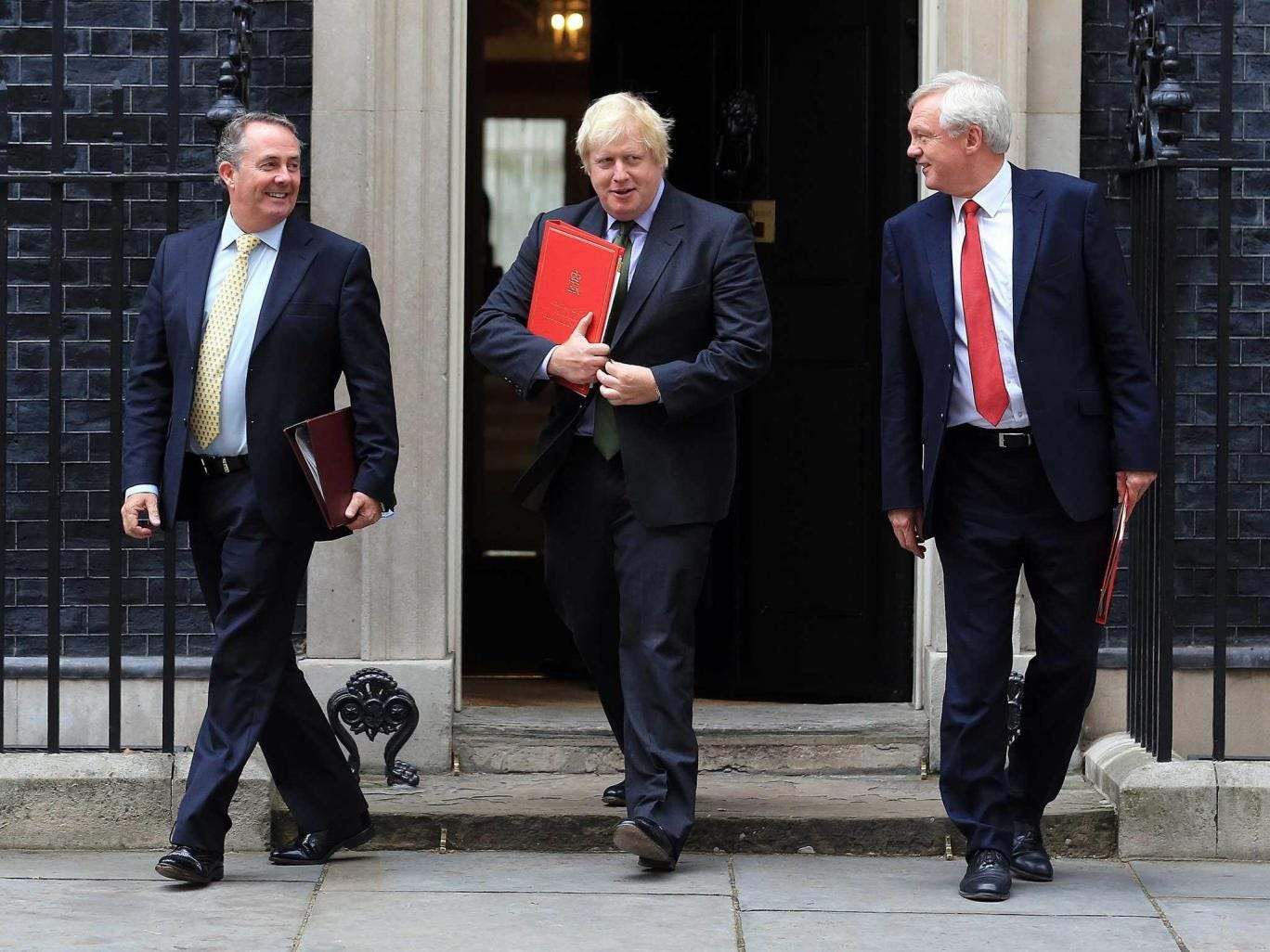 The biggest benefit of Brexit might be the economic hit we take (Independent)
One of the messages declaimed most loudly by the Remain campaign before the UK referendum was a warning that Brexit would spell disaster for the City of London and the financial services that were now this country's economic lifeblood.
Dangerous Logic Underpins Claims That The U.S. Isn't Producing Enough New Homes (Forbes)
There are people who are still devoted to getting our nation into the same housing predicament that led to the housing market collapse and the Great Recession. Don't believe the hype.
Secret Alpine Gold Vaults Are the New Swiss Bank Accounts (Bloomberg)
Deep in the Swiss Alps, next to an old airstrip suitable for landing Gulfstream and Falcon jets, is a vast bunker that holds what may be one of the world's largest stashes of gold. The entrance, protected by a guard in a bulletproof vest, is a small metal door set into a granite mountain face at the end of a narrow country lane.
China Manipulates Its Currency, but Not in the Way Trump Claims (NY Times)
HONG KONG — In Monday's presidential debate, Donald Trump repeated one of his frequent criticisms of China: It keeps its currency artificially cheap. Of all the countries in the world, he said, China is "the best ever" at devaluing its currency, the renminbi.
Stocks Soar After French Press "Confirm" Deutsche Bank Near Settlement With DOJ (Zero Hedge)
Seemingly confirming the rumor, Agence France Press reports that Deutsche Bank is nearing a $5.4 billion settlement with the US Justice Department.
This Is How Much Liquidity Deutsche Bank Has At This Moment, And What Happens Next (Zero Hedge)
It is not solvency, or the lack of capital – a vague, synthetic, and usually quite arbitrary concept, determined by regulators – that kills a bank; it is – as Dick Fuld will tell anyone who bothers to listen – the loss of (access to) liquidity: cold, hard, fungible (something Jon Corzine knew all too well when he commingled and was caught) cash, that pushes a bank into its grave, usually quite rapidly: recall that it took Lehman just a few days for its stock to plunge from the high double digits to zero.
The 'Average' Woman Is Now Size 16 Or 18. Why Do Retailers Keep Failing Her? (Forbes)
The average size of an American woman is now between 16 and 18, according to a new study from the International Journal of Fashion Design, Technology and Education. Previously, it was commonly thought that this average size was 14. However, the researchers found that this number increased in the last 10 years.
Beijing Raises Home Down Payment in Bid to Cool Property Market (Bloomberg)
China's capital city told home buyers to put more money as down payment as part of a wider effort by the world's second-biggest economy to rein in prices and cool the property market.
US Oil Rig Count Rises Most In Q3 Since 2009 (Zero Hedge)
Q3 ends with a 29% rise in US oil rigs – this is the biggest rise since Q4 2009.
Companies

Wells Fargo Chief Blames Employees, Not Company Culture, for Scandal (NY Times)
WASHINGTON — He is forfeiting at least $41 million in pay. He vows that his bank will drop its sales incentive program — blamed for prompting bankers to set up illegal and unauthorized bank and credit card accounts to meet their sales goals — by the end of the week, not in January, as he had previously promised.
Everything You Need To Know About Gold In 50 Stunning Slides (Acting-Man.com)
A Companion Update to this Year's "In Gold We Trust" Report

Our good friends Ronnie Stoeferle and Mark Valek of Incrementum AG have just published a new chart book, which recaps and updates charts originally shown in this year's 10th anniversary edition of the "In Gold We Trust" report and provides an overview of recent developments relevant to the gold market.
Wells Fargo CEO Denies Dumping Stock on Insider Info of Phony Accounts (Fortune)
Wells Fargo CEO John Stumpf's phony accounts problem just got worse.

Thursday, during a Congressional hearing on the scandal, Rep. Carolyn Maloney (D-NY) accused Stumpf of using insider information about the phony accounts to cash in $13 million worth of his own shares before knowledge of the fraudulent activity at Wells Fargo WFC 0.00% became public.
Deutsche lifted by CEO letter, settlement report (Reuters)
A report that Deutsche Bank (DBKGn.DE) was close to a cut-price settlement with U.S. authorities over the sale of toxic mortgage bonds helped to fuel a recovery in its shares on Friday after its chief executive said the group remained stable.
Ex-Chipotle worker wins $7.6 million in suit claiming the chain was a 'brothel that just served food' (Business Insider)
A teenager who formerly worked at a Chipotle in Houston, Texas, was awarded a multimillion-dollar judgment this week after suing the company for sexual harassment.
Politics

Trump's 'ugly' claim about stocks is backed by Morgan Stanley economist (Market Watch)
"We are in a big fat ugly bubble, and we better be careful," declared Republican presidential nominee Donald Trump at the first of three debates with Democratic rival Hillary Clinton on Monday.
Philippines President likens himself to Hitler (CNN News)
(CNN) - When comparing yourself to world leaders or historical figures, there are perhaps less controversial choices than Adolf Hitler.

Philippines President Rodrigo Duterte on Friday likened himself to the Nazi leader, saying he wants to kill millions of drug addicts, just as Hitler killed Jews during the Holocaust.
Big Oil interests are desperately trying to save this North Carolina senator's seat (Think Progress)
In the war over control of the Senate, the battleground state of North Carolina has been heating up: A recent poll shows incumbent Republican Senator Richard Burr in a near dead-heat with Democratic challenger Deborah Ross.
Technology

BMW Set to Roll Out Electric Mini, X3 to Counter Mercedes Push (Bloomberg)
BMW AG will roll out the first battery-powered model of its urban Mini brand as part of a broader push to make electric cars more mainstream and counter ambitious plans from rivals.
BlackBerry's success led to its failure (The Verge)
It's mobile prehistory at this point, but there was once a time when the ultimate smartphone you could get was a BlackBerry. Before Apple's iPhone arrived, Google's first Android prototypes were basically BlackBerry clones.
Automakers Must Hate This Chart (Gavekal Capital)
There are a lot of disruptions taking place in the auto industry. Uber, Lyft and many smaller regional competitors are driving taxi drivers crazy and have made it easier than ever to get around without owning a vehicle.
New Smart Tattoos Let You Control Your Phone Using Your Skin (Singularity Hub)
In a recent post about biohacking, I wrote about people who have implanted chips into their bodies to benefit their health, simplify their lives, or connect themselves to an external network. Though some have been quick to adopt it, biohacking is still a relatively new and bizarre trend that makes many people wary.
This Huge Robot Will Drive Up and Build You a House [Video] (Singularity Hub)
Bricklaying is a very old, traditional way to build a house—except now we have robots doing it faster than people. Hadrian X, a construction robot by Fastbrick Robotics, is a laser-guided, fully-automated bricklaying system. Its aim? Building brick houses in days instead of weeks.
Life on the Home Planet

Chaos in Hoboken After Train 'Flew Through the Air' (NY Times)
HOBOKEN, N.J. — The train just did not stop. The New Jersey Transit train, No. 1614, did not stop at 8:45 a.m. on Thursday, when it was scheduled to halt at the train station here at the height of rush hour.
Are There Other Intelligent Civilizations Out There? Two Views on the Fermi Paradox (Singularity Hub)
Scientists have now discovered a few thousand planets orbiting other stars and, based on these observations, believe there may be as many as 8.8 billion potentially habitable Earth-sized planets in the Milky Way alone. Include stars smaller than the sun and that number increases to 40 billion potentially habitable Earth-like planets.
Top scientists warn world likely to hit dangerous warming mark by 2050 (Associated Press)
A team of top scientists is telling world leaders to stop congratulating themselves on the Paris agreement to fight climate change because if more isn't done, global temperatures will likely hit dangerous warming levels in about 35 years.
What the New Education Law Means for School Testing (The Wall Street Journal)
Educators say the new Every Student Succeeds Act is an improvement over the oft-criticized No Child Left Behind Act, started in 2002 with a promise that all American students would be proficient in reading and math by the 2013-14 school year. That didn't happen.
New York City's iconic Carnegie Deli to close Dec. 31 (Yahoo News)
NEW YORK (AP) — New York City's iconic Carnegie Deli is closing its flagship location on Dec. 31.

Spokeswoman Cristyne Nicholas says owner Marian Harper "emotionally announced the news" to employees on Friday. She says workers will have their jobs through the busy holiday season.
Tracking the Kaepernick Effect: The anthem protests are spreading (Think Progress)
It's been over five weeks since Colin Kaepernick was first spotted sitting down as the Star Spangled Banner was sung at a preseason NFL game because he refused to "show pride in a flag for a country that oppresses black people and people of color."
The US military is building a $100 million drone base in central Niger (Reuters)
DAKAR, Sept 30 (Reuters) – The United States military said on Friday it is building a $100 million temporary base for surveillance drones in Agadez, central Niger, to help the West African country combat militant groups and protect its borders.
Do you know someone who would benefit from this information? We can send your friend a strictly confidential, one-time email telling them about this information. Your privacy and your friend's privacy is your business... no spam!
Click here and tell a friend!