Financial Markets and Economy

Wall Street drifts lower; investors worry about tax-cut delay (Reuters)
Wall Street drifted lower on Monday as investors worried that President Donald Trump's plan to cut taxes and boost the economy could take longer than previously expected.
U.K. to Trigger Brexit March 29, Starting Two Years of Talks (Bloomberg)
Prime Minister Theresa May will file divorce papers to leave the European Union on March 29, launching two years of complex negotiations that will pit the U.K.'s desire for a trade deal against the bloc's view that Britain must not benefit from Brexit.
A Six-Figure Income May Not Shield You From a Shock (Bloomberg)
Here's a question, as Congress thrashes out the health-care bill: How well prepared are you for a sudden spike in expenses from a medical emergency? Or, for that matter, for a lost job or surprise tax bill?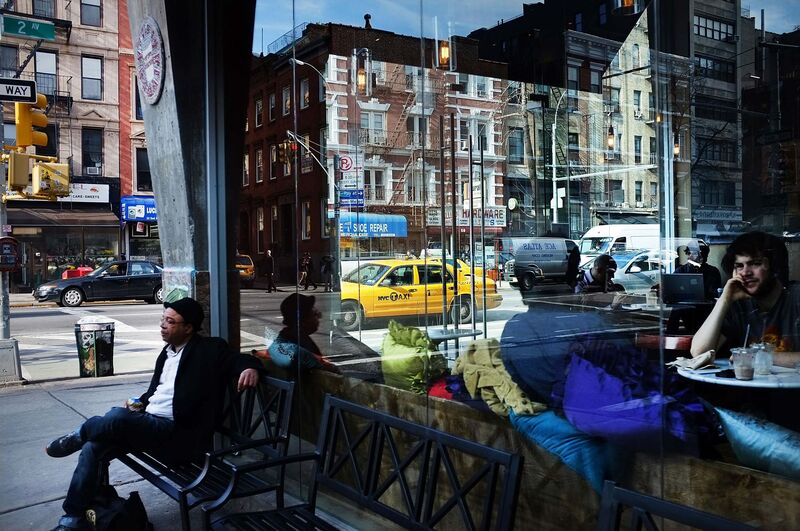 Rent or Buy in New York? Compare the Costs (Bloomberg)
In Manhattan's East Village, buying an apartment beats renting within four years. In the Soho area just a few blocks away, it would take 31 years before owning makes more financial sense.
It's Good to Be a CEO, Again: Stocks Rise, and So Does Pay (The Wall Street Journal)
Pay raises are back in style in the corner office, wiping out cuts from a year earlier and pushing CEO compensation to new highs amid a surging stock market.
Visco Says ECB Could Reduce Gap Between QE End and Rate Hike (Bloomberg)
European Central Bank Governing Council member Ignazio Visco said the central bank could step away from its commitment to keep interest rates low for a long time after quantitative easing stops.
Asian Stocks Decline as Bonds Climb With Yen: Markets Wrap (Bloomberg)
Asian stocks fell, the yen clung to gains and bonds climbed after Federal Reserve officials reignited the debate on the timing of further policy tightening.
China Won't Repeat Steel Market Crash in 2017, Japanese Mill Says (Bloomberg)
Global steel mills have no need to fret about the chances of Chinese exports torpedoing prices this year in a rerun of 2015, according to the managing director of Japan's biggest producer of recycled steel.
Japan's Top Oil Experts Seek Solutions to Chinese Fuel Flood Problem (Bloomberg)
Huddled deep within Tokyo's government district, nearly two dozen of Japan's top oil experts pore over a problem plaguing its energy industry: how can they stop China from pushing its crude refiners into a corner?
The New York Stock Exchange just had a trading snafu (Business Insider)
The New York Stock Exchange just had a trading snafu.

NYSE suffered an outage that meant it couldn't carry out a closing auction for a number of exchange traded funds on one of its markets Monday.
Oil May Be the Key to the Reflation Rally (Bloomberg)
Throw out the tea leaves and the crystal ball. When it comes to divining the future of the reflation trade, investors should be keeping a close eye on oil.
Trump says he may want a 0% tax rate (CNN)
In an interview with Jesse Watters of Fox News, Trump reiterated his oft-stated desire to cut taxes for everyone — both businesses and individuals. He also noted that the number of tax brackets would be reduced "from seven to three or four."
EU trade official warns talks with U.S. are in 'deep freeze' (The Wall Street Journal)
The European Union's chief trade official said Monday the Trump administration is sending "worrying signals" on trade, arguing that erecting barriers to global commerce threatens to kill jobs and raise prices for consumers in both developed and emerging economies.
U.S. stocks end lower as financials sell off (Market Watch)
The main U.S. stock indexes closed marginally lower Monday for the third straight day of losses, as investors were reluctant to make big bets without major economic or corporate news.
Companies

Uber's President of Ride-Sharing Jeff Jones Resigns (The Wall Street Journal)
Uber Technologies Inc. said a prominent retail executive it hired as president just six months ago is leaving, the most senior in a string of executive departures as the ride-hailing giant reels from an escalating series of controversies.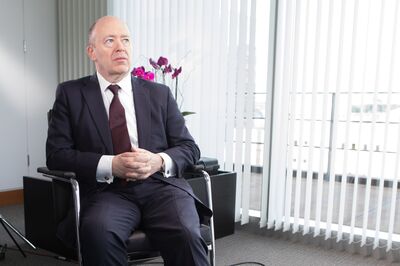 Deutsche Bank Keeps Waiting for Growth After Slow Start to Year (Bloomberg)
Germany's biggest bank has seen revenue falling or little changed from last year across most of its businesses. For the full year, the lender expects revenue to be "broadly flat," it said in its annual report published Monday.
Toshiba Nuclear Woes Has Moody's Warning of Scana Credit Risks (Bloomberg)
U.S. utility owner Scana Corp. is facing increased credit and regulatory risks with Toshiba Corp.'s Westinghouse, the nuclear power-plant builder contracted to install two of its nuclear reactors, potentially restructuring, according to Moody's Investors Service.
Wells Fargo credit card applications plunge 55% (CNN)
Credit card applications at Wells Fargo plunged by 55% in February, the sharpest decline since the bank's fake account scandal erupted last September.
Apple CEO Tim Cook took a look at secretive billion-dollar startup Magic Leap (Business Insider)
Here's one big sign that Apple is serious about developing a pair of smartglasses: CEO Tim Cook visited Magic Leap's offices last summer to check out their augmented reality technology, former Magic Leap employees said.
Technology

What's Attacking the Web? A Security Camera in a Colorado Laundromat (The Wall Street Journal)
While Bea Lowick's customers were busy folding clothes last year, the security system at her Carbondale, Colo., laundromat was also hard at work.
This iPhone 8 concept design is the best we've seen yet — check it out (Business Insider)
This fall, Apple is expected to launch its next-generation iPhone. And because 2017 marks 10 years since Steve Jobs first introduced the revolutionary Apple product, expectations are high.
Your neighbor's WiFi is ruining yours — here's how to fix it (Business Insider)
If you're getting slow or delayed WiFi in your home, it could be because your neighbors are using the same channel as you. While you're not on the same network, those other devices can still interfere with yours. Here's how to fix it.
AT&T gives new DirecTV Now subscribers a year of HBO (Engadget)
AT&T is determined to build early momentum for DirecTV Now, and it just found another way to sweeten the pot. The telecom has launched a promo that gives you a year of HBO access if you sign up for Now's "Go Big" or "Gotta Have It" packages as a new customer by March 30th.
Youfirst's AI-powered emotion engine launches to help YouTube stars find their power moments (Venture Beat)
YouTube creators, stars, and influencers have a new tool to add to their arsenal today that will help them hone their videos and target audiences with the right snippets of their output.
Disney shows how you catch a real ball in VR (Engadget)
It's relatively easy to boost the immersiveness of virtual reality by giving you gloves or props. But how would you have someone catch a real ball when they can't see where it's going? Disney Research has an answer: its scientists have developed a motion capture system that lets you grab a ball just as intuitively in VR as you would without a headset.
Politics

So far, Trump has been mercifully incompetent (The Washington Post)
During the presidential campaign, Donald Trump remarked often on the stupidity of our leaders. He was under the impression that the rest of the planet was indulging in some sort of global guffaw at our expense.
James Comey Could Shed Light on Russia, Trump's Wiretap Charge (The Wall Street Journal)
FBI Director James Comey will be called before lawmakers Monday as part of an investigation into Russian meddling in the 2016 election and President Donald Trump's unsubstantiated accusation that he had been wiretapped by his predecessor during the campaign.
Network of wealthy Russians has sunk $100m into Donald Trump's luxury developments (Independent)
The US President has repeatedly insisted that he has no significant business interests in Russia, at a time when his ties to the country are under intense scrutiny.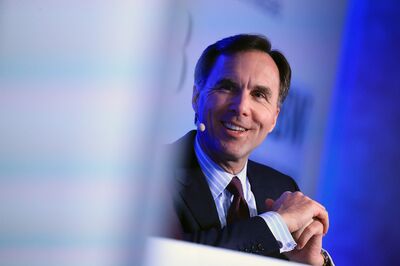 Canada Committed to Lower Debt Ratio, Morneau Says Before Budget (Bloomberg)
Canada's Finance Minister is sticking by his pledge to lower the nation's debt ratio, signaling the government won't push much deeper into deficit when it delivers its budget this week.
Germany, Japan Push Trade Pact in Merkel Bid to Stymie Trump (Bloomberg)
German Chancellor Angela Merkel and Japanese Prime Minister Shinzo Abe called for a concerted effort to defend free trade, expanding the list of economic powers joining together to counter the U.S. shift toward protectionism.
Regulators Said to Weigh Appraisal Change That May Spur Lending (Bloomberg)
As President Donald Trump seeks to knock down government constraints on business loans, U.S. bank regulators have tentatively agreed to ease an appraisal requirement that could help commercial real estate borrowers, said people familiar with talks among the agencies.
White House installs political aides at Cabinet agencies to be Trump's eyes and ears (The Washington Post)
The political appointee charged with keeping watch over Environmental Protection Agency Administrator Scott Pruitt and his aides has offered unsolicited advice so often that after just four weeks on the job, Pruitt has shut him out of many staff meetings, according to two senior administration officials.
Almost half of Canadians want illegal border crossers deported – Reuters poll (Reuters)
Nearly half of Canadians want to deport people who are illegally crossing into Canada from the United States, and a similar number disapprove of how Prime Minister Justin Trudeau is handling the influx, according to a Reuters/Ipsos opinion poll released on Monday.
No plans for early election, says UK PM May's spokesman (Reuters)
British Prime Minister Theresa May's government has no plans to hold an early general election, May's spokesman said on Monday.
China says preparatory work for Xi-Trump meeting has begun (Reuters)
Preparatory work for a meeting between Chinese President Xi Jinping and U.S. President Donald Trump has begun, China's Foreign Ministry said on Monday, after a weekend visit to Beijing by U.S. Secretary of State Rex Tillerson.
Polls in Austria show erosion of far-right Freedom Party's lead (Reuters)
The far-right Freedom Party's lead in opinion polls over the Social Democrats in Austria has shrunk to within the margin of error after more than a year of dominance marked by Europe's migration crisis, several recent surveys have shown.
Rodrigo Duterte And Kim Jong-un Save Peace In South China Sea, For Now (Forbes)
Philippines President Rodrigo Duterte's flip-flops and North Korea's leader Kim Jong-un's missile tests have saved South China Sea peace, for now, as both major players in the disputes -- China and the US -- have been softening their tone lately
Health and Biotech

Deadly, drug-resistant Candida yeast infection spreads in the US (New Scientist)
An emerging fungus could become the latest hospital-acquired infection we have to worry about. On 16 March, the US Centers for Disease Control and Prevention (CDC) reported that 53 people in the US have been taken ill with Candida auris – most of them in New York state.
The Science of Cancer (Scientifc American)
The past few years have seen tremendous strides in our understanding of cancer, including new hypotheses about its genetic origins and new treatment alternatives using the body's own immune response.
Life on the Home Planet

French financial prosecutor's office briefly evacuated (Reuters)
The French financial prosecutor's offices in central Paris were briefly evacuated on Monday due to a bomb alert.
Norway unseats Denmark as world's happiest country: report (Reuters)
The Nordic nations are the most content, according to the World Happiness Report 2017 produced by the Sustainable Development Solutions Network (SDSN), a global initiative launched by the United Nations in 2012.
These are 4 of the world's hottest tourist destinations (CNN)
Mexico, Iceland and Cyprus all experienced a surge in tourism spending in 2016, according to a new report from the World Travel & Tourism Council.
North Korea engine test may be prelude to partial ICBM flight (Reuters)
North Korea has likely mastered the technology to power the different stages of an intercontinental ballistic missile (ICBM) and may show it off soon, analysts say, but it is likely still a long way from being able to hit the mainland United States.
Weather and climate extremes continue to set new records (New Scientist)
Weather and climate extremes have continued into 2017 after last year saw record-breaking temperatures, says the World Meteorological Organisation (WMO).
Do you know someone who would benefit from this information? We can send your friend a strictly confidential, one-time email telling them about this information. Your privacy and your friend's privacy is your business... no spam!
Click here and tell a friend!