Financial Markets and Economy

Worries over Trump policies cloud start of IMF, World Bank meetings (Reuters)
World finance leaders are gathering on U.S. President Donald Trump's home turf on Thursday to try to nudge his still-evolving policies away from protectionism and show broad support for open trade and global integration.
FTSE 100 extends losing streak as pound climbs back above $1.28 on general election optimism (The Telegraph)
Oil claws back losses as Kuwait expects Opec-led output cut to be extended beyond June
FTSE 100 struggles for direction in cautious trade
Pound holds on to gains, trades above $1.28 against US dollar
China stocks snap four-day losing streak
Euro hits three-week high in early trade
Alarm Bells Start Ringing for U.K. Economy (Bloomberg)
Having long been considered one of the most stable democracies in the world, Britain will hold a new general election on June 8 — barely two years after the last. However, with the Conservative Party on course for securing a comfortable majority, political uncertainty may not be the biggest risk facing the U.K. A weakening economy could well pose a bigger threat.
10 things you need to know before the opening bell (Business Insider)
Here is what you need to know.

The White House is reportedly taking another stab Trumpcare. The Trump administration is trying to make progress in its attempt to repeal and replace Obamacare before Trump's 100th day in office, which happens next week, CNN reports.
ETFs Create Stock Markets That Are Both Mindless and Too Expensive, Study Says (Bloomberg)
Exchange-traded funds are making stock markets dumber — and more expensive.

That's the finding of researchers at Stanford University, Emory University and the Interdisciplinary Center of Herzliya in Israel.
The market is beginning to price in the death of Trump's tax reform (Market Watch)
Rest in peace tax reform, we hardly knew ya.

The much awaited tax overhaul promised by President Donald Trump may be dead before it even got anywhere.
EPA seeks delay over rule curbing coal plants' toxic pollution (The Washington Post)
The Environmental Protection Agency on Tuesday asked a federal court to delay an oral argument in a challenge involving a 2012 regulation limiting the amount of mercury, lead and other airborne toxins emitted from power plants.
How Venture Capitalists Really Assess a Pitch (Harvard Business Review)
Before Lakshmi Balachandra entered academia, she spent a few years working for two venture capital firms, where she routinely witnessed a phenomenon that mystified her.
Electric Utilities Ignoring Trump's Changes To Climate Policy (Forbes)
American electric companies are keeping a close watch on President Trump's unraveling of Obama Administration climate and clean-energy policies, but they do not appear to be changing course because of it.
Tax Increase Yields $4.6M For Vegas Stadium In First Month (Associated Press)
Taxpayers contributed more than $4.6 million for an NFL stadium in Las Vegas in the first month that a new increase on area hotel taxes went into effect— ahead of projections for the state's share of the project.
Is the US Stock Market at a Major Inflection Point? (Financial Sense)
A powerful reality check on the limits of Presidential power has deflated some of the euphoric bullish expectations of investors in recent months.
Save Your Money! Here Are the 6 Most Affordable Cities to Live In (The Motley Fool)
More Americans are renting homes than ever before, and with increasing demand comes higher prices across the board. Between 2006 and 2014, the number of renters in the U.S. grew to over 43%, and with mortgage rates continuing to rise, a growing number of would-be homebuyers will inevitably find themselves unable to make the move.
A physical gold dealer saw a 119% increase in sales when Theresa May called for a snap election (Business Insider)
It is almost one year after the Brexit referendum and the UK is still subject to political shocks.

Prime Minister Theresa May surprised the public when she called for an early general election on Tuesday, and sent cautious savers to seek safety in physical gold.
Huge Decline In Peru's Silver Production Suggests Future Supply At Risk (Money Metals Exchange, Seeking Alpha)
The Peru Ministry of Energy and Mining just released their silver production data for February, and it was a whopper to the downside. Actually, I was quite surprised to see how much the country's silver production declined versus the same month last year.
Investors Rage After 3 Billion Yuan Vanish From China's Largest Private Bank (Zero Hedge)
Theoretical warnings about risks inherent in China's shadow banking system became all too for 150 customers of China's largest private bank, when Minsheng Banking Corp found itself involved in a 3 billion yuan (US$436 million) fraud case, after it emerged that a branch chief of the lender in Beijing allegedly issued false bank acceptance bills and later secured funds from individual investors to cover up the misdeed.
Japan's 10Y Yield Drops Below Zero Again: All Eyes On The BOJ (Zero Hedge)
With every other asset class roundtripping the November election outcome, it was only a matter of time before Japan's 10Y JGB – which on February 2 briefly peaked above the BOJ's "yield curve controlling" 0.10% yield ceiling, rising as high as 0.15% to the shock of a market ready to declare that Japan had finally lost control of its bond market – retraced the entire "reflationary" move from 0.0% to 0.1%.
In Stark Warning, IMF Finds Over 20% Of US Corporations At Risk Of Default Should Rates Rise (Zero Hedge)
While the market has been generally euphoric over Trump's proposed fiscal agenda (even if in recent weeks it increasingly looks its implementation will be indefinitely delayed), one adverse side effect which has largely been ignored by the market is the impact of rising interest rates not only on sovereign debt, but on record corporate debt loads.
Companies

This Is Terrible News for Under Armour (The Motley Fool)
Under Armour (NYSE:UA) (NYSE:UAA) has gone from stock market darling to pariah in just a few short months. Two consecutive weak earnings reports, the end its 26-quarter streak of 20% revenue growth, and management's decision to pull back from its 2018 guidance of $7.5 billion revenue have combined to push the stock down 50% since October.
What Amazon's Influencer Marketing Program Means for The Entire Marketing Industry (Inc.)
Many experts consider this a game changer for the space and a powerful signal that the influencer marketing industry is here to stay. Others note that Amazon's program might not be all it's cracked up to be.
GM says Venezuela has seized its car plant (CNN)
General Motors says it will immediately halt operations in Venezuela after its plant in the country was unexpectedly seized by authorities.
Technology

Facebook shows off its brain interface research and… wow (Mashable)
These are just two of the mind-blowing questions Facebook's Regina Dugan posed to the audience at the company's F8 developer conference, and the vision she laid out was so ambitious you could almost feel the silent awe emanating from the F8 audience as she spoke.
Apple promises to stop mining the earth, build all products from recycled materials (9To5Mac)
Apple has a history of being one of the most environmentally conscious companies, and it's about to take those efforts a step further. According to Apple's 2017 Environment Responsibility Report released today, the company's latest environmental initiative will see it "stop mining the earth altogether."
Google Earth Just Launched This Enthralling Virtual Travel Tool (TIME)
Whether you'd rather dive into shark-filled waters off the coast of Fiji or hover above the frigid Mirny Airport in Siberia, Google Earth's new Voyager feature will get you there in an instant — and keep you distracted for hours.
Microsoft is killing off passwords (Business Insider)
Passwords are a nightmare to remember — but Microsoft thinks it has a way to do away with them for good.

The American tech giant has announced an alternative way users can sign into their Microsoft accounts, using only an app on their smartphones.
Google could launch native Chrome browser adblocker 'within weeks', sources say (Pocket Now)
Except perhaps for people involved in their making and the occasional Super Bowl shiner, no one really likes ads. Many will even go to great lengths to silence or outright avoid them, buying premium subscriptions to video or audio streaming services, abandoning traditional TV, as well as installing growingly popular ad-blocking tools for a quieter, often smoother and less data-demanding web surfing experience.
MasterCard adds fingerprint sensors to payment cards (Engadget)
Our fingerprints are quickly replacing PINs and passwords as our primary means of unlocking our phones, doors and safes. They're convenient, unique, and ultimately more secure than easily guessed or forged passwords and signatures.
Politics

Tillerson accuses Iran of 'alarming provocations' as U.S. reviews policy (Reuters)
U.S. Secretary of State Rex Tillerson on Wednesday accused Iran of 'alarming ongoing provocations' to destabilize countries in the Middle East as the Trump administration launched a review of its policy toward Tehran.
Sean Spicer's explanation on the Carl Vinson makes no sense (CNN)
On April 12, in an interview with Fox Business Channel's Maria Bartiromo, President Trump made clear that North Korea's ongoing testing of missiles would not go without a response from the US.
Trump's Wiretap Tweets Bring Lawsuit Seeking Proof (NPR)
A group of liberal lawyers is suing the Justice Department and FBI over President Trump's tweeted allegation of wiretapping ordered by then-President Barack Obama.
Putin-linked think tank drew up plan to sway 2016 U.S. election – documents (Reuters)
A Russian government think tank controlled by Vladimir Putin developed a plan to swing the 2016 U.S. presidential election to Donald Trump and undermine voters' faith in the American electoral system, three current and four former U.S. officials told Reuters.
Murdoch's Defiance Over O'Reilly Gives Way to Pragmatism (NY Times)
Rupert Murdoch stood behind his top American asset, the anchor Bill O'Reilly of Fox News, for years, shrugging off a sexual harassment scandal in the mid-2000s and multiple complaints about Mr. O'Reilly's behavior that surfaced behind closed doors.
Donald Trump: 'You always have to be concerned' about thermonuclear war with North Korea (CNN)
President Donald Trump said Tuesday 'you always have to be concerned' when he was asked how worried Americans should be about the possibility of nuclear war with North Korea.
The Continuing Fallout From Trump And Nunes's Fake Scandal (The New Yorker)
Recently, several members and staffers on the House Intelligence Committee, which is investigating Russia's role in the Presidential election, visited the National Security Agency, in Fort Meade, Maryland.
White House Cancels Meeting On Paris Accords (Associated Press)
A White House meeting where President Donald Trump's aides were to hash out whether to keep the U.S. in an international climate agreement has been canceled.
Trump's missing 90-day cyber plan (Politico)
President-elect Donald Trump was very clear: "I will appoint a team to give me a plan within 90 days of taking office," he said in January, after getting a U.S. intelligence assessment of Russian interference in last year's elections and promising to address cybersecurity.
No Inoffensibe Way To Say The "N-Word," Fla. Senator Learns (Assocaited Press)
No matter what variation of the 'n-word' is spoken, a Florida state senator is learning the term is still offensive as Democrats and Republicans admonish him for using it during an exchange with two African-American colleagues.
Some Tax-Cut Backers Urge Trump To Drop Full Overhaul, Go For Quick Win (NPR)
If you filed for an extension on your taxes this week, you're right in step with the Trump administration and Republicans in Congress. They've put off voting on their promised tax overhaul until after they take another whack at repealing and replacing Obamacare.
Trump's pick for rules czar would hand more power to Trump (The Washington Post)
Neomi Rao, a little-known law professor at George Mason University, could soon become one of the most powerful officials in Washington.
5 reasons the government might shut down (Politico)
The deadline to keep the federal government open is just about here, but a deal is far from done.

With just five workdays left until government funding expires, lawmakers return next week to all the same sticking points that have made full-year funding so elusive and now threaten a government shutdown.
North Korea warns of 'super-mighty preemptive strike' as U.S. plans next move (Reuters)
North Korean state media warned the United States of a "super-mighty preemptive strike" after U.S. Secretary of State Rex Tillerson said the United States was looking at ways to bring pressure to bear on North Korea over its nuclear programme.
Once Critical Of Global Deals, Trump Slow To Pull Out Of Any (Associated Press)
The "America First" president who vowed to extricate America from onerous overseas commitments appears to be warming up to the view that when it comes to global agreements, a deal's a deal.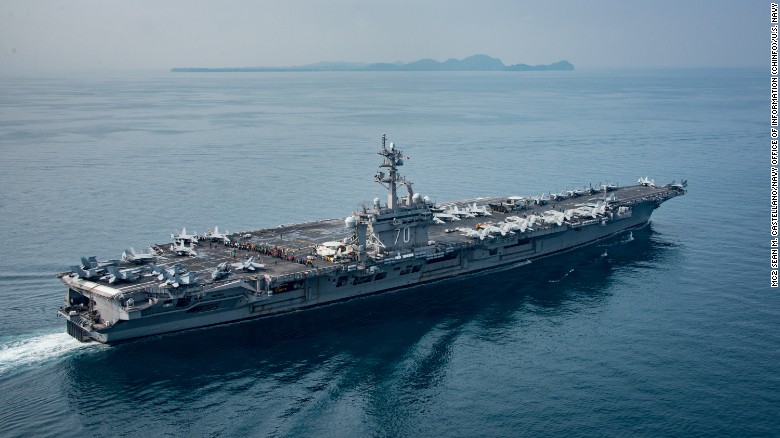 Mockery, anger in South Korea over USS Carl Vinson 'bluffing' (CNN)
US President Donald Trump said he was sending "an armada" to Korean waters to potentially deal with threats from Pyongyang.
France's Youth Are Turning To The Far-Right National Front (The Huffington Post)
France's far-right National Front leader Marine Le Pen is feverishly wrapping up her campaign ahead of the country's first round of presidential elections on Sunday. There's widespread uncertainty over how the vote will pan out, as polls have tightened to put four candidates within contention.
Life on the Home Planet

Activity Spotted at North Korea Nuclear Test Site: Volleyball (NY Times)
Analysts who examine satellite images of North Korea reported on Wednesday that they had spotted some unexpected activity at the country's nuclear test site: active volleyball games in three separate areas.
At Least 3 Die in Clashes as Protesters Swarm Venezuelan Cities (NY Times)
Protesters demanding elections and a return to democratic rule jammed the streets of Caracas and other Venezuelan cities on Wednesday.
Florida Tests Bacteria-Infected Mosquitos To Kill Off Bugs (Associated Press)
Thousands of bacteria-infected mosquitoes were released in the wild Tuesday near Key West, testing a new way to kill mosquitoes that carry Zika and other viruses.
Scientists say the Great Barrier Reef is officially dying (PRI)
Scientists say that one of our world's greatest natural treasures is now truly "terminal." This news comes after sequential, massive bleaching events — which is what happens when ocean temperatures rise beyond levels that coral reefs can survive.
3 killed during anti-government protests in Venezuela (CNN)
At least three people were killed in Venezuela when clashes broke out during anti-government protests described by opposition leaders as the "mother of all marches."
Do you know someone who would benefit from this information? We can send your friend a strictly confidential, one-time email telling them about this information. Your privacy and your friend's privacy is your business... no spam!
Click here and tell a friend!