More and more promises.
Our man Mnuchin yesterday gave the markets a huge lift by claiming "we're pretty close to bringing forward major tax reform" and the markets went crazy but he also said that by "soon" he meant before the end of the year. That then is a really stupid reason for the markets to rally since they already rallied on it being done in Trump's first 100 days (this is day 90) but, apparently, you can cry "wolf" as often as you want and this market will rally to your cause.
Also promised yesterday was swift approval of the TrumpDon'tCare Health Plan (Part II) and this one is much more horrific than the last one as they now have a TABLE OF DOOM!!! which has surcharges for pre-existing conditions like PREGNANCY, which will set you back an additional $17,320 if you or one of your family members is prone to such things. I wish I were joking but no, that's actually the cost for pregnancy with "no or minor complications" – complications are extra:
And this analysis does not account for surcharges as a result of individuals' previous health conditions. Scarce data exists on pre-ACA rate ups, but insurers raised premiums for individuals based on health history, not just current health status. Without pre-existing condition protections, cancer survivors now free of the disease or patients who underwent successful surgery years ago could find themselves facing significant surcharges as well.
As we've noted before, without "saving" $1Tn on health care costs, Trump can't get $1Tn worth of tax breaks for himself and his Billionaire buddies so they have to slash insurance and they do so by passing the costs on to you, the people who need the insurance. But only if you get sick so, if you're not sick – don't worry about it, right? That's the logic by which the Trump Administration is going to have you, in the Bottom 99%, hand $1Tn to the people in the Top 1%.
This is really insane, folks, this will not make America great, this will make Americans poor while a select few become incredibly rich – an oligarchy that will put Russia to shame. The same goes for the "tax reform," which will save people in the Bottom 60% less than $1,000 per household (a 1% reduction) while those in the top 1% get $317,100 and those in the Top 0.01% get $1,459,720 (a 10% reduction).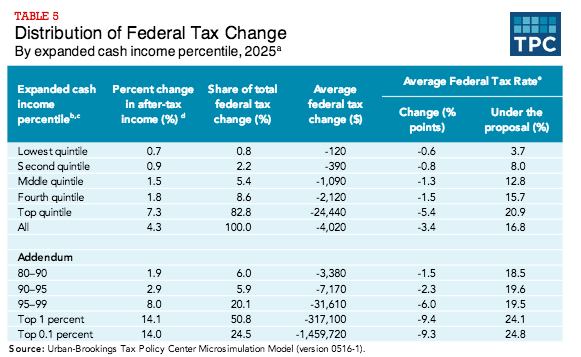 I would tell you to contact your Congressperson if you think these things are outrageous and must be stopped but Congress has taken down the site that lets you contact them because – THEY DON'T CARE!!! Wake up - they are not doing any of this for your benefit unless you are in the Top 1% so, to see if you matter at all in your state – just check out this useful map: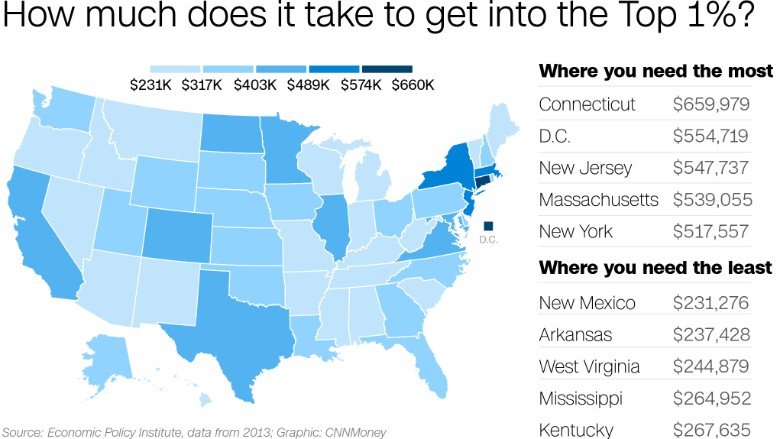 That's annual income folks, not net worth and it's going up quite a bit as the market has kicked into high gear. The average income of the Top 1% is $878,139 but, to really matter in this country, you need to be a lot higher than the top 3 Million. The top 300,000 average $3.2M in income so you can shoot for that but to REALLY matter, the top 30,000 people in this country earn $27.3M per year and THOSE people are getting the best Government money can buy!
I still have faith in our country and I think the people will be smart enough to stop this madness and NOT allow this HORRIBLE Health Care Plan and HORRIBLE Tax Policy to take effect – surely the American people are not going to lay down and get screwed over like this? That being the case, we're shorting the Russell Futures (/TF) at 1,380 and the Nasdaq Futures (/NQ) at 5,450 in the hopes that sanity is restored next week.
Have a great weekend,
- Phil
Do you know someone who would benefit from this information? We can send your friend a strictly confidential, one-time email telling them about this information. Your privacy and your friend's privacy is your business... no spam!
Click here and tell a friend!