What a short, strange trip it's been.
As you can see from Afraid to Trade's S&P chart, we are once again flirting with 2,400 on the S&P with about 1/3 of the companies having reported. Last time we tested the top was March 2nd, and that did not end well and was followed by 3 weeks of selling but it was all "fixed" in less than a week (on 1/5th the volume) after Team Trump rolled out their "tremendous" tax breaks. One of our Members just mentioned not taking profits on AAPL, which is up 20% into earnings – in anticipation of lower taxes if he holds. How many trading decisions are being based on this and have nothing to do with market fundamentals?
Another thing I pointed out to our Members in Live Chat this morning is that, yes, the S&P is up 6% since Jan 1st but the Dollar (which the S&P is priced in and which earnings are calculated in) is down 3.5% since the start of the year:
So we have companies reporting earnings in weak Dollars, which makes them look like they are doing better than they actually are and then we price the shares in weak Dollars, which makes them look like they are more expensive than they actually are and PRESTO! the market delusion is complete! Add to that some budget-busting tax promises and a very gullible population and you have everything you need to rally a market well past its proper valuation.
Next comes my favorite part of the bubble, where companies use their overseas money to buy back their own stock at all-time highs along with a slew of very poorly timed M&A actions that boost sector after sector as companies that have no idea what to do with their cash seek acquisitions to make it look like they are growing and lock in that fat CEO paycheck for another few years (which, after all, is all that really matters).
Remember a few years ago, when there was a relentless wave of Biotech acquisitions? Notice how, in the end stage, things began to frenzy into an orgy of buying and the Biotech ETF (IBB) climbed from 60 in 2009 to 400 in July of 2015 and then – without warning – reality struck and the index plunged back to 250 (down 37.5%) by the end of the year and now, 2 years later, we're still a bit under 300.
We were on that bandwagon in 2009 and, in fact, my 2010 outlook ("2010 Outlook – A Tale of Two Economies") featured a dozen Health Care/Biotech Sector plays based on the logic that Obamacare would add 10% of the population to the customer base. Now TrumpDon'tCare is just as likely to take it away yet the sector is more or less oblivious to the danger its in. This is just one of many sectors that is unrealistically priced, given a forward analysis of the economy.
They are going to vote on Health Care again, supposedly and I'm going to pretend that politics doesn't affect the market to make your editors happy and we won't talk about the effect of either de-regulating or breaking up banks, whichever one the President is promising to do this morning (depends who he's talking to at any given moment) and that is NOT a political statement, it's an observation!
Yesterday, Trump said he was "strongly considering" breaking up the banks and the sector took a quick dip and then recovered right away when Mnuchin laughed it off and the Financial community, safely ensconced at the Milken Conference in LA (which is why Trump went of script), realized that Trump means he will first REPEAL Dodd-Frank (wiping out all regulations) and replace it with either nothing or a joke – ending regulation on banks the same way he is ending health care coverage for Millions of Americans.
This is a brilliant new strategy made possible by voters who don't hold their politicians accountable – they promise you something "better" but, to do that, they have to first take away the thing you have. 43,000 people a year will DIE without Obamacare and that's 4,000 people a month being slaughtered in the window between repeal and replace – this will be the most Americans (non soldiers) dying over Government policy since the Civil War – no wonder Trump has been talking about Andrew Jackson lately - especially in light of the civil war that is brewing under his watch.
Speaking of strategies, yesterday's trade idea on Coffee was an instant winner with Coffee Futures (/KC) blasting up from a $135 open to $137.45 into lunch and those coffee contracts pay $375 per $1 move in the price of coffee so that was a very quick $937.50 and you are very welcome!
As a rule of thumb, we like to take quick profits on 0.025(ish) moves in Coffee as it tends to retrace a lot and that's a lot for a day. This morning there will be another low entry so it's wash, rinse and repeat on that one and Oil (/CL) is also a fun one, now $48.80 and we like playing it long off the $48.50(ish) line with tight stops below that.
In addition to a lot of earnings reports today, we will get Auto Sales Data for April and that is expected to be generally weak, dipping below a 16M car trend for the first time in 3 years. It's hard to imagine how we're going to be bringing manufacturing jobs back to America if the auto industry is declining (and Friday's jobs report hangs in the balance) but I guess all those auto workers will be able to find work in the coal mines the President is working so hard to revitalize because coal pre-dates cars by 100 year and, if we want to make America Great Again, we need to go as far backwards as possible – buggy whips anyone?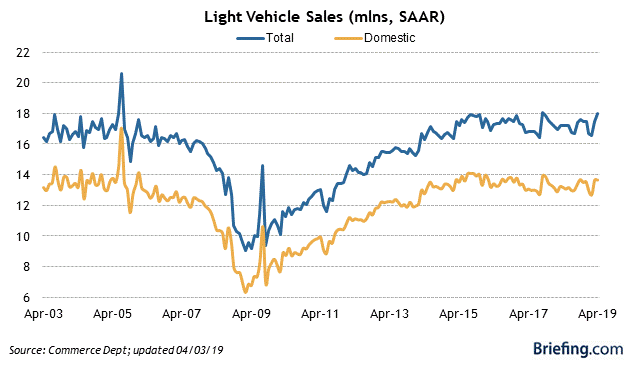 By the way, the fact that we've trailed off considerably since the election is by no means related to politics or Presidential policies – having those sorts of discussions in on a financial site would be wrong so we're going to pretend it has nothing to do with those things and make up some other non-political factors to please the editors and you, the readers, will be happy in your ignorance – isn't that just a perfect system?
Seriously, that's what your authors have to do to get published. Fortunately, I have my own site where I can tell people the truth but, in syndication, it seems the readers are "too sensitive" to discuss politics. "If you don't like to think about something – ignore it!" After all, it works for climate change and the deficit and persecuted refugees (sorry, nasty immigrants) and pollution and market bubbles… No wonder you make such smart investing decisions – your mind is completely uncluttered by things you don't want to think about!
Me, I like to look at the whole picture. In fact, I often tell our PSW Members that we should go out of our way to make sure, every day, that about 25% of our reading is from people we disagree with. For many of our more Conservative Members – I personally fulfill that obligation for them (and they mine) and, frankly, that's what makes it interesting and, more importantly, that's what makes us all better-informed about what's really going on in the World and yes, that does end up affecting the markets!
Do you know someone who would benefit from this information? We can send your friend a strictly confidential, one-time email telling them about this information. Your privacy and your friend's privacy is your business... no spam!
Click here and tell a friend!