That was the quote of the day regarding yesterday's firing of FBI Director James Comey, who the White House now says "threw a stick of dynamite into the Department of Justice, and committed "atrocities" in his handling of the Clinton email saga." That's just a week after saying Hitler wasn't such a bad guy after all but the Director of the FBI, now HE committed atrocities! Wow! Wow!
Once upon a time, that statement alone would have been all people were talking about but now that's just another day in Washington, barely worth a mention. Also not getting a mention are reports that Comey told associates that Trump was "outside the realm of normal," even "crazy." I guess we can file that under "so what else is new?" but investors are voting with their feet this morning and, as we predicted yesterday, the markets are turning down a bit.
Political turmoil is never attractive to investors and this is not something the President can tweet away (and read the comments under the tweet, they are hysterical). There are currently 3 separate investigations going on and, while we are focused on the FBI investigation due to Comey's firing, the Senate is investigating this morning and, in fact, Comey was supposed to testify but his timely firing will prevent him from coming today and instead the temporary Director of the FBI will testify to things he did not directly know about. Just a coincidence that Comey was fired right before he was scheduled to testify, I'm sure…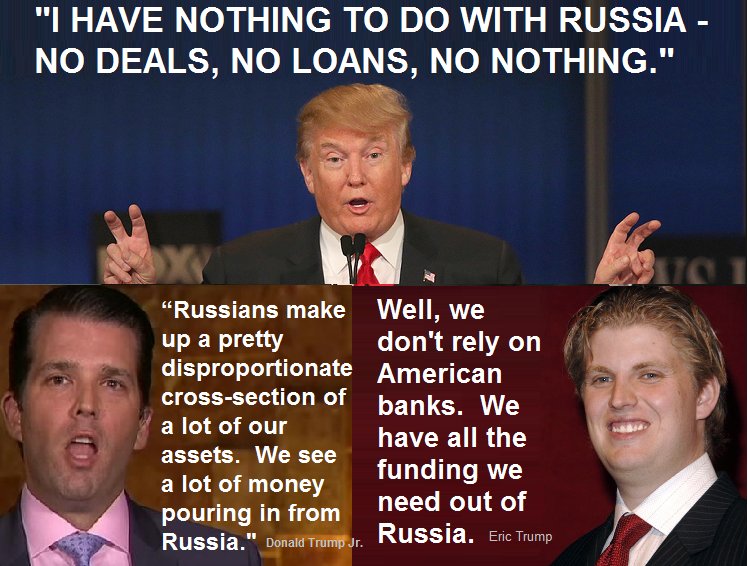 While Team Trump is hoping for a rubber-stamp from the Senate this morning, the Senate has to at least pretend they are conducting a real investigation or they face severe political backlash as the polls have already turned very much against them. Republicans would rather sacrifice a President than sacrifice control of the House and Senate and those are the stakes going foward (aside from our Democracy, which has already been sacrificed, of course).
Not many people have been paying attention to the Senate testimony so far but back in March, we already had a boatload of data from Marco Rubio, who said the Russians were still actively hacking systems belonging to his office and the office of House Speaker Paul Ryan and the FBI's Clint Watts, who already testified to the Senate Intelligence Committee as to the various ways Russia (and Team Trump) had interfered with the US election: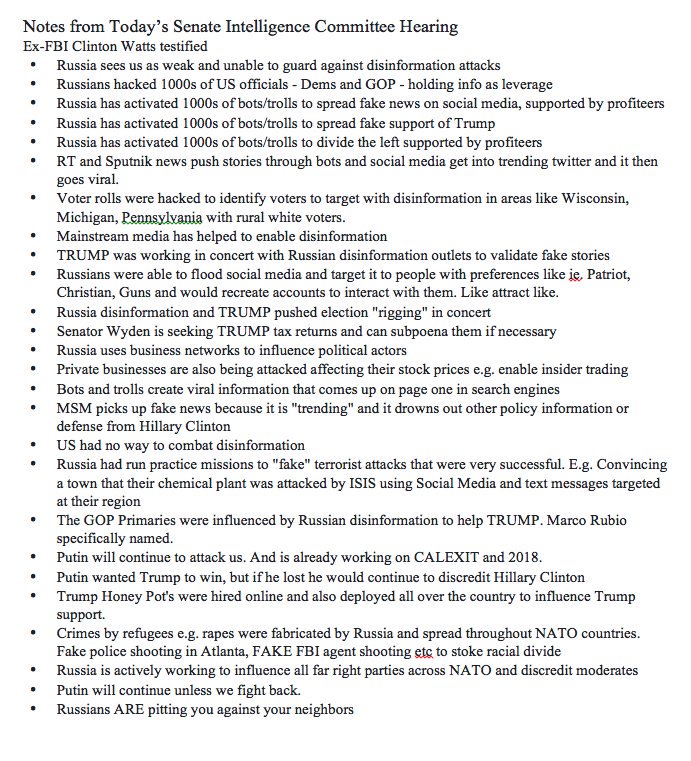 Since these revelations, the investigations have been back-burnered as repealing Obamacare and giving tax cuts to rich people became bigger priorities for the House and the Senate but Comey wouldn't let go and requested more funds to push forth the investigation – and he was fired.
We'll see how the markets hold up into the weekend. Yesterday's Oil (/CL) and Gasoline (/RB) futures trades paid off fantastically as we rocketed back to $48 and $1.56 and Silver (/SI) shot up 0.20 for $1,000 per contract gains and gold popped as well and Coffee (/KC) did the usual $2 move back over $137, which is good for gains of $750 per contract and we're back under $135 again for yet another chance to reload.
SnapChat (SNAP) took a heck of a dive yesterday which, as I mentioned in yesterday's Live Trading Webinar is evidence of how overvalued so many individual stocks are in this frothy market. That combined with the low-volume rally we've been having means we can fall very hard and fast if people find a reason to sell off so I STRONGLY reccommend having good hedges on long positions as well as plenty of CASH!!! on the sidelines.
Be careful out there!
Do you know someone who would benefit from this information? We can send your friend a strictly confidential, one-time email telling them about this information. Your privacy and your friend's privacy is your business... no spam!
Click here and tell a friend!