Financial Markets and Economy

Global Expansion Is in Sync, Even If Everything Else Is in Chaos (Bloomberg)
With the first-quarter earnings season coming to a close, the verdict is in on the synchronized global expansion: It's alive and well.
Unemployment in the U.S. Is Falling, So Why Isn't Pay Rising? (Bloomberg)
The U.S. economy is behaving mysteriously. Usually wage growth accelerates when the job market is tight: Employers have to pay more to attract and retain workers. But even though the unemployment rate hit a decade low of 4.4 percent in April, average hourly earnings grew just 2.3 percent over the past year—compared with an annual rate of more than 4 percent the last time the jobless rate was this low.
Rupee Plunges Most in 11 Months as Risk Off Hits Indian Markets (Bloomberg)
India's rupee tumbled the most since June last year as local shares joined a global selloff triggered by concern over political turmoil in the U.S. and Brazil.
ECB Could Start Considering Stimulus Exit At Next Meeting (Associated Press)
Officials at the European Central Bank have indicated that their next meeting would be a good time to consider shifting toward an exit from the stimulus efforts that have boosted the economy.
Trump has a shocking conflict of interest with China (Business Insider)
Remember when Donald Trump promised to label China a currency manipulator "on Day One"? Whatever happened to that promise?
The Volatility Buyer Known as '50 Cent' Just Had a Huge Payday (Bloomberg)
The mysterious volatility buyer or buyers dubbed "50 Cent" because of their propensity for buying large blocks of VIX call options priced at roughly a half-dollar each, had their best day of 2017 on Wednesday.
New York City is the world's most expensive place to build (The Real Deal)
New York City isn't just the most expensive place to build in the world — it's also one of the most "overstretched" in terms of skilled construction workers available, according to a new report.
Finance Elite in Vegas: Long Live Trump! Or Pence. Whichever (Bloomberg)
As Donald Trump's ballooning scandals sent stocks tumbling Wednesday, hedge fund managers gathered at the Bellagio in Las Vegas for one of the industry's most popular conferences.
Nassim Nicholas Taleb Sees Worse Tail Risks Than in 2007 (Bloomberg)
Nassim Nicholas Taleb, Universa Investments adviser and author of "The Black Swan," discusses President Trump's policies, the recent market selloff and the risks facing the global economy with Bloomberg's Erik Schatzker at the annual SkyBridge Alternatives Conference, known as SALT, in Las Vegas on "Bloomberg Markets."
Connecticut, Nation's Wealthiest State, May be Tapped Out on Taxing the Rich (The Wall Street Journal)
The wealthiest state in the U.S. is having trouble collecting enough money to pay its bills, and the Democratic governor doesn't think taxing the rich is the answer anymore.
Mr. Market Demands A Bigger Discount For Political Risk (James Picerno, Seeking Alpha)
Political turmoil swirling around President Trump reached critical mass on Wednesday, triggering a selloff in the US stock market. One concern is that the administration's pro-growth policy proposals are vulnerable if the White House is forced to address the chaos, much of it self-inflicted, that threatens to overwhelm Washington.
Weekly Natural Gas Storage Report (US Energy Information Administration)
Working gas in storage was 2,369 Bcf as of Friday, May 12, 2017, according to EIA estimates. This represents a net increase of 68 Bcf from the previous week.
Stock market climbs a second day, but still on track for weekly losses (Market Watch)
U.S. stocks traded higher for a second session in a row Friday, helped by an abeyance in White House drama, but the main indexes were still on track to finish the week lower.
Why Doesn't More of the Working Class Move for Jobs? (Harvard Business Review)
Joan C. Williams, director of the Center for WorkLife Law at the University of California Hastings College of the Law in San Francisco, discusses serious misconceptions that the U.S. managerial and professional elite in the United States have about the so-called working class.
Household Debt (Ritholtz)
Of all the charts I have seen recently on "peak debt," this one provides some basis for evaluating the context as to what the debt components look like.
Research: Workplace Injuries Are More Common When Companies Face Earnings Pressure (Harvard Business Review)
At a steel mill in Seguin, Texas, an employee suffered burns to more than 60% of his body after hot liquid steel spilled onto him. He died in a hospital three days later.
'The Everything Bubble': Why The Coming Collapse Will Be Even Worse Than The Last (Zero Hedge)
The next crash is coming, and the decision by central banks to paper over their economy's troubles with a massive injection of debt likely means that the next crash is already overdue.
Companies

Starbucks Is Finally Testing Out Coffee Ice Cubes (The Huffington Post)
Nothing kills a buzz faster than watered-down iced coffeeon a hot summer day. Enter Starbucks and its not-so-new-yet-perfect solution: coffee ice.
E.U. Fines Facebook $122 Million Over Disclosures in WhatsApp Deal (NY Times)
On Thursday, the European Union's powerful antitrust chief fined the social network 110 million euros, or about $122 million, for giving misleading statements during the company's $19 billion acquisition of the internet messaging service WhatsApp in 2014.
Elon Musk says Tesla doesn't 'deserve' market value (CNN)
Elon Musk thinks the value of his electric carmaker, Tesla, has gotten out of control.

"I do believe this market cap is higher than we have any right to deserve," Musk was quoted as saying in an interview published in The Guardian on Thursday.
Big Tech: Top or Buying Opportunity? (AAPL, AMZN) (Investopedia)
The Nasdaq-100 and big tech stocks fell more than 2.5% in Wednesday's brutal session and could lose additional ground before attracting fresh buying interest. Shareholders shouldn't be surprised by the downturn, given dramatic gains posted since the calendar flipped to January.
Dead Stock Walking: Seadrill Ltd Has Nowhere to Go but Down (The Motley Fool)
Seadrill's (NYSE:SDRL) stock currently sits 98.8% below its all-time high, which it set right before oil prices began crashing in 2014. Unfortunately for long-suffering shareholders like myself, the stock likely has farther to fall.
These 7 companies control almost every single beauty product you buy (Insider)
As consumers, we like to think that we're making a conscious decision when we buy from a certain brand, especially when it comes to something as personal as beauty products.

But it turns out that 182 beauty companies fall under the massive umbrellas of seven huge manufacturers.
Tesla factory workers reveal pain, injury and stress: 'Everything feels like the future but us' (The Guardian)
When Tesla bought a decommissioned car factory in Fremont, California, Elon Musk transformed the old-fashioned, unionized plant into a much-vaunted "factory of the future", where giant robots named after X-Men shape and fold sheets of metal inside a gleaming white mecca of advanced manufacturing.
Fiat Chrysler shares drop on U.S. diesel emissions probe (Reuters)
Fiat Chrysler Automobiles NV (FCHA.MI) (FCA) shares fell 1 percent in U.S. trading on Thursday on reports the Justice Department is preparing to file a civil suit against the automaker for selling 104,000 vehicles that emit excess diesel emissions.
Bitcoin Price Surpasses $1,820 As Trump Troubles Lead to US Uncertainty (Coin Telegraph)
After peaking at $1,840, Bitcoin price stabilized in the $1,820 region earlier today on May 18. The recent surge of Bitcoin price seems to be largely affected by the economic uncertainty of the US, caused by troubles surrounding the Trump administration.
Musk Admits "Tesla's Market Cap Is Higher Than We Have Any Right To Deserve" (Zero Hedge)
Having taunted shorts just over a month ago, Tesla CEO Elon Musk appears to have flip-flopped back to reality this morning, admitting in an interview with The Guardian that "I do believe this market cap is higher than we have any right to deserve," adding "we're a money losing company."
Technology

Google Is Trying To Make It Easier To Find Jobs At All Levels (Fortune)
Finding a job can be like looking for something in the dark. You know it's out there but it's hard to see and you're not having any luck finding it.
Google and Amazon are at war to control your home, and the effects will be felt for years (Business Insider)
Amazon and Google are currently in the early stages on an epic battle to control your home, the effects of which will be be felt for years to come.
Ford's first electric SUV could have an edge on Tesla's Model Y (Business Insider)
Ford's first fully electric, long-range car is on schedule to arrive by 2020 and will boast an affordable price tag. But it's going to have some serious competition.
There's another hacking attack right now, and it's making more money than WannaCry (Mashable Asia)
WannaCry, the hacking attack that took thousands of computers' data for ransom over the last week, hasn't apparently been very lucrative for its makers so far. But another, apparently larger and smarter hacking attack that uses the same exploits, is silently using vulnerable machines across the globe for profit.
The number of people who plan on buying a VR headset is still very low (Business Insider)
Google kicked off its big I/O developer conference on Wednesday, and, among many other announcements, said it's working to create "standalone" virtual reality headsets.
Politics

Republican senator criticizes energy secretary's grid reliability study (Think Progress)
A Republican senator is pushing back against an electric grid reliability study ordered by Energy Secretary Rick Perry, expressing concern that the Department of Energy has predetermined that wind energy is undermining the grid.
Republican Hopes for Rewriting Tax Code in 2017 Are Fading (NY Times)
Only two months ago, Republicans in Congress and President Trump's top economic advisers were confidently predicting that a sweeping rewrite of the tax code would be in hand by summer's end.
Roger Ailes Was One of the Worst Americans Ever (Rolling Stone)
On the Internet today you will find thousands, perhaps even millions, of people gloating about the death of elephantine Fox News founder Roger Ailes.
Advisers Urge Trump to Hire Outside Lawyer in Russia Inquiry (NY Times)
Several White House advisers and personal associates of President Trump have urged him to hire an experienced outside lawyer to help him deal with issues arising from a surging controversy over whether his campaign had ties to Russia, according to several people briefed on the conversations.
White House staffers are planning their exit strategies from a scandal-plagued administration: Report (Salon)
It seems that working for President Donald Trump is increasingly unappealing to the White House staffers who often bear the brunt of his anger as his administration wallows in scandal.
Trump's Version of Keeping Us Safe (NY Times)
Wow, Donald Trump can't even give a commencement speech to the military without making it all about him.

"Now I want to take this opportunity to give you some advice. Over the course of your life, you will find that things are not always fair…"
Turkey calls on Donald Trump to sack US diplomat co-ordinating war with Isil (The Telegraph)
Turkey has called on Donald Trump to sack the US diplomat responsible for co-ordinating the international coalition against the Islamic State of Iraq and the Levant (Isil), accusing him of backing Syrian Kurdish fighters that Ankara insists are terrorists.
Video Appears To Show Erdogan's Guards Clashing With D.C. Protesters (NPR)
A day after protests at the Turkish Embassy in Washington, D.C., turned violent, the State Department is criticizing Turkey's government.
Putin and Lavrov laugh about the US (CNN)
Russian President Vladimir Putin made light of President Trump's "secrets" after it was reported that he shared classified information with Russian Foreign Minister Sergey Lavrov.
Vulnerable Republicans flee from Trump (Politico)
House Republicans facing tough reelection bids are running for cover from Donald Trump — an early sign that they believe the president's deepening scandals could cost them their seats and even put the House in play.
Brazil's president is accused of obstruction of justice, and stocks plunge—sound familiar? (Quartz)
A president is accused of obstructing justice. Secret recordings may exist that incriminate the leader. Protesters take to the streets to demand impeachment.
Michael Flynn won't honor subpoena to provide documents (NY Post)
Disgraced ex-National Security Adviser Mike Flynn appears headed for a showdown with the Senate over its demand for records of his relationship with Russian officials.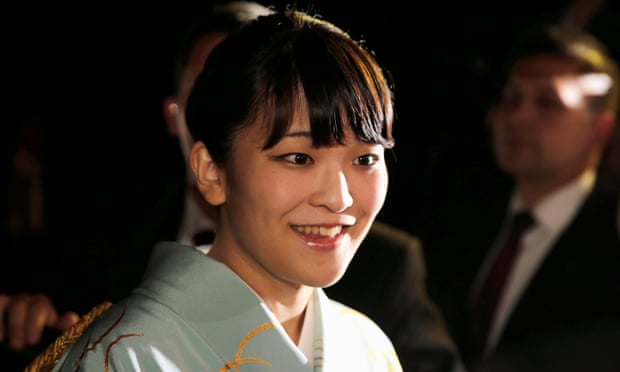 Princess Mako of Japan to lose royal status by marrying commoner (The Guardian)
News that Princess Mako, eldest grandchild of Emperor Akihito, will surrender her royal status if, as is expected, she marries a commoner, has reignited debate on the male-only succession to the world's oldest hereditary monarchy.
EU Said to Remain Unconvinced About U.S. Air Cabin Laptop Ban (Bloomberg)
European authorities are still resisting a U.S. initiative to expand a laptop ban in airline cabins by questioning the potential safety risks, according to three people with knowledge of the discussions.
GOP's Path to Tax Changes Slowed by Upcoming Budget Fight (The Wall Street Journal)
To advance a tax overhaul this year, congressional Republicans first must clear a tricky hurdle: They need to agree on a budget.
Trump isn't a toddler — he's a product of America's culture of impunity for the rich (Vox)
Ross Douthat's column arguing for the superiority of "25th Amendment remedies" to impeachment for Donald Trump's various misdeeds is impressive in its ability to actually find something new and interesting to say about the president.
Public Trust in Government Remains Near Historic Lows as Partisan Attitudes Shift (Pew Research Center)
The 2016 election ushered in a new era in Washington defined by unified Republican control of the White House and both chambers of Congress. The changes in the dynamics of power in Washington have registered with members of both political parties.
Bernie Sanders on the "White House in crisis": "There has never been a president or a candidate who has lied all the time." (Alternet)
CNN's town hall debate between Gov. John Kasich, R-Ohio, and Sen. Bernie Sanders, I-Vt., aptly titled "A White House in crisis", focused on the fallout of Trump's leaking of top-secret information to Russian officials during a meeting in the Oval Office last Wednesday.
Rick Perry's early days as Energy Secretary have been a bonanza for corporations and the Koch Brothers (Alternet)
Most people who know anything about Rick Perry know he's a friend to the fossil fuel industry. For 14 years, he was the Republican governor of Texas, a state that contains one-third of the nation's oil reserves and is home to oil giants ConocoPhillips, ExxonMobil and Valero Energy.
Life on the Home Planet

El Niño May Be Over For Now, But Record-Breaking Heat Swelters On (The Huffington Post)
One of the strongest El Niño events in recorded history may now be behind us ? but if you thought its conclusion marked the end of record-breaking global average temperatures, think again.
Police Departments Stocking Up On Riot Gear In Preparation For Summer Of Rage (Info Wars)
Purchases of riot gear by police departments are surging across the country as civil unrest grows, with fears that major American cities could see more violence this summer.
One Dead After Car Plows Into Times Square Crowd; Terrorism Not Suspected (Associated Press)
A man steered his car onto a sidewalk running through Times Square and mowed down pedestrians for three blocks Thursday, killing a teenager, then emerged from his wrecked vehicle wild-eyed and screaming before he was subdued by police and bystanders.
Do you know someone who would benefit from this information? We can send your friend a strictly confidential, one-time email telling them about this information. Your privacy and your friend's privacy is your business... no spam!
Click here and tell a friend!