It has not been a good year(s) for value investors.
Well, it's been a good year but not as great as it's been for trend followers betting on growth stocks. I guess we're not true value investors, because we've had a pretty good year but certainly we could have done better holding our noses and buying more MoMo stocks. Most of Q2 earnings are behind us and there aren't too many red flags – other than the great big one that shows value to be at an all-time low, and I don't mean value investing, but the VALUE of the stocks we're investing in.
Just because you buy and expensive stock and it gets more expensive, doesn't mean it was worth what you paid for it. This is part of the "greater fool" theory that marks stock bubbles – you can always find someone to be a greater fool than you were – until you can't – then the bubble pops.
We don't know when these sky-high valuations will come to an end, which is why we rely on hedging, more so than shorting. With hedging, we maintain our long positions but we use some of the long profits (about 25%) to lock in our gains without sacrificing any additional upside to come (or, at least not 75% of it).
What's really annoying about this stage of the rally, however, is that stocks that look cheap relative to traditional fundamental metrics such as profit or cash flow have fallen so far out of favor that Goldman Sachs in June questioned whether the markets are witnessing the death of value investing.
Since that call, the market has gained another 2.5% but, as you can see from the chart, we're back at levels we haven't seen since the 4th quarter of 2015 and the S&P topped out then at 2,116 but fell precipitously to 1,810 by Februray. That's 306 points or just shy of 15% in 3 months but we're only just getting to the top – we may drift here for a while or, maybe this time is different and the people dumping value stocks (ie. stocks that are a good value) in favor of "growth" stocks (ie. stocks that don't actually have earnings to justify their price) are right and from now on we shouldn't buy stocks that actually make a return on investment - what a silly, old-fashioned notion that is!
As noted by Institutional Investor, market funds have become "Individually Rational and Colloectively Crazy":
When people chase returns in unsustainable ways, their stock can and will decline from overuse. An aggressive, short-term approach to generating returns may lower the returns that are possible in the future.

Asset owners, addicted to high returns, engage in secretive and selfish behaviors that, over time, further deplete and pollute the stock of these returns. They invest in black boxes they literally don't understand. they dive headfirst into an ocean of individually rational, but collectively crazy decisions.
Maybe this time WILL be different – we can only hope so but HOPE is not a valid investing strategy, is it?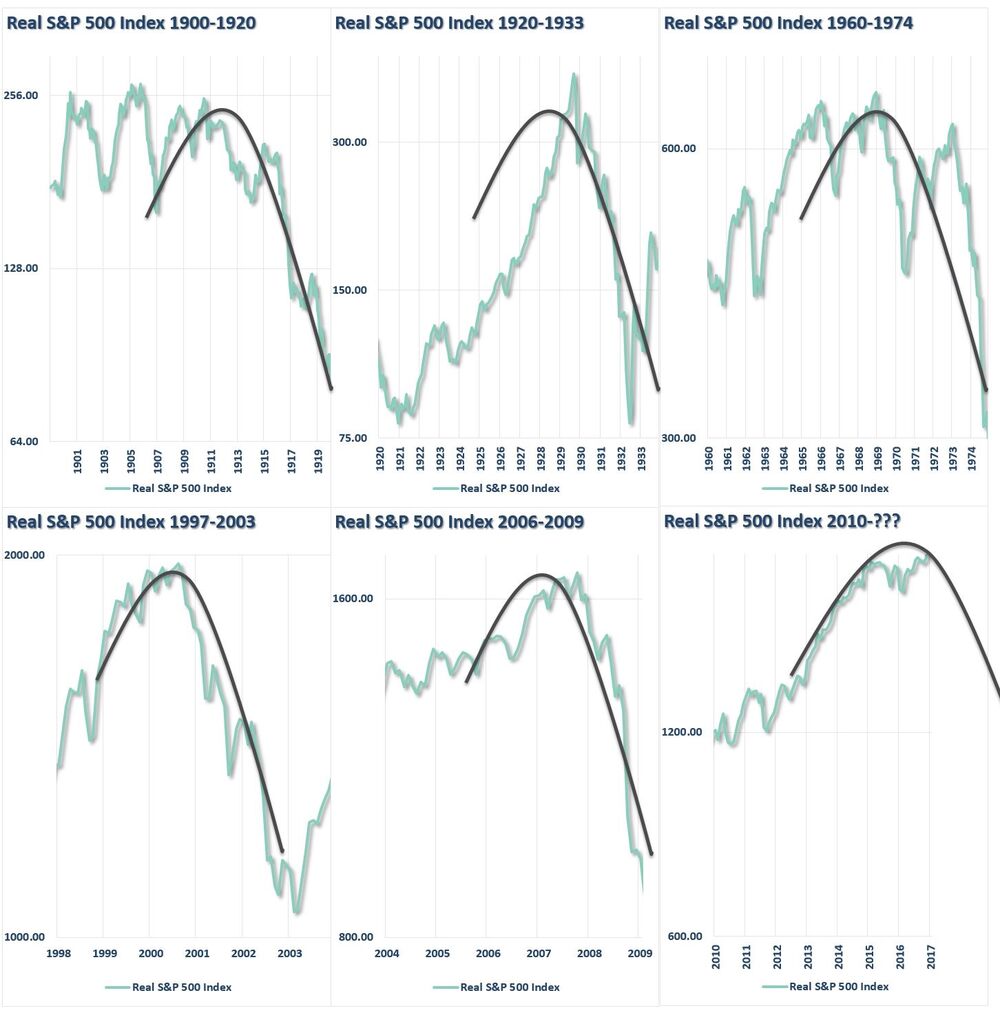 Keep in mind that we're right at 2,400 on the S&P now (2,476 actually), and that's up 100% since 2010 making this a bigger rally than any of the above – except the one that led up to the great depression of the 1930s. But hey, that's no reason not to party like it's 1929, is it? Again, I'm not saying NOT to invest – you certainly don't want to be left behind by this market – what I'm saying is HEDGE those investments, don't let greed leave you exposed and unprepared for a potentially negative market event.
On Wednesday we looked at a DXD hedge, which is an ultra-short on the Dow that pays back $20,000 on a $1,300 hedge. That was predicated on selling Apple (AAPL) puts, which is how we "invest" in longs – even within our short-covering spreads. Looking over the Dow earnings, there's no particular reason we think AAPL or IBM or BA or other major components will fall in the near future – it's not individual weakness we're concerened about but a change in sentiment that halts the "collective madness" or, even worse, reverses it.
In our Long-Term Portfolio, we're still adding value stocks. For one thing, they are cheap and, for another thing, they tend to outperform when the growth trend reverses. I know that 9 months growth-dominated market moves has left value investors frustrated but, looking at the 2nd chart – don't you think this might be the WORST time to switch horses?
There's been no indication from Warren Buffet that he's given up on value investing so you'll have to forgive me if I stick to my guns a while longer – Warren has 32 years on me, so I defer to his wisdom in these matters and, as of June 30th, Berkshire Hathaway's book value had gone up 6.2% over the past 6 months, which would normally be fantastic but now is simply under-performing with the rest of the value pack.
If the market does keep climbing, a la 1999, then we can assume those value stocks will catch up a bit but, either way, over the long-haul, it would be an odd moment in history if growth continues to outperform. Maybe this time is different and we'll all have to learn new market tricks but, for now, better safe than sorry as we move towards the end of summer.
Do you know someone who would benefit from this information? We can send your friend a strictly confidential, one-time email telling them about this information. Your privacy and your friend's privacy is your business... no spam!
Click here and tell a friend!