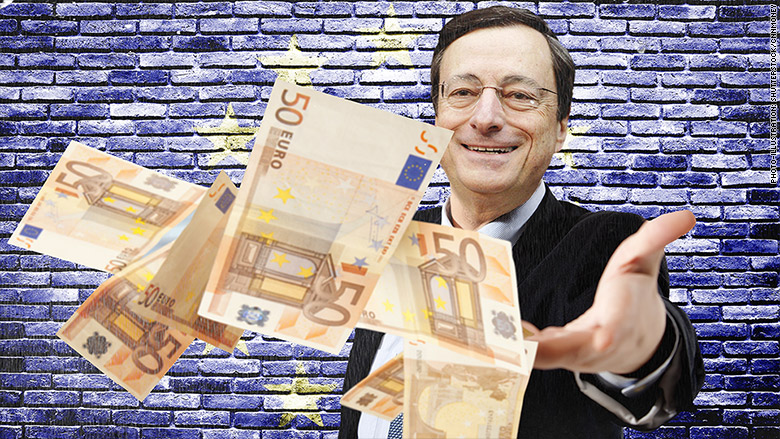 "My baby gives it up every day

My baby gives it, she gives it away

My baby gives it up every day

My baby She just gives it away" – Townshend
MORE FREE MONEY!!!
Not too surprising as that's the answer Goldman Sach's pet Central Banker, Mario Draghi, has for every situation but today's announcement from the ECB to hold rates steady AND continue pumping 60 BILLION Euros PER MONTH into the economy ($864Bn/yr) was more generous than expected in an economy that is closer to inflation than deflation with record-low unemployment and markets at all-time highs. Is this really still not enough?
The composite PMI is already over the ECB's 2% target and inflation in the Euro-zone has gone from 0% in 2015 to 0.5% last year and now is 1.5% and the ECB is bound by law to tighten if inflation goes over 2% so it seems like Draghi will only close that barn door long after the horses have bolted. This is especially worrying as the only reason we're getting low inflation readings now in the ECB is because the Euro has gotten much stronger – up over 15% since April.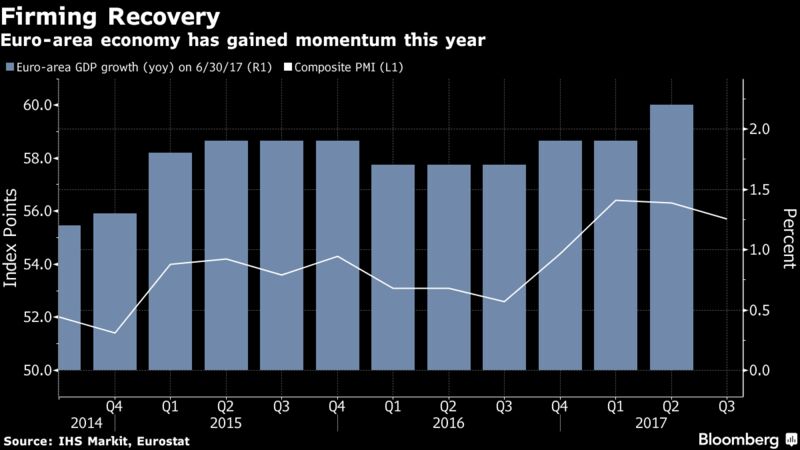 For many economists, the central bank has little choice but to slow buying next year — simply because it'll soon run out of bonds. Holdings are scheduled to reach nearly 2.3 TRILLION Euros by the end of the year, equivalent to almost a quarter of the bloc's annual output. "The question is whether a shortage of bonds in some markets will turn into outright scarcity, and how best to address this problem," said Marchel Alexandrovich, an economist at Jefferies in London.
Meanwhile, we're watching out for Irma as she heads towards Florida and, as we predicted for you in yesterday morning's PSW Report (only $3/day to have it delivered pre-market), oil topped out just under $49.50:
Generally, I expect strong bounces today but failing those will put us back in bearish mode and /TF is sill my favorite short (1,406), as is oil (/CL), at $49.50 if we hit it or below the $49 line with tight stops if we don't because tomrorrow's inventory report is likely to show a build in crude with all the refineries shut down (though there are a lot of stranded deliveries too) and next week will be worse and, if Irma misses the Gulf – then no way will enough oil production go off-line to even things out.
As you can see, we're already up $1,000 this morning with 2 of our 4 contracts off the table and a stop on the rest at $48.75 to lock in the gains but I think we'll get a much better dip than this on the upcoming inventory report (so we're likely to get back in after a bounce). Already, last night, the American Petroleum Institute showed a 2.8Mb build in crude and that included Saturday, 2 days after the hurricane hit Houston. Gasoline was only down 2.5Mb – also disappointing. We get the EIA report at 11 this morning – that's when we should see some fireworks in the energy patch.
Meanwhile, the Russell shorts were good for gains of $300 per contract as we retested 1,400 but, so far, it's holding. Natural Gas (/NGZ7) was our biggest winner, with contracts flying from $3.185 to $3.225 and, at $420 per penny, per contract – that's $1,680 gained per contract gained on the day for those people smart enough to spend $3/day to read our reports – you're welcome!
Remember: I can only tell you what the markets are likely to do and how to make money trading off those probabilities – the rest is up to you!
Speaking of things that are up to you, you should also check out the trade ideas we gave you for Lowe's (LOW) and Generac (GNRC) in yesterday's morning report – both are popping already but have plenty of room left to run.
We have a Live Trading Webinar this afternoon at 1pm where we'll review some Futures Trading Techniques as well as identify some new trade ideas but those of you who were able to catch my interview on Money Talk last night already got 3 brand new bullish trade ideas and a follow-up of our Trade of the Year (WPM) that can still make you another 200% in 16 months – just picking up our Members' leftovers:
We've started a new portfolio for the Money Talk viewers where we hope to turn $50,000 into $100,000 by next year. No Futures trading, of course, just stocks and options. Futures are just something to do while we wait for our nice, conservative options spreads to play out over time….
Speaking of Futures, I can't reconcile why the Dollar (/DX) is at 91.40 with the ECB on hold so I'm liking those contracts long. No matter what BS Draghi spouts, the bottom line is he's done today but the Fed will meet on the 20th and they really can't be any looser so any rumor that they are going to tighten can give us a few points on the Dollar and, at $1,000 per point – that can be a nice winner.
If you are Futures-challenged, you can use the Dollar ETF (UUP), which is at $23.75 this morning and you can buy the Sept $22.50 calls for $1.40 so just 0.15 of premium while a 2.5% move would be 0.60 so a gain of maybe 0.50 would be 35% if all goes well.
This is a tricky play as Fisher (hawk) surprisingly quit the Fed yesterday and there are now 4 open seats and Yellen may be replaced as well, giving Donald J Trump complete control of our monetary policy with his picks – what could possibly go wrong? Also, we have not one, not two but four Fed speakers this afternoon, presumably to prevent a panic over the release of the Money Supply and the Fed Balance Sheet at 4:30:
It's going to be an interesting day and we'll be analyzing what Mester has to say during our Webinar (1pm, EST) and hopefully coming up with some trade ideas to go along with it.
Meanwhile, CASH!!! is still king and you can get a lot of it for your stocks so make sure you REALLY want to hold those winners through 20% corrections before letting them ride during what looks to be a very volatile month.
Do you know someone who would benefit from this information? We can send your friend a strictly confidential, one-time email telling them about this information. Your privacy and your friend's privacy is your business... no spam!
Click here and tell a friend!