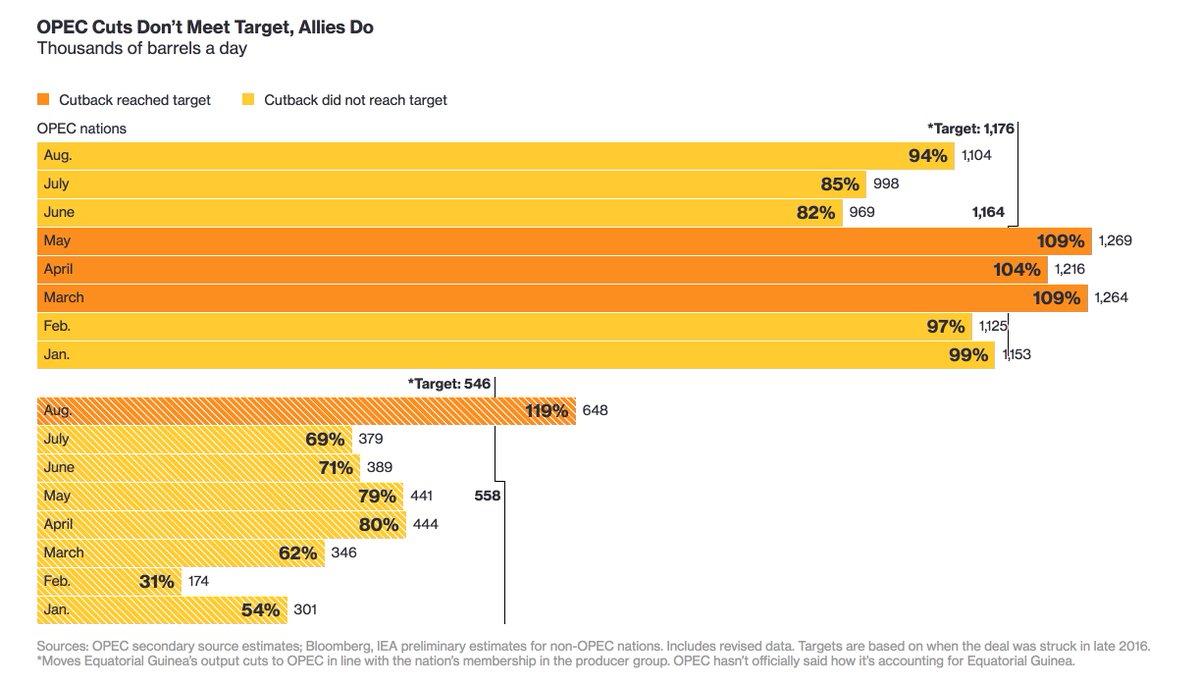 This will be interesting.
After saying they would for the last 10 days, driving oil from $47.50 on 9/11 to $51 (7.4%) on Wednesday (now $50.45), OPEC has now decided they will "wait and see" what happens between now and their March meeting. As U.S. shale oil continues to thrive and seasonal demand wanes, the surplus that has weighed on markets for three years could return. If OPEC doesn't extend the supply curbs, the market will return to oversupply again, forecasts from the International Energy Agency indicate.
Our average on the Oil (/CL) Futures shorts is $50.48 on 10 contracts and we're waiting fo the great unwind, which probably won't happen today as the weekend is here but these contracts run until 10/20 and there are 1.267Bn FAKE!!! orders over at the NYMEX in the front four months – so we're pretty confident there will be a catastrophic sell-off at some point.
Click for
Chart

Current Session
Prior Day
Opt's
Open
High
Low
Last
Time
Set
Chg
Vol
Set
Op Int
Nov'17
50.73
50.78
50.32
50.39
08:26
Sep 22






-


-0.16
112700
50.55
591424
Call Put
Dec'17
51.12
51.13
50.68
50.78
08:26
Sep 22






-


-0.15
18699
50.93
362835
Call Put
Jan'18
51.34
51.39
50.96
51.05
08:26
Sep 22






-


-0.16
5652
51.21
215723
Call Put
Feb'18
51.49
51.53
51.14
51.20
08:26
Sep 22






-


-0.19
5745
51.39
97180
Call Put
Mar'18
51.59
51.59
51.26
51.35
08:26
Sep 22






-


-0.14
3687
51.49
180488
Call Put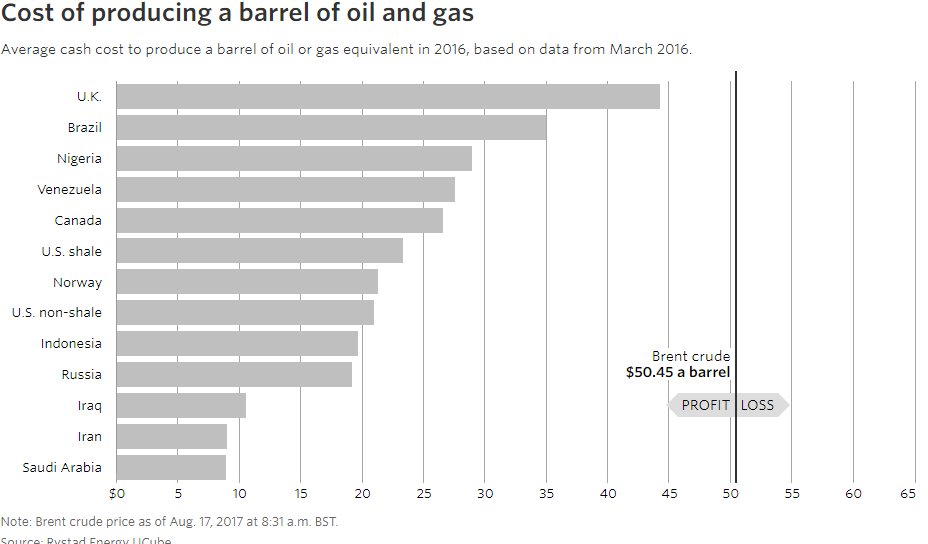 We're confident shorting at $50-$51 because that's the point at which everyone makes money producing oil. Even the high-cost UK (where all oil is deep-water) makes 10% selling $50 oil so the incentives to pump all they can at these prices becomes quite high and the prices tend to become self-correcting.
As you can see on the chart, Saudi Arabia has a very unfair advantage over their OPEC buddies with a $9 average production cost so it hurts them a lot less to cut production because their margins are so massive for each barrel sold. They wanted to get the other OPEC producers to agree to cuts but many of those countries are having trouble making their budgets and, as you can see from the first chart – have already been cheating all summer.
When so many people are cheating you either have to call them out for their cheating and get them to stop (the goal of today's meeting) or you have to end the game (the outcome of today's meeting). Now the chips shall fall where they may – along with oil prices – and we expect to at least see $49 again for a $1,500 per contract gain. We'll follow up next week and see how things go. If you short all 591,424 FAKE!!! open contracts at the NYMEX, a $1 drop would net you $591,424,000 profit. I'm not greedy – I only took 10, leaving the rest for my readers. .
One day, I'd love to organize 591,424 people to buy 1 oil contract each and TAKE DELIVERY ($50,000). That would MORE THAN DOUBLE the commercial inventory (477Mb) of the United States (the entire Strategic Petroleum Reserve only has 675Mb) and create a glut of crude in this country so intense, that it would take years to unwind. On the downside, we would take a tremendous loss on the contracts we have delivered but we can offset that by shorting 5 other contracts and making 5x what we lose – while doing our country a service and cutting oil prices for our fellow Americans while breaking the back of the NYMEX oil scam. Maybe we can do it on Kickstarter?
Speaking of fun trades, the Dollar (/DX) was back at our 91.50 long line this morning and we made $750 per contract on those on Weds and we're very happy to do it again if they insist. We also played the UUP Oct $23.50 calls at 0.45 and they hit 0.60, for a 33% gain on the day – so that's the range we still like to play in for the Dollar. The Fed's Williams this morning, attempted to soften Wednesday's blow by stating "We have quite a bit of room to reduce interest rates in response to negative economic developments if needed."
"Obviously we've talked about this endlessly. We've announced it and the markets have taken totally taken this in stride. But it's still an open question as we actually implement this next month and over the next several years – 'how will markets react?' Well obviously be following that very carefully."
"My view, based on a lot of research people have done including my own work on this, is that the normal Federal funds rate is likely to be around 2.5 percent," Williams also said. Williams is a super-dove, of course. Robert Kaplan, who is more of centrist, speaks at 1:30 pm (EST).
We're still short the Russell (/TF) at 1,435 and it's 1,445 for a $50 per contract loss at the moment but a great entry for those who are not in it with stops out above 1,450 (and back in below) for $100 losses if it keeps going crazy. It's not about today, but about next week, when we wil have Consumer Confidence and New Home Sales on Tuesday, Durable Goods and Pending Home Sales on Wednesday, GDP on Thursday and Personal Income & Spending, PCE Prices, Chicago PMI and Michigan Sentiment on Friday – so it's a busy data week and we're pretty sure the hurricane will cause Durable Goods and GDP to slump enough to knock the market down a bit.
We had a TZA hedge for you in yesterday's morning's PSW Report, so we're good into the weekend.
With Trump and Kim trading insults and threating to drop hydrogen bombs on each other – I like of like the Volatility Index (VXX) long over the weekend. It's at $41 now and we can make a nice aggressive play for our Options Opportunity Portfolio as follows:
Sell 10 VXX Oct $40 puts for $2 ($2,000)

Buy 20 VXX Oct $38 calls for $4 ($4,000)

Sell 20 VXX Oct $42 calls for $2.35 ($2,350)
That works out to a net $350 credit on 20 of the spreads that will pay $4,000 for a $4,350 profit (1,242%) in 30 days if VXX is over $42. If not, we are obligated to be long 1,000 shares of VXX at net $39.65 and we would then sell Nov $40 calls, which are now $4.50 for maybe $4,000 back and, if our worst case is having a stock we can make 10% a month against selling calls – I think we can live with that, right?
Have a great weekend,
- Phil
Do you know someone who would benefit from this information? We can send your friend a strictly confidential, one-time email telling them about this information. Your privacy and your friend's privacy is your business... no spam!
Click here and tell a friend!