Archive for 2017
by ValueWalk - March 26th, 2017 11:30 pm
By Mauldin Economics. Originally published at ValueWalk.
World explained in maps French Nationalism
BY MAULDIN ECONOMICS
By Gauthier Bouchet (Own work) [CC BY-SA 3.0], via Wikimedia Commons
What does it mean to be French? Inherent in this question is a fundamental tension within French nationalism that is unique to France.
Originally, France consisted of diverse regions with their own languages, resources, and way of life. Take a look at the map below.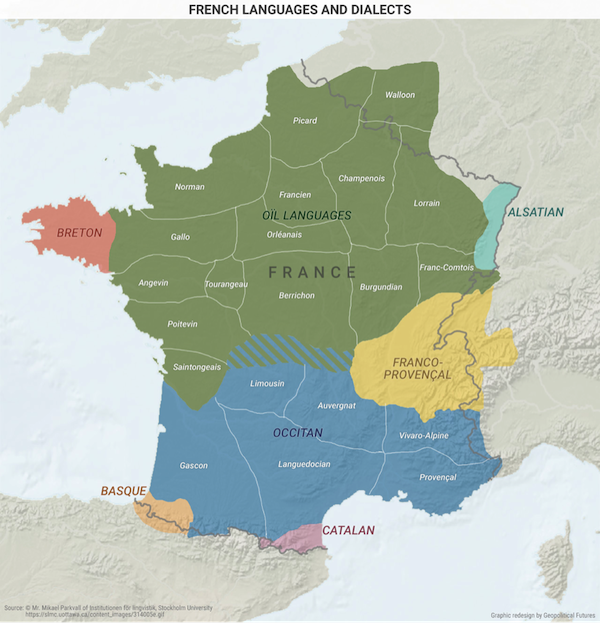 World explained in maps – French Nationalism
This diversity grew into a united country. From this, we can understand how one aspect of French nationalism is that it views itself as a universal program.
This nationalism holds that French ideas about "liberté, égalité, and fraternité" are as equally important as speaking French and living on French soil.
In this sense, anyone who adopts these principles can be French. And anyone who becomes a French citizen is heir to these principles.
Nationalism and Immigration
French nationalism was based on the idea that the nation was of paramount importance. It was defined by class and a set of ideas about how society ought to be structured.
All of the various factions in the French Revolution believed they were unifying the nation. But each faction had to exclude certain groups from the nation in order to define the whole.
This has morphed far beyond the original exclusion of the aristocracy. It has been used to exclude immigrants to France. The question of immigrant and Muslim assimilation as full members of the French state is at the forefront of debate leading up to presidential elections in April.
France is currently at the beginning of an inward turn that indicates a moment of crisis. The next French President will enter office with a country whose strategic position is weak, its economy stagnant, and its society divided.
 The World Explained in Maps reveals the panorama of geopolitical landscapes influencing today's governments and global financial systems. Don't miss this chance to prepare for the year ahead with the straight facts about every major country's and region's current geopolitical climate. You won't find political rhetoric or media hype here.
The World Explained in Maps is an essential guide for every…

by ValueWalk - March 26th, 2017 11:13 pm
By Mauldin Economics. Originally published at ValueWalk.
World explained in maps Russia Growing Unrest As Oil Prices Tank
About one year from now, on March 18, 2018, Russia will hold a presidential election. This will take place against the backdrop of an economic crisis that will continue to plague the country in the coming year.
Russia's biggest challenges will be internal, and the countryside will show more signs of crisis.
The five maps below are a very strong indication of Russia's growing instability.
Map #1: Governors Who Have Lost or Are at Risk of Losing Their Posts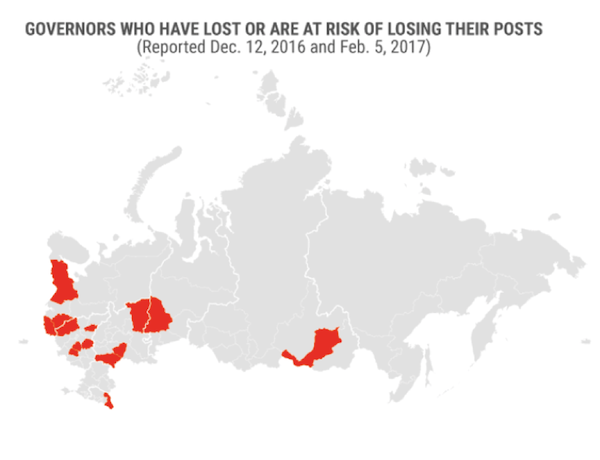 President Vladimir Putin's most recent move to secure his political power at both regional and national levels is a purge of Russian governors. This is a key move because of the vital interplay between governors and members of the national government. They often work together, depend on each other, and look out for one another's interests.
Map #2: Areas of Protest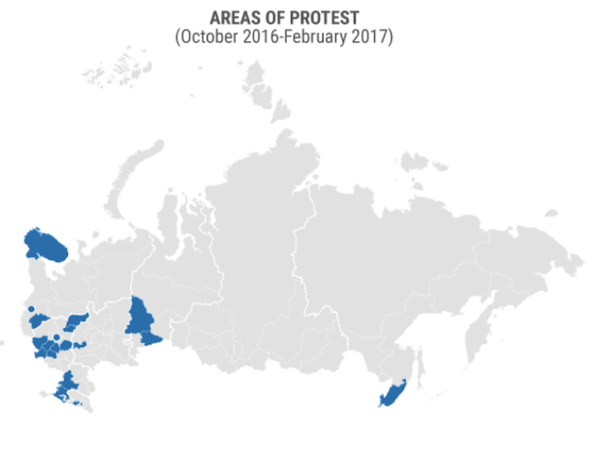 Russia faces a number of social and economic problems that have resulted in unrest. After oil prices dropped in late 2014, the country began to see economic and labor protests. Since then, unrest has spread across Russia.
Map #3: Generals Removed from EMERCOM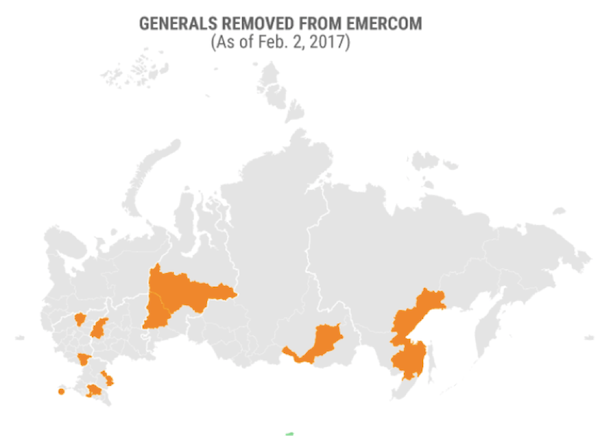 As economic and social problems persist, so do Putin's moves to cement power in the security sphere and political arena. On Feb. 2, the Russian government published a presidential decree that removed 16 generals from their posts in two ministries. Thirteen of the dismissals were in EMERCOM, the government office that deals with civil defense, public unrest, and protests. The rest were from the Interior Ministry. They were replaced with officials picked by Putin.
Map #4: Banks with Licenses Revoked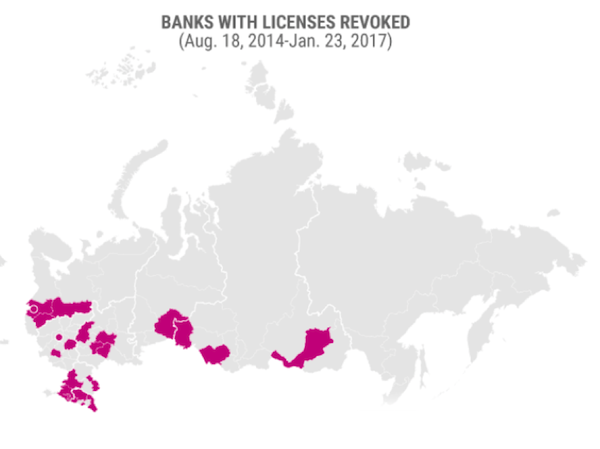 The decline in oil prices has had a negative effect on the Russian banking system. Incidents of Russian depositors applying for deposit insurance have increased markedly. The above map identifies regions where over 100 banks have had their licenses revoked.
Map #5: Wage Arrears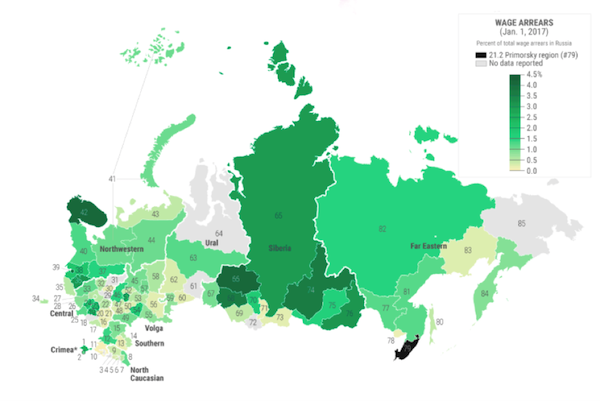 …

by Zero Hedge - March 26th, 2017 11:02 pm
Courtesy of ZeroHedge. View original post here.
Markets may not be turmoiling yet, but as per this "emergency" Sunday night "hot take" from RBC's cross-asset head Charlie McElligott notes, things are certainly starting to break.
"Reflation" themes were already staggering in recent weeks off-the-back of the recent the crude oil sell-off (and the implications for weakened 'inflation expectations')—but to now see the longer-term 'US fiscal policy upside kicker' looking especially threatened, it is likely that the 'big three' trade expressions (longs in US Dollar US Banks and shorts in US Rates) are looking very exposed for an acceleration of recent drawdowns (in conjunction with longs in HY, 'cyclicals / defensives' L/S pairs, equities 'value' factor, equities high beta, US equities small cap).
'Long Dollar' trades are currently seen unwinding 'real-time' as 'the world's most crowded trade' and 'reflation' proxy earlier this evening broke the convergence of both its 200dma and the 76.4% Fibo Retracement of the entire Dollar move since the US election—exposing significant downside.  Legacy shorts held against the US Dollar in Euro (making 2017 highs vs USD), Yen (making 2017 highs vs USD), Pound and Canadian Dollar are being painfully squeezed as traders are liquidating after 'processing' the implications of the Trump Administration's failed ACA repeal Friday, with many 'late-comers' to these trades significantly 'under water' already and looking to 'tap out' on losers.  Tactical funds and discretionary macro were already pivoting 'short USD' last week on the new "policy CONVERGENCE" dynamic, and now with momentum having clearly pivoted in the other direction, one would expect systematic / trend / CTA to be heavily-involved now as well on the short-side of USD trades.
The story that we were getting Friday from some buyside traders and sellside strategists (by-and-large) was that a "no" vote was almost irrelevant to risk-assets, as market participants want the US Administration to 'move on' and 'focus its efforts' on tax policy anyhow (versus being mired in further debate with the 'repeal and replace' of the ACA).  What many were missing here though (and noted by Mark Orsley Friday afternoon) is that the sequencing of 'healthcare' and 'budget' before 'taxes' was intentional and critical, as spending cuts from a repeal of the ACA were effectively a 'requirement' against the pending new administration's tax-plan which will only further increase the deficit.  This is obviously
…

by ValueWalk - March 26th, 2017 11:01 pm
By Mauldin Economics. Originally published at ValueWalk.
Angst is "a feeling of anxiety, apprehension, or insecurity." Many of us feel it acutely right now—and that's new. Angst isn't a temporary, individual thing anymore. Now we all feel it together—or at least most of us do—and it's not at all temporary.
I've touched on this before, but it's no wonder that so much of our angst is job-related. Some people don't have jobs at all. While many others don't like the jobs they have. The millions of unemployed, underemployed, or unhappily employed touch all of us in some way.
If our nation's work rate today were back up to its start-of-the-century high, well over 10 million more Americans would now have paying jobs. And that employment shortfall makes a real difference to the growth of the economy.
There Are Only Two Ways to Grow the Economy
You either have to grow the number of people working. Or you have to increase their productivity. If you remove 10 million American workers from the labor force, not only are they not producing anything, the vast majority of them are clearly consuming the fruits of the labor of those who are employed.
The number of people dropping out of the labor force is increasing. If that trend is not turned around, the hope that we will get back to 3% GDP growth is just wishful thinking.
Couple that trend with reduced productivity, and we will be lucky to see even 2% growth for the rest of the decade. If we have a recession, we will end up with a lower GDP than we have today.
Think about that. And then plug it into federal budget projections.
Employers Lack Qualified Workforce
Meanwhile, employers feel a different kind of angst. Many either can't find qualified workers or their workers require constant attention and extensive training to be productive. Neither side of the labor-management divide is happy with the arrangements.
Everybody is apprehensive about the future. The common complaint from businessmen is not that they need more capital and the ability to borrow money from banks. But that they need more good workers in order to attract more good customers.
The Result Is Trump
This widespread angst among employers, employees, and those who aren't working is…

by Zero Hedge - March 26th, 2017 10:50 pm
Courtesy of ZeroHedge. View original post here.
Authored by Michael Hudson via NakedCapitalism.com,
Nobody yet can tell whether Donald Trump is an agent of change with a specific policy in mind, or merely a catalyst heralding an as yet undetermined turning point. His first month in the White House saw him melting into the Republican mélange of corporate lobbyists. Having promised to create jobs, his "America First" policy looks more like "Wall Street First." His cabinet of billionaires promoting corporate tax cuts, deregulation and dismantling Dodd-Frank bank reform repeats the Junk Economics promise that giving more tax breaks to the richest One Percent may lead them to use their windfall to invest in creating more jobs. What they usually do, of course, is simply buy more property and assets already in place.
One of the first reactions to Trump's election victory was for stocks of the most crooked financial institutions to soar, hoping for a deregulatory scythe taken to the public sector. Navient, the Department of Education's knee-breaker on student loan collections accused by the Consumer Financial Protection Bureau (CFPB) of massive fraud and overcharging, rose from $13 to $18 now that it seemed likely that the incoming Republicans would disable the CFPB and shine a green light for financial fraud.
Foreclosure king Stephen Mnuchin of IndyMac/OneWest (and formerly of Goldman Sachs for 17 years; later a George Soros partner) is now Treasury Secretary – and Trump is pledged to abolish the CFPB, on the specious logic that letting fraudsters manage pension savings and other investments will give consumers and savers "broader choice," e.g., for the financial equivalent of junk food. Secretary of Education Betsy DeVos hopes to privatize public education into for-profit (and de-unionized) charter schools, breaking the teachers' unions. This may position Trump to become the Transformational President that neoliberals have been waiting for.
But not the neocons. His election rhetoric promised to reverse traditional U.S. interventionist policy abroad. Making an anti-war left run around the Democrats, he promised to stop backing ISIS/Al Nusra (President Obama's "moderate" terrorists supplied with the arms and money that Hillary looted from Libya), and to reverse the Obama-Clinton administration's New Cold War with Russia. But the neocon coterie at the CIA and State Department are undercutting his proposed rapprochement with Russia by forcing out General Flynn for starters. It seems doubtful that Trump will clean them
…

by Zero Hedge - March 26th, 2017 10:15 pm
Courtesy of ZeroHedge. View original post here.
In the world's deepest gold mine, workers will venture 2.5 miles (4 km) below the Earth's surface to extract from a 30-inch (0.8m) wide vein of gold-rich ore.
While these depths are impressive, Visual Capitalist's Jeff Desjardins notes that mining is limited by the frailty of the human body. Going much deeper would be incredibly dangerous, as limitations such as heat, humidity, logistics, and potential seismic activity all become more intense.
Luckily, the oil industry does not have such human obstacles, and drilling deep into the Earth's crust is instead limited by a different set of circumstances – how deep can the machinery and technology go before the unfathomable heat and pressure renders it inoperable?
THE WORLD'S DEEPEST OIL WELL
Today's infographic comes to us from Fuel Fighter, and it helps to visualize the mind-boggling depths of the world's deepest oil well, which is located in a remote corner of eastern Russia.
The world's deepest oil well, known as Z-44 Chayvo, goes over 40,000 ft (12 km) into the ground – equal to 15 Burj Khalifas (the tallest skyscraper) stacked on top of each other. That's also equal to 2x the record height for air balloon flight.
Perhaps more importantly to the operator, Exxon Neftegas Ltd., the wells on this shelf are expected to produce a total of 2.3 billion barrels of oil.
THAT'S SOME SERIOUS DEPTH
Before the Z-44 Chayvo Well and other holes like it were drilled on the eastern side of Russia, the famous Kola Superdeep Borehole held the record for drill depth.
Located in western Russia, this time just 10 km from the border with Norway, the Kola Superdeep Borehole was rumored to have been discontinued in 1992 because it actually reached "hell" itself. At its most extreme depth, the drill had pierced a super-hot cavity, and scientists thought they heard the screams of "damned souls".
All folklore aside, the Kola Superdeep Borehole is super interesting in its own right. It revealed many important things about our planet, and it still holds the record today for depth below the surface.
by Chart School - March 26th, 2017 10:08 pm
Courtesy of Blain.
Tuesday's long overdue >1% selloff in the S&P 500 broke a very long and rare streak in the S&P 500.   The S&P 500?s streak without a 1% down day was the longest since May 18, 1995!  A marginal close lower Monday was followed by a 1.2% drop Tuesday (the NASDAQ fell 1.8% that day).
"I think that investors are kind of starting to discount the likelihood of the immediacy of [President Donald Trump's] policies and the enthusiasm has come off the boil as a lot of his policies got mired in the legislative process," said Jack Ablin, chief investment officer at BMO Private Bank. "Investors are not throwing in the towel but they are resetting their expectations."
According to Bespoke, there have been only 11 instances since 1928 where the S&P 500 went over 100 days without a 1% loss.  If you believe history will repeat from a very small sample size, things still will be bullish from here.
On average during the week, month and three months following the first decline during those periods, the broad-market S&P 500 tends to end higher.  For the week, the average gain is 0.65%, advancing 8 out of 11 times. The average return after a month is 2.34%, with returns positive in 9 out those 11 occasions. After three months, average returns are about 2.44%, boasting gains in 8 out of those 11 periods.
The defeat of "repeal and replace" healthcare had some doubting whether the corporate tax reform – seen as one of the major legs of this market's rise – may be at some risk down the road.
"The trading has nothing to do with the health-care aspects of the bill, and everything to do with what it means for tax reform, infrastructure spending, the general ability of these guys to get things done. A lot of the rally has been based on the expectation that these things will get done. If you bring that into question, a lot more risk enters the market," said Ian Winer, director of equity sales trading at Wedbush Securities.

"At a time when the S&P 500 is
…

by Market Shadows - March 26th, 2017 10:00 pm
Courtesy of John Rubino.
…

by Zero Hedge - March 26th, 2017 9:40 pm
Courtesy of ZeroHedge. View original post here.
Bubbles are easy to spot – pinpointing when they'll pop – is quite another.
I coined that phrase a while back which is nothing more than adding my own spin combining two very old catch phrases used by seasoned traders and investors. I use the word "seasoned" for a reason. Why?
Because they're the ones that have been around (and been burned themselves) yet lived to trade, or invest, another day. Those who remained wedded (usually the novice or one who's never experienced true volatility) to the more prominent and specious claims of "you can't tell when you're in a bubble" followed with "you can always get out in time" for the most part are long gone. i.e.,The bubble popped into the ether – along with their money.
Nowhere was this phenom more apparent than the real-estate boom of the early 2000's, which followed the prior phenom only 10 years prior (e.g., the dot-com crash) that should have seared into people's memory for millennia just how "bubbles" take shape – and the resulting financial devastation that happens rapidly once they've popped.
Guess what? (actually you already know) nobody seems too care. Yet, here's something you may not know, but should: It's all happening again, and in the same time frame.
We are once again (you're going to see that phrase a lot) hovering in and around the all-time highs in the "markets." And, once again, all the warning signs are coming into place that should be the tell-tale signs for prudence and caution. Here are three, but they're a very big 3 when combined. Ready?
Tony Robbins has authored another financial book.
Suze Orman has once again reemerged to deliver her brand of financial advice.
They're both delivering their insights at a venue titled (wait for it) Real Estate Wealth Expo™, where you too can learn how to become a millionaire via real estate.
So, let me make this statement right-off-the-bat: This isn't a hit piece about either Tony, Suze, or The Expo. What I'm strictly relating my argument too is the phenom and psychology that reemerges with a vengeance during what is known as "the topping process." aka "The late stages of a bubble mentality."
This is the moment in time where generic, over simplified
…

by Zero Hedge - March 26th, 2017 9:05 pm
Courtesy of ZeroHedge. View original post here.
Last week saw the largest drop in aggregate Treasury short positions since Brexit. Ironicaly, while bond bears felt the squeeze, traders piled into Eurodollar shorts (increased rate-hike bets) sending the short-end's positioning to record highs.
Across the entire Treasury bond futures complex, shorts covered over 200,000 10-year-equivalent contracts (around $20 billion notional), but as is clear below, the net short – while the smallest since December 2nd – remains extreme relative to norms over the last 6 years.
At the same time, Eurodollar traders added to their rate-hike bets - extending the net short to a record 3.009 million contracts… (over $3 trillion notional)
The lofty fiscal expectations surrounding President Donald Trump have begun to subside.
The short-dated skew between payers and receivers on 10-year yields is flat, with the risks now more symmetric for rates, allowing investors to position for outcomes following the U.S. fiscal debate. Steeper skews would indicate payers richening relative to receivers, signaling expectations for higher rates.
Additionally, as Bloomberg's Tanvir Sandhu notes, another factor that bears need to contend with is overseas demand for Treasuries. The cost of currency-hedging for dollar assets has cheapened for Japanese investors, with the three-month basis now at the two-year average. Japanese life insurers typically buy domestic bonds in March and foreign bonds in the first half of the fiscal year that starts in April. This may help keep U.S. 10-year yields below 3 percent.