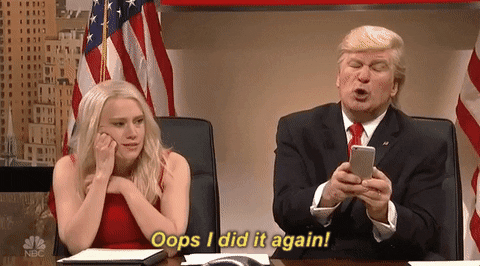 Oops, he did it again.
Our deal leader hit the Twitter this weekend, attacking Meuller and his team summarizing all the Team Trump talking points with the following (1 of 8):
The Mueller probe should never have been started in that there was no collusion and there was no crime. It was based on fraudulent activities and a Fake Dossier paid for by Crooked Hillary and the DNC, and improperly used in FISA COURT for surveillance of my campaign. WITCH HUNT!
That came after Trump opened the doors for every lawyer in America to request a retrial for anyone who was ever convicted by the FBI:
Andrew McCabe FIRED, a great day for the hard working men and women of the FBI – A great day for Democracy. Sanctimonious James Comey was his boss and made McCabe look like a choirboy. He knew all about the lies and corruption going on at the highest levels of the FBI!
It's very unusal for a leader to claim that his own national intelligence force is corrupt "at the highest levels" after firing both leaders. That makes every case they ever worked on (thousands) now questionable – imagine how many Russian that were convicted of crimes, not to mention the 13 Russians that were recently indicted – can now make a case that the President himself said the FBI was an untruthful, corrupt organization whose word could not be trusted.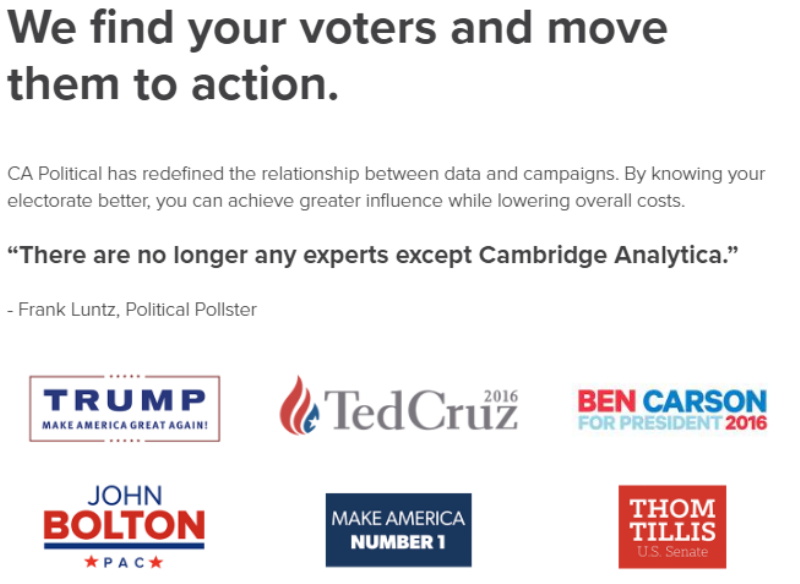 But that's not what made the Nasdaq drop 100 points overnight. That was a different scandal, also involving the President (of course) and his campaign propaganda firm (founded by Steve Bannon), Cambridge Analytica, involving a fake personality test that targeted likely Trump voters and fooled them into revealing their personal information AND the personal information of their contacts – 50M people in total.
The EU's justice chief Vera Jourova tweeted the news of the leak was "horrifying, if confirmed" and that "we don't want this in the EU." The EU commissioner will travel to the U.S. this week and said she "will seek further clarifications from #Facebook to understand this problem better." Senator Amy Klobuchar of Minnesota, a Democratic member of the Senate Judiciary Committee, went so far as to press for Mark Zuckerberg, Facebook's chief executive, to appear before the panel to explain what the social network knew about the misuse of its data "to target political advertising and manipulate voters."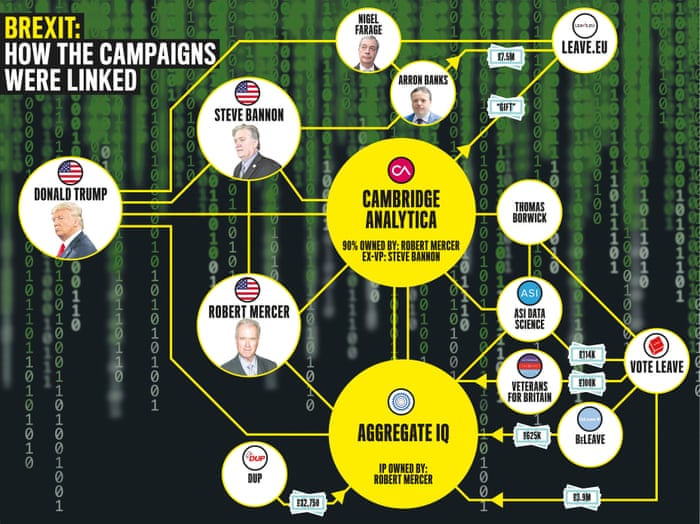 The fallout from the reports added to questions Facebook was already confronting over the use of its platform by those seeking to spread Russian propaganda and fake news. The social media giant has grappled with the criticism over the issue for much of the past year, and struggled to keep public opinion on its side. Jonathan Albright, research director at the Tow Center for Digital Journalism at Columbia University, wrote that the lack oversight and transparency into what sort of data Facebook collected on its users meant that the company's platform could continue to be exploited. "Unethical people will always do bad things when we make it easy for them and there are few — if any — lasting repercussions," Mr. Albright said.
The Wall Street Journal reported on Friday that Special Counsel Robert Mueller has requested that a data analytics company called Cambridge Analytica turn over internal documents as part of its investigation into possible collusion between the Trump campaign and Russia during the 2016 election. This story is specifically about how team Trump, with the help of this data company, might have facilitated Russia's meddling in the US presidential election and likely explains Trump's sudden lashing out against Meuller – as he gets a lot closer to the truth of the matter.
What's at stake here is the future of FaceBook and other internet companies that turn you and your data into a commodity that they sell to anyone willing to pay for it. There's virtually no oversight and think of how many times you are asked for your password and your personal information in a daily basis and then consider that every page you view, every item you buy, every ad you click on – is noted and tracked by these "free" services and turned into saleable data. It's not something they can stop doing – IT'S THEIR ENTIRE BUSINESS MODEL!
Half the people on the planet (over 3Bn) have facebook accounts so this is not just a US and UK issue and it's not just Facebook (FB) they will be looking at and passing regulations about. That's why Facebook is down 4.25% this morning and Google (GOOGL) is down 1.25% and Amazon (AMZN) is down 1% and it's not going to stop here – there will be hearnings and investigations that drag on for months and will place a headwind on tech.
So it's going to be an interesting week as we're forced to re-evaluate the true value of some of our tech titans with the Fed meeting on Wednesday and Powell's first conference as Chairman right after.
We also have some fun early earnings releases that will give us our first look at Q1, which seems like it was disappointing for retailers, in the very least: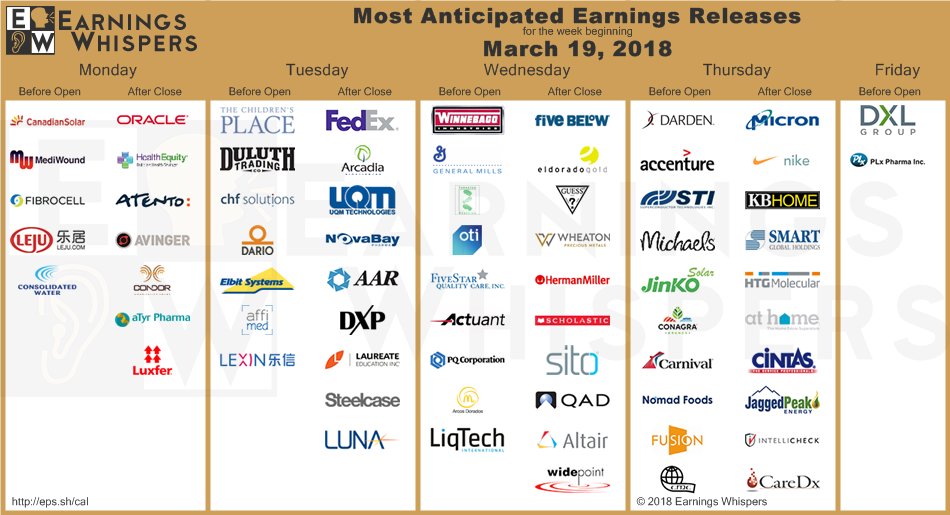 Be careful out there and – change your password!
Do you know someone who would benefit from this information? We can send your friend a strictly confidential, one-time email telling them about this information. Your privacy and your friend's privacy is your business... no spam!
Click here and tell a friend!