WTF?
The Russell 2,000 Index is often disconnected from the other indexes but lately it's become disconnected from the economic data, which has turned substantially lower in Q2 while the index has rocketed from 1,500 on April 1st to 1,620 yesterday – not quite 10% in not quite 2 months.
As you can see from Zero Hedge's chart, this is the widest disconnect between the Russell and the Economic Surprise Index (data better or worse than expected) since last October, when the Russell topped out at 1,520 and then corrected 50 points to 1,470 but it only stopped when the Data turned more positive. What's propelling the Russell to unreality this week is the suddenly strong Dollar, which is great for small cap companies who do the vast majority of their business locally, in US Dollars.
But the Dollar can't keep up this pace and, in fact, just yesterday, the Hong Kong Monetary Authority stepped in to put a floor on their currency's slide and we can expect the PBOC and other Central Banks to follow as the Dollar hits the 5% Rule™ at 93.45.
Given the 4.45 run from 89, we can expect a weak retrace of 20% of that run (0.89) so call it 0.9 and that takes us back to 92.55 and a stronger retrace would be 91.65 – so that's what we'll look for to see if the Central Bank Interventions are enough to stop people from running to the relative safety of the Dollar while the World is in turmoil (see yesteday's Morning Report).
Speaking of turmoil, team Putin Trump are hard at work destroying America's credibility around the World, first making demands that caused Kim Jong Un to re-think making a deal on nukes and then Treasury Secretary Steve Mnuchin and White Hose Economic Adviser Peter Navaro end up cursing each other out at the China Trade Talks with Mnuchin holding side meetings with Chinese officials that Navaro was not invited to. Just imagine negotiating with guys who act like that!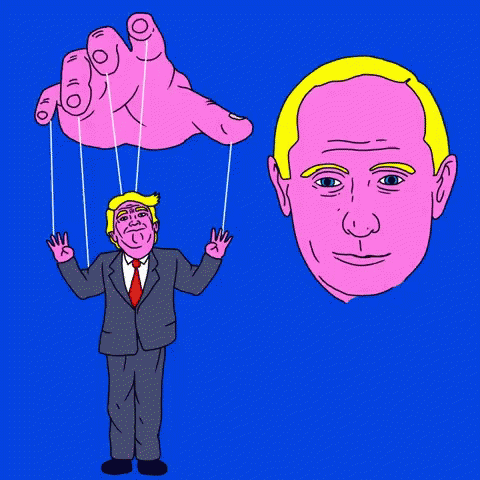 Meanwhile, Japan is fed up with us and is planning retaliatory trade strikes on the US while simulataneously working closely with China (the enemy of your enemy is your friend) to establish trade ties that bypass the US. This means our parners in Japan and Europe may join the Trans Pacific Partnership Trump walked away from, making it the ENTIRE WORLD TRADE PARTNERSHIP (except the US). Vladimir Putin could not have done more to destroy the Unitied States' standing in the World if he had personally put his own puppet in the White House to undermine every alliance the US has built since World War II.
Maybe there was no collusion and Trump is just an innocent dupe who is destroying America simply because he's a clueless idiot. Let's hope…
Details of the Trump investigation are very disturbing but only if you read the "Fake" News outlets like the NY Times, which has been dilligently reporting things in a no-frills manner. There's the very serious possiblity of a massive upheaval in the US Government over the next 6 months, whether through indictments or elections turning over the entire Government by November yet the markets seem to be oblivious to the risk – as well as oblivious to the gathering signs of economic weakness that put forward earnings into question.
Needless to say we're shorting the Russell Futures (/RTY) at 1,620!
Do you know someone who would benefit from this information? We can send your friend a strictly confidential, one-time email telling them about this information. Your privacy and your friend's privacy is your business... no spam!
Click here and tell a friend!