More tariffs?
The Trump administration said that it is considering increasing the proposed tariff on $200 billion in Chinese imports to 25% from 10% – indicating there is now no possibility that there won't be tariffs at all. President Trump has asked U.S. Trade Representative Robert Lighthizer to hike the duties, which could be implemented as early as next month and are implimented as a TAX paid by the US Consumers of Chinese goods – it doesn't cost China a think yet the MSM has allowed the word tariff to go unexplained while it's the American people who pay the price and the Top 1% who reap the benefits as those tariff taxes go to pay for more tax cuts for Trump's Billionaire Buddies.
Not only are tariffs an unfair and possibly illegal tax on the American people but they also increase the costs of goods and services by removing competition from the local market. Not only is Trump placing a $50Bn stealth tax on American Consumers and causing runaway inflation by making things more expensive but China will retailiate with their own $50Bn tax on American goods and who does $50Bn matter more to – US or Chinese Consumers? So Chinese consumers will stop buying American goods altogether while US consumers will simply pay $50Bn more and keep buying the same stuff. China said this morning:
"China has made full preparation for the U.S. threats to escalate the trade war, and will have to retaliate to defend national pride and the people's interests."
The reason most Americans don't realize that tariffs are actually just a tax they are forced to pay or that they are one of the worst economic ideas in history is that we haven't had a tariff war since 1930 – when one started the Great Depression. After that, people who actually went to Business School had no doubts at all that tariffs were a TERRIBLE idea – and they have been used sparingly ever since. Until now.
You would think an 80% drop in the stock market would be lesson that wouldn't be forgotten yet here we are, marching right down the road to disaster once again led by a President who makes the same "chicken in every pot" promises that Hoover used to make while actually passing policies that destroy working class Americans and funnel their money to the Top 1%. What the poor don't understand is how great it is for the rich when the economy collapses – though they may suffer some damage, the fact that they have any money left at all allows them to buy homes and businesses for 10 cents on the Dollar – something we just saw happen during the 2008 crash, which pushed US Wealth Inequality past even the levels we saw in 1929, before the Great Gollapse.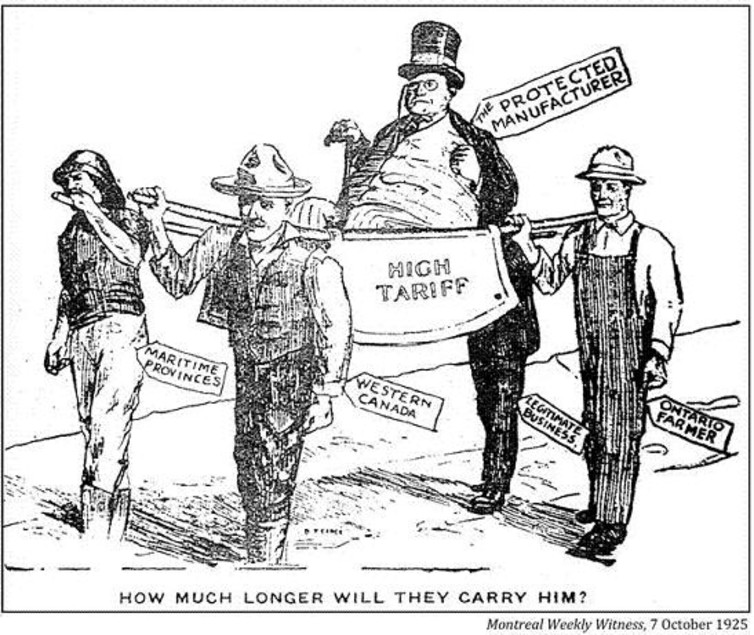 As you can see from the early day's of the Smoot-Hawley Tariff Act, these little market gyrations are nothing so far. The real damage accumulates quarter over quarter and takes years to play out. This gives the wealthy all the time in the World to cash in their equities while retirement accounts and pension plans (aka "dumb money") gets destroyed and then they rush in with their checkbooks to prey on impoverished Americans. 2008 was just a test run for what Trump is about to unleash on our citizens.
The other great thing about Tariffs is that they can be targeted to give advantages to your friends and pain to your enemies as certain companies are exempt while others suffer. For instance, Lakshmi Mittal of ArcelorMittal (MT), the world's biggest steel maker is THRILLED with Trump's tariffs because they have driven up the price of steel and MT's profits rose to $1.9Bn in the 2nd quarter – up 41% from last year. Meanwhile, the price of US autos is expected to increase by $5,000 per car on higher steel prices and other auto-related tariffs – that's how the TAX on the US consumers transfers money from the consumers right into the pockets of the Top 1% – in Europe!
This great turn of events for MT comes just 5 months after Laski Mittal bought a $25M apartment at the Trump International in NYC. US Steel (X) is also a major contributor to Trump and the GOP and Trump crows all the time about how well he is taking care of his buddy, CEO Dave Burritt but, so far, none of the jobs or factory openings they promised have actually happened – just more money for Trump and his buddies. Dave has said that Trump's tariffs are "vital to the interests of the United States" – keep that in mind when you pay $5,000 more for your next car…
Of course, steel company executives aren't the only people buying Trump properties to curry the President's favor. Buyers connected to Russia or former Soviet republics made 86 all-cash purchases — totaling nearly $109 million — at 10 Trump-branded properties in South Florida and New York City, according to a new analysis shared by McClatchy. Many of them made purchases using shell companies designed to obscure their identities.
"The size and scope of these cash purchases are deeply troubling as they can often signal money laundering activity," said Rep. Adam Schiff of California, the top Democrat on the House Intelligence Committee and a former federal prosecutor. "There have long been credible allegations of money laundering by the Trump Organization which, if true, would pose a real threat to the United States in the event that Russia were able to leverage evidence of illicit financial transactions against the president."
Special Counsel Robert Mueller has spent more than a year investigating whether Trump's campaign colluded with Russia to interfere in the 2016 presidential election, a widening probe that appears to include questions about his family business, the Trump Organization. "This is all about money laundering," former White House chief strategist Steve Bannon is quoted as saying about the Mueller inquiry in the book, Fire and Fury.
The all-cash buyers include Alexey Ustaev, founder of a private bank based in St. Petersburg, Russia; Igor Zorin, a government official who runs a state-owned broadcasting company; the wife of hockey player Viacheslav Fetisov; pop star Igor Nikolaev; Roman Sinyavsky, a luxury real estate broker who was one of the first to sell units at a Trump's South Florida building and Evgeny Bachurin, who Russian President Vladimir Putin fired as head of Russia's Federal Air Transport Agency before becoming a donor to a political action committee supporting Trump, according to American Bridge. Other news reports have looked at Russian buyers of Trump Organization properties but less attention has been paid to the all-cash purchases.
"We've long suspected that Donald Trump's businesses were a front for money laundering and our research suggests it could be true," said Harrell Kirstein, communicators director for the Trump War Room at American Bridge. "The millions of dollars in previously unreported, all-cash real estate deals we discovered raise troubling questions about who is funding his businesses, why, and what they're getting in return."
Forget the politics and whether or not Trump is a corrupt Putin Puppet of a President, this recent scandal is almost a non-issue compared to the overall collusion and obstruction of justice cases that are swirling around the President and that means that, no matter who you support, whether it's the United States of America and the Constitution or Donald Trump and the GOP, there is going to be MASSIVE political turmoil this fall and that is NOT likely to be good for the markets.
The Fed WILL raise rates, that's also not a positive for the markets and there IS a Trade War starting and not even 1% of us are going to win that one – also bad for the markets (80% bad in 1930 and 1931).
These are reasons to be very cautious with our investing and not to mindlessly run in and buy dips – that's the mistake many people made in 2008 as the market corrected 20% – and then another 20% – and then another 20%. As the great Yogi said "It ain't over until it's over."
Do you know someone who would benefit from this information? We can send your friend a strictly confidential, one-time email telling them about this information. Your privacy and your friend's privacy is your business... no spam!
Click here and tell a friend!