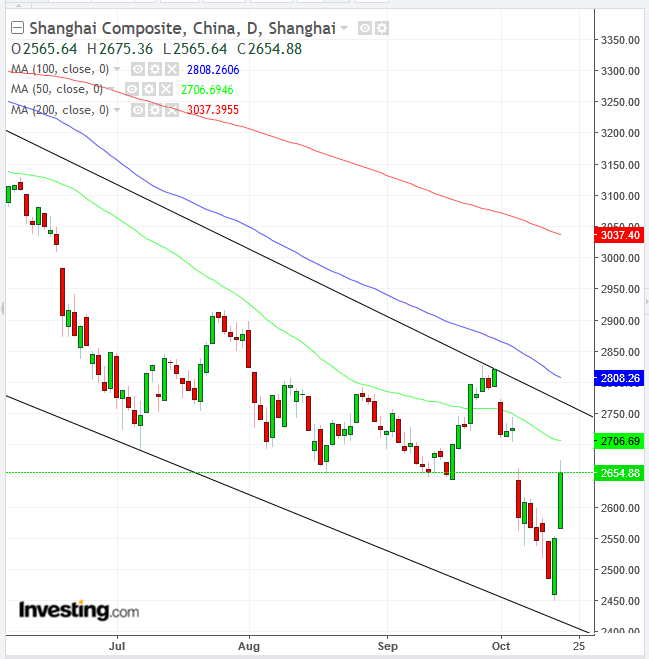 Not much going on.
China is doing what they can to prop up their markets this morning as President Xi Jinping vowed "unwavering" support for the country's private sector. In a clear hint that Beijing will do more to protect China's economy, Xi insisted that his government was standing behind its business leaders. In a letter to private entrepreneurs, the Communist leader pledged:
"Any words and practices that negate and weaken the private economy are wrong.

Supporting the development of private enterprises is the Party Central Committee's consistent policy."
We also got a boost from Italy, whose rating was cut by Moody's but not all the way to junk, as expected – they are one notch above junk and have agreed to try again to submit a budget that's acceptable to the EU. On the home front – our own fealess leader has pledged to also make America a Capitalist Paradise but this weekend he also promised the Middle Class some super-secret tax cuts that no one in Congress seems to have any idea about – especially as he's promising them pre-election and Congress isn't even in session to pass them.
When Congress does come back, they'll actually be working to avoid a Government shut-down as Trump's prolific spending has already broken the very generous debt ceiling and another cut would surely shatter it beyond repair. Rule #1 of government is that you don't run up deficits in a strong economy – that's when you are supposed to pay them down! If you never pay them down – what are you going to do the next time there's a crisis?
We have a busy data week ahead with the Fed's Beige Book out Wednesday, Durable Goods Thursday and 3rd Quarter GDP on Friday and estimates have been heading lower and lower with the usually optimistic Atlanta Fed down at 3.9% from 4.9% forecast last quarter. Q2 was 4.2% so anything under 4% is slowing but under 3.5% will be seen as a very negative sign. Along with data, Earnings Season is heating up with 100 (20%) of the S&P 500 about to drop their reports: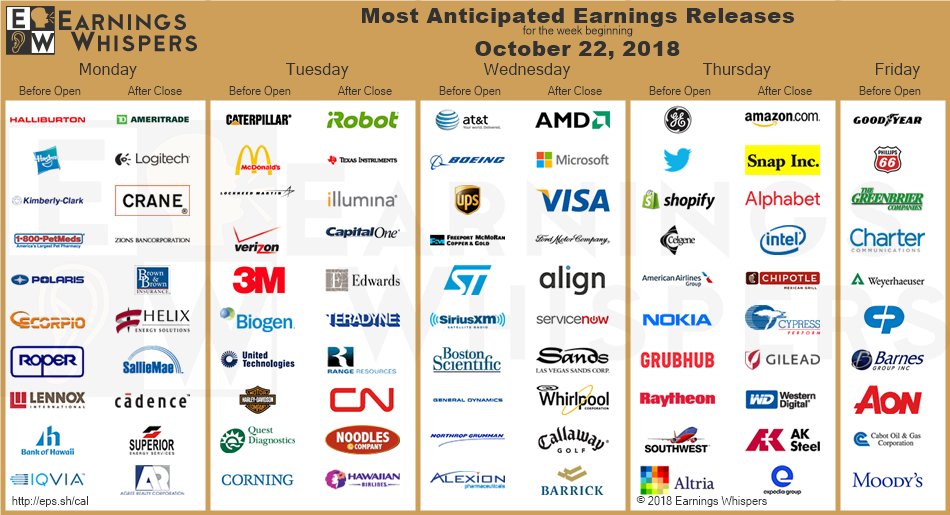 As I said last Quarter, it's not the Earnings we're watching as they are being enhanced through buybacks and tax breaks but the Revenues tell the true tale of whether or not we have a strong economy and reveneus have, so far, been a bit of a disappointment. The economy grows on Revenues, not Earnings. As you can see from Refinitiv's chart below, although only 5 of the 51 reporting companies have missed earnings so far, 16 (31%) have missed on Revenues. That's not the end of the World but we should keep a close eye on it because, despite Trump's promises – it's not very likely there will be room to cut taxes further next year and that means the comps will no longer be weighted 20-30% in the companies' favor.
Also, 31 misses does not bode well as we've already had 80 S&P companies pre-announce negative guidance along with a lower-than normal 40 who have raised guidance. By comparison, there has been no quarter in 2 years in which more than 30 companes missed Revenues – TOTAL! – and we're only 20% into the reports… It's a negative trend but, again, there's not much data to go on yet so we're not extrapolating – just monitoring…
U.S. manufacturing activity decelerated last month, as the Institute for Supply Management's new orders gauge and its supplier delivery index both declined. In August, the Philadelphia Fed's manufacturing survey hit its lowest reading in 21 months, while the Empire State manufacturing index fell in September. While the S&P 500 remains up 3.5% this year, some money managers are urging investors to focus on more durable companies that have strong balance sheets, better pricing power and higher profit margins—businesses that are expected to better withstand an eventual economic slowdown.
Fortunately, that pretty much descibes our portfolios and we just did a thorough review last week and I will be on BNN's Money Talk live this Wednesday (7:30) to discuss the adjustments we'll be making to our Money Talk Portfolio, which I reviewed for you on Thursday.
Do you know someone who would benefit from this information? We can send your friend a strictly confidential, one-time email telling them about this information. Your privacy and your friend's privacy is your business... no spam!
Click here and tell a friend!