Hope.
It's a powerful thing. IBM (IBM) announced over the weekend that they will be buying Red Hat Softwars (RHT) for $33Bn which is more than 50% over Friday's $20 close at $116. I noted in our chat room this morning that $33Bn may have seemed less ridiculous as IBM began negotiating with RHT, probably over the summer as RHT had just been at that valuation – though the people who valued them there were IDIOTS, of course.
RHT has $3Bn in earnings and $250M in profit. If it were an IBM division it would have been shut down years ago as not worth keeping but IBM sees RHT as leverage as their customers are the customers of Amazon (AMZN), Microsoft (MSFT) and pretty much all the other cloud providers and that gives the mighty IBM sales force a foot in the door to leverage the 10s of Billions of Dollars they spend on cloud services and THAT is why this deal makes sense for IBM.
It's also a brave and confident move by IBM CEO Ginny Rometty and it's the kind of thing woman CEOs do that men almost certainly would not, which is make a move that carries a lot of personal risk for them, has no immediate payback but paves the way for the company to be much healthier in the distant future. It's a nurturing move and the question now is whether she will be tarred and feathered for making it but predominantly male investors and analysts.
We're in a fairly painful IBM position in our Long-Term Portfolio as we sold 5 2020 $145 puts in January for $12.50 to net in at $132.50 but this morning IBM will open around $120 so we're down about $6,250 (100%) on those. We also bought 15 2020 $120/150 bull call spreads for $14 ($21,000) back in July and yes, we still have all of next year but now net $9 is down $6,000 on that end too – ouch!
I think a lot of short-term investors may pull the plug but I have long-term faith so, most likely, we'll rescue $13 from the 15 2020 $120 calls ($19,500) and pick up 25 of the 2021 $110 ($20)/$140 ($7) bull call spreads ($32,500) so we'll sprend $13,000 more but now we have 25 spreads that are $10 in the money so $25,000 and pays up to $75,000 against our net $34,000 total investment if all goes well and, of course, we'll make some short call sales along the way – but not when they are below $140.
As to the short puts, we'll leave them for now as $145 in a year is not a crazy target and we'll roll them along to 2021 or 2022 if we have to because, as I said, this is a long-term play in our Long-Term Portfolio. IBM's Watson has been quietly taking on more and more tasks (nice list here) and you can even use Watson to help coach your fantasy football team now. IBM has a very long-term strategy to put Watson in everyone's hands and get people used to using it – at home and at work.
Artificial Intelligence is barely a $1Bn market in 2018 but is projected to be almost $12Bn in 6 years and $36Bn by 2025 so yes, the time is now for IBM to make their moves to dominate the AI and Cloud Spaces – and that's what this Red Hat deal is all about. Rometty is banking on being able to show some progress next year as AI doubles – even as cloud growth begins to slow (who isn't in the cloud now?) and, after making less than $6Bn in 2017, IBM has made $6.7Bn in the first 3 quarters of 2018 yet you can buy the whold company for $112Bn, just 12.4 times likely $9Bn in current earnings.
That's the kind of company we like to have in our Long-Term Portfolio – the kind that MAKES MONEY! Last time IBM tested $120 was early 2016, when they began their turnaround program and I was banging the table hard for them at the time. They since popped back to $180 but now $120 again and again I am banging the table for an IBM investment as they are clearly being sold off by short-term traders – to the great advantage of long-term investors.
Meanwhile, the markets are popping this morning as China says they are considering a 50% tax cut on Autos with engines smaller than 1.6 liters to help offset a steep decline in auto sales. At the same time, Goldman Sachs (GS) is upgrarding Ford (F), which is another one I've been banging the table on, with a price target of $12, which is our price target as well. In fact, in our 10/19 Long-Term Portfolio Review, I said:
F

Ford Motor Co.

3000

2/6/2018

265

$31,350

$10.45

$-1.47

$9.30

$8.98

$0.00

$-4,410

-14.1%

$26,940

Short Put

2020 17-JAN 11.87 PUT [F @ $8.98

$0.00

]

-20

2/6/2018

(445)

$-5,500

$2.75

$0.53

$3.28

$-0.13

$-1,050

-19.1%

$-6,550
F – Ridiculously low at $8.50. If we buy 3,000 more we average $9.50 but let's just sell 30 of the 2021 $10 puts for $2.60 ($7,800) so the worst thing that happens is we're assigned 3,000 more at net $7.40 and our average would be $8.925 on 6,000 shares. Meanwhile, it lowers our cost basis on 3,000 to $18,050 or $6/share so hitting our original goal at $11.87 would be a double if they recover.
So, buy selling 3,000 2021 $10 puts for $2.60, we were collecting $2.60 ($7,800) now in exchange for promising to buy 3,000 shares of Ford for $10 ($30,000) which would make our net cost per share $7.40, so effectively we were promising to double down if F got $1 cheaper than it was at the time.
That's all put options are, promises to buy a stock for a certain price down the road and the person who owns the stock PAYS YOU to make that promise – as it's insurance for him that he'll get no less than whatever for his stock. In this case, with F at $8.50 at the time, the person who owns 3,000 shares of Ford may be willing to pay $2.40 to guarantee they can sell it for $10 in two years becasue net they are paying less than $1 for the guarantee and F pays an 0.60 dividend so he'll collect $1.20 while waiting to collect his $10 – not a bad deal for him or us!
Options are not complicated, they only seem complicated because most people can't explain them well. Also, most option services want them to seem complicated so you will pay them to tell you what to do. We see the options more like tools and we teach you how to use them to build portfolios instead but you're never going to learn to build a portfolio if you don't even understand the tools, right?
It's a medium data week with lots of earnings reports and only one Fed speakers so it's all about earnings this week and we'll see if they are good enough to get us back over our bounce lines but – don't bet on it. Next week, of course, it's all about the mid-terms so, lots of crazyiness ahead!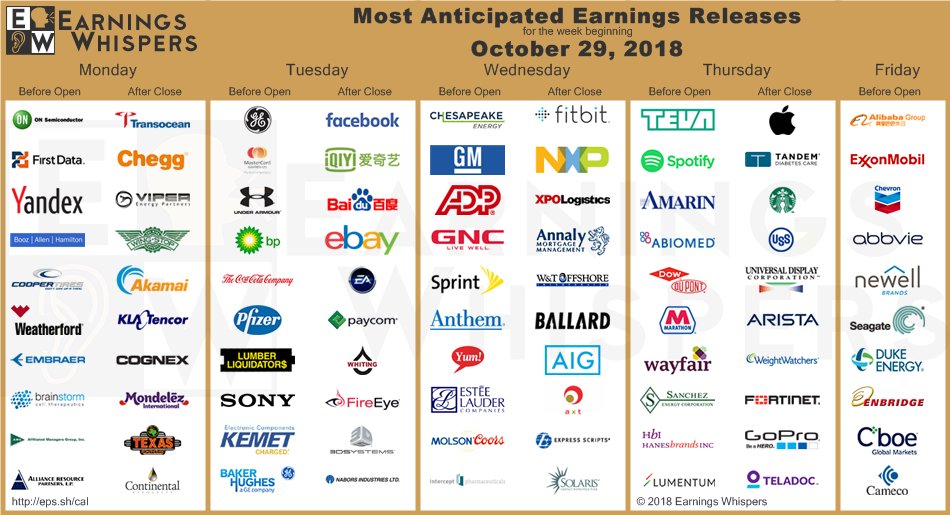 Do you know someone who would benefit from this information? We can send your friend a strictly confidential, one-time email telling them about this information. Your privacy and your friend's privacy is your business... no spam!
Click here and tell a friend!