We're painting the bounce lines red…
That's not a good thing but, when the Mad Queen is your President, you just have to go wtih the flow and deal wth the daily mood swings. This weekend, to honor Veterans Day, Trump dissed the veterans on several occasions and pissed off our allies in the process and then he blamed poor management for the forest fires in Malibu – which is a beach, not a forest.
Meanwhile, it was a wake-up call to investors to see Trump walk out of a G20 conference and then pull a complete no-show at the 100th anniversary of Armistice Day, which is practically a holy day in Europe as it maked the end of a very bloody conflict in World War I. Trump is too busy trying to start World War III to take time out to honor the victims of World Wars I and II.
Meanwhile blood is being spilled all over our bounce lines as they cascade back to red:
Dow

24,300

with a weak bounce at

24,800

and a strong bounce at

25,300

S&P 2,640 with a weak bounce at

2,710

and a strong bounce at

2,780

Nasdaq

6,870

with a weak bounce at

7,080

and a strong bounce at

7,230

Russell 1,485 with a weak bounce at

1,530

and a strong bounce at

1,575
We lost 4 green boxes yesterday and the Russell, Dow and Nasdaq are very close to triggering 3 more if we're even a little red this morning with the Nasdaq in danger of falling back below it's 10% correction line at 6,870. Fortunately, as you know from last week's reports, we were not sucked in by the bounces and we remain very well-hedged so yesterday was simply an amusing thing to watch as we gave up last week's gains.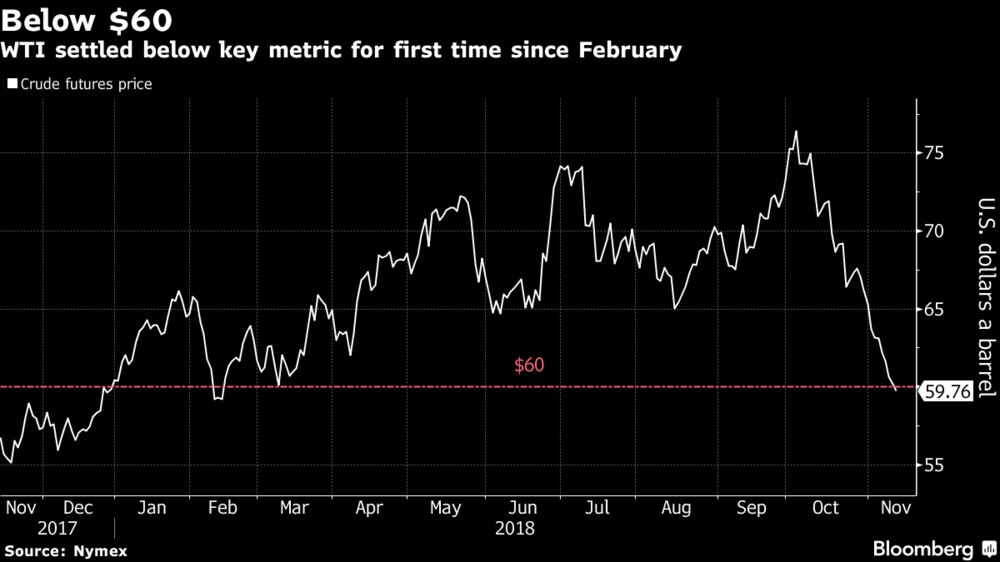 Oil fell for the 11th consecutive day and is back at the $60 line this morning and we still like it for a bounce but tight stops below. As noted yesterday, $60 is 20% down from $75 and we could overshoot to $57 but, either way, we expect to see at least $63 into Thanksgiving and we did go long on Gasoline (/RB) as well at $1.615 but, so far, that's not working and we'll have to take a loss below $1.60 and wait to see if $57 gets tested on oil, probably lining up with $1.55 on /RB for our next opportunity to take a long poke.
Apparently, after being dissed in Europe, Trump is now having the Commerce Department look into imposing Auto Tariffs "To protect our National Security" which is odd because foreign cars consistently beat American cars in auto safety tests so Trump is actually going to kill Americans by forcing them to buy less-safe cars in order to protect his fragile ego because Macron and Merkel wouldn't play with him at the G20 and said bad things about Nationalism.
I told you we need to watch the Fed speakers and San Francisco's Mary Daly began weeks of preparing us for the December rate hike with a speech in which she said US policy makers need to be gradually lifting rates in order to create a soft (vs hard) landing for a slowing economy.
Speaking of slowing economies – Japan's GDP is projected to contract 1% in Q3 – an early indicator of a pretty hard Global slowdown. On the bright side, we are getting back to the trade negotiating table with China although, in a chincy negotiating tactic from the book of Trump, the US had "demanded" that China put forth a concrete offer before negotiations begin and China, who has read Trump's book – is saying no – so the whole thing could fall apart very quickly, which is why the market isn't taking it as a positive this time (fool me 8 times with false promises of a deal - shame on me!).
Trump's problem is he is a Nationalist and does think He and the US are superior to other countries and seeks to impose his will upon them but it only makes him and US look like a big bully and causes all of our former allies and enemies alike to band together for the common good of taking US down. In this way, I guess Trump is honoring World Wars I and II, when most of the World got together to fight off a common enemy – nice work!
I'm hearing a lot of chatter about Powell's speech tomorrow and it's not a major policy statement – just a speech he's making in St Louis but the talking heads on CNBC and Bloomberg are saying they hope he comes across more doveish and, when that is the only buying premise your media hacks can come up with – we're still in trouble!
I don't think the selling is done, we failed our strong bounces last week and, if we fail the weak bounces this week, then don't expect those 10% drop lines to hold next week.
The next critical failure would be 25,100 – the 200 dma on the Dow – it's the only index still over the 200 dma so techincally – BAD! The NYSE is death-crossing, the Russell is death-crossing, the Nasdaq is death-crossing and the S&P needs to get back above it's 200 dma (2,762) very quickly or it will be death crossing in December – just in time for the Fed's rate hike.
We haven't given up hope, we still have our longs – but we still have our hedges too!
Do you know someone who would benefit from this information? We can send your friend a strictly confidential, one-time email telling them about this information. Your privacy and your friend's privacy is your business... no spam!
Click here and tell a friend!