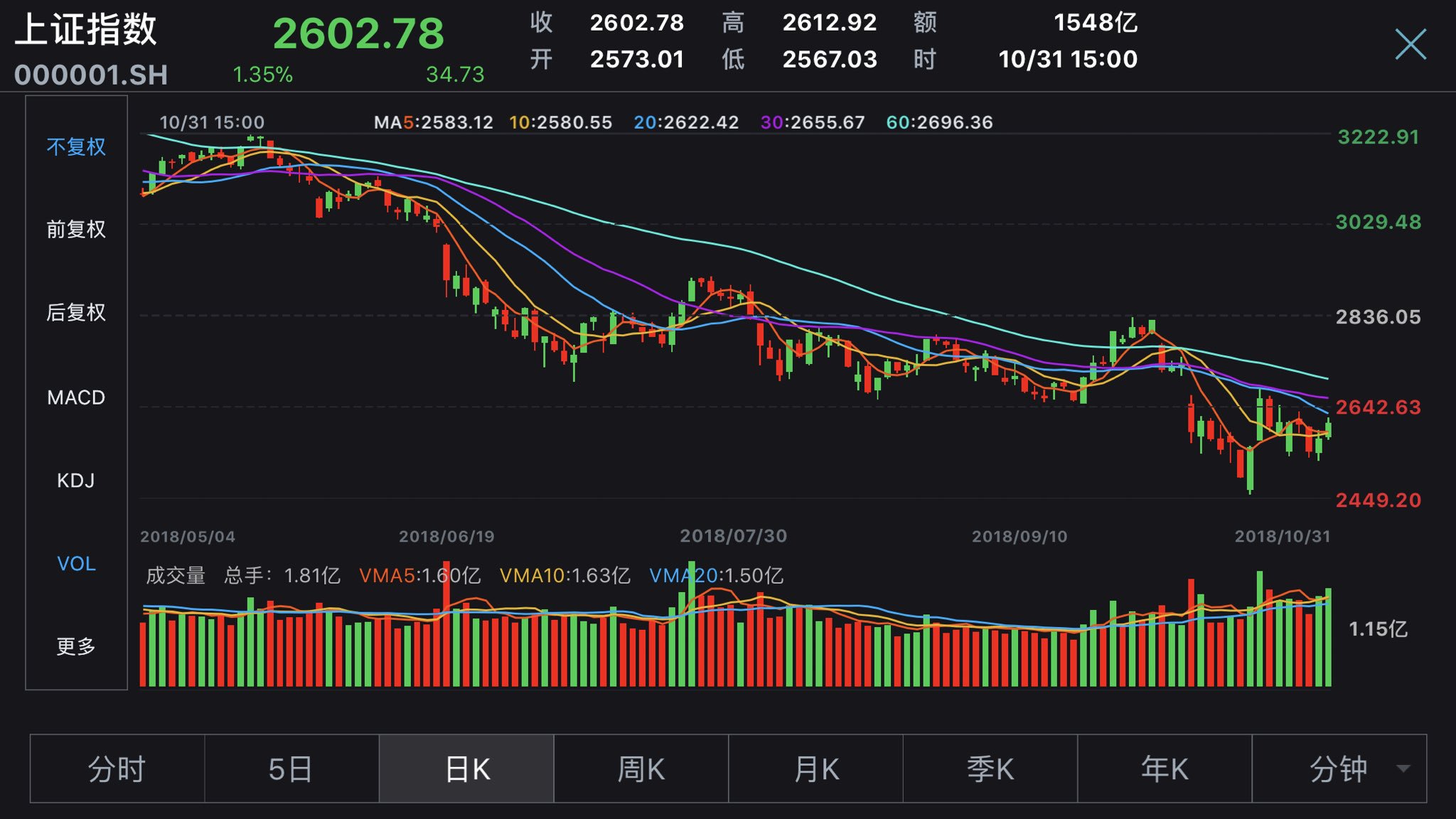 When at first you don't succeed…
China has been attempting to boost their own small companies with promises of financial support for local businesses and Chinese investors are hoping and praying that their Government will perform another market bail-out, like the one they did in 2015 when it put $483Bn into a bullish, state-run margin trading firm to stop the bleeding. $483Bn is 5% of China's real economy – that would be like the US putting $1 Trillion into the markets – of course it's going to have an effect but of course the effect is simply an unsustainable illusion that will fade over time and, eventually, you either do it again or end up having the same correction you put off the last time by spending hundreds of Billions of Dollars.
Unlike the US, China doesn't bail out Capitalists at any cost. The last time China was crashing, too many farmers had put their life savings into the market and the repercussions of a major crash would have been too painful. Now they have all been warned and all had their chance to pull back their cash and a lot more foreign money (thanks to "reform") is now at risk in Chinese markets so the state would rather spend 10% of the GDP AFTER the crash – to buy up those companies when they are cheap. In China, the Government plays the markets as well!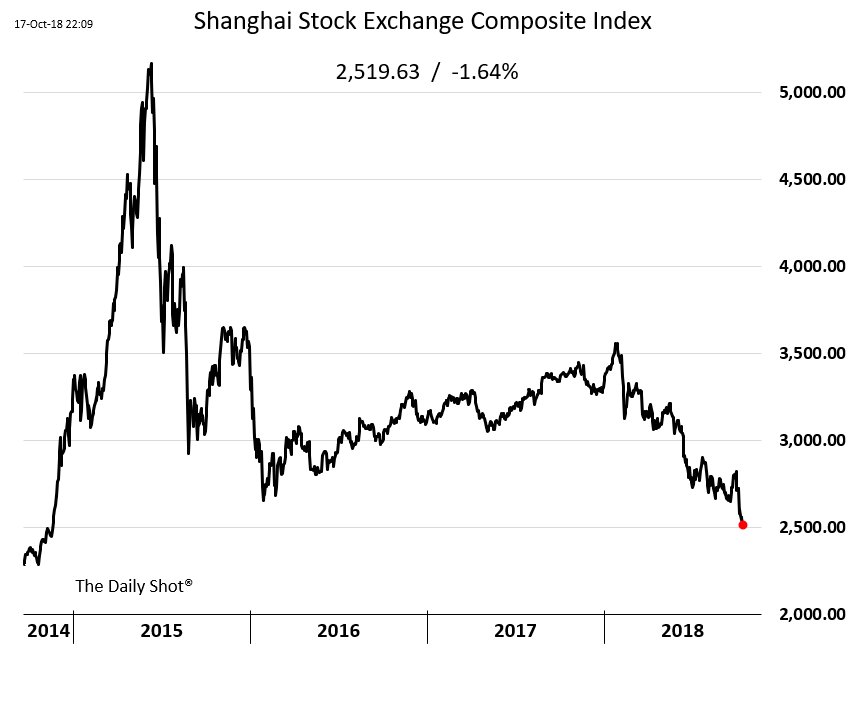 As you can see from the chart above, a massive effort was made just a month ago to rescue the market and, since then, we've drifted along but still haven't filled the gap that occured in October that took the market down 15% and even that is just 1/2 of the overall 30% decline since January.
We tend to think of China as "them" but THEY have people, just like us and THEY have a Government, just like us and that Government is full of good and bad, competent and incompetent people – just like ours and THEY do what they can to fix the markets and please their constituencies but, just like us, THEY have a country to run and budgets to manage and, ultimately, THEY live in a World with the rest of us and can't act solely in their own self-interest – no matter what nationalistic fantasy of inherent superiority their leaders may choose to infect their people with, right?
People's Bank of China Governor Yi Gang said in a statement on the Central Bank's website that it is studying measures to ease companies' financing difficulties and will use policy tools to support banks' credit expansion and Liu Shiyu, head of the China Securities Regulatory Commission, said his agency encouraged local government-backed funds to help ease pressures created by share-pledge risks while Guo Shuqing, chairman of the China Banking and Insurance Regulatory Commission, said in an interview posted on the regulator's website that recent "abnormal fluctuations" in markets don't reflect the country's economic fundamentals and "stable financial system." Liu He, China's vice premier, hammered home the message in an interview with the Xinhua News Agency. He urged officials to step up efforts to promote "healthy" stock-market development while noting that equity valuations had dropped to historically cheap levels.
Wow, put a Mao jacket on Larry Kudlow and you'd feel right at home, wouldn't you? See, China is just like US and they do the same sort of things to prop up their markets that we do and so do the Europeans and Indians and even the Russians and, when we all try to stimulate the economy at the same time – it sort of works – it's what happens when we stop stimulating that
worries me.
And by "we" I mean all of the G8 (Russia too!) because, as soon as one lets their economy fall on it's own, they are likely to all start falling in our inter-connected Global Economy and any additional efforts made by the remaining participants to bail things out at that point would be an effective bail-out of the first country to quit the effort – making there something of an incentive to be the first country to stop stimulating. So far, that's US!
Of course this is kind of a dick move (couldn't think of a better word) but we do have a dick President and not just because he's going down like Nixon… Unilaterally withdrawing stimulus measures and enacting trade restrictions benefits the US to the detriment of the G7 (without the US these days) and we can play that game for a short while but, very soon, the other countries are going to be sick of footing the bill for the US. Currently, the rest of the World is looking to China to see if they will stand up to Donald Trump and tell him to shove his trade policies up his ass.
Indeed, over the weekend, at the APAC (Asia-Pacific Economic) Conference, Mike Pence squared off against his China's XI and the US came off looking worse for the wear as China's exports continue to climb as they make more and more trade alliances outside the US and there was no, if not backwards, progress on Trade Talks, which will cause the markets to rethink what little rally we had last week. Pence ineptly adopted his master's style in his speech, really pissing off XI, who sees Pence as an underling to Trump, who couldn't be bothered to show up at Asia's most important business conference.
"The United States, though, will not change course until China changes its ways," Pence said in his speech, implicitly taking shots at China while offering an alternative to the other member countries in the region. "Know that the United States offers a better option," he said.

"We don't drown our partners in a sea of debt. We don't coerce or compromise your independence. The United States deals openly, fairly. We do not offer a constricting belt or a one-way road."
China is a relative newcomer to providing aid, and its loan-heavy, no-strings-attached approach has unsettled Western nations that have been the mainstay donors to developing nations and often use aid to nudge nations toward reforms. Pence also called on China to pull back from its military expansion in the South China Sea, deal with its human rights violations and halt the theft of American intellectual property in its pursuit of its "Made in China 2025" plan.
But China has ramped up its investments in the Indo-Pacific region, putting billions of dollars into infrastructure projects as part of its "Belt and Road Initiative." In countries like Papua New Guinea, the development is apparent, from buildings to new roads and bridges. A sign lining a road outside of APEC read: "The Great 'One Belt and One Road' Is Not Only a Road of Cooperation and Win-Win Situation, But Also a Road of Hope and Peace!" Unlike in the US, simply repeating propaganda against something you don't like doesn't change other people's minds.
Pence knows this, his audience is still the fanatics that put him in power, not the Asian Countries who are loving China's new open trade policies. Those are the same fanatics who Pence will need to support him in 2020, as he runs for re-election after taking over for Donald Trump when he resigns.
It's a very low-data week as we digest the last 20% of the S&P's earnings reports. The Fed's John Williams speaks twice today and we have Durable Goods and Consumer Sentiment on Wednesday but markets are closed Thursday for Thanksgiving and no one will show up for Friday's half-day – I don't even know why they bother…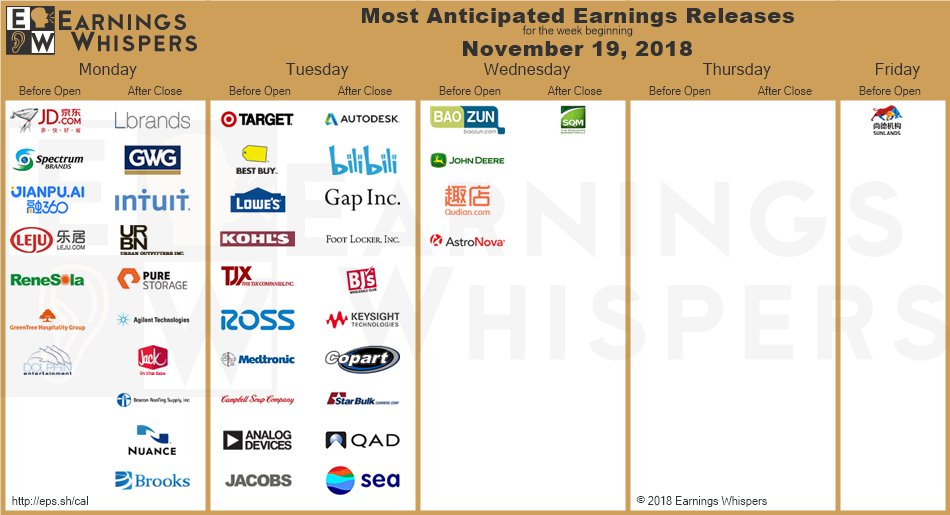 Be careful out there and watch those bounce lines!
Do you know someone who would benefit from this information? We can send your friend a strictly confidential, one-time email telling them about this information. Your privacy and your friend's privacy is your business... no spam!
Click here and tell a friend!