Archive for 2018
by Zero Hedge - March 25th, 2018 10:14 pm
Courtesy of ZeroHedge. View original post here.
After all the preparation, all the expectation, cheerleading and doomsaying, China's Yuan-denominated crude oil futures contract began trading tonight and appears to be off a good start with well over 10 billion yuan notional traded within the first hour.
So far it has tracked WTI futures well, trading at around a $2 premium to WTI (when translated from yuan to USD)…
Additionally, well over 23,000 contracts have traded within the first hour for a notional trading volume of over 10 billion yuan – more than $1.5 billion notional… signaling significant demand.
Offshore Yuan is moving in sync with 'Petroyuan' futures – as WTI tends to track the USD.
As we most recently noted, after numerous "false starts" over the last decade,  the "petroyuan" is now real and China will set out to challenge the "petrodollar" for dominance. Adam Levinson, managing partner and chief investment officer at hedge fund manager Graticule Asset Management Asia (GAMA), already warned last year that China launching a yuan-denominated oil futures contract will shock those investors who have not been paying attention.
This could be a death blow for an already weakening U.S. dollar, and the rise of the yuan as the dominant world currency.
But this isn't just some slow, news day "fad" that will fizzle in a few days.
A Warning for Investors Since 2015
Back in 2015, the first of a number of strikes against the petrodollar was dealt by China. Gazprom Neft, the third-largest oil producer in Russia, decided to move away from the dollar and towards the yuan and other Asian currencies.
Iran followed suit the same year, using the yuan with a host of other foreign currencies in trade, including Iranian oil.
During the same year China also developed its Silk Road, while the yuan was beginning to establish more dominance in the European markets.
Despite accounting for much of the world's growth in demand in the 21st Century, China's oil imports have been all over the map in recent months. In April, China imported 7.4 million barrels per day, a record high and enough to make it the world's largest oil importer. But a month later, imports plummeted to just 5.5 million barrels per day.
That problem has since gone away, signaling China's rise to oil dominance…
The Slippery Slope
…

by Zero Hedge - March 25th, 2018 9:22 pm
Courtesy of ZeroHedge. View original post here.
Submitted by Eric Peters, CIO of One River Asset Management, as excerpted from his latest Weekend Notes
"Every market has its generals," said the CIO, atop the hill, surveying the battlefield. "Bull markets march onward, upward until their leaders die," he said, lowering his binoculars, smoke rising from the valley floor.
Banks led the last great bull market. Fueled by reckless lending and leverage, loose regulation, moral hazard, and the wondrous illusion of boundless riches that accompany all reflexive markets, these generals charged ever upward, looting, pillaging. Leading the troops. Until they didn't.
The S&P 500 peaked in October 2007, then fell 58%. When it bottomed seventeen months later in March 2009, Citigroup stock lay in the dust, trampled, mangled, mutilated beyond all recognition.
Citi's stock price had collapsed 98.3% from its 2007 highs. It never really recovered. Bank of America plunged 95%. Morgan Stanley fell 91%. Goldman 82%. JP Morgan 72%.
"I suspected that regulation would be the death of the current market's technology generals," he said, turning to his table, unrolling a map. "I was right."
From the 2009 lows through the recent highs, the S&P 500 advanced 331%. In that drive, Facebook rallied 413% (from its 2013 IPO), Amazon surged 2102%, Apple 1123%, Netflix 5349%, and Google 586%.
"The generals are dead." From recent highs, Facebook has stumbled 18%, Amazon 8%, Apple 10%, Netflix 10%, Google 14%.
"Trading market tops is difficult," he explained, "That's where we are now." With his finger, he traced the advances and retreats of the S&P 500 since WWII. Nearly every top was a volatile series of skirmishes lasting 6-18mths, before the real decline. The notable exception being 1987.
"The generals are dead, but the economy remains strong." Employment, wages, profits too. "The bull case is all backward looking. It describes why it makes sense to stay invested. But it's intellectually bankrupt," he said, repositioning his troops on the map. "You get paid for the future, not the past."
by Zero Hedge - March 25th, 2018 8:55 pm
Courtesy of ZeroHedge. View original post here.
As the #deletefacebook campaign gains traction in the wake of the Cambridge Analytica data harvesting scandal, a number of people have reported that Facebook has also maintained a comprehensive record of phone calls and text messages on Android devices.
If you granted permission to read contacts during Facebook's installation on Android a few versions ago—specifically before Android 4.1 (Jelly Bean)—that permission also granted Facebook access to call and message logs by default. The permission structure was changed in the Android API in version 16. But Android applications could bypass this change if they were written to earlier versions of the API, so Facebook API could continue to gain access to call and SMS data by specifying an earlier Android SDK version. Google deprecated version 4.0 of the Android API in October 2017—the point at which the latest call metadata in Facebook users' data was found. Apple iOS has never allowed silent access to call data. -Ars Technica
Last week, New Zealander Dylan McKay requested his data from Facebook. Upon unzipping the downloaded file, McKay discovered that Facebook had stored around two years' worth of metadata from phone calls he had made or received. 
Downloaded my facebook data as a ZIP file

Somehow it has my entire call history with my partner's mum pic.twitter.com/CIRUguf4vD

— Dylan McKay (@dylanmckaynz) March 21, 2018
McKay's grandmother emailed him a photo of SMS text messages logged by Facebook.
My grandmother emailed me this from her data dump

sorry for the potato quality (read: what is a screenshot)

has a number of SMS records, spanning 2015-2017 claims to not use facebook or messenger apps, I have not verified this though pic.twitter.com/Nax5aBUeWQ

— Dylan McKay (@dylanmckaynz) March 25, 2018
I also have these from my grandmother, covering May-October 2017 pic.twitter.com/0T5PSmZNKc

— Dylan McKay (@dylanmckaynz) March 25, 2018
Others have reported similar data logged from their devices: 
Oh wow my deleted Facebook Zip file contains info on every single phone cellphone call and text I made for about a year- cool totally not creepy.

— Mat Johnson (@mat_johnson)
…

by Zero Hedge - March 25th, 2018 8:01 pm
Courtesy of ZeroHedge. View original post here.
Submitted by Shant Movsesian and Rajan Dhall MSTA from fxdailyterminal.com
Over the past year or so, we have seen the EUR gaining from strength to strength, pushing hard against the USD which in the current climate seems to be getting little reprieve from the political backdrop required to instill confidence in any currency.
As we saw on Friday, the fallout in equities saw a rush for the safe havens, of which the USD has clearly fallen out of favour, and replaced a while back by the EUR, which is also benefits when risk appetite is healthier amid the constant reminder of the the robust recovery in the Euro zone.  The latter forms the basis on which many believe the ECB are falling behind the curve, but with inflation lagging – and this partly down to persistent surges in the EUR – the governing council have clearly been reluctant to call the end of QE for fear of another overreaction, which has taken hold of the JPY as the market calls, or rather pre-empts BoJ normalisation down the line. 
These 'pro-active' moves have been excessive in nature in more recent times, just as we saw with the BoC hikes prompting sharp gains on the rates curve as well as the CAD, but which have been sharply reversed, albeit with the overhang of NAFTA uncertainty which has been prevalent over this time.  With the EUR, it is the exchange rate which has been running away with it, less so rates as safe haven demand keeps short date German paper (in particular) bid to keep rates negative out to 5yr.   Spreads with the periphery are the focal point as a result, and have narrowed to some degree though naturally we saw Italian BTPs come under pressure during the elections.  This only resulted in a minor dip in the single currency, with long exposure still relatively high despite the spot rate clearly looking overstretched above the 1.2500 mark.  
As ECB policy is inevitably on the turn, we once again expect economic divergence to start showing the strains on the level at which the various member states expect monetary policy to be.  It is no surprise to see the German contingent leading the calls for the ECB to call time on the APP, but even the Buba's Weidmann has…

by Zero Hedge - March 25th, 2018 7:22 pm
Courtesy of ZeroHedge. View original post here.
In some welcome news amid escalating global trade war fears, on Sunday the U.S. and South Korea reached an agreement on revising the existing 6-year-old bilateral trade deal as well as Trump's plan to impose tariffs on steel imports, Treasury Secretary Steven Mnuchin said.
Speaking on Fox News Sunday, Mnuchin said U.S. Trade Representative Robert Lighthizer reached "a very productive understanding" with South Korea on the tariffs to reduce imports and the existing trade deal known as Korus, and added that he expects "to sign that agreement soon." The resolution means that the US now has tariff exemptions with the EU, Australia, Brazil, Argentina, and South Korea.
As a result of the agreement, which he called "an absolute win-win", South Korea "will reduce the amount of steel that they send into the United States."
South Korea – the world's 7th largest export economy, whose exports amount to a whopping 45% of GDP – had a trade surplus with the U.S. of about $18 billion in 2017, down from $23 billion in 2016, with cars accounting for more than 70% of the value of the surplus.
Bloomberg adds that S.Korea Trade Minister Kim Hyun-chong also said trade negotiators from the two countries agreed "in principle" on both issues.  Oddly, Kim said South Korea made no concessions to further open its agricultural market to U.S. exporters - something he described as a red line. He also said that there's been "no retreat" on tariffs removed in Korus, which is strange because somehow the two sides are said to have reached a compromise, yet neither admits to "retreating" on policy issues.
Previously, frictions over Korus emerged when Trump blamed the U.S.'s large trade deficit with South Korea on the "horrible" agreement, and as a result, the open issue has been seen as a potential wedge between the allies as both their leaders plan for expected meetings with North Korean leader Kim Jong Un.
The Trade Ministry said Kim will brief on the outcome of the trade negotiation to media Monday morning.
* * *
Separately, Mnuchin also said he's optimistic that the U.S. can reach a agreement with China that will eliminate the need to impose the tariffs that Trump ordered on a least $50 billion of goods from that country. "We're having very productive conversations with…

by Chart School - March 25th, 2018 6:12 pm
Courtesy of Declan
Thursday and Friday left no doubt as to which side had control of the market. Rallies are now likely to be sold into given the distance from highs. At this stage, the tone for November's mid-terms has likely been set with January highs unlikely to be tested prior to the elections.
However, it's not all bad news for longs. The S&P finished right on its 200-day MA. The likelihood is there will be some follow through lower but if buyers can bid this back up to the close of business (creating a doji or 'bullish hammer') then there is a good chance for a swing low. The best example is the S&P.


The Dow Jones Industrial average finished very close to its 200-day MA but hasn't yet rolled in. Ironically, weakness in this average has converted to a relative performance advantage against the Nasdaq 100.


The Nasdaq and Nasdaq 100 cut below their respective March swing lows leaving the February spike low and the 200-day MA as next targets.


While Tech averages lost March swing lows, the Russell 2000 finished the day bang on its March swing low. The March tweezer low may still hold but I would expect a test on Monday and the 200-day MA may be tested along with it.


The Volatility Index is picking up a head of steam. With just a few days left in the month there is a steady build-up in volatility yet plenty of room to go before it reaches levels associated with prior tops. After an extended period of weakness we may be looking at a shift back towards higher volatility. With Trump in power it's not hard to believe uncertainty is taking over the market but a major crash here is unlikely to undo much of the 2009-18 rally.

For Monday, look for long opportunities in the S&P, Dow Jones and Russell 2000. Shorts can tighten stops or monitor for additional losses.

by Zero Hedge - March 25th, 2018 5:31 pm
Courtesy of ZeroHedge. View original post here.
The market responded with confusion to last week's Fed statement, which initially was interpreted as more dovish than expected in anticipating only 2 more rate hikes in 2018 sending the S&P spiking, only for a more hawkish narrative to gradually take over, facilitating last week's violent selloff, as the market focus shifted to the hawkish path of tightening signaled by the Fed dots. Even here though, the dot plot was slightly steeper but hardly enough to cause sleepless nights, even as Jay Powell repeated that the Fed will remain data dependent.
But perhaps the market was mostly taken aback by (lawyer) Powell's straight-to-the-point talking style, answering questions directly and efficiently, avoiding the coma-inducing verbal diarrhea that defined the press conferences of Janet Yellen (in fact, Powell's first presser set a record for shortest quarterly news conference by Fed chair), and generally eliminating much of the two-way confusion that markets had welcomed in the past, as it had provided a welcome buffer courtesy of Powell's predecessors saying so much fluff (and nothing of substance) that it paradoxically "justified" the market's every opinion (and resulted in such bizarre outcomes as record easy financial conditions amid several consecutive rate hikes).
What does the Fed's changing narrative mean? According to Deutsche Bank, two things.
First, in analyzing the market's response to the Fed statement, and especially the aggressive reaction in the rate vol space, Deutsche's resident semiotic and post-modernism analyst, Aleksandar Kocic – who has for the past year explained virtually every market move in the context of the bi-directional information pathway between the Fed and market, a trope he picked up by reading Lacan (the "mirror stage"), Derrida, Foucault and other pomos – who wrote that last week signaled a more hawkish Fed, "which suggests that monetary policy could become potentially disruptive for markets – after years for hyper-stimulative monetary policy, where everything used to rally, stimulus unwind is taking us into an environment where everything wants to sell off."
While it is hardly news that the Fed is now in balance sheet roll-off mode, if only until stocks tumble at which point the Fed will resume easing, Kocic warns that this hawkish shift "is now happening at accelerated pace and along the way creating new pattern of vulnerability across the markets."
It also leads to an important…

by Zero Hedge - March 25th, 2018 5:00 pm
Courtesy of ZeroHedge. View original post here.
Corporations such as Facebook and others will continue to outdo the state in accruing massive amounts of personal data on individuals, particularly in the West.

Massive firms could use such information as part of an effort to reshape people's allegiances.

As states perceive corporations as potential threats to their power, they will take action to keep such companies at bay.
Will the corporation supplant the state as the world's dominant organizational structure in the coming century?
It's a question to which many world thinkers adamantly answer "yes." In this bold vision for the future, national borders gradually wither away as transnational companies become ever more powerful, leading governments by the nose in pursuit of perfect supply chain efficiency.
For advocates of this vision, the prevailing trends throughout the world, large companies' growing influence, the giant cash piles of companies like Apple and diminishing trade barriers all point to the coming predominance of the corporation.
Skeptics, by contrast, say the obituary for the state is decidedly premature but concede that the corporation is likely to eat away at national power in the decades to come.
Is the Sun Setting on the State?
The history of the world is essentially a history of the invisible lines that have shaped the global population. The basic societal unit, the human, is largely the same the world over, but systems have emerged to turn humans into cogs in larger machines. Organizations and institutions exercise power thanks to individuals' willingness to subordinate themselves to wider goals. In feudal times, a king's power depended on the loyalty of his lords, who themselves needed to keep their peasants in line to ensure their own continued strength. While ostensibly preoccupied with the world to come, the Catholic Church once wielded a large degree of power in the present realm. Today, however, the institution is a shadow of its former self because it has not succeeded in persuading as large a percentage of the population to believe in it, thereby reducing its power on a relative basis. In the centuries that followed the Peace of Westphalia in 1648, the nation-state began to supplant the church, ultimately providing a common sense of identity for which large groups of diverse people were willing to die.
by ilene - March 25th, 2018 4:09 pm
Trump's $60 billion in China tariffs will create more problems than they solve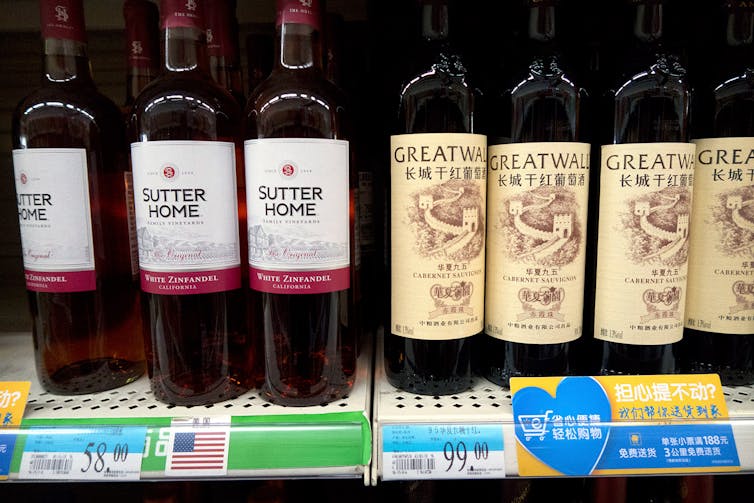 Courtesy of William Hauk, University of South Carolina
After spending seven months investigating whether China is engaged in unfair trade practices, the Trump administration announced March 22 that it will impose tariffs on as much as US$60 billion in Chinese imports.
The tariffs are meant to address two problems: intellectual property theft by China and a steep and persistent trade deficit.
As an economist and expert in international trade, I don't see how the proposed tariffs will resolve either one. In fact, it's more likely that they will create two new problems by hurting both consumers and businesses.
IP theft and trade deficits

The administration formally justified its tariffs by invoking Section 301 of the Trade Act of 1974, which allows the president to impose tariffs on countries in violation of international trade deals.
In particular, the Trump administration accused China of engaging in intellectual property theft forbidden by World Trade Organization agreements.
Intellectual property theft has been a major complaint of American companies doing business in China for decades. Sometimes this theft occurs through illicit means, such as industrial espionage. It also occurs through legal channels, such as when U.S. companies are forced to form a joint venture with a Chinese business. In other cases, technology transfers are a precondition of doing business in China.
Altogether, the U.S. trade representative estimates that these policies cost U.S. businesses around $50 billion a year.
The other problem that has long irked the president is the significant trade deficit. Since the U.S. normalized trade relations with China in 2000, the deficit ballooned from less than $84 billion to over $375 billion in 2017.
This "China shock" of cheap goods has caused considerable disruption in the U.S. economy. The labor market has been surprisingly slow to adjust, leading affected workers to earn far less money over a lifetime.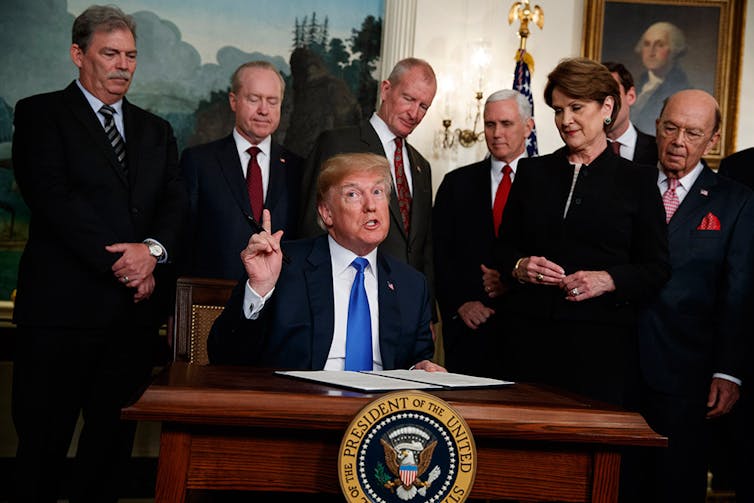 …

by ilene - March 25th, 2018 4:07 pm
'Big Tech' isn't one big monopoly – it's 5 companies all in different businesses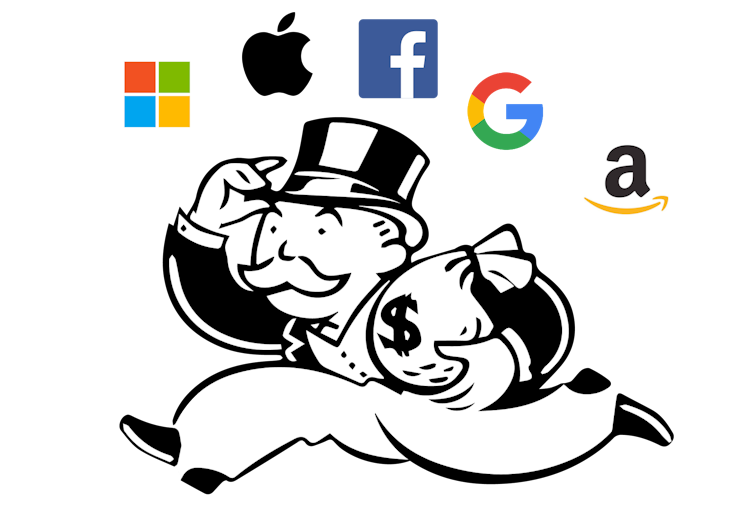 Courtesy of Amanda Lotz, University of Michigan
Public concern about Facebook's power in society – and in politics – has skyrocketed in the wake of revelations that users' data was analyzed by a U.K.-based marketing firm and used to construct highly targeted political propaganda in advance of the 2016 U.S. presidential election. Other technology giants have also sparked concern: Google, Apple, Amazon and Microsoft have all faced objections from users, the public and even government agencies.
Because all of these companies provide services relating to computers, there is a tendency to lump them together, calling them "Big Tech" or the "Frightful Five" or even "GAFA" – the acronym for the first four of them, leaving Microsoft out. Conceiving of "big tech" as a single industry makes the threat and influence overwhelming.
In the U.S., when an industry gets so large it exerts political pressure on society, people often label the industry as a whole, like "Big Oil," "Big Tobacco" or "Big Pharma." The so-called big tech companies certainly are big: In 2017, they were the top five most valuable public companies in the U.S. But, as a scholar of the media marketplace that many of these firms are beginning to explore, I know that lumping them together hides the fact they're very separate and distinct – not just as companies, but in terms of their business models and practices.
Understanding these companies in their proper business contexts makes it easier to understand their power in the marketplace and society at large. It also suggests ways to assess, regulate and manage that power to protect competition and even democracy itself.
Google: Advertising revenue from searches

Google and Facebook are most frequently discussed together, likely because of their domination of internet advertising. Together, the two companies collected 63 percent of U.S. digital advertising dollars in 2017. Both companies earn most of their revenue from…