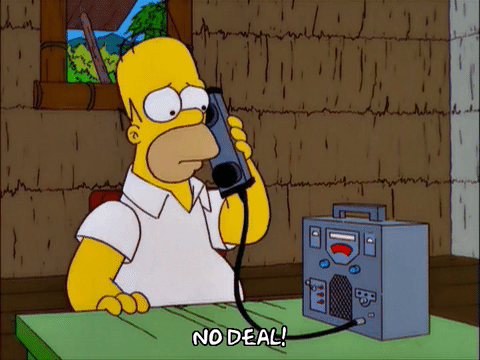 Well, we're still closed.
Today is, officially, the first day Government workers will actually not get paid. Already we've seen TSA workers have sick-outs for protest and things are going to get much worse as Trump's Saturday and Sunday meetings with the new Congressional Leaders resulted in NO DEAL as Trump maintains his "wall or nothing" stance.
Meanwhile, Trump has said he is going to declare a State of Emergency in order to fund the wall but he's already lost that court case by announcing that he's going to make up an emergency just to fund a wall – what an idiot! I hope you enjoyed Friday's December Jobs number because, as of this morning, 420,000 people are working without pay and 380,000 people have been furloghed – a nice way of saying temporarily laid off.
Trump has said he won't sign any bill funding the government that doesn't include $5.7Bn in border-wall funding that was part of a measure signed by the GOP-controlled House in December which THEY couldn't pass then, before Democrats took over the chamber. Two Democratic aides said Sunday that an afternoon meeting was delayed by 45 minutes because Republicans weren't ready with documents to explain why that $5.7Bn amount was needed for the wall. Keep in mind this is after two full years of sayinging they needed a wall.
The much bigger deal this week is the resumption of trade negotiations with China and we can expect a rumor-driven market until something official is announced, which could be a few MONTHS – if at all. As you can see, Trump was tweeting out great progress on Dec 14th but that same day, as soon as China said they had no idea what he was talking about, the markets began their second 10% leg down – so be very careful trusting the President – not that you should need a warning about that by now….
We have 9 Fed speakers this week and the release of the last meeting's FOMC Minutes on Wednesday but not all that much data as the Government Shutdown is pushing back a lot of reports so we'll be flying fairly blind into earnings, which are also very light this week and officially kick off a week from Friday, when big banks report but then the 21st is a holiday (MLK) so this whole month is not going to feel normal.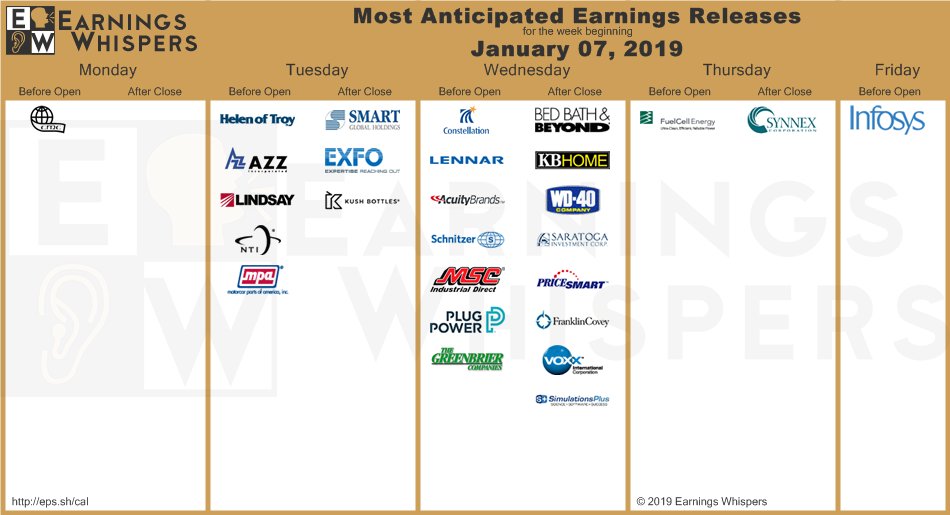 We're still wriggling around between our bounce lines and the only thing that really matters is whether or not we get over those strong bounce lines and hold them into Friday's close – anything less than that and we'll have to get more bearish – again…
Dow 27,000 to

21,600

is 5,400 points so 1,080-point bounces to 22,680 (weak) and

23,760

(strong)
S&P 2,950 to 2,360 is 590 points so 120-point bounces to 2,480 (weak) and

2,600

(strong)
Nasdaq 7,700 to 6,160 is 1,540 points so 300-point bounces to

6,460

(weak) and

6,760

(strong)
NYSE 13,200 to

10,560

is 2,640 points so 528-point bounces to 11,058 (weak) and

11,586

(strong)
Russell 1,750 to 1,400 is 350 points so 70-point bounces to

1,470

(weak) and

1,540

(strong)
Do you know someone who would benefit from this information? We can send your friend a strictly confidential, one-time email telling them about this information. Your privacy and your friend's privacy is your business... no spam!
Click here and tell a friend!