Is this rally real?
As you can see from our Big Chart – we're just above the 200-day moving averages, which was our goal for this rally – on all but the Russell 2000, which is at 1,574 in the /RTY Futures and we need them to confirm by getting over the line at 1,587 but we'll want to see 1,600 before we feel comfortable and we are expecting the Russelll to lead us – up or down, for the rest of the week as more and more small caps report their earnings.
We had an in-depth look at /RTY in yesterday's Live Member Chat Room where we concluded:
So, that being the case, we would expect the 5% Rule to be obeyed between 1,440 and 1,800 which is 360 points so 72-point bounce lines to 1,512 (weak), 1,584 (strong), 1,656, 1,728 (weak retrace – where we failed before) and 1,800. So expect good resistance at 1,584 and no more than a strong retrace of that run from 1,440 (if we're bullish) which is 144 so 29(ish) down to 1,555 (weak retrace) and 1,526 and we'll see how that goes:
In other words, our 5% Rule™ predicted a run to 1,584 and now the 200 dma is 1,587 so we're pretty confident taking a short up here with very tight stops over the line that risk a loss of $5 per point, per contract so let's say we call 1,580 the shorting line and 1,590 the stop (though I would add another short at 1,586 to average 1,583) so the risk would be losing 8 points over 1,590 ($40 per contract) and our pullback goal is 1,555, which is 25 points (from our initial entry) for a $125 per contract gain and possibly 1,526, for a total of $270 per contract at that level.
The reward potential, in this case, outweigh the risk so we make the play. Sometimes we are right and sometimes we are wrong but, since we can make 3-6 times more when we're right than we lose when we are wrong – we don't have to be right more than half the time to do very well!
Remember: I can only tell you what is likely to happen and how to profit from it – the rest is up to you!
We're also finally getting a move back up in our long-standing play on Naturaly Gas Futures (/NGV19) and we're still miles and miles from our $3.50 goal (up $8,000 per contract from here) but a quick $1,000 gained per contract so far is very nice and our simple premise here is that we think there will be more and more LNG exports which put more and more pressure on inventories as the year progresses and, over time, the global Natural Gas Market will stabilize somewhere around $4.50 and, for the US, that's up a lot higher and, for the rest of the World, down a lot lower as LNG turns Natural Gas into a Globalized Commodity.
Back on Feb 7th, when /NG was bottoming and we took full advantage, one of our Members asked for a non-Futures way to play Natural Gas long and I suggested the following:
/NG/Robert – Well I'd go with CHK as UNG decays too much and it could be a while before they come back. CHIK does $9Bn in business and makes $800M but you can buy the whole company for $2.3Bn, less than 3x earnings.

Unfortunately for them, they began acquiring more oil assets and that's about 40% of their revenues now – so that's been hurting them recently but they just completed a $4Bn acquisition of WRD to get even more oil at what I HOPE was a good bottom call.

As a new trade on CHK, I'd go for:

Sell 20 2021 $3 puts for $1.10 ($2,200)

Buy 30 2021 $1 calls for $1.60 ($4,800)

Sell 30 2021 $3.50 calls for 0.55 ($1,650)

So that's net $950 on the $7,500 spread that's $1.50 ($4,500) in the money to start and not far to go to make the full $6,550 (689%) at $3.50 and the worst case is you own 2,000 shares at about $3.50.
CHK has made little progress so far so it's still playable. As of yesterday's close, the $3 puts were $1.03 ($2,060) and the $1 calls were $1.86 ($5,580) and the $3.50 calls were 0.66 ($1,980) so net $1,540 is up a quick $590 (62%) in two weeks but still another $5,960 left to gain at $3.50 and that's a 387% potential gain – even if you are coming into the trade 2 weeks late because you wanted to save $3/day by not subscribing to our Newsletter!
We get the Fed Minutes at 2pm today and they are the minuts of the Jan 30th meeting, when the Fed reversed course on rate rises – so this should be interesting. The next meeting isn't until March 20th and there will be 6 more meetings after that and I still expect at least 2 1/4-point increases – despite what they say.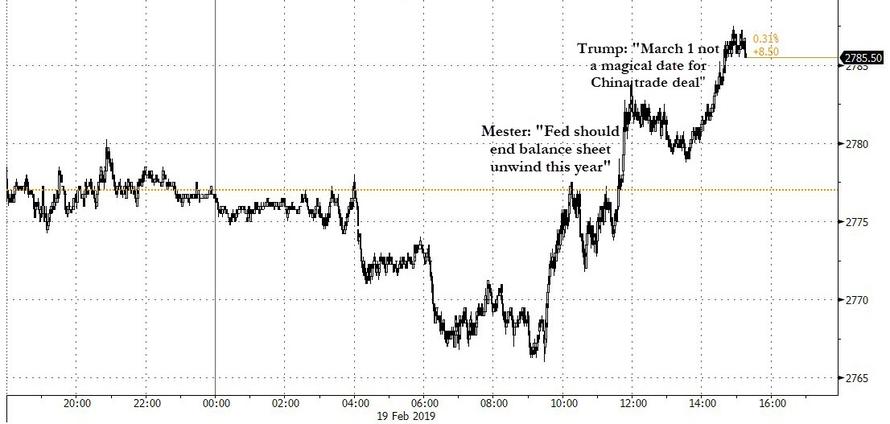 The Fed's Mester saved the markets yesterday as she said the "Fed should not end balance sheet unwining this year" and then Trump said he was no longer firm on March 1st for a China deadline on a trade deal and that's how the Dow recovered 100 points into yesterday's close.
The big news of the morning is UBS (UBS) being fined $4.2Bn in France for helping their wealthy clients evade taxes and I doubt very much that will be contained to just UBS – or to France, so take the Financials with a grain of salt in the near-future.
Meanwhile Tesla (TSLA) has lost another General Counsel as Dan Butswinkas is bolting after just two months on the job – possibly because Musk once again tweeted out what a casual observer would call an SEC violation, saying: "Tesla made 0 cars in 2011, but will make around 500k in 2019" which he then revised to "Meant to say annualized production rate at end of 2019 probably around 500k, ie 10k cars/week. Deliveries for year still estimated to be about 400k." as his lawyer ran screaming for the exit.
Part of Musk's settlement with the SEC from the last time he used Twitter to manipulate the price of his stock was that TSLA would create a system for monitoring Musk's statements to the public about the company. This series of events has had the opposite effect as the stock is now down 2% pre-market.
While Trump may have extendted the China deadline, Tesla's bondholders are not likely to be so generous with the March 1st Bond Deadline where $920M worth of debt is due unless the stock is over $360 – in which case it converts to stock. While the March tranche is the most immediately due, it's not the largest of Tesla's outstanding debt. Some $1.3Bn and $977M of convertible coupons are due in 2021 and 2022, respectively, and $1.8Bn of traditional bonds due in 2025 are currently outstanding, according to data compiled by Bloomberg.
According to their recent report, TSLA has $3.6Bn in cash at the moment and Musk is talking about production doubling by the end of the year and they've dropped $200M to the bottom line in Q3 and Q4 so figure over $1Bn in profits this year means they should be able to service it without resorting to this sort of nonsense – assuming the books aren't cooked….
Do you know someone who would benefit from this information? We can send your friend a strictly confidential, one-time email telling them about this information. Your privacy and your friend's privacy is your business... no spam!
Click here and tell a friend!