You're welcome!
In yesterday's PSW Morning Report (subscribe here) I said:
7,200 on the Nasdaq (/NQ is a good shorting line for today as is 1,590 on /RTY, since that's the 200 dma – tight stops above!
As you can see, the Nasdaq (/NQ) shorts were good for gains $2,000 for each Futures contract shorted while the Russell (/RTY) fell to 1,565 and that was good for gains of $1,500 per contract – not a bad way to start the week. In case you are wondering – in our Live Member Chat Room, at 12:16, I also called the bottom, saying:
Hopefully that will be it, 2,780 though is a terrible fail of 2,800 and down 100 points on the Nas is a quick $2,000 and /RTY 1,568 should be support but, if not, could see 1,550. Tight stops in any case but I'm happy with these gains!
Keep in mind that we are Fundamental, not Technical Traders. We call these tops and bottoms based mainly on the news cycle – even intra-day and the only Tecnical Indicator we follow is the 5% Rule™, which we invented to neatly summarize all the TA BS into one simple formula that FUNDAMENTALLY accounts for TA as a factor in our market calls. Turns out, it also does TA better than any other system I've seen – but I still think TA is BS.
It doesn't matter if it's BS though, because – as long as millions of people follow something – it becomes a Fundamental factor anyway. If crows flying east caused people to sell Apple, we'd be tracking crow migration as a Fundamental Indicator but not enough people trade on crows to make it relevant but enough people follow Elliot Wave, Ichimoku Clouds, Bollinger Bands, etc. to make it a signal we do pay attention to. When we see the news flow coincide with support-resistance lines for Technical Traders – THAT is when we like to make our Futures calls.
Meanwhile, the big call is WTF is going on with the S&P 500 at 2,800? Yesterday was the 4th time since October we've been rejected at that line and, earlier last year, it failed on 4 other occasions so we're 1 for 9 crossing over 2,800 for more than two weeks in the last 52 weeks – that's NOT GOOD!
As you can see, almost all the rejections sent us down 100-200 points so let's not get too bullish as all we got yesterday was a bounce off the fall from 2,820 on Monday to 2,770 yesterday so that's 50 points and that means, per the Fabulous 5% Rule™, that we can expect 10-point bounces to 2,780 (weak) and 2,790 (strong) so now we're watching 2,790 as the fail line and, if we can't hold that, we'll be back to 2,770 and likely on the way to a full 1.25% pullback from 2,800 to 2,765 and, failing that, the next stop is the 2.5% line at 2,730, which we last tested on 2/15.
Notice how well the 5% Rule is being obeyed. That also tells us that 2,835 is the 1.25% line but we haven't made that and we are finding resistance at the 0.625% line, which is 2,817.50. We don't usually bother at that level but it is ineresting that that's exactly where we topped out yesteday, which indicates there is a LOT of technical resistance over 2,800 and it's going to take a lot more than promises of trade progress to get us over that hump.
That's why we look for opportunities to go short at that line and not long.
Meanwhile, China has lowered their GDP target (6-6.5%) and instituted $300Bn in Tax Cuts to spur growth, which indicates that currently they are growing at less than 6% and feel they need Tax Cuts to get there. China is also attempting to boost an already strong market because it too is run by Oligarchs who are extracting the wealth of the country to line their own pockets – who says we don't have a lot in common?
As in the US, the Chinese tax cuts will primarily boost Corporate Earnings and, as you can see from this chart, Corporate Debt in China is around 200% of their GDP and, if that ever hits the fan, there isn't enough Yuan in the World to fix the flood of defaults that will sweep across Asia and China knows this – and fears it.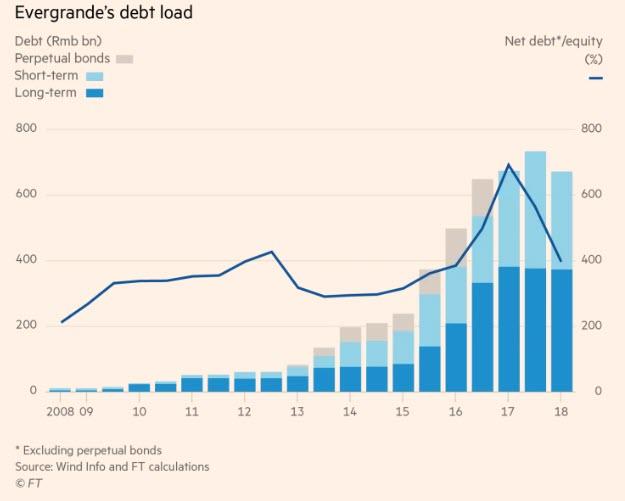 China's largest property developer, Evergrande, which is owned by China's 2nd richest person, Hui Ka Yan, announced they would be discounting their properties by 10% after home sales collapsed in January. This is beginning to look like the US S&L Crisis under Bush the First as Evergrande recently sold $1.8Bn of 5-year notes for 13.75% based on the assumption that anything they bought would go up more than that in value. Turns out the assumption was flawed…
Overall, Evergrande has $208Bn in liabilities, including $43Bn maturing this year and they can't keep borrowing at 13.75% to cover it (and Hui had to buy $1Bn worth of the notes himself because no one really wanted to lend Evergrande more money – even at that rate). The company's debt to equity ratio is roughly 400% and the equity is quickly losing value while the debt piles up.
The fact that China' largest property developer is now slashing prices across the board by as much as 10%, means that a deflationary hurricane is about to blow across what most see as the most important sector in China's economy, and worse, should other property developers follow in slashing prices launching a race to the bottom, nobody knows how far prices could truly fall should a liquidation domino effect ensue. China has MASSIVELY overbuit homes and currently has a 22% vacancy rate – the most in the World.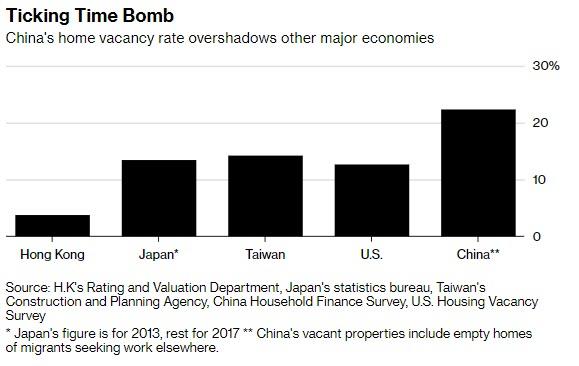 And yes, that's right, 12% of the homes in the US are unoccupied – so don't believe your realtor when they tell you you'd better act fast! That's 12M empty homes and we have 550,000 homeless people in this country. Gosh, I wish there was some way to figure out a solution but I'm just stumped…
Be careful out there.
Do you know someone who would benefit from this information? We can send your friend a strictly confidential, one-time email telling them about this information. Your privacy and your friend's privacy is your business... no spam!
Click here and tell a friend!