So close but yet so far.
The Futures are down yet again as we revisit yesterday's lows ahead of the open (7:30). The bond market is still causing trouble around the World as investors are getting jittery and Draghi came out with some comments this morning about the danger of negative rates – even as German 10-year notes fell further into negative territiory. Draghi also said he's ready to get even more doveish but he's not too worried about the economy, saying:
"During the four euro area business cycle expansions since 1970, there have been 50 soft patches – defined as a two-quarter growth slowdown – and only four recessions. In fact, the euro area faced an analogous situation in 2016, when the economy also went through a soft patch triggered by a contraction in world trade. At that time, the strength of the domestic economy was able to shield the recovery from external uncertainties."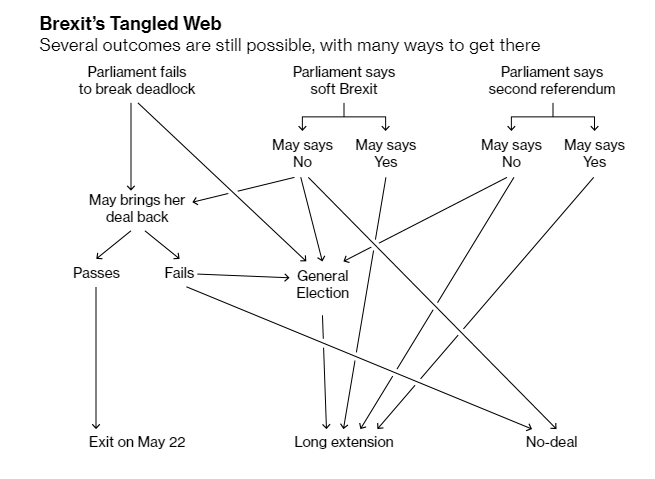 Somehow, this makes me worry more because 2019-1970 = 49 years and Draghi is saying we've had FIFTY (50) 2-quarter slowdowns in less than 50 years – and he thinks that's OK? Sounds like a good case to get out of the EU to me! Speaking of which – the first rat to attempt to leave the sinking EU ship is, of course, the UK and the chart on the left gives us an idea of where they stand.
The original deadline for the decision was Friday but now it's the end of June but Parliament is voting today and notice that most paths lead towards a General Election, tossing out Theresa May and throwing the UK into turmoil yet again but all is not lost as Conservatives seem to be coming over to May's side in favor of the deal they just rejected – mostly because they just want to get this thing over with so they can go back to worrying about the names of new tugboats ("Boaty McBoatFace" won last time) without all that nasty interference from the EU (who submitted the name "Tugboat 12").
Still, it's all the same nonsense that took the market down earlier in the month and we're not expecting a major breakdown without something new happening so we're still making the same bullish bounce bets we made earlier in the week and our bounce lines are the same bounce lines we looked for on Monday, which are:
Dow 26,000 to 25,400 is 600 points so 120-point bounces to

25,520

(weak) and 25,640 (strong)
S&P 2,860 to 2,790 is 70 points so 14-point bounces to 2,804 and 2,818
Nas 7,525 to 7,300 is 225 so 45-point bounces to 7,345 and 7,370
Russell 1,580 to 1,500 is 80 points so 16-point bounces to 1,516 and 1,532
As the morning has progressed, we have taken back 2 of the 4 strong bounce lines and, once again, we'll see if they manage to hold up for a whole day. Clearly, yesterday, they did not. Meanwhile, we're having fun with the Futures and Gasoline (/RB) is down to $1.925 this morning but that's the new contract (/RBK19). Yesterday's shorting idea from the morning report was good for gains of $500 per contact – as was our call to short Oil (/CL) at $60 for $500 per contract gains at $59.50 while Natural Gas (/NGV19) is down to $2.86 – even cheaper than yesterday by $400 per contract!
We're waiting for the 10:30 EIA Report before jumping back in on oil plays and Trade Talks resume on Thursday in Beijing, which I assume means tonight in the US and then both teams head back to the US for more talks next week so it's very dangerous to short the market which may be on the cusp of announcing a Trade Deal – keep that in mind.
Meanwhile, China's Industrial Profits fell 14% from last year to the worst correction since Reuters began tracking in 2011. The drag was mainly due to price contractions in key industrial sectors such as auto, oil processing, steel and chemical industries, Zhu Hong of the statistics bureau said in a statement accompanying the data, adding that production and sales are slowing as well. Zhu said the timing of Lunar New Year holidays that fell in early February also had a bigger negative impact on business operations this year than in 2018. The trade war with the United States has put a dent on factory activity, corporate earnings, business sentiment and overall consumption in a blow to the economic outlook.
Policymakers have acknowledged China's economy is facing increasing downward pressure, hurt by multi-year campaigns to curb debt risks and pollution, while the trade war with the United States took a toll on export orders and employment. Beijing is beefing up measures to support the manufacturing industry by cutting the value-added tax, increasing infrastructure spending and reducing direct government intervention and now they are talking Corporate Tax Cuts to boost the bottom line (don't worry, it will trickle down!).
This is not all about US Trade for China, which makes up about 10% of their GDP – this is about the same Global Slowdown Draghi fees is no big deal and it's spreading all around us and the Central Banks have been throwing money at the problem but it still isn't going away – it's just getting bigger and bigger while we continue to ignore it. A trade deal with China will help – but the problems run much deeper than that and, meanwhile, no one is doing ANYTHING about Climate Change – and that's actually going to kill us!
Remember when you used to look at lemmings following each other over a cliff and wondered how they could be so stupid?
Do you know someone who would benefit from this information? We can send your friend a strictly confidential, one-time email telling them about this information. Your privacy and your friend's privacy is your business... no spam!
Click here and tell a friend!