What, us worry?
1, 2, 3, 4 Trump declared a trade war and then announced he's going to have fun in the sun at the G20 with his pal Putin but also plans to see China's President Xi in late June and force him to accept US terms of face SEVERE CONSEQUENCES. This is the mindset of a 75 year-old racist schmuck who has a 1950s view of China and thinks we just won WWII and get to dictate terms to all the inferior races – not the rational strategy of a United States President!
Nonetheless, the markets love it when Trump lies to them and we're up almost 200 points pre-market after being down 600 points yesterday so YAY!!!, I guess…
If you remember, way back on Friday morning, in our PSW Report, I told you "it's more likely we're consolidating for a move down" and we put up our anticipated levels, which all failed yesterday but we don't count Mondays (and the volume wasn't very strong either) so TODAY is the day that matters and I'm going to highlight the pre-market (7:30) positions so we can see where we are:
Dow

25,200

is the 5% line and the bounce lines are

25,450

(weak) and 25,700 (strong)
S&P

2,860

is the 5% line and the bounce lines are

2,875

(weak) and

2,890

(strong)
Nasdaq

7,475

is the 5% line and the bounce lines are 7,540 (weak) and

7,605

(strong)
Russell

1,550

is the 5% line and the bounce lines are 1,565 (weak) and

1,580

(strong)
Well that's not very good, is it? That's why we use this system – it keeps us from getting irrationally exuberant when all the market is doing is weakly bouncing. The only green box we have is the -5% line on the Dow – that's nothing to celebrate, is it? The other indexes haven't even taken back their -5% lines and, if they can't take them back today AND make the weak bounces – we are likely to be looking at another 5% drop before the next support levels.
Meanwhile, we did play the Dow and the S&P for a bounce yesterday but now we're back to neutral and just waiting to see if we can change any levels to green this morning but, as far as I can tell, the trade war is still on and there's no hint of a deal through the end of June – so what is there to get excited about?
You're welcome on Soybeans (/ZSU19), also from the Friday morning PSW Report (subscribe here) as they blasted back to $830 this morning for a $250 per contract gain and the SOYB ETF bottomed out at $14.20 and the Nov $14 calls were even lower than our $1.10 buy line and the Nov $15 puts hit $1 so our aggressive trade idea is a go and now we'll see how high SOYB can bounce, though our expectations are lower as there is no trade deal and China has specifically threatened not to buy our beans anymore.
Today we're excited about Gasoline (/RB) still cheap at $1.95 with the holiday looming and the July contract (/RBN19) is just $1.94 so a discount for an extra few months (and two holiday weekends) is an offer we simply cannot refuse. I already sent out an Alert to our Members this morning about /RB, as well as a nice TLT trade idea (short) that we'll be playing in the Short-Term Portfolio.
As annoying as all this Trade War nonsense is, it's hard to get bearish when earnings were much better than expected in Q1 and, just this morning, Small Business Optimism jumped back to 103.5, with 8 out of 10 components increasing, led by earnings trends. Anything over 100 is good and we've clearly reversed a downtrend that started in Q4 DESPITE all the nonsense that's going on.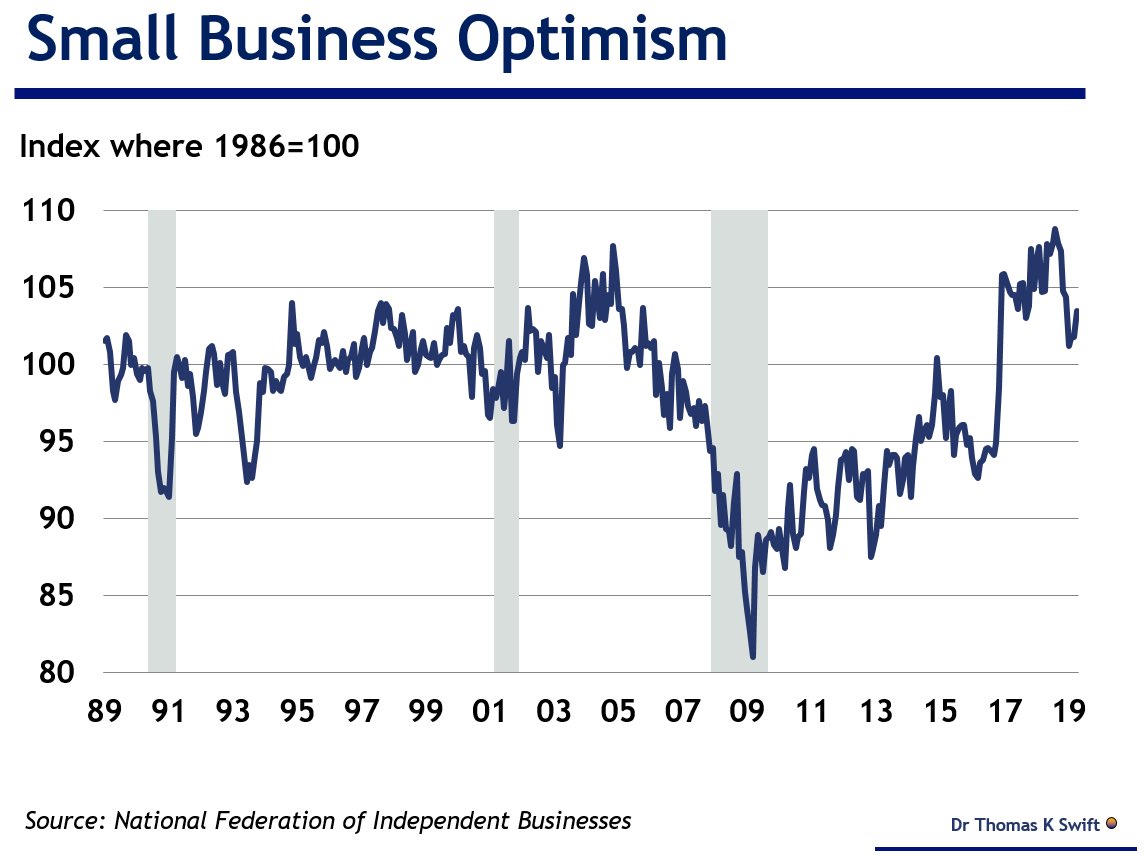 So we're going to watch our levels and see what else the market is willing to ignore but I'm not going to be enthusiastic until I see those Strong Bounce lines retaken and that's simply not going to happen today but we can't take the day off as a failure at the weak bounce lines will mean it's time to double up on our hedges and play for the next 5% correction.
Speaking of things we are ignoring – I'll leave you with a wake up call from Bill Nye, the Science Guy:
Whatever it takes – thanks Bill!