Telling lies is all you know

You had me believing they were so

Nothing new, yeah, the same old thing

You got me singing the blues again – Fats Domino
Well it turns out everything the White House said on Friday was BS.
That's not too suprising but the market is acting like it's surprised now that China has stated that no progress was made last week and there are no further meetings scheduled and now the White House is trying to spin the G20 Meeting in June as a summit between Trump and Xi because Xi WILL be there and Trump WILL be there but, at the moment, it doesn't seem like Xi is very eager to speak to Trump, especially after Trump was blatantly insulting in his weekend tweet-storm:
I think that China felt they were being beaten so badly in the recent negotiation that they may as well wait around for the next election, 2020, to see if they could get lucky & have a Democrat win – in which case they would continue to rip-off the USA for $500 Billion a year….
I say openly to President Xi & all of my many friends in China that China will be hurt very badly if you don't make a deal because companies will be forced to leave China for other countries. Too expensive to buy in China. You had a great deal, almost completed, & you backed out!
..There will be nobody left in China to do business with. Very bad for China, very good for USA! But China has taken so advantage of the U.S. for so many years, that they are way ahead (Our Presidents did not do the job). Therefore, China should not retaliate-will only get worse!
The unexpectedly good first quarter 3.2% GDP was greatly helped by Tariffs from China. Some people just don't get it!
Keep in mind that Trump and Xi haven't actually spoken – THIS is how the President of the United States of America communicates with the World's second-largest super-power regarding a very delicate issue. Now that we have China's side of the story, it turns out everything the White House told us on Friday was a lie and there was ZERO progress made at last week's trade talks – which is not surprising as Trump blew them up earlier in the week by suddenly imposing tariffs and threatening China with more tariffs. According to the WSJ:
By then, though, the U.S. team went into the talks not expecting to do a deal, figuring they would have a "non-meeting," according to one person briefed on the discussions. U.S. officials at least wanted to make sure they didn't leave with a complete break. The goal of the meeting was to be able to say the U.S. negotiators were still trying, this person said.
The goal of the meeting was to PRETEND negotiations were going well – that was the GOAL of the meeting – to lie to the American people and to fool market investors into buying stocks based on Government LIES. Is this really what you voted for?
We're certainly going to re-test last week's lows but I'll be surprised if they hold as we are looking at enough evidence now to support a 10% and possibly even another 20% correction based on the complete breakdown of trade discussions and Trump went full-blown psycho on Saturday, saying China was "badly beaten" and threatening that the deal would be "far worse" for them if they wait until he is re-elected to concede to his trade demands.
I think that China felt they were being beaten so badly in the recent negotiation that they may as well wait around for the next election, 2020, to see if they could get lucky & have a Democrat win – in which case they would continue to rip-off the USA for $500 Billion a year….
….The only problem is that they know I am going to win (best economy & employment numbers in U.S. history, & much more), and the deal will become far worse for them if it has to be negotiated in my second term. Would be wise for them to act now, but love collecting BIG TARIFFS!
As I have said since day one of these "trade negotiations", this has never been about making a deal with China but about taxing the poor and middle-class Citizens of THIS country through tariffs, which even Larry Kudlow admitted this weekend was nothing more than a tax on the American people. When you can't even get Larry Kudlow to back up your BS – your BS must be TOTAL BS!
According to an Oxford Economics estimate, the tariff increase will cost the U.S. economy $62 billion by 2020, breaking down to up to $800 per household. Unfortunately, it costs the same $800 for the household making $25,000 as it does for households making $25M so it's a very unfair tax on the poor that Trump is using to offset his massive tax cuts to the rich.
8:30 Update: Well China has retaliated with 25% tariffs on $60Bn of US Trade Goods AND China has also said they will stop buying ALL us agricultural products if the US doesn't reverse their own tariffs – hitting Trump right in the farm belt. This is, of course, bad for Friday's Soybean Trade Idea but, as I said at the time, it only works if Trump comes through on his promises and, unfortunately, it turned out he was lying through his teeth on Friday – what a shocker!
Meanwhile, we still have plenty of earnings to get through and it's very possible likely that the White House will lie to us some more to boost the markets and even more likely that there are still idiots who will believe them and buy the markets back up – so all is not lost but watch those levels (also Friday) for failures that will signal a move down at least 5% more.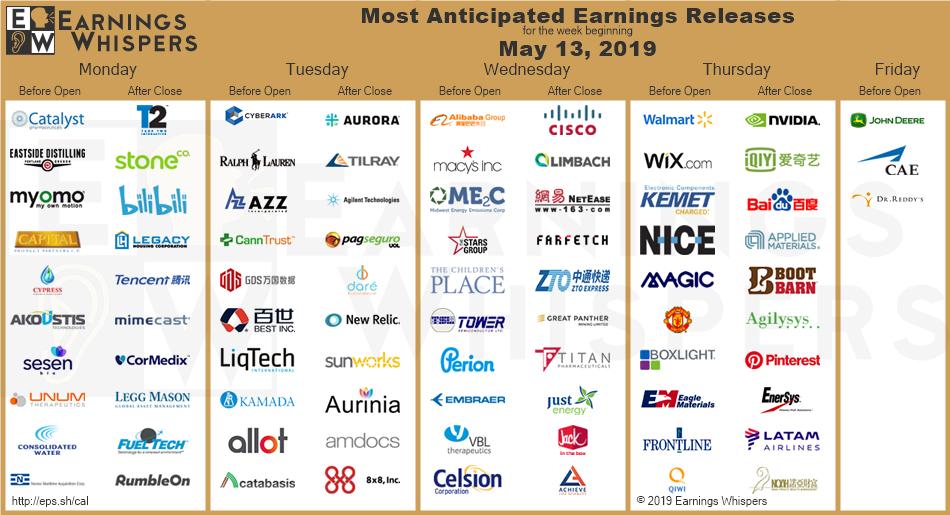 There will be TEN (10) Fed speakers this week along with Retail Sales, Empire State Manufacturing, Industrial Production, the Atlanta Fed, Housing and Business Inventories – and that's just tomorrow! More housing and the Philly Fed on Thursday and more stuff on Friday – it's a busy week and next week is pre-holiday so no one is going to care at all as we roll into Summer 2019 already!
Be careful out there.