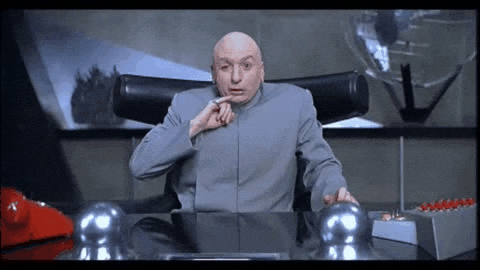 $2.1 MILLION Dollars!
$2,093,568 to be exact in our primary portfolios, the paired Long-Term Portrfolio (LTP) and the Short-Term Portfolio (STP) whose job is to protect it. It's really nothing to crow about as we're actually DOWN $40,487 since our June Review (through mid-May) though these numbers are only through mid June and the month finished with quite a bang. We close our months on option expiration day, of course, so we won't really know how the first half went until after July 19th and, by the time I consolidate that into a review it will be August and it would sound silly to call that a mid-year review – so that's why I'm calling this one a mid-year review.
While semantics are fun, let's get back to talking about trading strategies: Our intention over the summer was to lock down our portfolios in neutral as $2.1M is up from our Jan, 2018 start with $500,000 in our LTP and $100,000 in the STP so, overall, we're up $1.5M (250%) in 18 months and, with China Trade still up in the air, I'd rather protect my $1.5M in gains than risk them trying to make another $150,000 (10%). That's one of the problems you have as you make more and more money – you spend a lot more time protecting your wealth, rather than concentrating on making more wealth.
That's why we like to have multiple virtual portfolios at PSW. The LTP/STP is where we keep the bulk of our investing capital and they follow a strategy that is constantly hedging to protect what we started with. Nonetheless, they can still make spectacular gains but this cycle we have a very odd situation in which we have usually guessed correctly when we have added and removed hedges in the STP, causing an unusual $600,000 gain in a portfolio that usually loses money while the LTP gains.
It's been a very unusual market with lots of dips and recoveries and that kind of suits our trading style perfectly as we tend to scale into positions, buying small, conservative spreads to begin and adding more and widening the spread on dips. Another strategy we use is rolling our profits and the leads to a lot of our big gains. For example, last year, in our May Portfolio Review, our CMG position looked like this:
Notice we originally sold a short put back on 1/2 (one of our first trades) and then, once we got confident they had really bottomed, we added the bull call spread for net about what we sold the puts for, putting us in for net $0 on the $50,000 spread. As CMG got higher, we called at top and sold some short calls, which promply burned us. This is a very normal course of events familiar to all our PSW Members as it's simply putting our primary strategy to use over time. My comment in the review was:
CMG – This one screwed us as we rolled 3 short April $300 calls at $33.50 ($10,050) to 4 short June $325 calls at $23.40 (9,360) so we spent $690 to buy $25 in strike and that didn't help as CMG blasted up over $400. Not a tragedy as our longs are going to pay us $50,000 and we've got $4,400 more coming from the short puts but we need to adjust this one.

The 4 short June $325 calls at $115 ($46,000) can be rolled to 6 Jan $420 calls at $58 ($34,800) and we're going to cash out our 2020 $300 ($169)/350 ($132.50) bull call spread at $36.50 ($36,500) and pick up 15 of the 2020 $400 ($100)/$480 ($62) bull call spreads at $38 ($57,000)

.
We started the spread with a net $10,460 credit (and we already had a profitable cash-out in Feb) and now we're spending net $31,700 so we're now in for net $21,240 on the $120,000 $400/480 bull call spread that is about 1/3 covered with short $420 calls so we're hoping for a bit of a pullback, but not too much!
Notice our reaction is to cash in our winning spread, buy a 50% larger and 60% wider spread to cover the 50% increase in short calls. As I point out, we went from a net $10,460 credit (not much cash commitment) to $21,240 cash committed but now we have a $120,000 spread that's 40% covered. Needless to say, that's not the only time we did that and CMG has ended up providing about 10% of our porfolio's profits.
As of this month's LTP Review, our CMG position had evolved to:
And my adjustment was:
CMG – Well, now we HAVE to roll the short $600 calls, unfortunately at the highs. The good news is the calls we sell will be at highs too. The 2021 $480s are $295 and the $540s are $248 so that's net $47 out of a potential $60 so no point in cashing those but

let's add 15 of the 2021 $700 ($147)/800 ($100) bull call spreads for $47 ($70,500) and roll the 8 short June $600s at $135 ($106,000) to 15 short Jan $740 calls at $72 ($108,000) and I can't believe the 2021 $450 puts are still $20 but let's sell 10 of the 2021 $560 puts for $43 ($43,000) to offset the short calls

. So now we've spent net $25,500 to push the short calls into 100% premium (from $135 in the money!) and we still have $26,000 left to gain on our $480/540 spread but now we have a new spread with $150,000 potential as well. Quite a deal!
See, we just do the same thing over and over and, while the short now Jan $740 calls at $72 are carrying a $66,800 loss against our position, that loss is also a hedge because, if the market ever goes down (what's that?) then that's a $66,800 hedge we should make money on and, in fact, the total short call position is $108,000 with the new premiums and that's how much protection we get from this one tiny (well, not tiny anymore) $21,240 investment we made a year ago – not to mention the $150,000 potential on the spread itself (and yes, we fully expect to win both over time)!
That's our very simple long-term investing strategy in a nutshell. Stocks cycle up and down and we almost automatically take advantage of the dips buy buying bigger positions and because we usually sell calls to cover our positions, we tend to set realistic targets for our exits though that doesn't prevent us from setting up new positions using SOME of the cash we made on the first round. The bottom line is we don't just let our risk expand – the system keeps the cash moving down to the bottom line…
Short-Term Portfolio Review (STP): Our last review was May 17th at $719,355 and now, despite the market comeback, we're at $774,355 – up $55,000 for the month. That's because, on 5/29, when the Nasdaq dove, we were not greedy and cashed out our 2021 $32 calls for a nice profit and traded them in for a more sensible $35/50 bull call spread (3/4 covered). Not only is our new $100,000 (cost) hedge essentially net free and offering us $300,000 worth of protection (and it's in the money by $3!), but the 3/4 cover will allow us to sell short-term calls for income while we wait.
That's why the STP is up so much – we are smart enough to cash in the winning legs of our hedges when we feel it's been a good correction and then we work our new spreads more aggressive as the market heads back up and then we cash in the aggressive longs again on the way down – over and over again.
Short puts – All doing their job. We sell these to offset the cost of our hedges and here we've sold $48,650 worth of puts and we've gained $17,826 so far. If this were all we did in a portfolio we'd be looking very solid for the year, right? As long as we REALLY would like to own 1,000 shares of AAPL (for example) at $170 – then what's the risk?

You can't go too crazy and you have to be able to AFFORD to own those stocks (or at least ride out the loss while you wait for it to correct) or you may be forced to take a loss on the very dip this portfolio is supposed to be protecting you against. The ordinary margin on the AAPL 2021 $170 puts is $17,000 – that we can easily afford and we don't in any way believe AAPL is going BK – or even to $100 so we don't consider it more than MAYBE a $50,000 risk if AAPL went to $120 (and we decided to sell) but we collected $22,000 so net $38,000 at risk in a realistic assessment, not $170,000!
TLT – Well the Fed screwed that up for the moment but we'll see how next week's meeting goes before giving up on this one.
TNA – Went all the way down to $50 for a bit but nothing t o complain about as we've made good money so far. I'm not inclined to remove this hedge as it takes us through the summer and Russell still looks weak.
CAT – The cat came back from a $6,000 net loss last month and I still like it but I can't imagine why it's in the STP and not the LTP. I think it's because we thought we'd need to watch it closely and make adjustments.
DXD – New addition and taking a huge hit so far. I think I feel better about leaving the July calls over the weekend – we already cashed 1/2 out at $1 so I'd rather hope for $1+ ($10,000) than take $4,800 now. Again, these are hedges we EXPECT TO LOSE money on – it's just a question of how much and, if we make money – that's a pleasant surprise.
MJ – Very disappointing so far but I still like it.
SQQQ – As noted above, we cashed out a huge winner and flipped to a long-term hedge but that won't pay much on a short-term move, which is why I left those July DXDs open.

I like the concept of selling short-term calls but 2020 is too far away so let's sell 50 Sept $43 calls for $3.50 ($17,500) and put a stop on the short Jan $48 calls (now $4.80) at $5.50 ($27,500)

and hopefully they both go worthless but, if not, we spend $10,000 net for the roll and we have a very manageable amount of shorter-term short calls left.
TZA – Here we're super-aggressive but I think it's too much so let's shut it down while we have a nice profit.
UGA – We were right on target but it all fell off a cliff since. If we aren't recovering by Friday, I think we should give up on this one.
You would think we would need more changes but we were super-aggressive and we can get more aggressive again IF we fail those support lines but, if not – then cashing TZA is a good move.
Long-Term Portfolio Review (LTP) – Part 1: $1,319,213 is up 163.8% and up $21,991 since our 5/17 review. We are still down $100,000 from our April highs and about $50,000 of that was made up by the STP and, as noted in that review – we're pretty much treading water at the moment as our primary goal is to protect $2M worth of cash and positions in our paired portfolios. I've said before and I'll say again, if you are up drastically on money that matters to you – there is no substitute for cashing out!
We do keep finding bargains though, like RH, LMT, STMP and CPRI, which we added since last month and, if we are adding just one new trade a week – that's 52 in a year so we're filling any portfolio from scratch with new trade ideas. Just today we added TAP as well but it's not yet reflected in this review.
There are always bargains to be found and these LTP positions are the ones that have run the gauntlet through several sell-offs so they are generally positions we really, Really like a lot for the long term – as they should be.
HMNY – Well, they are still in business… I have to tell you, the fact that they manage to keep operating really impresses me at this point. Supposedly they are going to report on 6/28 – that will be interesting.
NAK – A lottery ticket that I like a lot.
CDE – We got aggressive on gold at the right time, I think.
CHK – Also aggressive on Nat Gas.
Short Puts – All looking good now except:
BBBY – Too stupidly cheap at $12 again and we sold 20 of the 2021 $15 puts for $4, so net $11 and I'm still good with that target so it would be silly not to take the $8,000 we collected on the puts and add a bull call spread.

Let's buy 50 of the 2021 $10 calls for $4 ($20,000) and sell 50 of the $17.50 calls for $1.55 ($7,750)

so that's net $12,250 on the new $37,500 spread, which is very reasonable but really net $4,250 – it's just that we sold the puts first – last September!
ARR – Next month we have to roll the $22.50 puts, now $4.50 and the Jan $22.50 puts are $5.30 at the moment and the $20 puts are $3 so we'll see which target looks better. The Jan $17.50 calls are $1 so, if we roll to the Jan $22.50s (+0.80) and sell the $17.50 calls ($1) we drop our net another $1.80 to $16.50 and we're right back on track – see how easy that is? And that's not even counting the $2.60 in dividends we've collected so far!
BNS – Close enough
ETM – Way below our target but not too much of a loss so far.
NRZ – On track.
SKT – Way below target but I love this company. We're waiting for 2021s to come out
T – Off to a great start, just added it last month. One of the World's best channel stocks – right around $30 since 2002 (low $25, high $40) and pays a great dividend ($2) so any idiot could have just bought the stock in 2002 for $30 and, 17 years later, they would have collected $34 in dividends and, if they put that back in the stock every year, it compounds out to $449 in 40 years. Now, is that really so hard to do?
I hate to keep hammering these points but the questions I get in the Webinars and in the Chat Room indicate that not everyone is down with making 1,220% in 40 years for an average of 30% a year instead of chasing silly momo stocks up and down like a headless chicken and ending up with much less. There HAS to be a place in your portfolio for nice, sensible investments – it's where MOST of your money should be!
And, keep in mind, that is JUST buying the stock and rolling the dividends into more stock – we're not even talking about collecting premiums by selling puts and calls along the way, which could easily double those returns.
AAPL – Short calls hurting a little but nothing to complain about. This is a very small AAPL position for us so we're very happy for an excuse to DD on the longs.
ALB – Improving a bit. By the way – see last review for more details on each position – it's not something I do every month as it's mostly redundant.
ALK – Close to our goal.
BHC – About what we expected – a bit weaker.
C – On track.
CAKE – Also weak but I have faith.
CELG – Just waiting for their buyout to close so we can get paid.
CLF – Brand new.
CMG – Well, now we HAVE to roll the short $600 calls, unfortunately at the highs. The good news is the calls we sell will be at highs too. The 2021 $480s are $295 and the $540s are $248 so that's net $47 out of a potential $60 so no point in cashing those but

let's add 15 of the 2021 $700 ($147)/800 ($100) bull call spreads for $47 ($70,500) and roll the 8 short June $600s at $135 ($106,000) to 15 short Jan $740 calls at $72 ($108,000) and I can't believe the 2021 $450 puts are still $20 but let's sell 10 of the 2021 $560 puts for $43 ($43,000) to offset the short calls

. So now we've spent net $25,500 to push the short calls into 100% premium (from $135 in the money!) and we still have $26,000 left to gain on our $480/540 spread but now we have a new spread with $150,000 potential as well. Quite a deal!
CPRI – Good for a new trade.
CZR – On track.
DAL – On track.
DIS – Another runaway short call but nowhere near as bad as CMG. Our bull call spread is in the money and the short puts are dead so let's see what we can do with these:

Let's close the 10 short Jan $95 puts at 0.45 ($450) and let's roll the 15 short June $125 calls at $14.20 ($21,300) to 15 short Sept $130 calls at $12 ($18,000) and we're going to wait for a pullback to sell more calls as $140 is a bit much

.
Long-Term Portfolio (LTP) – Part 2:
F – On track again.
FCX – Could be better but I'm fine with the targets.
FTR -

If we close all the short puts and calls it's a net $4,250 loss so why not do that and then we can sell 200 of the 2021 $2 calls for 0.50 ($10,000) and buy 20,000 more shares of FTR for $1.27 ($25,400) so, for net $15,400 we're doubling down and dropping our cost basis from $4 to $2.64 on a 1/2 covered 40,000 shares

. If they don't go BK, this could be amazing.
By the way, these are the kind of decisions we make in a BALANCED portfolio that is NOT losing money. Although we lost $60,000 on FTR, we made it up on other positions and it's very unlikely FTR gets back to $4 so, by adding $15,000 – we end up with a much better chance of recovering $75,000 than we had of recovering $60,000 – that's the logic here.
GILD – In the money already. Too early to cover.
GIS – On track.
GNC -

Let's buy back the short 2021 $2.50 calls at 0.30 if we can ($1,500) and we'll wait for a pop to sell more

.
GOLD – Back to lovin' it.
GPRO – Lost ground since last month but I still like them.
GS – On track at net $28,612 out of a possible $50,000 if they go up $2.22 from here in 18 months. Still good for a new trade if you like making 75% in 18 months but I know that's boring for you guys..
HBI – On track.
IBM – On track.
IMAX – Back in the bottom of the channel due to China exposure so

let's buy back the 40 short Jan $28 calls at 0.35 ($1,400) and the 20 Sept $24 calls at 0.35 ($700) and let's roll our 40 Jan $22 calls at $1.60 ($6,400) to 40 Jan $19 calls at $3 ($12,000) and then we'll wait for a bounce back to $23 to re-cover

.
IP – On track.
KHC – We are waiting for a bounce to sell covers.
LB – We are waiting for a bounce to sell covers.
LMT – New trade.
M - We are waiting for a bounce to sell covers.
MJ – On track
Mo – On track.
MT – On track.
MU -

We're going to take advantage of the big pullback to buy back the short callers, both the Jan $55s with a $4,445 profit and the 2021 $55s with a $16,820 profit and then w

e will wait for a bounce to sell covers

- see how that happens?
NLY – About to pay another 0.30 dividend next week. If we get assigned, we'll have 5,000 shares at net $9.45, not including short calls we bought back or the dividends we've collected and the stock is now $9.08 so, despite being 10% lower than our entry, all is well.
NYCB – Same deal as NLY, no worries.
RH – Brand new and doing awesome!
SKX – Over our target at net $8,925 out of a potential $12,000 so $3,075 (34%) left to gain in just 6 months – no reason to get out of this. For most sites, this would be their trade of the year!

SPWR – There's no emergency so get your prices but, as noted yesterday:

Buy (to close) 20 short Jan $7 puts for 0.49 ($980)

Sell (to close) 50 2021 $5 calls for $5.75 ($28,750) should be a bit higher tomorrow)

Buy 80 2021 $7 calls for $4.25 ($34,000)

Sell 80 2021 $12 calls for $1.85 ($14,800)

Sell 20 2021 $10 puts for $2.75 ($5,500)

So we cash net $27,770 and we buy a new $40,000 spread for net $13,700 so we've taken half the profits off the table and mildly increased our risk of ownership (by $6,000) so we can net another $26,300 out of this spread from here WITH extra money in our pockets – all playing with house money now!
STMP – Winning on one of our new ones just because the internal VIX calmed down.
STT -Getting killed on these. Just have to wait and see.
T – On track.
TGT – Over our goal but just net $22,425 out of a potential $43,750 so $21,325 left to gain if TGT can hold $82.50 for 18 months. Good for a new trade, I'd say. Still, earnings are not until late Aug so

let's sell 10 July $85 calls for $2.95 ($2,950) to lock in some of the gains

.
THC - We are waiting for a bounce to sell covers
UCTT – Well over our target but only net $2,150 out of a potential $10,000 so fantastic for a new trade (only 6 months to go) as the premiums on these options are high. Of course, at $15, we "only" get net $5,000 as we'd owe the short putter money but we can roll them.
WBA – I think these guys are so amazingly undervalued so good for a new trade.
WHR – Deep in the money and overpriced so

let's sell 5 (1/3) of the Sept $140 calls for $10 ($5,000) to line our pockets

. The longs have $22,000 left to gain above $130.
WPM – Well over our target with about $10,000 (37%) left to gain. In this case, the short calls don't pay enough for me to want to sell them so we'll just have to wait patiently for the premiums to die.
We got though that without too many changes – pretty good.
Options Opportunity Portfolio Review (OOP): $276,735 is up $9,737 from our 5/16 review and up 176.7% overall so we weathered the storm quite well though we have less cash now as we deployed a lot adding to positions so I'll be looking to take something off the table if I can and get our cash back over $100,000 – as I'd rather be more flexible – just in case…
As I said last time, we WANTED to take advantage of oversold stocks and, hopefully, we made good calls and we doubled down on a few of our positions.
FTR – Earnings were good but outlook still choppy – we just need to be patient.
HMNY – Dead money really.
HOV – After Q2 earnings they sold down to $7.50 but we'll wait for Q3.
TZA – Hedge is holding up well considering the rebound.
LB – Not worried about the puts.
PLAY – Took a huge hit and only 5 so

let's sell 5 more for $10.50 and raise $5,250

.
THC – Brand new and good for a new trade.
SQQQ – We rolled to this longer spread after cashing in the old $32 calls. A very good hedge.
TLT – We'll see what the Fed has to say on Wednesday.
AAPL – Good money coming in from this one.
ALK – On track.
AXL – Off to a poor start but I'm not ready to cover.
BBBY – Down and down they go but I still like them. Down to $1.5Bn at $12 but Operating Income last Q was $213M and they took some one-time restructuring charges, which tanked their whole year but the year before, on the same $12Bn in sales, they made $424M and I think they can get back to it.
BHC – On track.
C – On track
CDE – Finally coming back a bit as gold improves. Too soon to sell calls.
CLF – Brand new and good for a new trade.
DXD – I guess we didn't need the extra hedge.
FCX – We need the trade deal with China to see a real improvement.
FNSR – Holding up better than most semis.
GNC – Looks sad but I still like them.
GOLD – Back on track.
HBI – Already at our goal but too soon to cash in as it's net $6,175 on the $14,000 spread so still over 100% left to gain.
INTC – New trade, still good.
JO – Holding up better than coffee futures (so far).
KHC – We doubled down on the 30th and our timing was great.
LB – Hopefully it follows HBI at some point.
M – Still in the doldrums.
MJ – It's squeezing into a wedge and hopefully breaks up but we need some news like NY or NJ legalizing.
MU – We took a big hit on this one but the company is still strong – just the sentiment changed.
NAK – We just need the GOP to strip a few more environmental regs and then we can strip mine Alaska and dump the sludge into the river where those annoying salmon like to swim – can't wait! (if you can't beat 'em…)
NLY – We're collecting dividends, not profits so on track.
OIH – We pressed this one and it's pressing back – ouch!
SEE – On track.
SPWR – Well over our goal at $11,470 but it's a $20,000 spread so we'll wait.
T – On track.
UNG – Good for a new trade.
WBA – I never thought this one would hurt us. Still love them. Fear of price regulations is killing them. At $52.80 their market cap is $48Bn and they made $5Bn last year, which ended in Aug so this fiscal year they are about $2.2Bn for Qs 1 and 2 so pretty much on track for another $4.5-5Bn – a real bargain down here.

Let's buy back the 10 short 2021 $62.50 calls for $3.45 ($3,450)

.
WPM – My precious! Much as I'd like the cash, I'm not inclined to cover here.
Looks like we'll have to sell more puts as we're still $25,000 short.
Butterfly Portfolio Review: $164,759 is up 64.8% but down 4% ($3,870) since our 5/16 review. OIH got clobbered and that's all of our losses but MJ is not off to a good start either but, on a new trade, that can simply be caused by the negative impact of the bid/ask spreads, though the ETF did drop $1 since we picked it up.
While it's never pleasant to lose on any position, the nice thing about a well-balanced portfolio is some things win and some things lose and we have plenty of cash to put into pressing OIH – if that's what we choose. The last time OIH was this low was 2002, when oil was $20 a barrel – so I really don't think this is going to last but that doesn't mean it will be all better next quarter or even next year – just that there's more of an opportunity in sticking with it than giving up.
AAPL – We are pretty aggressive here and AAPL went down to $170 and back to $195 since we got more aggressive at $180 but really $175 held pretty well and I like the bottom call so we'll still wait and see before selling too many covers but I can't turn down the chance to

sell 10 of the July $195 calls for $5.70 ($5,700)

as it's silly to turn down the money on contracts that can's possibly hurt us (we are only covered 10 out of 25 on our June 2021 $160s). If AAPL goes higher, we roll them to higher strikes but if AAPL goes lower, we have $2 per long to roll our $160s lower.
DIS – We're getting killed on our short calls but it's a long way to September. Keep in mind this portfolio is self-hedging so our slightly bearish play in DIS is a hedge against a bullish play on AAPL as it's not too likely AAPL would go down without taking the broad market with it.
MDLZ – OK, $55 is certainly enough letting this one run! We're at about 25x earnings here, silly for a snack company.

Let's sell 10 Sept $55 calls for $1.80 ($1,800) and 10 Sept $52.50 puts for $1.20 ($1,200) to collect another $3,000 while we wait

. We already sold the Sept $50 calls for $3,900 so that's $6,900 collected for the quarter against a $7,500 long position – not bad!
OIH – "Tin soldiers and Nixon's comin' This summer I hear the drummin'" big losses on OIH! Just last month we doubled down on the 2021 $15 calls at $2.60 and now we're even lower at $1.55. It's not even worth selling short-term calls as all that does is cap our gains (if we ever have them) so, if we're inclined to stay in we either should DD again ($7,750) or roll our calls down to the $12 calls at $2.90 for net $1.35 ($6,750). While it may seem better to roll down, if we DD to 100 longs then we could sell 50 of the Jan $14 calls for $1.20 ($6,000) which pays for most of the doubling AND we're only 1/2 covered so the short calls can't hurt us and I'd always rather spend net $1,750 than $7,750 so that's our play:

We'll DD (to 100) on the 2021 $15 calls for $1.55 ($7,750) to average $2.79 (about what we paid last month) and sell 50 (1/2) of the Jan 2020 $14 calls for $1.20 ($6,000)

.
WHR – Got a nice move up and a very nice gain on the Sept puts we sold already, taking advantage of what we thought was a silly dip. The short June puts and calls should expire worthless so we're picking up $4,250 for the quarter and we already sold Sept puts so

we'll sell 5 of the Sept $140 calls for $7.50 ($3,750)

as I think that's a fair target range between the puts and the calls ($120-140). I love this spread as we paid net $10,000(ish) for it and here we are selling the Sept quarter for $8,200!
Lebow/Tommy – Is that Phil Lebow? He used to be CNBC's oil analyst.
There's nothing to change here but this is a good lesson on hedging, balance and not panicking as we rode out that little dip without going below 115% (125.8% on May 16th) and now we're up 132% on COMPLETELY UNTOUCHED positions. That's because, by default, our system makes money from premium decay on the options we sell every single month and, as long as the market is flat, up or even not down too much – we generally make a nice profit.
Notice SQQQ is now a $6,600 loss and TZA is net flat and that's because we have TZA with a cover while SQQQ was more aggressive – as we thought the drop might be bigger. Still, it's just insurance and we didn't expect to make money and, in fact, if you follow back to the link of the last review, you'll see that we had a plan for each position – so none of this is a surprise.
You shouldn't be surprised by the market, you are here to make money and, if the last month's up and down action have had you tossing and turning – consider trying our more slow and steady approach in one of these low-touch balanced portfolios.
==========================================================================================
All in all, it's been a very good 18 months with our portfolios but it's also been a perfect environment for our kind of trading with the S&P up just over 100 points since it first seemed ridiculous in Jan, 2018, when we started these portfolio (2,872 at the time, now 3,000). It's the downspikes that make us these ridiculous gains – especially in the STP but all our portfolios take advantage of selling that short-term volatility while we buy long-term positions that assume the markets will generally keep moving up – just not as fast and not as consistently as people like to bet it's going to!
Do you know someone who would benefit from this information? We can send your friend a strictly confidential, one-time email telling them about this information. Your privacy and your friend's privacy is your business... no spam!
Click here and tell a friend!