How crazy is this?
After trading over the top of the Strong Bounce line at 26,100 for 3 straight days, the Dow (/YM) and all the other indexes dove right back below their weak bounce lines and almost made it back to our baselines – with the Russell (/RTY) bouncing exactly off it last night and the S&P (/ES) failing theirs. But it was all pre-market nonsense, as is this morning's "rally" so we ignore it all and just focus on the same old levels we've been watching for a month thanks to our fabulous 5% Rule™:
Dow

25,000

is the mid-point and bounce lines are 25,550 (weak) and 26,100 (strong)
S&P

2,850

is the mid-point and bounce lines are 2,880 (weak) and 2,910 (strong)
Nasdaq

7,200

is the mid-point and bounce lines are

7,360

(weak) and 7,520 (strong)
Russell

1,440

is the mid-point and bounce lines are 1,472 (weak) and 1,504 (strong)
All except the Russell were green on Friday morning so a lot of damage has been done Friday's sell-off and that's AFTER the pre-market bounce is taken into effect. Trump (it's always Trump) at the G7 this morning, has been palling around with UK's Boris Johnson and promising a "very big tade deal" with the UIK and "lots of fantastic mini-deals" so of course, since Donald Trump would never lie to us, the market jumps up (again) on the President's word.

Trump claimed this morning that China called the US trade team "twice" and wants "to make a deal" as companies are leaving China (supposedly because the President told them to on Friday, they packed up over the weekend) but spokespeople for China said there were no such talks and that they refuse to bow to US pressure though they did say: "We are willing to resolve the issue through consultations and cooperation in a calm attitude and resolutely oppose the escalation of the trade war." Remember, the President considers reasonableness to be weaknesss in negotiations – he wrote a book on the subject!
Keep in mind that the volume of the Futures is measured in thousands while the intra-day markets are measure in tens of Millions so it's all completely meaningless but what wasn't meaningless was Friday's volume on the S&P ETF (SPY) being 75% of the volume of the entire rest of the week and there wasn't a buyer in site. That's a lot of selling!
| Date | Open | High | Low | Close* | Adj Close** | Volume |
| --- | --- | --- | --- | --- | --- | --- |
| Aug 23, 2019 | 290.92 | 292.76 | 283.47 | 284.85 | 284.85 | 149,161,500 |
| Aug 22, 2019 | 293.23 | 293.93 | 290.40 | 292.36 | 292.36 | 51,666,400 |
| Aug 21, 2019 | 292.48 | 292.86 | 291.72 | 292.45 | 292.45 | 49,524,700 |
| Aug 20, 2019 | 291.77 | 292.36 | 289.95 | 290.09 | 290.09 | 51,596,400 |
| Aug 19, 2019 | 292.19 | 293.08 | 291.44 | 292.33 | 292.33 | 53,571,800 |
We started the week at 2,920 and finished the weak at 2,850 and that's the story that matters. This morning the S&P is bouncing 20 points but the VIX is still very high (20), indicating traders are still very nervous. As long as we're trapped between the baselines and the Strong Bounce Lines, there's not much to do but watch and wait for Trump's next tweet.
Hong Kong, meanwhile, is doing the opposite of calming down – you know it's bad when reporters have gas masks on while they are making their reports! Here's a really good VOX report – in case you want to learn the background of the protests. Note it is from June 22nd – two months ago. This video is the shorter, current news report, click the link for the background.
Calendar-wise, it's a busy economic week with just Mary Daly speaking from the Fed but Durable Goods, Chicago and Dallas Fed Reports kicking off the week and Richmond tomorrow along with Consumer Confidence, Retail and Housing then two confidence surveys on Wednesday and Thursday we get the GDP Report, which will be the 2nd estimate of Q2, supposedly 2.4% but any downward revision will lead to more recession panic. Friday ends the month with Personal Income & Spending, PCE, PMI and Consumer Sentiment so lots and lots of data and small-cap (mostly) earnings reports will make this another interesting week to end the month which opened, don't forget, at S&P 3,000.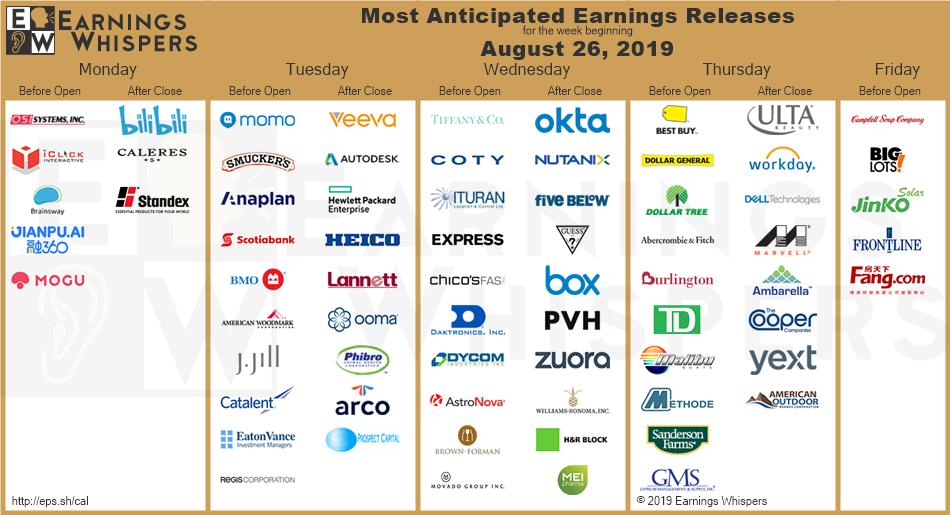 Do you know someone who would benefit from this information? We can send your friend a strictly confidential, one-time email telling them about this information. Your privacy and your friend's privacy is your business... no spam!
Click here and tell a friend!