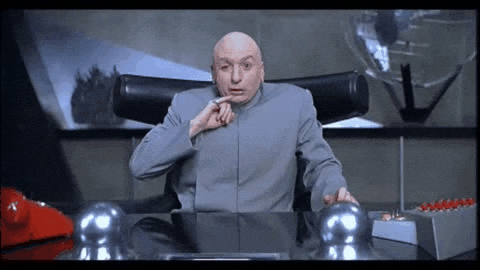 And we're out!
$2,606,756 is up $2,006,756 (434%) from our $600,000 start of our Long-Term/Short-Term paired portfolios back on Jan 2nd of 2018. The STP was the real star, turning $100,000 in to $881,976 due to some very good timing as we flipped our hedges almost perfectly several times over the past two years. That's very unusual – as was the huge $1,124,780 (245%) gain from the LTP's $500,000 start. We were very close to $2.5M in June but then had a rocky summer – to the point where I said I'd cash out if we fell back to $2M so getting back to $2.6M is a gift horse we dared not look in the mouth – so back to cash and we'll start fresh in November is the plan.
Hedging a $1.7M LTP would be very expensive and what if next time we didn't time the turn in the STP and instead blew the turn and lost money there as well as the LTP. Then we'd be back to $2M and needing to make 30% to get back to $2.6M and what if it's hard to make money next year or what if we have another crash and the market is down 40% – it's just too much to risk vs. putting $2.6M safely on the sidelines and simply looking for new opportunities.
As I noted in Member Chat last night, in anticipation of getting back to cash, I wrote up "5 Trade Ideas to Make $25,000 in 5 Months" on August 29th, to demonstrate that we didn't need to be massivly invested to make good money. Those trades are on track for a $33,603 gain in January from a $6,565 cash entry (and $26,659 in margin) and that's 33% for the quarter against $100,000 of sidelined cash – without risking it all to get there. That's as good as any of our portfolios have done – but with just 5 positions!
We officially cashed out the week of Sept 16-20th (and these reviews are from those dates – this is just a summary), into options expirations and we did so because we get much better prices for our bullish options cashing out while the market is high than waiting for it to turn ugly on us. We learned that lesson the hard way in 2008!
We still have our Butterfly Portfolio and our Hemp Boca Portfolio but we reduced the risk in both of those while the Options Opportunity Portfolio, Money Talk Portfolio and the Long-Term Portfolio are completely cashed with the STP holding just one trade at the moment. You'll see in the reviews I note that some trades are "keepers" – meaning I wouldn't mind holding them during the downturn – as some people didn't like the idea of cashing out completely but I think it's healthy and refreshing to do once in a while.
We expected the markets to crash after the September window-dressing was over and they didn't disappoint – falling right off a cliff on October 1st with (so far) follow-through on the 2nd. Of course there are now things that look kind of attractive but it's also healthy to take a real break from trading and do a bit of thinking about the markets, the macros and the years ahead before we jump back in to building new portfolios.
Meanwhile, we couldn't really be happier with our performance over the last two years. We generally set out to make 30-40% (see "The Secret to Consistently 20-40% Annual Returns") and, if we get ahead early on, we tend to get more aggressive – which is what happened in this cycle as we came in at a nice market bottom, flipped bearish already by March 2018, bullish again in April, bearish in September, bullish on Dec 26th (the exact bottom) bearish in April again, bullish in May and then grudgingly bullish all summer but skeptical enough to make money both ways. What a couple of years it has been!
You can go back to past portfolio reviews and see what our mind-set was like at each stage. It was our short call last September followed by my BUYBUYBUY call on 12/26 that really goosed our performance but that was only possible because we were already way ahead and felt like it was worth taking a risk at the time. So a lot of that performance is circumstantial – not at all normal and, with our new portfolios, we'll be back to where we were back in January of 2018 – just looking to make a nice 30-40% for the year as safely as possible.
Of course, if we do end up with a reasonable opportunity to do better – we're still going to take it!
Short-Term Portfolio Review (STP): $881,976 is up 782% in less than two years so this is the performance we are least likely to be able to replicate in the next round because the $100,000 STP is SUPPOSED to lose money when the $500,000 LTP is making it. However, in the past two years, there has not been a dip we didn't recover from but there have also been 6 major corrections and, each time, our hedges have paid us $100,000+ and each time we have cashed them in at what we guessed was the bottom and each time we've been right so we end up keeping our $100,000+ gains AND then, since the market quickly recovers – we never needed to put the money in the LTP as it kept making money too.
Between that and our occasional side bets, we've racked up some substantial gains. The primary purpose of the STP, however, is to protect the LTP. The more longs we have there the more shorts we need here and, to protect the LTP now needs about $400,000 worth of short bets and there's a danger that we get a China deal that pops the S&P up 10% and wipes those out. That's just too much risk just to protect an LTP we should also be cashing out so – CASH!!!
TLT – The Fed killed us on this one.
Short puts – They are a great offset to our hedges. We are up $24,196 on this set of hedges but we've rolled through dozens more. Usually, if one of our short puts goes against us, we like the stock enough to send it to the LTP anyway.
CMG – All that's left is this bull spread and the short puts above but we're out.
BKNG – We just put this one on and it went the wrong way on us but earnings aren't until Nov 4th and, as far as I can tell, trade slowed down travel – especially in China where they are very big. Note that we sold the short Jan $2,100 calls and the short Jan $1,800 calls for $171.50, which means anything between $1,628.50 and $2,271.50 is a profit and, at $2,055, it's a $116.50 ($23,300) profit in waiting.

So it's a keeper for the portfolio and we'll see how it plays out

. I'm still going to want to clear the decks so we have a proper fresh start next year.
DXD – A hedge but now we have nothing to hedge. Not much of a loss considering.
MJ – What a disappointment! I'm going to stick to owning companies directly in the MJ space because clearly the guys running the public ones haven't got a clue as to what they are doing. Can't wait to go public though so we can blow through Billions of OPM…
SDS – Also a small loss, great time to quit.
SQQQ – Amazingly, we're ahead on this one. That's because we left the short-term call premium in play to decay away – another reason we do so well with our hedges – we hedge them!
Long-Term Portfolio Review (LTP) – Part 1: $1,724,780 (up 245%) is a very nice way to finish off our slightly less-than 2-year run, adding just under $500,000 since our last review, which was down $319,238 from the 7/19 review and what did we do? We ADDED to our positions while they were down and we doubled down and we rolled down and we bought back short calls – not on all of them – but on the ones we had the most faith in.
THAT is why we now have a net $200,000 (ish) gain since July 19th – well that and the market's insane ability to snap back from pretty much anything. Again, this is why we cashed out – we could just as easily lose $300,000 next month so we'd have to spend $100,000 more (at least) protecting the LTP in the STP and, right now, we can just quit with a combined $2.5M from a $600,000 start – that's up over 300% in our paired portfolios in 2 years – why risk it at all?
I will note the "keepers" – which means for me they are going straight to our Watch List and, IF they get cheaper – THEN I may want to start a new position but I'm very happy with where we've gotten to and, as I noted yesterday, the current global uncertainty is going to require a different kind of portfolio than the ones we've used for the past two years – and a lot of contemplation.
HMNY –

Dead but the shares are still there so no point in selling for $576 – keeper

.
NAK –

Keeper, very speculative

.
CANE – Was that even supposed to be in the LTP? Oh well, quick profit.
Short Puts – As I noted in the Webinar, we sold $200,000 worth of short puts and they are up about $85,000 and that's about the right amount to be carrying after 2 years (we sell 1 or 2 each month) and then this Jan comes along and 4 of them expire and so on and so on. This is the bedrock of the LTP strategy – just sell $5,000+ worth of puts each month on stocks you REALLY want to own if they get cheaper and you get paid if they never do get cheaper. I did a big review in the Webinar and we'll start fresh next year.
FTR –

Keeper.

CZR – Huge winner after struggling and happy to take this money and run.
DIS – About $30,000 left to gain on this spread but not worth keeping with $45,000 to cash out.
GOLD –

It's a $20,0000 spread at net $8,700 so plenty of room to run and I have faith and it's a great inflation hedge so – keeper

.
ARR – I'm torn on this one. I think the REITs will come back but, if you were to cash most of the LTP and keep ARR, it's a disproportionate risk (same with all REITs) so not a keeper.
NRZ – Like ARR, I like them and love the dividends but not worth the risk.
T – It's going to be called away at $30 whether you keep it or not.
AAPL – Still my favorite stock.

This is a $120,000 spread that's in the money netting $32,837 so of course it's a keeper! 10 Sept $190 calls at $32 would have to be rolled to 10 March $220 calls at $14.80 and 10 March $200 puts at $7.60 but that's a very nice $30 ($300,000) roll on the short calls for net $9,600

.
ALB – Finally went green. If I were to keep it I'd drop to 10 long calls and cover them.
ALK –

$30,000 spread in the money at net $6,050 and it's risky with high oil prices but generally a keeper for the same reasons we liked them in April

.
BBBY – Finally profitable but too crazy to keep in a risky market.
BHC – Very disappointing.
BNS –

Great dividend payer at the money so keeper

.
C – A $30,000 spread about 50% realized but too risky to keep.
CAKE – I love them but no – they just can't gain traction.
CELG –

This one you can keep until they get called away when the deal closes. We should have sold 100,000 more puts when they dipped down to $88 in July!

CHK – What a crazy couple of days! Good riddance.
CLF –

If there's a China deal, this one could explode and, if not, I still like them so keeper

.
CMG – Quitting while we're ahead!
CPRI –

I was going to write disappointing – I didn't realize they had popped so much. See – that's a new one and already up $8,750 off our $300 credit entry so 3,050% gain in 3 months is not bad… It's a $30,000 spread netting $8,450 and they were stupidly undervalued so – keeper.
Of course, if the LTP wasn't full of keepers then we would have been doing something very wrong, right?
DAL – Why do we own another airline? Snip!

ETM – Very disappointing.

F – Their guys will strike next.

FCX – Another one that will pop on China trade and our position reflects that anticipation but the risk is already there in CLF, which has covers so – snip!
Long-Term Portfolio Review (LTP) – Part 2:
GILD – Tempting but no.
GIS – Glad it turned green.
GNC – Tempting but too risky.
It's not about how much we could make on the trade but is THIS spread so compelling that I would buy it right now for the current price – that's what a keeper is.
GPRO – Disappointing.
GS – Net $34,425 on a $50,000 spread that's well in the money is also tempting but they aren't immune from downturns.
HBI – You know I love them but I'd rather see earnings.
IBM – Trade of the year so keeper if you want but I'd cash out these and go with the one we put up yesterday.
IMAX –

I think they are ready to pop into next Qs earnings (end of Oct), should be at $25 so if you cash 20 of the Jan $19 calls for $3.70 ($7,400) and roll the other 20 to the March $20s at $3.30 ($6,600, $800 in pocket) and sell 20 of the March $25s for $1 ($2,000), that's $10,200 off the table and the $10,000 spread is the keeper

.
IP – Tempting.
LB –

Arrrgh! I'd buy back the 2021 $30 puts at $12.80 ($38,400) and sell 50 of the 2022 $25 calls for $3.75 ($18,750) so 1/2 covered with the year-longer calls so that's about $20,000 to keep the long spread without as much downside risk

. I'd just hate to not be there when it pops. Earnings not until 11/20.
LMT –

Stock of the Decade for 2020 and deep in the money on the $17,500 spread at net $115 but the Sept short $360 calls at $33.55 ($6,710) have to be rolled to the Jan $370 calls at $32 ($6,400) for $310 out of pocket and, if you do that every quarter for the next 12 months you'll have the short $410s but, if Jan doesn't work, you can just sell puts to and widen the spread

.
M – Too risky but I'll be back for more.
MJ – Super disappointing and not getting better so snip!
MO – Vaping worries so out.
MT – will blast off on China but we already have a bet like that.
MU – I love them but will revisit later. Hopefully after a pullback.
NLY –

My favorite REIT is a keeper.

NYCB –

Solid dividend payer, right on track is a keeper

.
PLAY – I think it's good long-term but no guarantees.

RH – Only $32,325 out of $50,000 potential and $39 (30%) in the money is a keeper.
SKT – My other favorite REIT – keeper.
SKX –

Amazingly, this $28,000 spread that's $8 (27%) in the money is only net $12,625 so keeper!

SPWR –

We should just make a portfolio for these kind of plays – it's a $40,000 spread that's $3 (25%) in the money and just net $21,690 – keeper!
STMP – What a gem this was! No one liked them in May except me. $17,000 out of $25,000 is good enough for 4 months.
STT – Nice comeback – no reason to be greedy.
T – We had this plus the dividend play. Not worth keeping.
TGT – Miles in the money on the $43,750 spread, now net $33,760 and we have many ways to make 33% in 16 months so not worth keeping.
THC –

Keeper but I'd sell 15 Jan $26 calls for $2.85 ($4,275) for a 60% cover to lock in the gains

.
UCTT – Great comeback – goodbye!
WBA –

You know that's a keeper!

WHR –

15% in the money on the $45,000 spread at net $27,369 is a China trade worth keeping

.
WPM – My precious! A $37,500 spread at net $30,305 is not worth keeping but we are always sorry to let them go and we always get an opportunity to play them again so – fingers crossed.
Remember – We are not "keeping" anything in the LTP, OOP, STP or Money Talk Portfolios. When I say "keeper" I recognize that not everyone is happy to be in cash for a whole quarter so these are the trade ideas I love the most but I have plenty of confidence we'll find things just as good to add to our new portfolios – maybe even those trades if they don't get too expensive.
Option Opportunity Portfolio Review (OOP) – Part 1: $393,234 is up $62,624 since our 8/13 review as all those value plays I refused to let go of finally took off but making 20% in a month is a REALLY good time to take the money and run and we are, in fact, going to shut the OOP completely down and, since it's redundant to the LTP/STP – I don't think we're going to restart it next year. We were running it for Seeking Alpha but I stopped working with them so no reason to just copy and remix the LTP.
Trade Exchange officially launches soon so maybe we'll make a Top Trade-like portfolio for that PSW Investments Venture. Meanwhile, just a quick review and I'll note positions I'd rather keep or will be looking to re-enter if they go lower (the beginnings of a new Watch List is step 1 to building new potrfolios).
HMNY – Nothing to cash out here, shares are a souvenir.
HOV – Nice recovery!
We cashed most of our short puts already. Nothing I want to keep.

ALK – No reason that won't pay off in full – keeper.

(and by keeper I mean I would keep it if I weren't closing this portfolio).
C – At the money and already up $10,000 so don't complain.
DXD – Hedge.
FNSR – How can the long calls and the short calls be down?

Based on the fact that, at $23, this would close at net $6,000 and it's now net $3,500 – I'd keep it

. Potential is $14,000 so $11,500 left to gain makes it good for a new trade.
SQQQ – Hedge. Tempted to keep the hedges but don't want to make bets either way.
WPM – Leftovers from our trade. I was going to rebuild but we'll start from scratch another time.

SKT – You know they are a keeper to me. Paying a 9% dividend and right above our target

.

AAPL – Always hard to let go of – keeper

.
AXL – That one didn't work out.
BBBY – Nice recovery!
BHC – Under consideration for Butterfly Portfolio due to nice up and down action within a channel.
CHK – Such a frustrating one – good if China deal is reached.
CLF – Such a frustrating one – good if China deal is reached.
FCX – Such a frustrating one – good if China deal is reached.
FTR – I'd keep this one, will certainly go in a new portfolio.
GME – Brand new so I'd say keeper but we're out with a tiny profit.
GNC – Finally popped, happy with a profit.

GOLD – Been waiting 2 years for gold to move up and now that it does we've only just begun to take advantage. This is a $28,000 spread at net $6,927 so – KEEPER!
Obviously, selling the same amount of gold in Q3 at an average of over $1,450 vs $1,300 for the past 5 years is going to boost their profits, right? Over the past 90 days, Q3 estimates have gone from 0.09 to 0.14 (55%) and Q4, which might start at $1,500, has gone from 0.09 to 0.16 (77%) and estimates for the year have gone from 0.38 to 0.51 (25%). Q1 was 0.11 and Q2 was 0.09 and the stock was $13 so I think $20 is very realistic for a target as they are running at an $8Bn rates so figure 6M ounces sold but profits are just $200M per Q, indicating only $66.666 per oz drops to the bottom line so another $150 per oz should be pretty much all profit and make a dramatic difference in profits and forecasts. We'll see on next earnings but this would be my Stock of the Year for next year if they were still at $15.
Barrick Gold (GOLD) Upgraded to Buy: What Does It Mean for the Stock?

Barrick CEO Bristow says Nevada gold find shows big potential
HBI – A $14,000 spread at net $4,300 on last year's Trade of the Year? Keeper!

INTC – I love them for the next decade but nice profit and we can always find a new entry.
September 18th, 2019 at 10:55 am | (Unlocked) | Permalink

I'm never going to get to them but I want to be clear that I want to also cash out the LTP and STP. I will do a review and note the "keepers" but, at the moment, the LTP is $1,729,833 (up 246%) and the STP is at $886,611 (up 786%) and when they were at $2.2M I was going to cash out ahead of the 7/31 meeting and quickly regretted it as we dropped close to $2M, now we're at $2.6M and MAYBE we get to $3M or maybe we drop back to $2M but I KNOW I can easily make $400,000 with $2.6M in cash to get to $3M but it will be a lot harder to have to start again with $2M and get to $3M – probably a year harder and there's that time thing again.

So, in conclusion – it's simply not worth the risk!

Lots of note sales (Trump's runaway deficit) and deadline on Corporate Taxes caused a drain on bank reserves and the NY Fed is scrambling to replace them but nothing really alarming though, of course, sometimes something like this causes a panic and THEN we have a real problem.
Options Opportunity Portfolio Review (OOP) – Part 2:
JO – All in the money and on track but, on the whole, this has been an annoying trade for us so I won't miss it.

KHC – This will be part of any new portfolio so keeper

.
LB – Will probably add back after next earnings.
M – You know I'm jumping right back in this one. Already time to buy back the short calls and roll again but, one day, we'll find a bottom. Still, not a keeper but expect a new trade.
MJ – Another big disappointment I'll probably go back to the well for.

MU – Net $12,335 on a $30,000 spread in a Stock of the Year candidate for 2020 – keeper

.
NAK – Keeper. I'd hate for them to pop while I didn't own them

.

NLY – Keeper. Solid dividend stock

.
OIH – Huge disappointment and this is AFTER they had a nice comeback – good riddance!
SEE – I like them but not immune to economic shocks.
SIG – Coming back a bit and it's a $19,000 spread at net $2,450 so I'd say keeper, though a bit risky still.
T – $14,000 spread at net $8,785 can't be a keeper – we'll just have to wait for the next good entry.
UNG – I wish this wasn't so risky but not a keeper. Nice that we're finishing on a high note.

WBA – I say keeper. I'll certainly have this in a new portfolio and every portfolio going forward until they are back over $70.
Butterfly Portfolio Review: How can I shut down my baby? While we've had fluctuations, the Butterfly Portfolio has never been off track in this cycle ("on track" being 30-40% annual gains) so how can I close it? Especially now, when it's a rockin' $228,201, which is up 128.2% and up $49,900 since our 8/15 review.
In that review, the only change we made was a super-aggressive move on OIH, which paid off very well but the other positions just improved on their own.
AAPL – Popped over our target so the short calls are hurting us but we're well over-covered on our longs. Keep in mind the theme of the month is "how do I reduce exposure" and that applies to the

June 2021 $160 calls so let's take them off the table at $68.50 ($171,250)

and keep in mind this was only a $100,000 portfolio on Jan 2nd of last year so THAT'S A LOT OF CASH!!! We can't leave all those obligations out there, however so

we'll have to cover with 40 of the 2022 $200 ($46.50)/260 ($21) bull call spreads for $25.50 ($102,000) and we'll roll the 10 short Sept $200 calls at $20.40 ($20,400) to 20 short March $210 calls at $22.50 ($45,000) and we'll buy back the short 2021 $210 calls for $32.70 ($32,700)

so now we have just the March short call premium to burn off.
The net of the adjustments was a credit of $61,150 in our pocket (nice!) and now we have a $240,000 spread, up from our $150,000 (at $220) position and we have another year to make money! That's 857 days on the 2022 spread and the short March calls are using 185 (1/5th) of those days to make up to $45,000. That means we can make another $180,000 or so selling short puts and calls while we wait for our $240,000. Notice how we keep re-investing our profits to grow this position.
DIS – Settled down nicely, right in our trading range.

We sold the Sept $145 puts and those are in the money at $8.50 ($8,500) and we'll roll them along to 10 of the 2022 $110 puts at $8.60 ($8,600) for about even

and there's that can kicked way down the road! Otherwise, we're well balanced with $27,000 more to gain if the Jan $130 calls drop out of the money and, if they don't, we have a $62,500 $100/135 spread covering them – hard to lose….
MDLZ –

Let's not take a chance ahead of the Fed and buy back the short Sept $55 calls for 0.30 ($300) and the short Sept $52.50 puts for 0.05 ($50) and we'll roll the 10 short Sept $50 calls at $4.70 ($4,700) to 10 short Jan $52.50 calls at $3.70 ($3,700) and 10 short Jan $52.50 puts at $1.60 ($1,600)

.
MJ – Down the road, this will be a great one to sell short calls against.

Our 30 2021 $35 calls at $1.75 ($5,250) can be rolled to 50 of the 2022 $25 ($5.40)/$35 ($3) bull call spreads at $2.40 ($12,000) and let's sell 10 of the 2022 $25 puts for $6.50 ($6,500)

so the whole roll only costs net $250 in cash and the ordinary margin on the short puts is just $4,908 – not bad!
OIH – When you double down on a position, you need to look to take 1/2 back of the table once you are back in the green. Then you've effectively lowered your basis without increasing your commitment. I think the recent Saudi attack will be good for oil services going forward – perhaps they will get security contracts too. Still,

this position has been too volatile for the Butterfly Portfolio and I don't see that changing so we're going to close it out rather than keep playing

. Having a position you are always scrambling to adjust prevents you from having well-behaved positions that make you money.
WHR – Now this one is well-behaved! We sold our Sept contracts for $8,200 and we have to pay $4,000 back – that's a nice 4-month, $4,200 winner on a 22-month spread that cost us net $1,850.

The short puts will expire worthless and we'll roll the 5 Sept $140 calls at $8 ($4,000) to 5 short Jan $150 calls at $9 ($4,500) and sell 5 short Jan $135 puts for $6 ($3,000)

.
Money Talk Portfolio Review:
I'll be on BNN's (Bloomberg Canada) Money Talk tonight at 7pm.
The last time I was on the show was back in on April 24th and we only make changes to the Money Talk Portfolio live on the show so we decided to lock into a neutral position over the summer and that's just where we ended up, dropping to $124,043 from April's $127,663 so down $3,620 for the summer is about as neutral as we can get it and we're still up $74,043 (148%) from our $50,000 start just about 2 years ago on the button.
Since there's a lot of uncertainty going into Q4 and it has been just about 2 years – I think this is a good time to cash out this portfolio and we will begin a new portfolio with a new $50,000 around Thanksgiving – beginning with our still-undecided Stock of the Year.
Our 2019 Stock of the Year is IBM (IBM) and our IBM position is already 100% in the money at net $2,707 out of a potential $7,500 so, if I were going to keep one trade active – that would be the one as all IBM has to do between now and January of 2021 is hold $135 and that spread will make another $4,793 (177%) so we could, for example, put $27,070 of our $124,043 in cash back to work on just the IBM trade and, if all goes well, it will turn into $75,000 – making almost 100% of our original total in just over a year – so why be more complicated than that?
There's still a lot of potential in all these positions, as noted in the April review, the portfolio has the potential to hit over $200,000 by Jan 2020 but, as I noted, if we cash out now at $124,043 and make another $50,000 on the IBM trade – that's $174,000(ish) anyway but we'd have $100,000 in our pockets NOT at risk through the holidays – that is certainly a much wiser way to go – especially in a portfolio we are unable to adjust between shows.
So the decision is final, we're cashing out and endorsing our Stock of the Year, IBM, as a replacement bet to keep some of the cash at work but, on the whole, we'd rather risk missing a bit more of a rally on Fed Easing and a China Deal than risk a drop on Fed Disappointment, ongoing Trade Wars, a Hard Brexit, war in the Middle East and, of course, President Trump's random tweets.
As value investors, we don't fear going to cash because there's always a bargain to be had somewhere in the market. L Brands (LB) is still cheap, the Alternative Harvest ETF (MJ) is still cheap and we just added Teucrium Sugar (CANE) as a Top Trade Alert over at PSW and I would have been adding that here ($6.45) to this portfolio if we weren't shutting it down but it's just an example – we can always find better ways to deploy cash – and we will!
Just some quick notes as we say goodbye to the positions:
TZA – This was a hedge, we expected to lose the money to protect our longs.
ALK – Very likely to pay the full 100% but why risk it?
BNS – Our April pick took off fast and is already a big winner. It's a $10,000 spread that's currently net $6,200 so $3,800 (61%) left to gain if they hold $55 through December. Tempting but not worth the risk.
CAT – If we make a deal with China, they should fly higher and it's a $15,000 spread currently at net $6,250 so $8,750 (140%) left to gain is very tempting but if there's no trade deal – this could be a disaster so I'd rather take our lovely $5,451 (680%) gains off the table and hopefully we'll have a chance to jump back in next time they take a dive because the CAT always comes back!
GIS – Nice winner solid company, miles over our target and "only" $2,000(ish) left to gain so an easy cash out here.
GOLD – Also miles over our target and realizing net $10,723 out of a potential $12,500 but we only have to wait until January to make the last $1,777 so very tempting but – no.
IBM – As noted above, a keeper!

LB – This is our 3rd year playing them and disappointing in this round but I still have long-term faith. It's very likely we see LB again in our new portfolio.
MJ – The cannabis ETF has been hit hard by disappointing performances in their portfolio but, long-term, I think they get higher. 8)

MU – Right at our target a year ahead of schedule and I love them long-term. This is a $15,000 spread and currently just net $7,260 so more than a double from here is the potential and I would be surprised if they are not over $50 next year so I'd keep this one if you are so inclined.

UNG – A shame to let this go just when it's picking up. Still only net $1,780 out of a potential $7,000 so miles to gain and the crazy thing is the spread is 100% in the money already – don't you love options? This is another one I'd keep – or even get into from scratch...
WPM – Another old Trade of the Year and we've played them every year since and the $10,698 (420%) gain from our $2,550 net entry is the reason why. It's an $18,750 spread that's miles in the money at net $13,248 so still $5,502 (41%) left to gain UNLESS WPM DROPS MORE THAN $5 (18%) so I guess I like this on enough to keep as well.
So we are officially shutting down the portfolio but there's 4 trade ideas I still like if you feel like you don't want to be ALL cash going into the holidays. We'd be looking for the Fed not to disappoint and then we'd be looking for real progress on the China deal by the end of October – otherwise I'd be pulling the plug regardless.
Hemp Boca Portfolio Review: This portfolio is not as constrained as Money Talk as there's a show every Tuesday and I can go on when I want (PSW Investments owns 20% of Hemp Boca). We started back on May 21st so it's 4 months old and we're up 8.2% but we were down about 20% at one point (same positions) so I'm not sure I want to risk Q4 in such a small and new portfolio.
The question is, as it will be with EVERY position in EVERY portfolio this month – do we, right now, want to be in this position if the market drops 20%?
IMAX – Worst case is owning IMAX for $20 and I'm generally fine with that but you have to keep in mind it's a $50,000 portfolio with $100,000 in ordinary buying power (we're assuming not IB as those guys are crazy!). It's a conservative position that's in the money and we should have good support at $21 and $20.50 held on the last dip so hard to kill – especially as I expect Q4 to be huge box office for IMAX. Max possible on the spread is $4,000 and now net $2,325 so

$1,675 (72%) left to gain

by Jan seems like one we should keep. Damn it! This is hard…
M – We are ahead so we're going to kill it

. Not actually ahead, down $900 on the overall position but too risky for the small portfolio in an uncertain market.
MJ – Back to the lows on this one but I want to stick with them.
TAP – Had a nice pop and we're on track at net $7,500 out of a potential $20,000 but,

if we spend $3,200 to buy back the short puts

, we reduce our risk and still have a $20,000 spread – it only increases our net cost from $4,750 to $7,750 but, since that will make us net $10,700 (no more short puts to subtract), then we're in the spread for a very good price without so much downside risk and we still have

$9,300 (87%) upside potential

.
THC – We just added these and they blasted higher and we have a 20% cushion to STILL be in the money – what's not to love? The net is now $3,762 out of a potential $7,000 so

$3,238 (86%) left to gain

– another keeper.
Well, that went terribly. It's very hard to shut down good positions. At least I feel less risky without those high Macy's puts and the big TAP obligation. If all goes well, we have $14,213 of upside potential that we're confident in plus whatever MJ makes and we're up $4,110 already and $18,313 would be 36.6% over 2 years in a $50,000 portfolio we started 4 months ago – that's not a bad start!
Best of all, we are still mainly in CASH!!! so we can DD on any or all of our positions if the market does turn lower.