Mostly, we're waiting.
This weekend, prospects for a China Trade Deal took a downturn (and I'm ignoring the fact that China has no incentive to make a deal with a President who may not last long enough to sign the deal because I'm just so sick of the whole thing already) as Chinese officials said a "broad pact" was off the table, completely contradicting all the happy talk that came out of the White House last week to boost the markets.
As you can see from the chart above (and this one), China imports $4.5 TRILLION worth of merchandise of which, $100Bn comes from the US while China exports $2.5Tn worth of merchandise, of which $275Bn is with the US. Of course the US would like China to buy more of our goods but they simply can't afford them and forcing them to buy stuff just because US Consumers like to buy inexpensive Chines merchandise is – well, you can see how that's working out so far.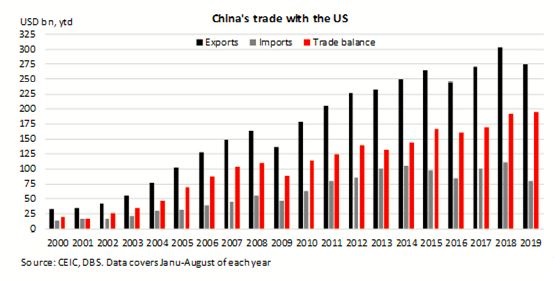 Is it easier for China to forces their citizens to buy 175% more US merchandise, whether it's good or not or should China make more of an effort to make up the 10% of their merchandise sales to the US by making their easier-to-get-along-with trading partners happy? While it would be nice to "fix" the trade issues with the US – it certainly isn't the desperate situation for China that Trump paints it to be when talking to the very uncritical suckers who still support him.
Those people never check his facts, so he can make up anything he wants but the actual trade negotiations are held in a place called "reality" and that's why the average Fox viewer, Trump/GOP lackey or Conservative pundit are wrong, over and over and over again when they try to predict what China will do next. If your are basing your analysis on Trump's BS – what hope do you have of making accurate predictions?
Vice Premier Liu He, who will lead negotiations for China, told dignitaries that his offer to the U.S. will not include commitments on reforming Chinese industrial policy or government subsidies, according to to Bloomberg. These are among the Trump administration's main demands in the trade talks but Trump's back is against the wall and he may make a LOT of concessions, just to be able to say he got a deal done (and he'll tell you what a beautiful deal it was, no matter what).
As trade negotiators prepare for this week, tensions have also grown after reports revealed that Trump officials were weighing some curbs on U.S. investments in China, including possibly blocking all U.S. financial investments in Chinese companies. White House trade policy director Peter Navarro, however, denied those reports and called them "fake news", because he didn't like what it said.
Of course, if we want the Fed to launch QE4, we need the trade talks to fail so it's kind of a complicated game that won't be resolved until the end of the month, when the Fed has their next policy meeting but, even then, we may not get a proper resolultion – we sure didn't from the last few Fed meetings, did we? So we're in CASH!!! and likely to stay that way until earnings season in November (11th) and, while we might make a few trades to pick up some bargains here and there – it's mostly going to be about honing our macro veiw this month and looking ahead to what we expect in the 2020s – which are just around the corner!
Powell is speakking 3 times this week and Kashkari speaks 4 times so I'd guess whatever Kashkari says at 10:20 this morning will be the prevailing message from the Fed which, judging from last week's comments – is doveishness.
Still, we wonder if it's doveish enough to hold the markets up – especially if we have another incident where China walks out of the trade talks early, with no deal and no follow-up scheduled. With anti-China fanatic, Robert Lighthizer still leading the Trade Talks – anything can happen.
It's going to be a fun week – to watch from the sidelines!
Do you know someone who would benefit from this information? We can send your friend a strictly confidential, one-time email telling them about this information. Your privacy and your friend's privacy is your business... no spam!
Click here and tell a friend!