Wow, it's like a soap opera!
Bloomberg now has a newsletter called "Terms of Trade" that tries to keep up with the ever-changing nonsense each morning. I read it so you don't have to but, if you ever want way too many details – have at it. I mostly ignore the noise and chime in when it seems significant but this week it seems constantly significant, unfortunately.
In yesterday morning's PSW Report, I said the S&P 500 (/ES) Futures would fall to 3,075 and they hit that pretty much on the button around 10:30. Though we illustrate the point using charts, PSW does not use or believe in TA at all – we just use our handy, dandy 5% Rule™ and the rest is just math. That math is more accurate than 100 TA guys and it only takes us a few seconds to tell you what's likely to happen (and how to make money playing it).
In fact, in yesterday's Live Member Chat Room, at 11:37, I said: "We can play /RB (Gasoline Futures) bullish again over $1.585 with very tight stops below" and, in the Morning Report, I had already predicted: "I have a feeling the White House will at least try to walk back Trump's comments before the S&P (/ES) fails that 3,000 line and 1,585 has been very bounce for the Russell (/RTY) – so it's a great place for a bullish bet with tight stops below."
As you can see from the Gasoline Chart above, we just crossed back over $1.585 early this morning and, so far, it is holding up against a weakening Dollar while the Russell (/RTY) is already back at 1,611 – up 26 points which is good for gains of $1,300 per contract already and I'd put a stop at $1,100 and be very happy with those gains (and a stop on /RB at $1.59 now, to lock in $220 per contract gains with a trailing 0.005 stop).
See – not so hard to make money in the Futures and you can join us this afternoon at 1pm, EST for our Live Trading Seminar and, hopefully, we'll have some fun and profitable things to trade then too.
Since we're still near the record highs I think it's safe to tell you why I think these levels are still silly. Forget China trade, that's really just a $125Bn tax Trump has put on 330M Americans ($378/citizen) so he can redistribute it to his rich friends like Dooh Nibor (Robin Hood backwards). It's annoying but it isn't killing the economy – even for people who only make $30,000 a year – that's 1% of their income stolen by the President but all those 1%s add up big for the Corporate Citizens Trump serves and his buddies are adding 2.5-5% to their bottom lines in handouts from their buddy Trump – a great return on their campaign contributions!
Meanwhille, Personal Income continues to rise (just as it has been for 10 years) as more people get back to work and State by State enacts higher and higher minimum wages BUT it's a bit of an illusion as Personal Income includes MASSIVE amounts of Transfer Reciepts – which are $2.6Tn worth of Dividends and Interest that almost completely accrue to the Top 5% – without those – you get a drastically different picture of REAL Personal Income: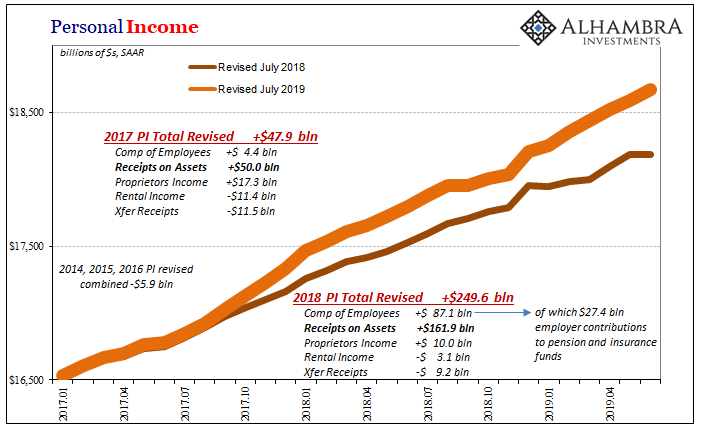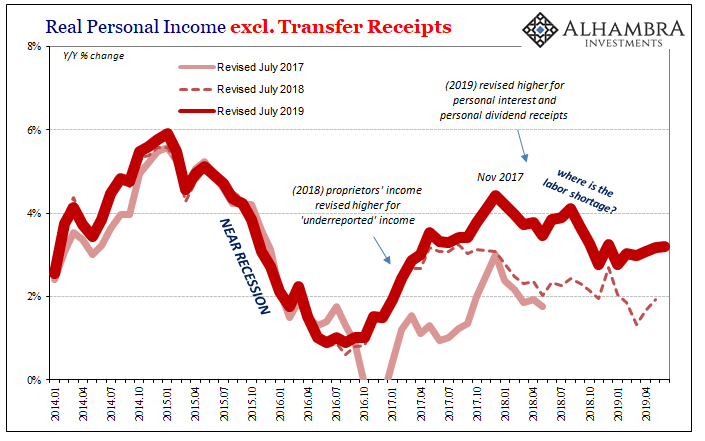 That's true with Retail Sales as well. Holiday shopping numbers include an 11.5% increase in Porshe sales with Cayennes (my car) up 52.4% from last year (am I an influencer or what?). Other luxury cars are also doing very well as are companies like Tifanny's (TIF), who are being bought by Louis Vuitton (LVMUY) for $16Bn, Nordstom's (JWN), etc. Private Jet sales were over $30Bn this year – a new record – just look how many were parked at Davos for the Climate Summit….
To keep that in perspective, Southwest Airline (LUV) only had $22Bn in total sales last year and Tesla (TSLA) sold $21.5Bn in cars last year so yes, that's a big number in the Retail Space. You can see the Super Bowl in Miami this year (Feb 2nd) AND go to the Pre-Game Party for just $20,250 per person but I've seen packages for over $100,000 including a few other perks so don't cheap out if you don't have to. 8) All these ridiculous numbers that benefit perhaps 1 out of 1,000 of us (Top 0.1%) are all a part of those "improving" retail sales numbers
While you are on Amazon (AMZN) shopping for that Alexa Speaker or back massager, ssome people are using it to buy Rolex Watches for $60,000, Micky Mantle Cards for $85,000, etc. In fact, 70% of Americans with incomes of $150,000 or more are Amazon Prime Members vs 40% of households below $50,000. Prime Members spend an average of $1,300 per year vs $700 for non-Prime Members.
Amazon Prime Video has over 100M Global Subscribers and will pass HBO (130M) within 2 years and perhaps sooner as Amazon is in the midst of rolling out Prime Now, which is aiming for 1-2 HOUR delivery service including groceries from Whole Foods. After that, they'll have to just stand outside your home with a truck full of stuff you might want to get any faster…
Notice the chart says Amazon wants to "change your behavior". They want to get you into the habit of NEEDING to have things you want within 2 hours, they want you to stop planning your meals, stop having batteries around the house, stop worrying about running out of toilet paper – Amazon wants you to as dependent on them as a toddler is on its Mommy. Sure it's probably a terrible idea for society – but it will be great for Amazon's sales!
The only company that knows you better than Facebook is Amazon because Facebook only knows what you like and what you want – Amazon knows what you NEED….