Impeachment begins in earnest this week.
It may end just as quickly as the GOP-controlled Senate is looking to acquit Trump as soon as possible, preferably without hearing from any witnesses or reviewing any evidence. This farce will be overseen by Chief Justice John Roberts – which is very sad for our rule of law, of course, as it legitimizes this behavior and sets a precedent for future dictators to rule our country by. Nonetheless, at least it will be interesting.
Trump, like Carlos Goshn, has already fled the country and is in Davos for the World Economic Forum, where he just gave the first keynote address in the 50-year history of Davos that did not mention the World at all – except to say how much better Ameirca is than the rest of it. As noted by the NY Times:
In his 30-minute address in front of a global audience, Mr. Trump did not mention the impeachment trial back home. But he delivered what amounted to a version of his campaign speech minus the red meat to his base, speaking little of international alliances other than touting America's supremacy in the world.

The president also took a swipe at people demanding action on climate change, the lead agenda item at this year's conference. Mr. Trump announced that the United States would join the 1 trillion trees initiative launched at the World Economic Forum. But he also declared that "we must reject the perennial prophets of doom."
The message at Davos was very clear to all but Mr. Trump. So clear in fact that it was written on the roof of the building:
Global warming and climate change top the agenda items for the conference. A star speaker on Tuesday, alongside Mr. Trump, is the 16-year-old climate activist Greta Thunberg, who has said she wouldn't "waste her time" speaking to Mr. Trump about climate change. Trump has withdrawn America from the Paris Climate Accord, and his administration has expanded the use of coal, downplayed concerns about climate change and rolled back environmental protections – the signature accomplishments of his 3 years in office.
Trump described climate activists as "heirs of yesterday's foolish fortune tellers," knowing that his arch-enemy, 17-year old Greta Thunberg, was scheduled to speak right after him and is scheduled to make several more speehes – all of which are fully booked. Trump was one and done.
Ms. Thunberg took pains to distance herself from politics. "This is not about right or left. We couldn't care less about your party politics," she said. "From a sustainability perspective, the right, the left as well as the center have all failed. No political ideology or economic structure has been able to tackle the climate and environmental emergency."
"I wonder, what will you tell your children was the reason to fail and leave them facing the climate chaos you knowingly brought upon them?" Ms. Thunberg, 17, said at the annual gathering of the world's rich and powerful. "Our house is still on fire, your inaction is fueling the flames by the hour."
Which one of these people should be leading the Free World?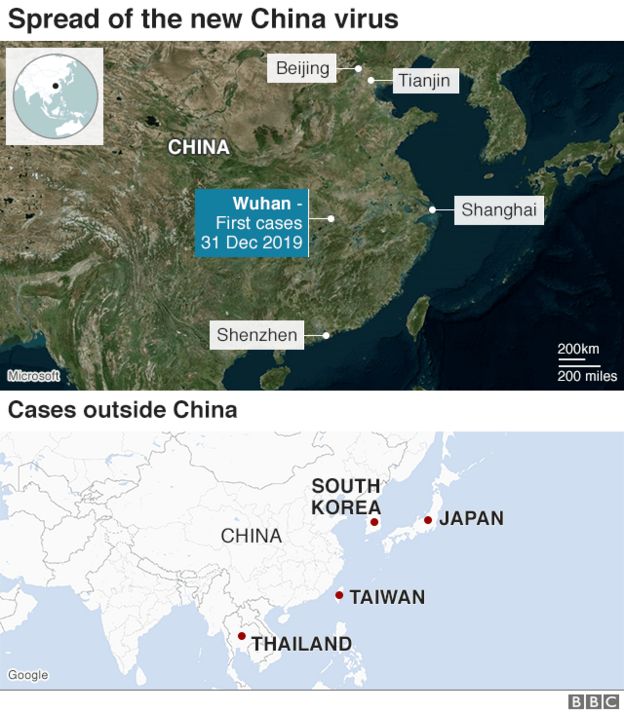 Anyway, Cimate is too big to worry about so instead investors are worried about tiny little viruses from China and this one is being called Wuhan with hundreds of people infected and 6 people already dead from a SARS-type of pneumonia that has been spreading from person to person. It may be worse as provinces have been under-reporting cases to avoid panic but this morning the health ministry said: "Anyone who concealed new cases would be nailed on the pillar of shame for eternity." 15 medical workers are now infected as well and the WHO may declare a global emergency.
The Shanghai Composite dropped 1.4% overnight and the Hang Seng fell 2.6% with the Nikkei down just under 1%. That led to a weak open for Europe and our Futures were down 0.5% but half-recovering as of 8:30 – so we'll just have to see how things play out from here.
Despite the short week, 225 companies will report earnings this week including many top S&P Corporations. We didn't learn to much last week but hopefully we'll see some clear pattens emerging from this week's reports: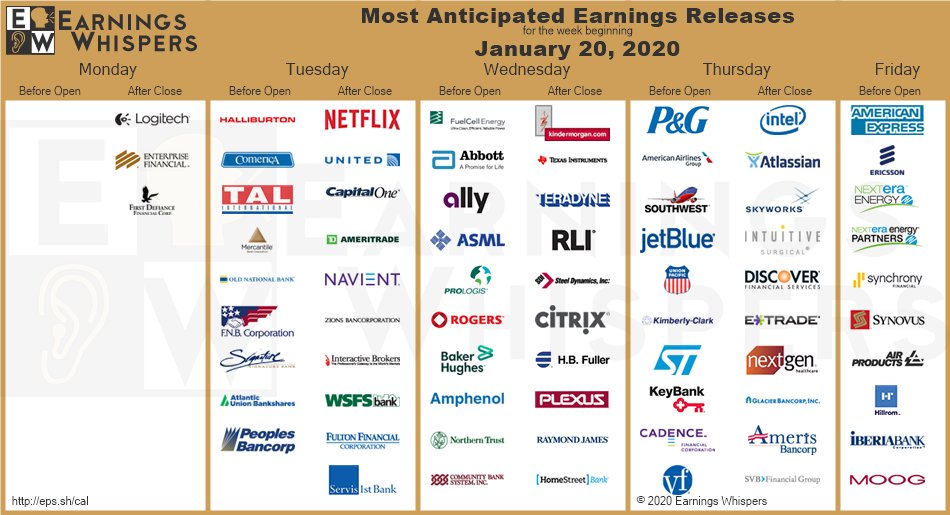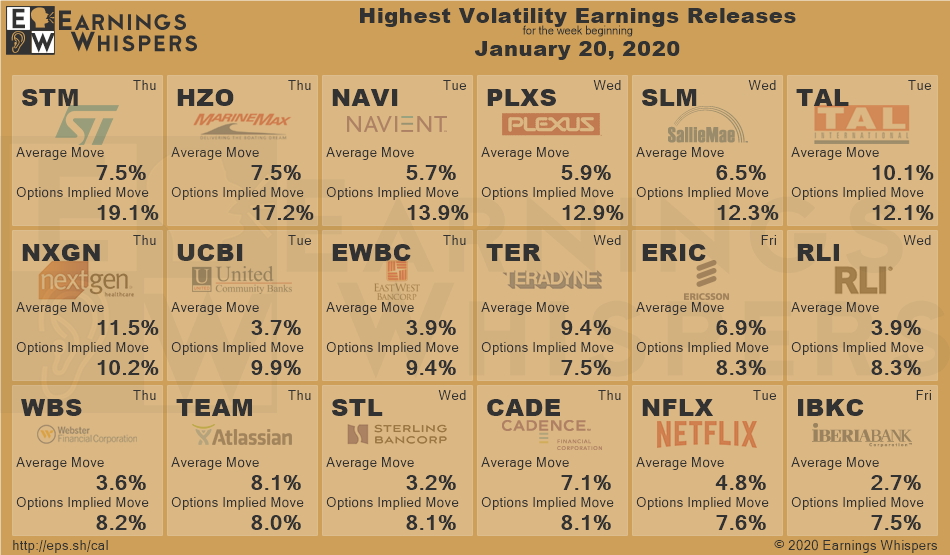 There's very little news and NO official Fed speak this week but plenty of quotes expected from Davos. Tomorrow we have Mortgage Applications, New Home Sales, the Chicago Fed and Redbook; Thursday will be Leading Economic Indicators, the KC Fed and the Oil & Gas Reports and Friday we have PMI and that's it for the week – very dull from a data perspective so the concentration will be on earnings – and the floor of the Senate…