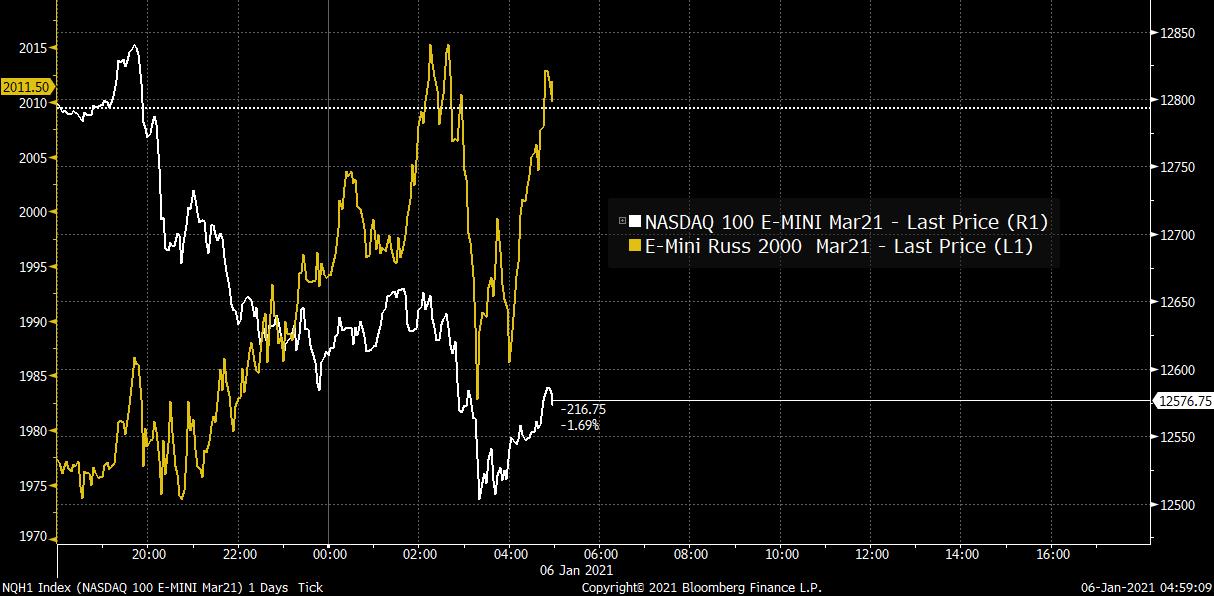 Is this Democratic Rotation?
With the Democrats looking to take both Senate seats (and control of the Senate) away from the Republicans, the small-cap Russell 2000 Index has gone crazy this morning, jumping 3% pre-market on the assumption that the first thing Joe Biden will want to do is make America great again for small businesses and the middle class. The Nasdaq, on the other hand, has become a haven for Oligopolists and there may be some trust-busting coming their way as now Tech is becomming "too big to fail".
"The market is pulling in implications of what a Democrat win would mean for the economic recovery," said Peter Rosenstreich, head of market strategy at Swissquote Bank. "Expected increase in fiscal stimulus and infrastructure spending would bode well for cyclical or growth stocks. Tech stocks may not benefit as much, and that may have something to do with their stretched valuations."
As we know from our fabulous 5% Rule™, 3% is too much for an index to move in a session so we should expect at least a 0.5% retrace (10 points) back from the 2,040 line on /RTY (Russell Futures) back to 2,030 and, if that fails, another 10 points to 2,020 will be the proper test so see if we're going to hold the bullish uptrend.
Meanwhile, speaking of Oiligarchs, 53 people were arrested in Hong Kong this morning for the crime of "subverting state power" during the pro-democracy sessions last summer. In a blatant display of Fascist refusal to recognize the Democratic process, the majority party refused to allow a newly elected official to be sworn in – promting a walk-out by the minority party in protest.
Oh, wait a minute, that happened in Pennsylvania, not China. China hasn't gone that far off the rails yet…
Republican Sen. Jake Corman, the top-ranking senator, said Monday he wouldn't permit Mr. Brewster to be sworn in because of Ms. Ziccarelli's pending lawsuit in federal court. The suit alleges that the Allegheny County Board of Elections improperly counted mail-in ballots that were signed but undated. In late November, the state Supreme Court ruled against Ms. Ziccarelli, finding that a missing date wasn't a reason to invalidate a ballot.

"Ziccarelli's position is that Pennsylvania election law is entirely clear that voters must sign and date their mail-in ballot to be counted," Mr. Corman said in a statement.

Democratic state Sen. Jay Costa, the Senate minority leader, tweeted Tuesday, "A leader who ignores the will of voters and refuses to seat a duly elected Senator – is no leader at all…We are not going to bear witness to this sham."
People, this is now going way too far. We have seen all kinds of crazy political crap go on in other countries but I have never, in my lifetime, seen a duly elected offical be rejected by the opposing party. Sure, they object all the time. They impeach, they investigate – but they don't refuse to follow the process – this is no longer America if we allow this to happen!
Following the rules is not optional. Politics isn't a board game where the best cheater wins (but it is a game where the Banker always wins, unfortunately). We are teetering on the verge of Anarchy and the Anarchist in Chief is still challenging his own election defeat – even though he lost by 7M votes. In fact, Mike Pence is due to certify Joe Biden's win this afternoon but what if he doesn't? We don't even have a rule for what to do there because it's UNTHINKABLE.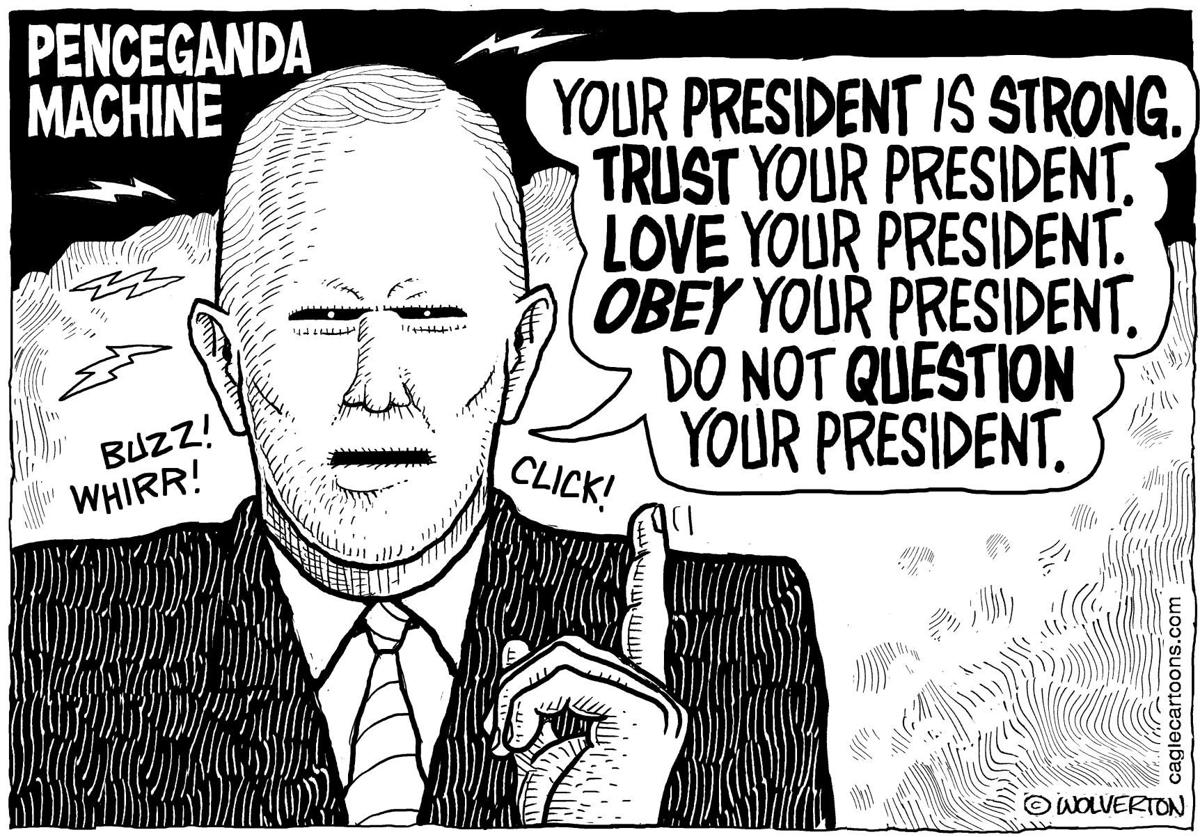 U.S. states have already certified the results, and Pence's role on Wednesday as president of the Senate is to "open all the certificates," in the presence of the House of Representatives and the Senate, the U.S. Constitution says. Trump suggested Pence could do more than that. "The Vice President has the power to reject fraudulently chosen electors," Trump wrote in a tweet, his latest unfounded suggestion that the election was marred by widespread fraud.
"The Vice President and I are in total agreement that the Vice President has the power to act," Trump said. "Our Vice President has several options under the U.S. Constitution. He can decertify the results or send them back to the states for change and certification."

"If he doesn't come through, I won't like him quite as much," Trump said.
Meanwhile, as if facts matter, Private Payrolls dropped 123,000 in December vs gains of 75,000 expected by leading economororns. This 400% miss is more likely to boost the market than to harm it, however as it clearly shows we need MORE FREE MONEY. This is a very harsh reversal from November's + 304,000, reflecting the lockdowns coming back into effect just after Thanskgiving.
We have Fed Minutes this afternoon at 2pm and early earnings come out tomorrow but now the focus will be on Friday's Non-Farm Payroll Report to see if we can hold these record-highs.
Do you know someone who would benefit from this information? We can send your friend a strictly confidential, one-time email telling them about this information. Your privacy and your friend's privacy is your business... no spam!
Click here and tell a friend!