By Louis Navellier. Originally published at ValueWalk.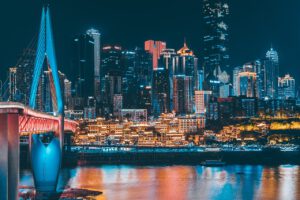 In his podcast addressing the markets today, while commenting on China, Louis Navellier offered the following commentary.
Recovering China
The good news for global GDP growth is that China's economic activity is recovering as its Covid-19 shutdowns ease.  As an example, Tesla Inc (NASDAQ:TSLA) announced on Tuesday that its Shanghai plant was operating at 70% capacity.  Both Tesla and VW Group (ETR:VOW3) also said that they would continue to keep their workers at their Shanghai manufacturing plants isolated in "closed loop" management systems until June 10th.  Approximately 10,000 workers are staying at Tesla's "factory bubble" with bathroom, shower, and sleeping facilities.  So although China is restarting, its GDP growth will remain constrained until all Covid-19 restrictions are lifted.
Q1 2022 hedge fund letters, conferences and more
Over in Europe, eurozone inflation soared to a record high annual rate of 8.1% in May, which is up from a 7.4% annual pace in April.  A weak euro is one of the primary culprits why inflation is still rising in the eurozone, while it has actually peaked in March in the U.S.  The European Union (EU) is still proceeding weaning itself off of Russian energy by the end of the year.
Although a couple of EU countries, like Hungary and Slovakia, want extra time to switch their oil refineries away from heavy Russian crude oil, the big economies in the EU, like Germany, are cutting their Russian ties after decades of outreach.  Interestingly, the EU is also planning to ban insurance on EU ships that transport Russian crude oil, which triggered comments from Cyprus, Greece and Malta.
Cautious Consumers
The Conference Board on Tuesday announced that its consumer confidence index declined slightly to 106.4 in May.  The present situation component declined to 149.6 in May, due primarily to a tightening labor market.  Also interesting is the expectations component declined to 77 in May.  The Conference Board also noted that consumers are being more cautious and buying fewer big-ticket items like cars, homes and major appliances.
Overall, consumer confidence was higher than many economists' estimates and should help to sustain continued economic growth.
Fed Chairman Jerome Powell is meeting with President Joe Biden at the White House today.  Although the executive branch is not supposed to influence the Fed, President Biden is obviously looking for any good news on inflation.
No Energy Relief
Due to a strong U.S. dollar, U.S. inflation peaked in March, but obviously, prices have not declined enough.  I should add that we are now in the peak U.S. summer driving season, so I do not expect any significant energy price relief until after Labor Day due to peak demand.
Coffee Beans
A Rhode Island zoo announced the birth of a critically endangered red wolf pup — the first born at the facility since 2005. Red wolves are considered to be the world's most endangered canid species, with 15-20 remaining in the wild. Source: UPI. See the full story here.
Updated on
Sign up for ValueWalk's free newsletter here.