First the bad news. 
In just under 3 years since Covid-19 first spread in China, Shanghai is once again closing Cinemas, Bars and Gyms in the wake of yet another outbreak throughout the city.  This is coming just a week ahead of the October 16th Communist Party Congress meeting to be held in that very city.  
Shanghai was shut down for 2 months early in the summer and the residents there are in no mood for a repeat as they came close to running out of food and medical supplies in the last one.  President Xi has made Covid Zero a cornerstone of his leadership, despite its growing social and economic cost, and China's propaganda machine has ramped up its defense of the policy this week as he has no choice other than doubling down on this disaster just one week before he is seeking to be re-appointed by the party.   
Meanwhile, Pepsi (PEP) has shown how companies can come through the other side of inflation with $22Bn in revenues vs $21.8Bn expected a 5.5% beat, in-line with their price increases and earnings per share were $1.97 for the quarter vs $1.85 expected – a 6.4% beat – also overcoming the strong Dollar on their international sales.  This is also despite the company taking a $1.4Bn charge relating to its withdrawal from the Russian market.  
This is why we've still been buying stocks.  Inflation can cause a lot of fluctuations in earnings but, in the end, things go back to "normal" but the prices are higher and the earnings are higher – and the stock prices are higher.  This has been happening our whole lives – why act surprised about it now?
This is a process that can take YEARS, not days to work itself out.  The problem is investors are not patient and the Banksters and their media hounds take full advantage of that to drive people out of their holdings at the bottom of the cycle with non-stop fear-mongering – pushing you to lose faith in your companies, just because they announce a bad quarter or two.  
We're finally here – at the start of Earnings Season for Q3 earnings and it will be interesting to see how various companies are navigating these very choppy waters.  Tomorrow morning we hear from DAL (got 'em), BLK (got 'em), DPZ, FAST, PGR, TSM and WBA (got 'em) and Friday it's C, FRC, JPM (got 'em), MS, PNC, USB, UNH and WFC – so we'll have plenty to chew on into next week, when things heat up quickly with hundreds of major reports coming in.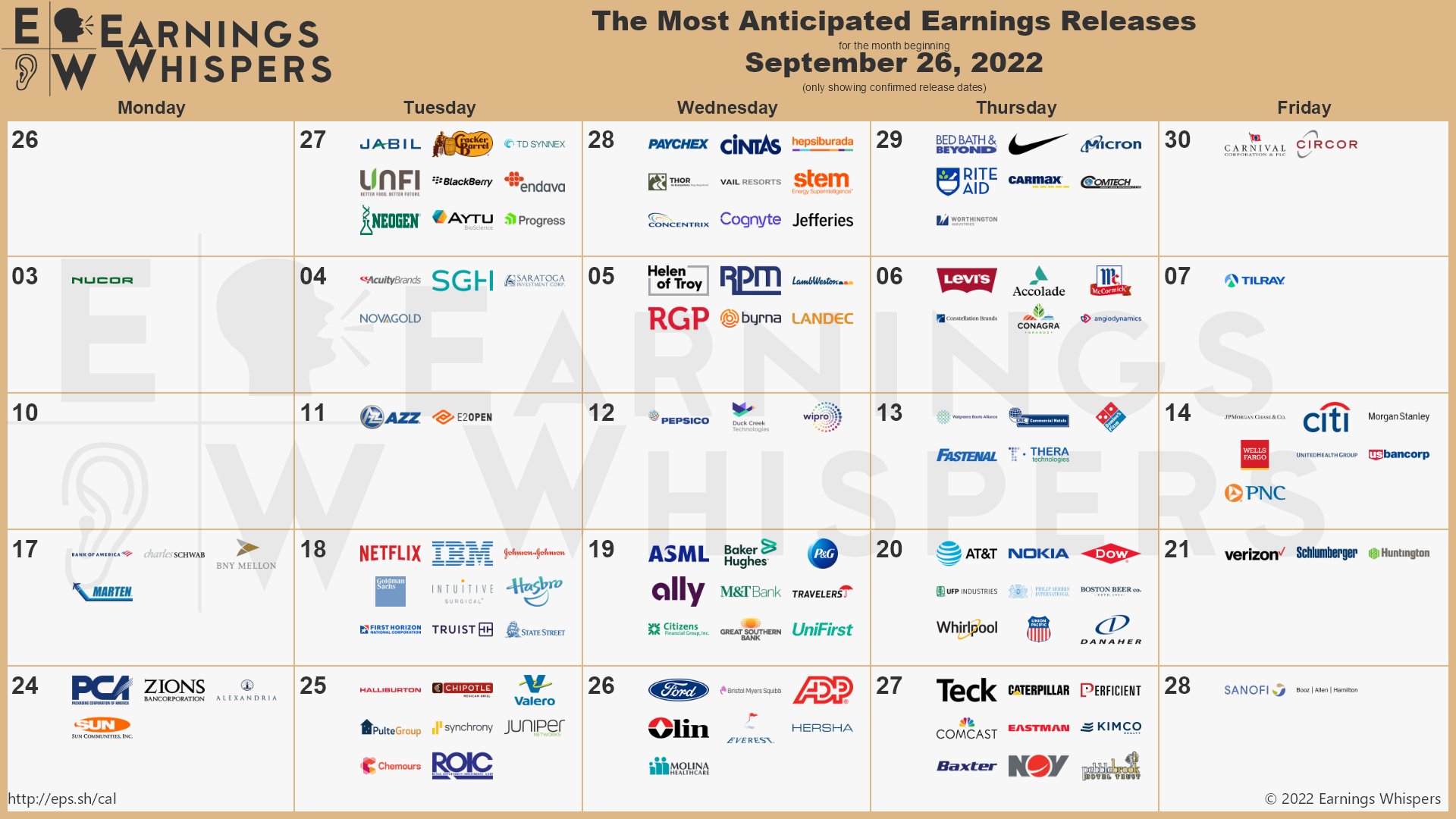 We get the Fed Minutes today at 2pm and we'll be doing our Live Trading Webinar at the time so we'll see what happens live.  This morning the PPI came in hot at 0.4% vs 0.2% expected but it's up from 0.1% last month – so not too terrible.  The indexes think any sign of inflation is yet another reason to fear the Fed – as if they could do anything worse to us than they are doing now.