To hike or not to hike?  
There is no question that the Fed will be hiking rates again on December 14th – only by how much remains to be answered.  Rates are officially now at 4% but 3-Year Notes just sold for 4.5% and, as we discussed in yesterday's Webinar – that's going to blow up the budget in the years ahead.  
Not all at once though – it's a slow, steady death march to 4.5% and higher as $100Bn of our $32Tn in debt rolled over at 4.5% on Tuesday but that's not the only auction and we are rolling over $1Tn a month in debt at higher rates – so it will take us about 3 years before we are totally F'd.  
Until then, each month our total debt service gets 0.00833% higher than it was the month before but, in the end, it will be death by 36 cuts, as adding 3% to our $32Tn debt means we need another $1Tn a year just to pay the interest on our debt (which will be more like $36Tn by then anyway).  
We are currently running a $1Tn deficit and we aren't doing much to address Climate Change or rebuild our Infrastructure.  Not doing anything doesn't help as the cost of Weather Disasters due to climate change was $152.6Bn last year and each year is projected to get worse and worse as time goes on.
We were actually very lucky this year as there were fewer hurricanes than normal and almost all of them missed us.  Fires and Drought have been the main issues in 2022.  Not only do these events cause direct economic damage but they contribute to overall shortages that drive up consumer prices.  
Even energy costs are affected when a drought, for example, shuts down a hydroelectric dam – that raises energy costs for the whole country.  Imagine if that happened at Niagra Falls?  Remember the East Coast blackouts of 2003 and 1965 – that's what happens when we lose power at Niagra Falls – what if that becomes a permanent problem?  We simply do not have a backup source of power…
Speaking of Inflation, CPI just came out and it was surprisingly low at 0.4% vs 0.6% expected and more than that expected by me.  That is sending stocks flying through the roof pre-market and even Core CPI is down 0.3% – that should calm the Fed down a bit.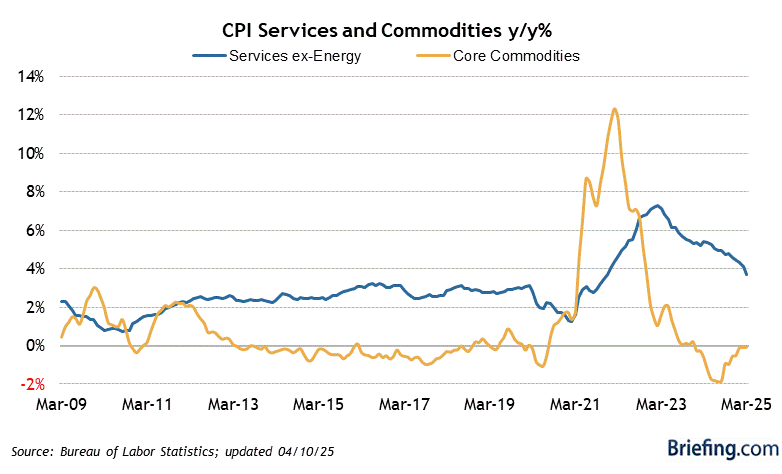 Let's not get too excited as 0.4% is still up 7.7% from last year but the pace is slowing somewhat.  As you can see, Used Cars (something I had not considered) came down considerably, as did Medical Care, Clothing and Electricity as Fall Weather was nice enough that no one wanted to change it.  
The actual list of changes to certain items since last year is not pretty – Fuel Oil: +68.5% Gas Utilities: +20.0% Gasoline: +17.5% Transportation: +15.2% Electricity: +14.1% Food at home: +12.4% Food away from home: 8.6% New Cars: +8.4%.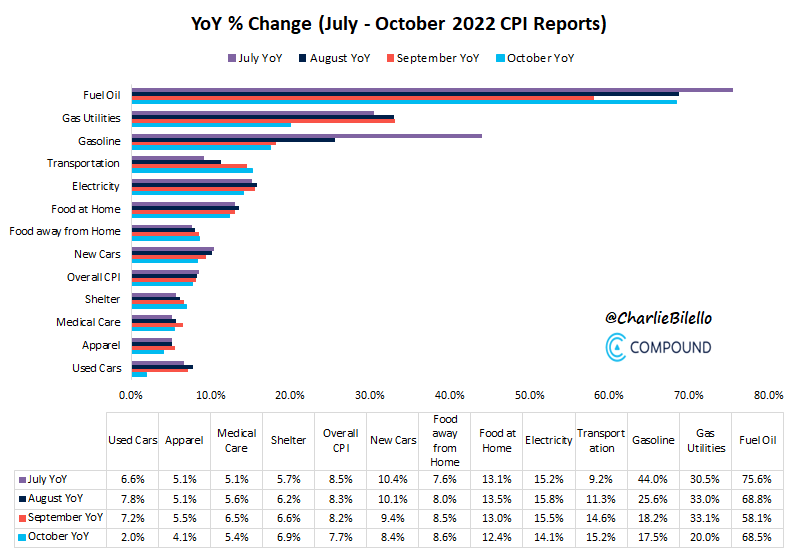 The market took off like a rocket but mostly because the Dollar fell off a cliff and I'm not sure how long either one will last but let's enjoy it while we can:  
Should be an interesting day.