The Democrats took the Senate!  
And they are still in the running for the House with 204 seats confirmed but they need to win 14 of 19 remaining races to keep their leadership (down from 222) but, much to the chagrin of the GOP – it's still an obtainable goal.  
That's all good for Biden as he's feeling empowered going into his G20 meeting with China's President Xi in Bali where, in their first official meeting (they've known each other for decades), the two leaders signaled an openness to repairing a bilateral relationship that has sunk to its lowest point in half a century, amid tensions over Taiwan, technology, the war in Ukraine and starkly divergent visions of the global order.
"I look forward to working with you, Mr. President, to bring China-U.S. relations back to the track of health and stable development for the benefit of our two countries and the world as a whole," Mr. Xi told Mr. Biden at the start of their summit in Indonesia. Mr. Biden said it was important to "manage our differences" and "prevent competition from becoming conflict."
Xi told Biden that the current state of China-U.S. relations is not in the interests of the two countries "and is not what the international community expects of us." He added: "We need to find the right direction for the bilateral relationship going forward, and elevate the relationship."
I love the fact that they end up meeting in the same generic ballroom with folding tables covered in draped table-cloths that we all meet at in various conventions.  It's the two most powerful men in the World sitting in uncomfortable chairs at the Ramada and they have to wrap it up by 11:30 – ahead of the Katzenberg's Bar-Mitzvoh.  
Last month, President Biden released his 48-page national security strategy, which focused relentlessly on China even as Russia wages war in Ukraine. In the document, which every new administration is required to issue, Mr. Biden made clear that over the long term he was more worried about China's moves to "layer authoritarian governance with a revisionist foreign policy" than he was about a declining, battered Russia.
"Russia and the P.R.C. pose different challenges," Mr. Biden wrote, using the abbreviation for the People's Republic of China. "Russia poses an immediate threat to the free and open international system, recklessly flouting the basic laws of the international order today, as its brutal war of aggression against Ukraine has shown."
It's nice we have that going on as the week ahead is a bit boring on the Data front, with 7 Fed Speakers, a 20-year note auction, Empire State Manufacturing tomorrow; Retail Sales, Industrial Production, Housing & the Atlanta Fed Wednesday; the Philly Fed, KC Fed & Housing on Thursday and Home Sales & Leading Indicators on Friday – a big yawn, overall.  
Lots of interesting Earnings Reports left to mull over, a good amount of Retail Sector Reports this week, including WMT Tuesday, TGT, LOW and TJX Wednesday – ahead of that Retail Sales Report: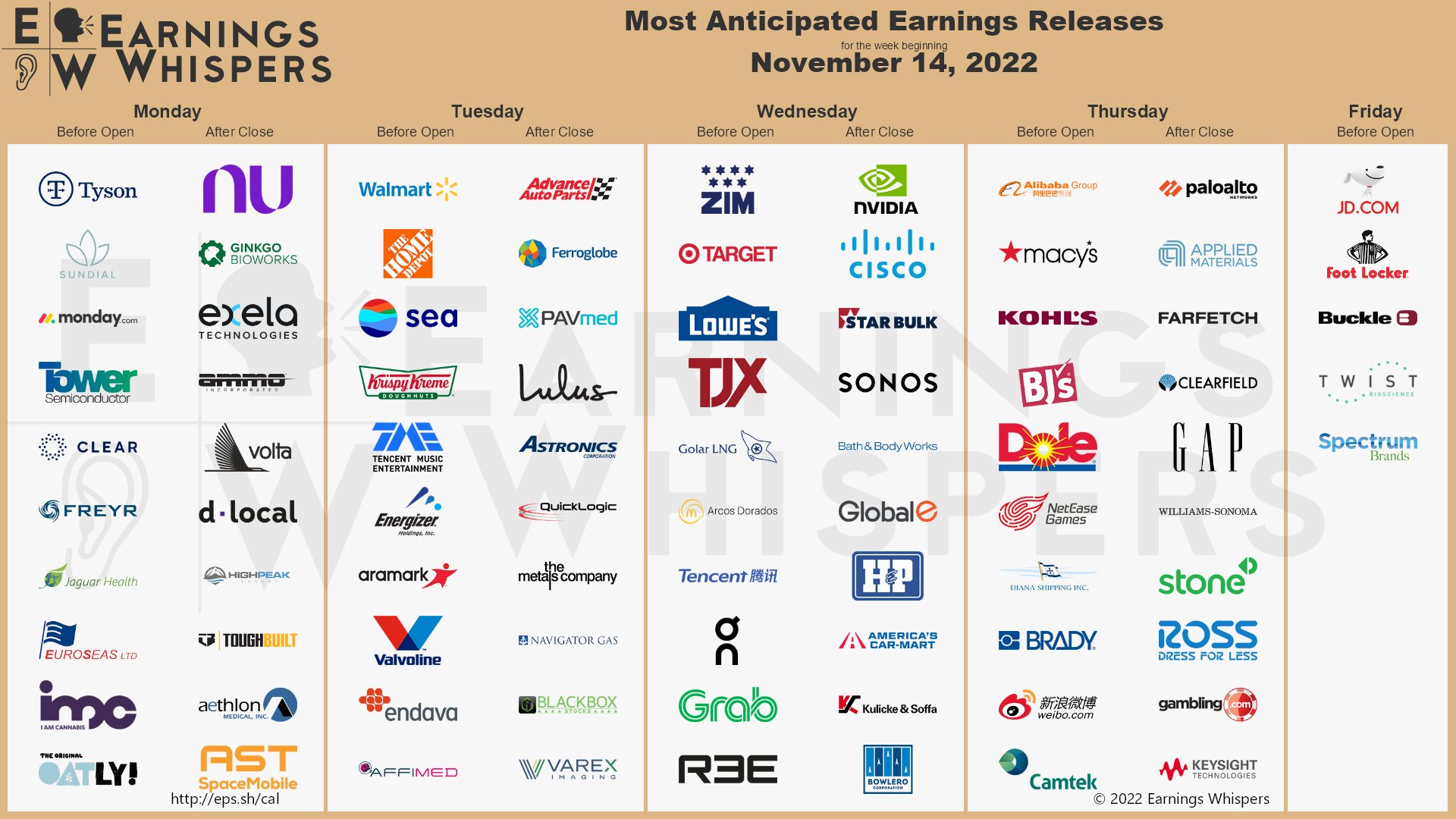 It's also Options Expiration Week so we'll be doing Portfolio Reviews and next week is Thanksgiving, when we are officially closed on Thursday but good luck getting people to show up on Black Friday, which is officially a half-day (1pm) anyway.