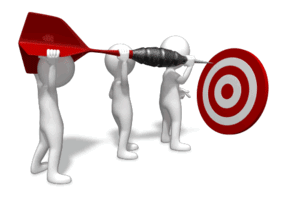 Bad news for Retail.
Target (TGT) missed earnings by about 25% despite a 12.7% increase in Revenues, due mainly to inflated prices, NOT more actual item sales.  They are also warning Q4 is likely to disappoint as well and that's sending the stock down 15% this morning and it's taking the entire Retail Sector (XRT) down 2.5%, despite WalMart (WMT) having great numbers last night.  
WMT had a 17.4% increase in sales and that was enough to give them an earnings beat and this is just math as many TGT customers traded down to WMT and WMT customers haven't quite been driven to the Dollar Store yet (because there are still plenty of jobs) but there aren't the same number of above TGT customers (COST customers?) who have been driven to TGT yet – there are simply more people at the bottom of the pyramid for WMT to capture.  
Consumer Spending Power is eroding quickly as Household Debt jumped the most in 15 years, led by a 15% increase in Credit Card balances since last year.  Total debt jumped by $351Bn for the July-to-September period, the largest nominal quarterly increase since 2007, bringing the collective household IOU in the U.S. to a fresh record $16.5Tn. That's an increase of 2.2% from the previous quarter and 8.3% from a year ago.  The increase follows a $310Bn jump in the second quarter and represents a $1.27 TRILLION annual increase.
Earlier this month, Bloomberg reported the average interest rate for credit cards is the highest it's been in 25 years. At 18% and rising, this figure has been expanding since the Fed began raising interest rates, and it's expected to continue to go up with new hikes expected in November and the next year.
The only reason we're not in a full-blown Recession is jobs but an erosion in the Jobs Market (which the Fed is pushing for) coupled with more debt and higher interest rates on that debt is a recipe for disaster – yet another reason we should be going to CASH!!! in our portfolios:
This does not bode well, does it?  
Retail Sales actually came in way over expectations, at 1.3% for October vs 0.6% expected so the Consumers are certainly not dead yet and TGT is probably just going through an adjustment period and the stock is probably a good buy down here – but it's not really the time to be taking big chances, is it?  
Home Depot Inc. said that comparable sales rose 4.3% in its third quarter as big-ticket transactions and as consumers choose to renovate their homes instead of moving because of rising interest rates.  Lowe's just gave a similar report. 
Another reason we were leaning towards cashing in our portfolios into the end of the year was the War is still on.  Yesterday the market dropped sharply as it was thought Russia accidentally bombed Poland – a NATO ally (they did not, it was a Russian-made missile fired by Ukraine Air Defense against Russian Missiles being fired by Russia at Ukraine). Fortunately, it did not trigger World War III (yet) but it shows what a hair trigger this market "rally" rests on.
Import (-0.2%) and Export (-0.3%) Prices fell in October and that's good news and we're waiting on Industrial Production and Capacity Utilization numbers at 9:15.  
Meanwhile, ex-President Trump has announced he will attempt to lose the popular vote for a record-breaking 3rd consecutive time in 2024.  Alf Landon (R) holds the current record for worst ass-kicking in a Presidential Election when he was beaten by Roosevelt in 1936 with 60.8% of the votes (and 98.5% of the Electoral Votes).  Good luck to Mr. Trump, I sincerely hope he is the GOP candidate in the next election!