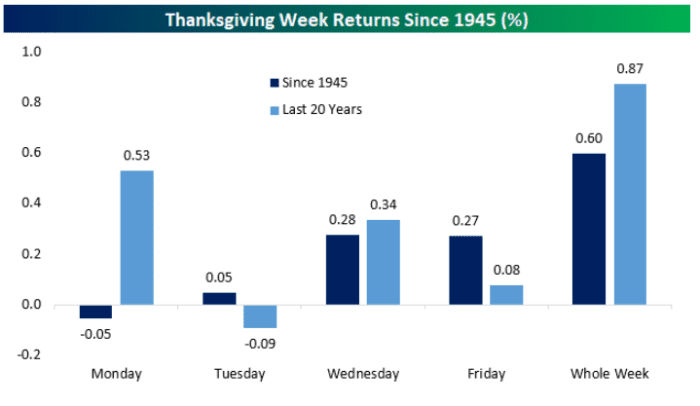 It's Thanksgiving week!  
Usually a very low-volume affair where most people are checked out by Wednesday.  We do have Fed Minutes this week but that's just the notes on something that happened last month and, Wednesday at 2pm, no one will be around to read them.  With Thursday an official Stock Market Holiday and Friday a half day (1pm) – most people take a 4-day weekend – even on Wall Street. 
Families in the US are either heading somewhere or preparing to have people head to them for a big feast and a day of football (Bills/Lions 12:30), Giants/Cowboys (4:30), Patriots/Vikings (8:30) and, for a change, neither Cowboys or the Giants suck this year – so that should be a pretty good game and everyone likes to see the Patriots get their asses kicked – so that game should be fun too! 
Just under 55M people will be traveling for Thanksgiving weekend, 4.5M by air – an 8% increase over last year (and these are pretty accurate stats due to reservations) so it's a huge week for Fuel Sales, Airlines and Hotels.  And then, of course, we have Black Friday and Cyber Monday – the most important Retail Sales days of the year rounding out the week.
With $1.2Tn in Retail Sales last Nov/Dec, there's a LOT riding on this holiday season and Friday needs to kick it off with over $200Bn in sales – so make sure you get out there and do your part!  Inflation alone should kick Retail Sales up near $1.4Tn and we'll see if Consumers have any gas left in their tanks at the end of a very expensive year for Discretionary Spending.
It's very possible they don't as gas is still very expensive and consumer sentiment is the lowest it's been in a decade and, thanks to the Fed, Credit Card bills are going up and up and up with rising rates, which also means Home Equity Loans are not much of a solution – especially with falling home prices.  We may, in fact be heading into a holiday disaster, which is one of several reasons we went mainly to CASH!!! in our Member Portfolios last week – it's simply not worth the risk to find out.
If that Deloitte survey pans out, people plan on buying 40% less gifts than last year and that would be quite catastrophic for Retail (XRT), which would cascade and drag down the entire market.  Clearly the Fed is getting nervous with Bostic saying on Saturday that he's ready to move away from 0.75% Rate Hikes, saying 0.75-1% is all the additional tightening that will be required – bringing us up to about a 5% Fed Funds Rate.
We will see if anyone backs him up on this but only Mester is scheduled to speak this week (Tues 11am) but, of course, people will read into the Minutes (Weds 2pm) whatever they wish.  This morning we have a bunch of Short-Term Note Auctions and we'll see how those go.  The Chicago Fed, which just announced down 0.5% and tomorrow we get the Richmond Fed and more Note Auctions.  Wednesday we have Durable Goods, PMI, New Home Sales and Consumer Sentiment and then the week effectively ends and next week we get Travel and Shopping results.  
We even still have Earnings Reports coming in but also this gives you an idea of how hard people expect to work this week: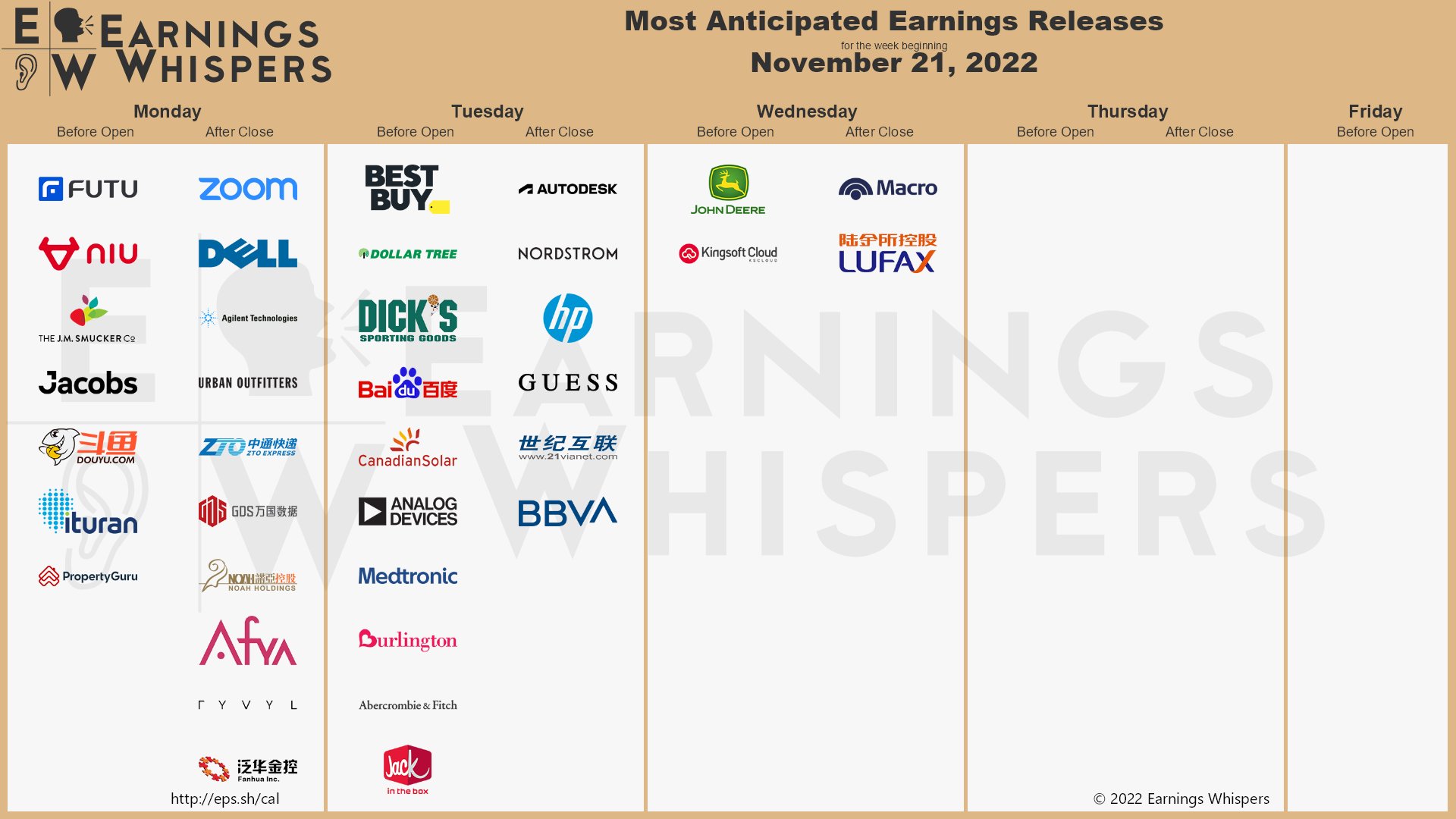 DELL was a keeper in our LTP, as was BBY, GES and MDT but DKS we cut along with JACK, & JWN – as we weren't confident enough in the Retail Space to carry them all into Christmas.