Madness!  
This how we're starting the year with the S&P 500 up almost 100 points from Friday's low at 6 am but already (7:30) half of it has been given back as the Dollar pops 1% and poops the party – especially for Oil (/CL), which has fallen from $81.50 back to $79.30 (2.7%) already.  
Even Natural Gas (/NG) has nose-dived back to $4 and our plan was to buy more longs at $4 with tight stops below.  Mild weather in Europe and a lot of incoming LNG have caused traders to unwind their heavy positions but, long-term, I do expect to see $4.50 again.
"German Chancellor Olaf Scholz said the energy crisis triggered by Vladimir Putin's invasion of Ukraine was a "tough test" for the continent's biggest economy and urged citizens to continue saving energy in the months ahead. Germany's gas storage levels rose to 90% over the past week, compared with a five-year average of 73% for this time of year, according to Gas Infrastructure Europe. 
"New LNG import terminals "are making our country and Europe independent of Russian gas for the long term," Scholz said in his New Year's address to the nation."
Having fallen from $7 to $4 (42%) during December, we can expect an 0.60 bounce to $4.60 (weak) in the very least.  A stronger bounce would take us to $5.20, where the rally off of $5 was rejected just last week. 
This is another example of prices causing demand destruction as habits quickly changed and now Europe has several new LNG terminals so they are far less dependent on Russian Natural Gas and that won't stop after the war ends – he has permanently destroyed a reliable source of income for Russia.  
Speaking of reliable, the US is still averaging 60,000 cases of Covid per day and "only" 317 deaths per day so there has not been a resurgence of the virus over the holidays and that's great news – as it was one of the big wild-cards into the start of the year.  
Now we're waiting for Retail Data from last Quarter along with Earnings Reports for Q4, which begin in earnest on Friday, the 13th (as if that isn't ominous) with half a dozen Big Banks reporting that morning.  We already know the IBanks cut back on bonuses last year so it's not that likely the earnings will be great.  
This week we're hearing from Walgreens (WBA) on Thursday, along with BBBY, STZ and SCHN – a nice mix of sectors to pay attention to.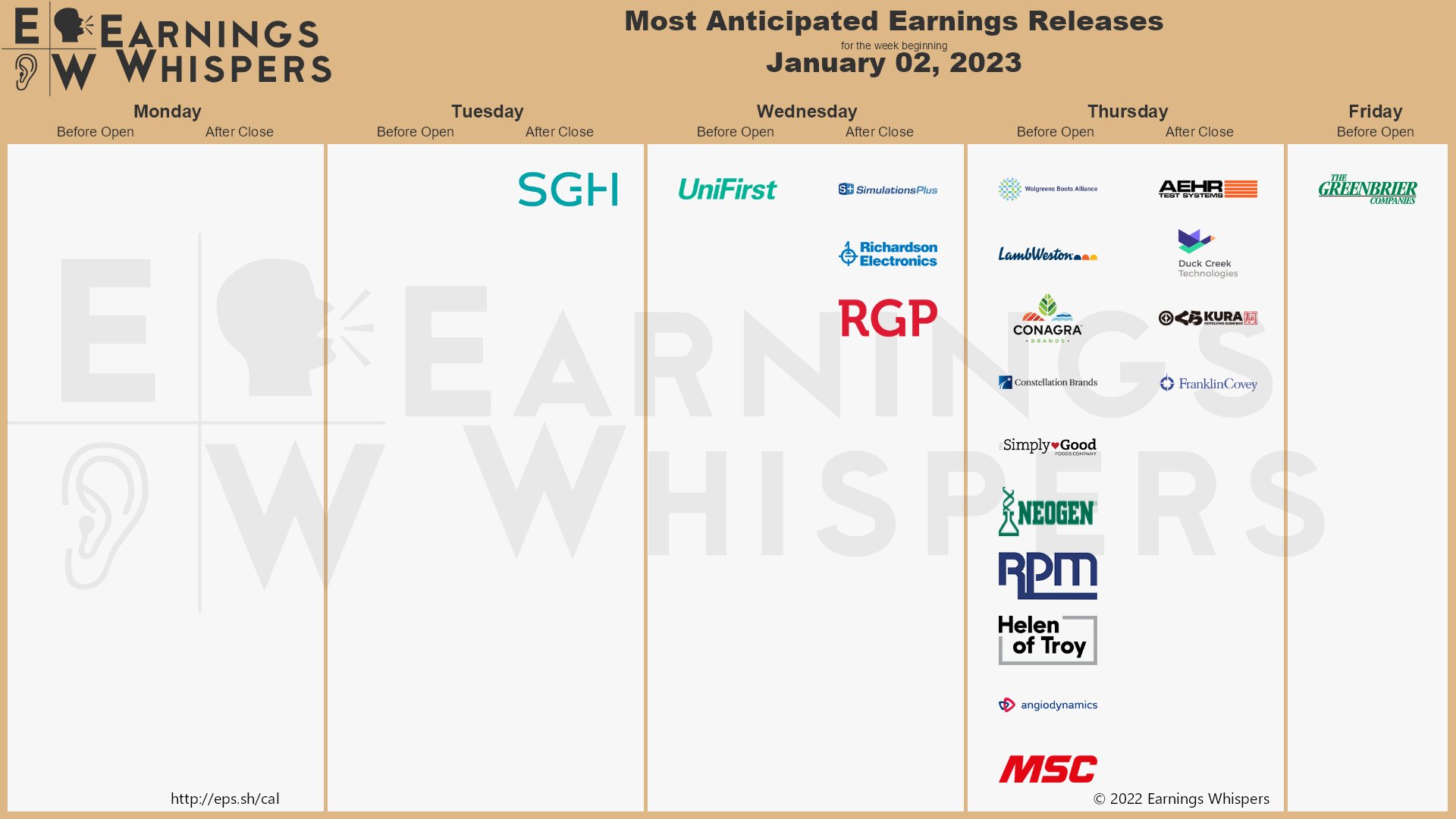 We have Fed Minutes this week on Wednesday and then we have 5 Fed speeches on Thursday and Friday along with Non-Farm Payrolls capping an otherwise fairly dull data week.  
Nothing really matters this week (I really should have taken that cruise!) as people tend to be slow to get back to work and, don't forget, Chinese New Year (Rabbit) starts on the 22nd and they party for 16 days – talk about a super-spreader event!  
So we'll see how that goes and we'll see how earnings go and THEN we'll be ready to place our bets for 2023 but I don't have any half-assed predictions to make just because we're starting a new year – I like to have enough information to be at least 3/4-assed before picking targets but, on the whole, I don't see 2023 finishing in a much different range than the one we already have.  
If you wanted to go long on Tesla (TSLA), you will have another chance today as they stock is back at $118 (down 4%) because deliveries were not up 50% from last year, but only up 40% with all the supply chain issues and Covid issues the company faced.  So of course the stock is down 70% from it's highs last November, right?  
In fact, TSLA may only make $4.6 per $118 share (25x) vs $4.84 expected (24x) so it's understandable that traders are panicking out of the stock.  What if they only grow 30% next year?  Then they'll be making $6 per $118 share (20x).  See how idiotic traders are?  They simply don't understand math, or physics, or how companies grow and make money…
See 2020 over there on the left of the chart?  That was the first year TSLA made money and they made $690M.  In 2021 they made $5.5Bn and the stock flew up to $400 but in 2022 they made $13.7Bn and the stock is now back to where it was when they made $690M and last week, for the first time in many years, I called a Top Trade Alert on TSLA.  
My theory is, at this point, Musk can't screw up any worse without the board removing him.  If anything, this Twitter idiocy has proven TSLA can run just fine without him.  
In other news to start our year:
Let's be careful out there!