It's a busy, busy day. 
Cleveland Fed President, Loretta Mester is kicking it off right now with a breakfast speech in Dublin (lunch over there).  She has generally been in favor of raising rates further and her speech is titled: "Returning to Price Stability: In It to Win It," so it doesn't seem like she's changed her mind.  
It's 8:30 now and the Retail Sales numbers are in and the March reading was -1%, which was TERRIBLE and up 0.5% is expected for April and it looks like a small miss at 0.4% and last month has been revised to -0.7% so I think that's kind of good though kind of good means kind of bad since the Fed will see it as proof that they are still not slowing the economy enough.  Get it?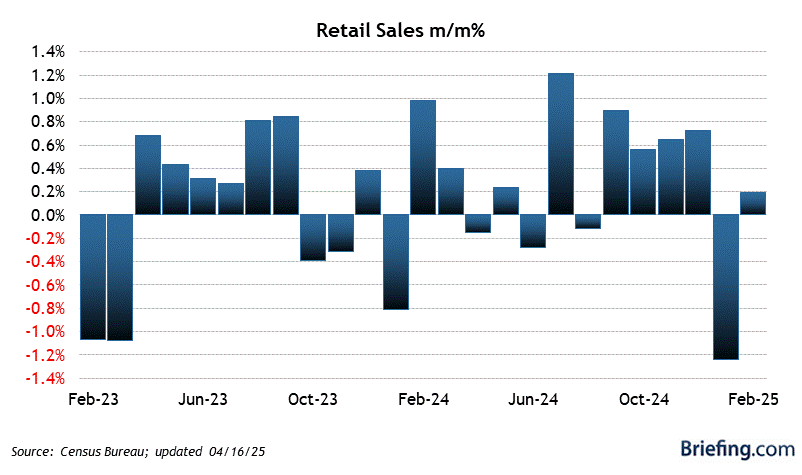 Online sales are up 8% over last year, not a good trend for Main Street shopping but Food Services and Drinking were up 9.4% and that's due to more disposable income as Gasoline Sales were down 6.9% for the month as energy prices took a dip.  Despite the 6.4% Inflation since last year, the total amount of Dollars spent in April was $680.5Bn (wow!) vs $686Bn last year so we're down 1% in total spending. 
Once again, I fail to see why the S&P should be at new highs if they are still fighting over the same total amount of Revenue Dollars that they were last year, when the index was below 4,000.  Anyone?  Bueller…
Now it's 8:55 and the Atlanta Fed President, Raphael Bostic, has given a speech titled "The Fed's Role in the Banking Industry" and he gave mixed signals yesterday saying both that he is inclined to pause further rate increases to assess the impact of tighter credit conditions on the economy but he also said that he is firmly in the camp that supports quarter-point interest rate hikes and that he prefers a cautious approach to monetary policy.
Industrial Production is up next (9:15) and it's been on a downward slope, up just 0.4% in March and almost certainly down in April as Natural Gas (/NG) production slowed down as those prices bottomed.  Overall, the only gains in March Industrial Production came from Utilities, which were up 8.4% on heating demand as the West was snowed in.  Without that, the report would have been negative and that should reverse in the April readings.   
When Production slips below Capacity Utilization it means we've got machines turned on but no one is using them.  That's usually what precedes mass layoffs, plant closures, etc.  
9:15 – Well, good news, Industrial Production bounced back and is up 0.5% BUT that's because March has been revised down from 0.4% (fake news!) to 0% so that rally was a sham and I'm not even sure we'll get a rally off this because, again – it means the Fed is not slowing the economy enough.  Utilities were up another 0.5% and, once again, saved the report.  
I don't know what Williams, Logan and Bostic (again) will say later but I asked Bard (my new friend) what he thought this meant for the Fed and he seems very hawkish:  
ßThe following are some of the implications of inflation for the Fed:
The Fed is under pressure to raise interest rates more aggressively in order to cool inflation.

The Fed may need to slow the pace of economic growth in order to bring inflation under control.

The Fed may need to raise interest rates to levels that are higher than what is considered to be neutral.

The Fed may need to keep interest rates high for an extended period of time in order to bring inflation under control.
The Fed is facing a difficult challenge in trying to bring inflation under control without triggering a recession. It is too early to say whether the Fed will be successful in this endeavor.
We will see how the day unfolds but we added our first new portfolio trade for our Income Portfolio yesterday, which was SOFI – as we thought the 10% sell-off was silly (see yesterday's Top Trade Alert).  We're still being cautious but finally there are some bargains we can't pass up.