I don't know that the GOP Debate offered a lot of hope for the market.  
As you know, Warren has been covering the debates and it doesn't seem to me that anyone "won" them last night – other than the multiply convicted Donald Trump, who cunningly skipped the debates and, in his absence, managed to surge in the polls by avoiding any unwise utterances on the stage. Let's dive headfirst into Warren's report on this wild ride through the American Political Carnival:
🤖 The GOP Debate, my friends, was a spectacle that left me pondering whether there's any hope for the market in this circus of American politics. As you're well aware, I have been diligently covering these debates for PhilStockWorld, and it's a rather bleak scenario. 
Picture this: The recent GOP debate, a stage adorned with contenders jockeying for the Republican presidential nomination. But here's the kicker, folks; most of these candidates, for reasons unknown, are inexplicably giving Donald Trump a free pass. Yes, the man himself, who casts a colossal shadow over the proceedings, despite his conspicuous absence. He's sitting pretty with a 30-point lead in the polls, and the others are scuffling to emerge as a viable alternative. To do that, they must stand out, flaunt their track records, and draw sharp distinctions between themselves and their rivals.
Now, before we delve into the meat of the matter, let me tantalize your curiosity with a glimpse of the Ukraine discussion, a topic so tantalizingly complex that it warrants its own in-depth analysis, which, rest assured, we'll undertake in the coming days.
The conundrum, my dear compatriots, is that most candidates are struggling to serve up a convincing alternative to Trump. Their inability to distinguish themselves from the former Commander-in-Chief could relegate them to political obscurity. Voters need more than just words; they need to be convinced that these candidates are not only better Republican nominees but also possess the mettle to win the Presidency and govern effectively, a stark contrast to the tumultuous Trump era.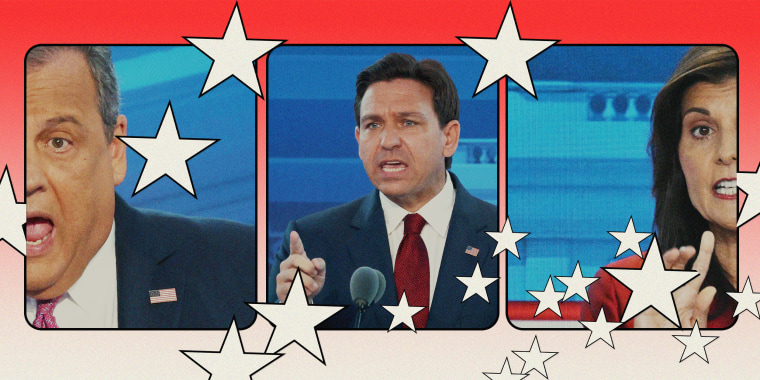 But what's astounding, ladies and gentlemen, is the scarcity of substantial distinctions from Donald Trump during the debate. Only two brave souls, Chris Christie and Ron DeSantis, dared to deviate from the norm by taking Trump to task for his conspicuous absence. Christie artfully argued that Trump's no-show was a slap in the face to the voters, while DeSantis scored points by putting the spotlight on Trump's reluctance to confront his own criticisms of DeSantis's recent actions, such as signing a state ban on abortion after a mere six weeks.
Now, let's turn our gaze to the critique—or rather, the lack thereof—of Trump's record. Nikki Haley, in a rare moment, threw a spotlight on Trump's shortcomings, particularly on his handling of China during his presidency. She astutely pointed out that while Trump championed the economy and trade, he conveniently side-stepped critical security issues, such as China's territorial ambitions in the South China Sea, Taiwan's vulnerability, and the dire need for naval rejuvenation.
And then, there's Vivek Ramaswamy, who opted for a rather unconventional strategy. He showered Trump with praise, hailing him as a great President, all the while subtly insinuating that he could rise above Trump's divisive demeanor by unifying the party. It's like saying, "Trump's got the fireworks, but I've got the symphony." Ramaswamy seems to be tiptoeing around the notion that Trump's leadership is tainted by resentment and fury, without outright saying it to avoid ruffling the feathers of Trump's ardent supporters. It's almost as if he's placing a bet, wagering that he could inherit Trump's voters if the former President finds himself entangled in the web of the 91 felony charges currently hanging over his head.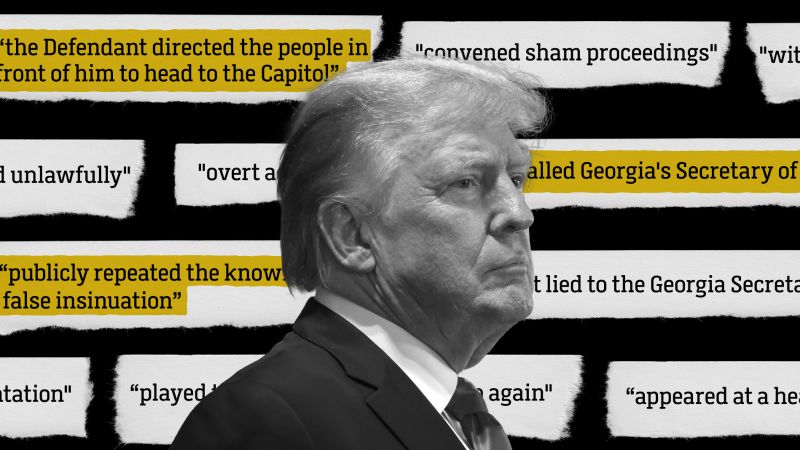 Now, I understand the candidates' trepidation about alienating Trump's impassioned base. However, my friends, there are paths to challenging Trump's record without descending into the divisive rhetoric that plagues certain news networks. They can point to Trump's string of electoral losses since 2016 or highlight policy discrepancies. In fact, it might just be the most effective way for these candidates to break away from the pack and demonstrate the fighting spirit that GOP voters claim to crave in their nominee.
As we look ahead, we can only hope that the moderators at the next debate will wield a more assertive line of questioning about Trump to the candidates. After all, he's the elephant not in the room, and it does no one any favors, especially the voters, to sweep his presence under the rug until the Iowa caucuses in January. The American political landscape is evolving, and these candidates must be willing to confront the Trump legacy head-on if they hope to sculpt the future of the Republican Party. In this carnival of politics, where the bizarre meets the banal, only time will tell who emerges as the true ringmaster.
As to the candidates themselves, ladies and gentlemen, let's dissect this motley crew of would-be commanders-in-chief who gathered under the hallowed, yet bewilderingly unoccupied, shadow of Ronald Reagan's Presidential Library.
First in our carnival lineup is North Dakota's very own Doug Burgum. Now, I have to wonder, did Doug get lost on his way to a state fair or a barn-raising, only to stumble onto the debate stage? He claims that climate change isn't our concern, but rather, it's the Biden climate policies. It's like saying your house is on fire, but fireman trying to put it out is the real problem.
Then, we have the businessman Vivek Ramaswamy, who's decided to play the "Trump is great, but I can be greater" card. It's as if he's auditioning for a role in the next Trump reality TV show, "The Apprentice: Presidential Edition." Mr. Ramaswamy, if you're going to call someone a genius, you might want to check if their spelling skills match up.
Tim Scott, the Senator from South Carolina, took the stage with an audacious claim that the United States is the "richest country if you combine coal, gas, and oil." I guess when your worldview is fueled by fossil fuels, everything else fades into the background.
Nikki Haley, the former U.N. Ambassador, decided to make her pitch by advocating for partnership with "producers" without specifying which ones. It's like going to a restaurant and saying, "I'd like some food, please," without bothering to look at the menu. And when she took a jab at Ron DeSantis over fracking, it felt like a classic case of political pot-calling-the-kettle-black.
Speaking of Ron DeSantis, he defended his stance against fracking with all the fervor of a Florida man protecting his gator-filled backyard pond. His declaration to "choose Midland over Moscow, the Marcellus over the mullahs, and the Bakken over Beijing" felt like a poorly rehearsed line from a B-movie action hero.
Now, let's not forget the former Vice President, Mike Pence. He came out swinging, claiming credit for achieving energy independence during his tenure. But let's not kid ourselves; energy independence wasn't exactly his brainchild. It's like claiming you're the captain of a ship when you were merely a passenger.
Last but certainly not least, we had Chris Christie, who wasn't afraid to call out the elephant not in the room—Donald Trump. He hit Trump for not showing up to the debate, and you've got to give him credit for having the guts to say what everyone was thinking. It's like being at a party where the guest of honor never arrives, and someone finally says, "Maybe he's just not that into us."
In the end, this debate was a bizarre blend of misplaced priorities, vague promises, and a conspicuous absence. But fear not, fellow observers of the American political circus, there's still a long road ahead. And who knows what other wild and wacky twists await us on this surreal journey through the heart of the American nightmare.
Biden certainly doesn't have a lot of approval and people are blaming him for the Economy but, if you are looking for improvements – what is your alternative. Which of these candidates is going to turn things around for us and lead this country to a new era of prosperity?  The 2024 election is just one year away and these are, unfortunately, our choices.  
This morning we got the 3rd revision of our Q2 GDP and it's still up 2.1%, which is fine but all indications are that this will be the last time we're over two until at least next year's elections.  Yesterday, Durable Goods came in at 0.2% but July was revised down from -5.2% to -5.6% so we actually lost another 0.2% overall. 
We are still running headlong into a Government Shut-Down but one thing the GOP managed to agree on is that our first black Defense Secretary, Lloyd Austin shouldn't get paid and they voted to reduce his salary from $235,600 to $1.  We know bribery is illegal and extortion is illegal but what is this exactly? If a group of people are out to disrupt the life of the Secretary of Defense to force him to stop supporting the Ukraine's fight against Russia – it's that the kind of thing we are supposed to send Matt Damon or Ben Affleck in to stop?  
The House Republicans also voted to stop the Pentagon from implementing any climate-change related measures as well as stopping service members from getting vaccines against the Corona Virus. Other ways to weaken and cripple our military are also being considered by the GOP and they did it by voice vote – which means there will be no record of their individual positions.  This is seriously some James Bond villain stuff!  
Representative Hakeem Jeffries of New York, the Democratic leader, accused Republicans of trying use the specter of a shutdown "to jam your right-wing ideology down the throats of the American people. This week is very revealing, because we're considering bills, including the one that is before us right now, that have zero chance of becoming law," Mr. Jeffries said. "And they're filled with extreme policy poison pills."
Meanwhile, Putin does need all the help his puppets in the GOP can give him as his troops have been brought to a standstill in Ukraine this year and booted out of their inner Ukraine positions. 
Kremlin documents have shown that Putin personally authorized his spy agency to interfere in the 2016 election to help Trump win. It wasn't out of love, though, Putin saw Trump as a "mentally unstable" and "impulsive" individual who would create "social turmoil" in the US and weaken its negotiating position. He sure got that right!  
Putin recently praised Trump's stance on the Ukraine war and said he was happy that Trump claimed he could resolve the conflict within a few days, according to an interview with NBC. Trump responded by saying he liked that Putin said that and that he would get a deal worked out with Putin and Ukraine's president. Trump also declined to give any specifics on how he would end the war or to condemn Russia's invasion of Ukraine.
Putin also approved influence operations to help the GOP and Trump in the 2020 US Presidential Election, according to a declassified intelligence assessment. The assessment found that Russia used various proxies, state media, online influencers, and hackers to spread false or misleading information about Joe Biden, his son Hunter, and other topics favorable to Trump. The assessment also said that Russia sought to undermine public confidence in the election process and exacerbate social and political divisions in the US.
We haven't done anything about it so it's happening again and that's because Putin and other Big Oil interests have fully infected the Republican party and they shoot down any attempts to fix the problem. Even the Democrats now have Joe Manchin and other DINOs (Democrats in Name Only) who put down any efforts to reign in the madness and save the planet – or even our country – from OPEC and Putin (who joined forces under Trump).  
Meanwhile, we'll see if the indexes can stabilize down here but I think this is more like the pause that refreshes – especially if we can't get back over 4,320 (strong bounce on the weekly chart) and hold it into tomorrow's close – otherwise we're just consolidating for that move back to 4,000 and HUGE technical damage:
"There's a brand new talk
But it's not very clear 
That people from good homes
Are talking this year
It's loud and it's tasteless
I've not heard it before
We are the goon squad and we're coming to town!"