The Government is still open!  
Well, for 45 days but it's better than being shut down so we'll see how the markets react this morning. The Nikkei flew up 600 points (5%) at their open but then gave it all back and closed in the red – silly Nikkei. Europe has also given back all their gains and now (7:20) our Futures have given back all their gains as people realize that, open or closed – our Government is essentially dysfunctional: 
The shutdown was avoided only after a last-minute deal was reached to fund the government for another 45 days, but the underlying issues remain unresolved.
The House Republican caucus is deeply divided and unable to agree on a unified strategy to deal with the budget crisis. Some hardline conservatives, led by Rep. Marjorie Taylor Greene (R-Ga.), have threatened to oust Speaker Kevin McCarthy (R-Calif.) if he does not oppose any spending bill that includes funding for Ukraine, which they accuse of being corrupt and interfering in the 2020 election. Others, such as Rep. John James (R-Mich.), have criticized the "clown caucus" for creating chaos and undermining the party's chances of winning back the House in 2024.
The Senate Democrats are also facing challenges from within their own ranks, as well as from external factors. The death of Sen. Dianne Feinstein (D-Calif.), the indictment of Sen. Bob Menendez (D-N.J.) on corruption charges are also leaving things in turmoil.     
The Government has also been criticized for its weak governance and fiscal policymaking by various observers and rating agencies. Moody's warned that a government shutdown would be negative for the US debt rating, as it would highlight the political polarization and the inability to agree on a long-term budget plan. Freedom House downgraded the US score on political rights and civil liberties, citing the erosion of democratic institutions, the partisan pressure on the electoral process, the bias and dysfunction in the criminal justice system, and the growing disparities in wealth, economic opportunity, and political influence.
Keep in mind we are still struggling just to make it back to 4,320 on the S&P 500 – we haven't even ATTEMPTED to bounce yet! Notice that steeply downsloping 50-HOUR moving average has been acting as resistance and hourly lines are not supposed to be strong resistance unless the uptrend is so weak it can be knocked back with a feather:  
Just look at all the big red volume spikes in the past two months compared to the much smaller (and less frequent) gray spikes that indicate buying. Money has been pouring out of the market and that weakens the base and it weakens support. There has been no evidence of a broad-market rally but we are certainly seeing a lot of evidence of a broad-market sell-off – and now we don't have the shutdown to blame.
We have a decent amount of data this week, starting with PMI, ISM and Construction Spending later this morning. Tomorrow is Motor Vehicle Sales and JOLTS, Wednesday we get PMI Composite, ISM Services and Factory Orders followed by Trade Data Thursday and Friday – the Big Kahuna – Non-Farm Payrolls and Consumer Credit.  Interestingly, there is no Fed speak scheduled (next meeting is Nov 1).  
Not much for earnings either – could be a dull week: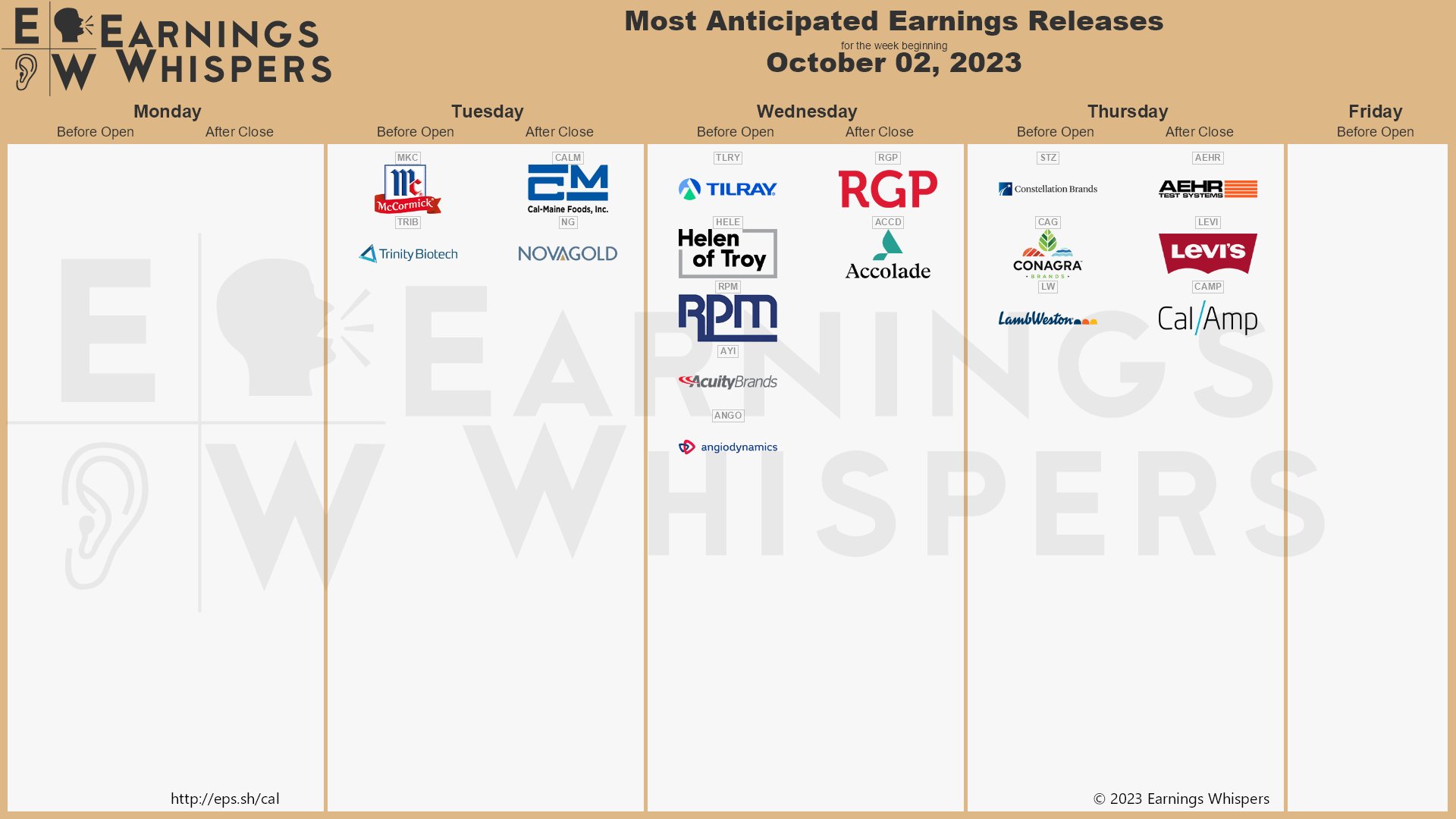 We're a little bit above last week's lows but, if they break – might be time to get more aggressive with our hedges.  Today and tomorrow are going to be critical.
Be careful out there!