"I was gambling in Havana, I took a little risk
Send lawyers, guns and money, dad, get me out of this
Send lawyers, guns, and money
The shit has hit the fan" – Warren Zevon 
Buffett is sitting on $157.2Bn! 
The entire cast of "The Golden Bachelor" has offered to marry him – including Gerry! Berkshire's Operating Earnings were indeed golden, skyrocketing to $10.76Bn, up a staggering 40.6% from last year's figure. 
But let's not get carried away with the glitter just yet. While the cash pile might be reaching for the sky, losses (unrealized) on Berkshire's equity investments hit $24.1Bn – mostly due to Apple's (AAPL) 12.8% drop from $195 to $170 on October 31st – bad timing for giving a report! As we teach our Members, it's not a loss yet, if you have no intention of selling them…
Buffett also takes our lessons on hedging to heart as he made $1.3Bn on bonds, which is up 75% from Q2. The company owned $126.4Bn worth of short-term Treasury bills yielding at least 5% at the end of the third quarter, compared to about $93 billion at the end of last year – taking full advantage of the rising rates.  
Buffett has turned notably cautious on his buybacks and only repurchasing $1.1Bn (1.5%) in shares. That's a step down from the rate of buyback s we've seen in previous quarters, despite Berkshire stock dipping as low at $330 at the end of October – lower than the average of Q2, when Buffett bought back $1.4Bn.
I wouldn't read too much into it but keep in mind that $350/share is $775Bn in market cap and Berkshire is only going to net about $19Bn in 2024 so that's 40x forward earnings – no wonder Buffett doesn't want his own stock! 
We will hear from PLENTY of other companies this week – here's a few of the biggies we'll be paying attention to but if Warren Buffett thinks his own stock is overpriced and would rather buy $36Bn worth of bonds – why would we be buying these other S&P 500 companies at 30-40 times earnings???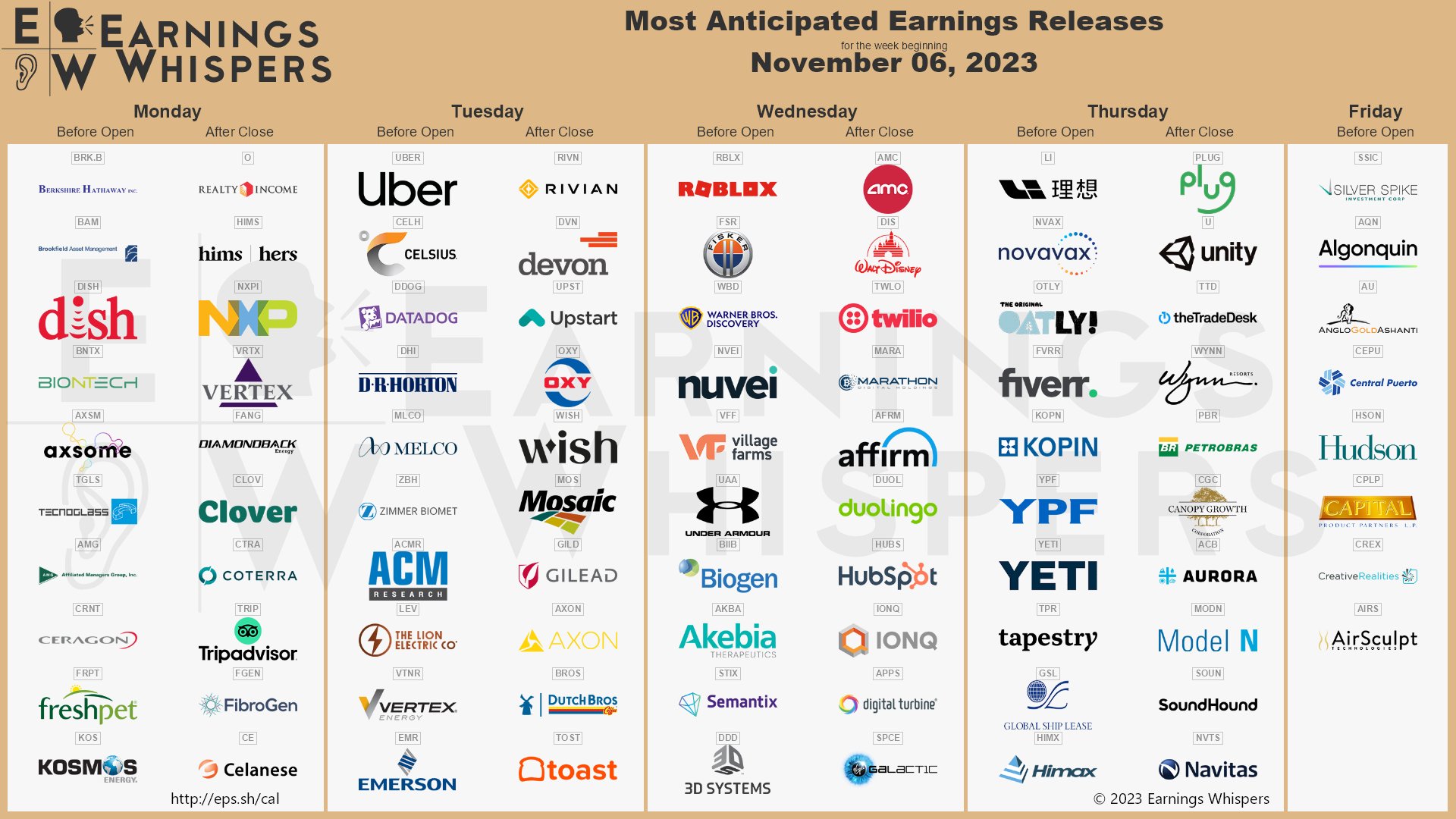 There's hardly any data but there's plenty of Fed speak this week with Schmid (Hawk), Williams (mid Hawk), Logan (Hawk), Williams (mid Hawk), Bostic (Dove), Barkin (mid Hawk), O'Neill (Dove) , Logan (Hawk) and Bostic (Dove) speaking around Consumer Credit, a couple of Bond auctions and Consumer Sentiment so cheer up, Consumers – the Fed is counting on you!  
Notice how they stuff two doves ahead of the 30-Year Bond Auctions to keep the rates down?