Author Archive for ilene
by ilene - January 14th, 2019 2:25 pm
How Viktor Orban degraded Hungary's weak democracy

Courtesy of John Shattuck, Tufts University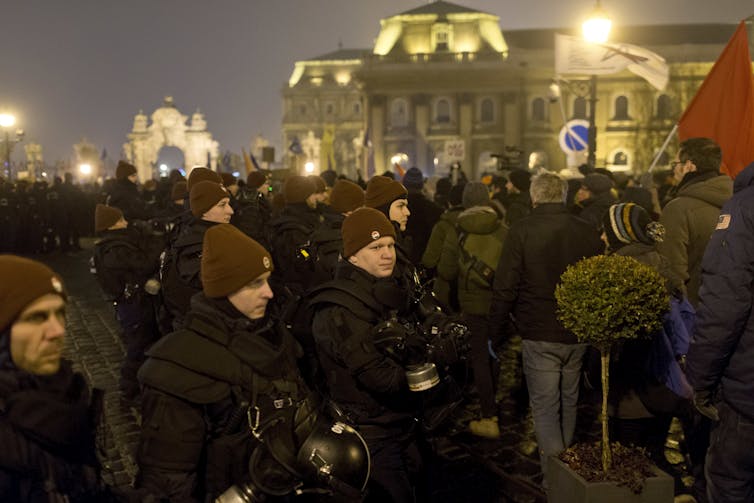 Protesters walk past riot police officers during an anti-government march in central Budapest, Hungary, Dec. 21, 2018. AP/Marko Drobnjakovic
The roots of democracy in Hungary are shallow.
That's been especially clear in the last nine years, as Prime Minister Viktor Orban has created a repressive and increasingly authoritarian state, operating under a pretense of democracy.
In recent weeks the political situation has become volatile. By early 2019 the Hungarian government was the target of a series of major demonstrations in Budapest and other Hungarian cities.
A flash point was a new labor law allowing employers to compel overtime to make up for the country's labor shortage. The shortage was caused by the emigration of nearly a million young and skilled workers during the Orban years and the regime's extreme anti-immigrant stance.
It's not clear whether the protests are a passing phenomenon or a surge of new interest in democracy.
Conditions ripe for nationalism

Hungarians have a history of authoritarian domination, often by outsiders – Mongols, Ottomans, Russians, Hapsburgs, Fascists and, after World War II, communist rule under the Soviets.
Having lived recently in Hungary for seven years, I witnessed how the psychological legacy of externally imposed rule has hobbled the growth of civic participation, a precondition for democracy. In Budapest, the common spaces of apartment buildings are often run down, and volunteering for an international civic organization is frowned upon.
After the fall of the Berlin Wall in 1989 and the end of Soviet domination, Hungarians went through two decades of democratic development, including a parliamentary system, a free media, an independent judiciary and growing civic participation.
But the global financial crisis of 2008 hit Hungary harder than other countries in the region, driving the economy down and unemployment up. It left many people feeling no better off than they had been during communism. Nationalism grew in the Hungarian countryside, where xenophobia thrived.
These were the preconditions for Viktor Orban's sustained attack on Hungary's weak democracy after coming to power in 2010.
…

by ilene - January 14th, 2019 4:41 am
The quiet threat inside 'internet of things' devices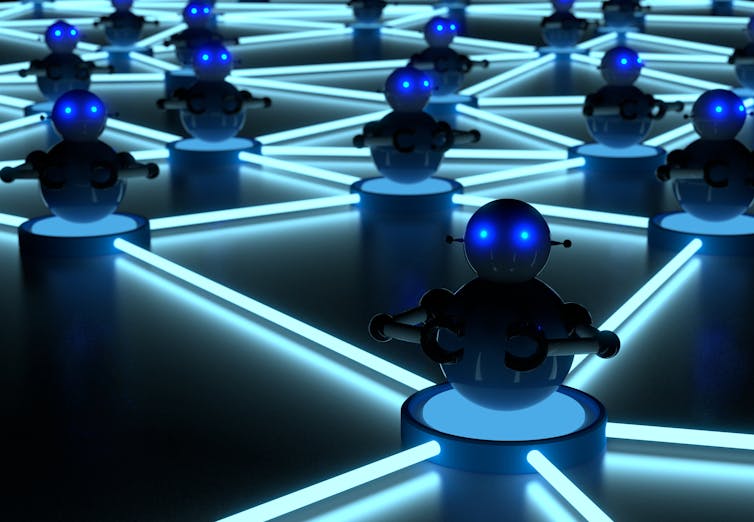 Courtesy of Charles T. Harry, University of Maryland
As Americans increasingly buy and install smart devices in their homes, all those cheap interconnected devices create new security problems for individuals and society as a whole. The problem is compounded by businesses radically expanding the number of sensors and remote monitors it uses to manage overhead lights in corporate offices and detailed manufacturing processes in factories. Governments, too, are getting into the act – cities, especially, want to use new technologies to improve energy efficiency, reduce traffic congestion and improve water quality.
The number of these "internet of things" devices is climbing into the tens of billions. They're creating an interconnected world with the potential to make people's lives more enjoyable, productive, secure and efficient. But those very same devices, many of which have no real security protections, are also becoming part of what are called "botnets," vast networks of tiny computers vulnerable to hijacking by hackers.
Botnets have caused problems on the internet, from sending vast amounts of spam mail to disrupting websites around the world. While traditionally most botnets are comprised of laptop and desktop computers, the growth of unsecured devices such as industrial sensors, webcams, televisions and other smart home devices is leading to a growing disruptive capability.
Tiny computers everywhere

The "internet of things" includes countless types of devices – webcams, pressure sensors, thermometers, microphones, speakers, stuffed animals and many more – made by a vast array of companies. Many of these manufacturers are small and unknown, and don't have popular brands or public reputations to protect. Their goals are to produce lots of devices to sell as cheaply as possible. Customers' cybersecurity isn't a real concern for them.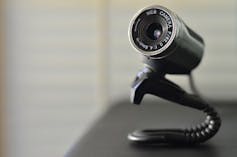 These devices' variety means they're useful for lots of things, but also means they have a…

by ilene - January 11th, 2019 3:34 pm
Federal workers begin to feel pain of shutdown as 800,000 lose their paychecks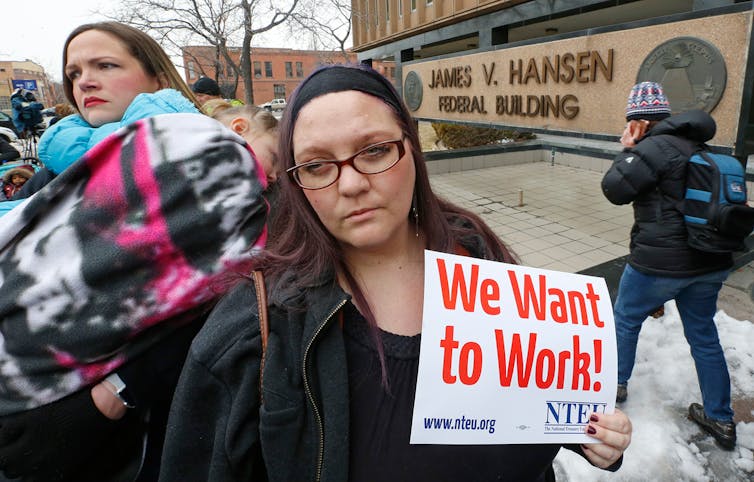 Courtesy of Jay L. Zagorsky, Boston University
President Donald Trump wants US$5.7 billion to fund a border wall to keep out undocumented immigrants and "criminals." Democrats in Congress say the wall is a waste of money that wouldn't solve any of America's actual immigration programs.
Caught between the two sides are about 800,000 federal workers whose agencies are affected by the partial government shutdown. And although it started about three weeks ago, Jan. 11 marks a significant milestone: It's the first time affected workers won't get their paychecks.
As a researcher who studies people's wealth, I understand that while the loss of a single paycheck may not seem like much, for many American families it can be devastating financially.
The federal workforce

Overall, the federal government directly employs over 2 million people.
Most of them work for departments such as Defense, Education and Labor that remain open because Congress passed spending bills fully funding what they do. About a quarter of the federal government – including the Departments of Homeland Security, Justice and Agriculture – has no new funding, leaving 800,000 workers in the lurch.
About 380,000 have been furloughed without pay, while 420,000 are deemed essential and have to report for work. However, these essential workers are not being paid either.
And on Jan. 11, they'll feel the impact of that lost pay.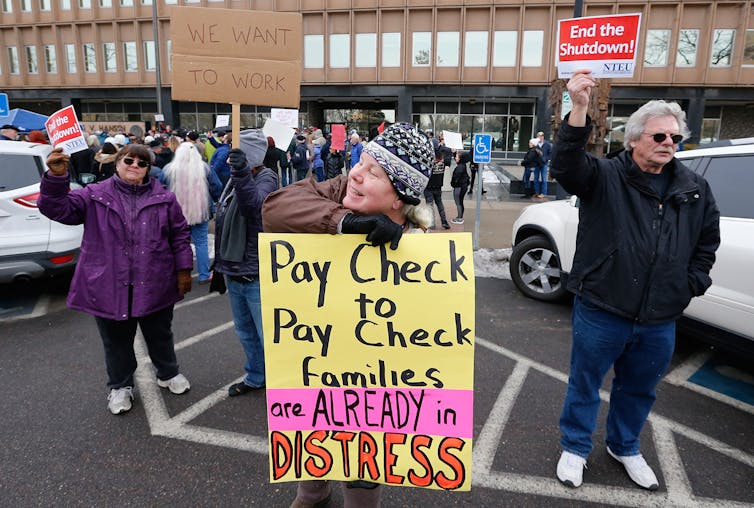 Hand to mouth

So what's the big deal if these workers don't get a single paycheck?
The problem is many Americans both in and out of government live paycheck to paycheck. Estimates range anywhere from one-third to more than three-quarters make ends meet every two weeks.
No matter which figure is right, it means that many American families cannot financially survive…

by ilene - January 11th, 2019 3:27 pm
Science gets shut down right along with the federal government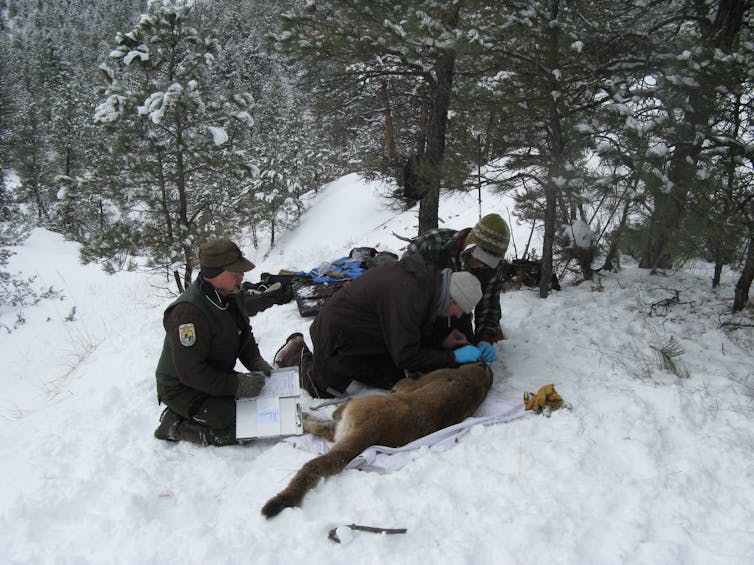 Courtesy of Angela K. Wilson, Michigan State University
When the U.S. government shuts down, much of the science that it supports is not spared. And there is no magic light switch that can be flipped to reverse the impact.
For instance, large-scale instruments like NASA's Stratoscopheric Observatory for Infrared Astronomy – the "flying telescope" – have to stop operations. Eventually bringing such instrumentation back up to speed requires over a week. If the shutdown lingers, contingency funds provided to maintain large-scale instruments supported by agencies including NASA, the National Oceanic and Atmospheric Administration and the National Science Foundation will run out and operations will cease, adding to the list of closed facilities.
When I headed NSF's Division of Chemistry from March 2016 to July 2018, I experienced firsthand two shutdowns like the one the country is weathering now. The 1,800 NSF staff would be sent home, without access to email and without even the option to work voluntarily, until eventually an end to the shutdown was negotiated. As we were unsure how long the shutdowns would run, a lot of time was spent developing contingency plans – and coordinating with many hundreds of researchers about them. Concerns about what will happen to researchers' day-to-day projects are compounded by apprehension about interruptions to long-term funding.
Due to the federal government shutdown, this account will not be active until further notice. More information at https://t.co/p0J6Azz2FZ.

— US Fish and Wildlife (@USFWS) December 26, 2018
What's not happening?

Many federal agencies perform science. The Centers for Disease Control and Prevention and the National Institutes of Health are less affected by the shutdown this time since they already have their budgets for fiscal year 2019. But agencies including the Fish and Wildlife Service, the National Parks Service, the U.S. Geological Survey, the Environmental Protection Agency, the National Institute of Standards and Technology…

by ilene - January 11th, 2019 2:43 pm
Almost every brand of tuna on supermarket shelves shows why modern slavery laws are needed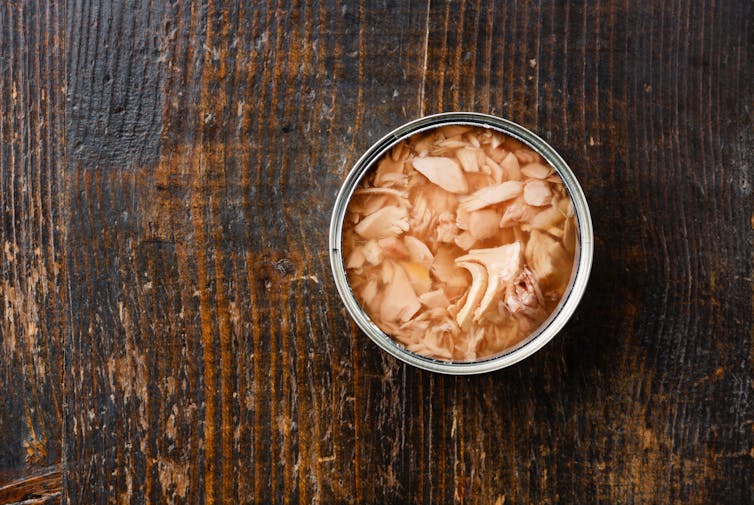 Courtesy of Kate Nicholl, University of Melbourne; Miriam Wilhelm, University of Groningen, and Vikram Bhakoo, University of Melbourne
What is the chance the last tin of tuna you ate was made using slave labour? If it came from Thailand, the odds may be a lot higher than you imagine.
We have tracked the journey of tuna from the seas around Thailand to Australian supermarket shelves. This included interviewing more than 50 people, including people entrapped into forced labour. In doing so, we have been able to assess whether brands can say their supply chains are slave-free.
We believe just one brand of tinned tuna can confidently claim slavery is not involved in its supply.
Though we cannot name that brand, due to ethical guidelines to ensure our research remains independent of commercial considerations, our results further validate the need for the new Modern Slavery Act, passed by the Australian parliament late last year, to drive companies to address the problem of slavery in international supply chains.
Exploiting migrant workers

Thailand is the world's top exporter of tuna, and one of the biggest exporters of all fish. Its marine fishing industry is particularly prone to modern slavery due to its size, lack of regulation, extent of illegal operations, and exploitation of migrant workers.
There are more than 50,000 fishing vessels and about 500,000 workers in the industry. Investigations by groups including Greenpeace and the International Labour Organisation suggest the majority of those working on boats meet the definition of modern slavery – any situation where a person is forced to work under threat; is owned or controlled by their employer; dehumanised or treated as a commodity; and is not free to leave.
Any person tricked or trafficked to work in locations far from home who then has their freedom of movement denied either physically or financially is a modern slave.
Statistics collected by Thailand Department of Fisheries on…

by ilene - January 11th, 2019 10:43 am
The politics of fear: How fear goes tribal, allowing us to be manipulated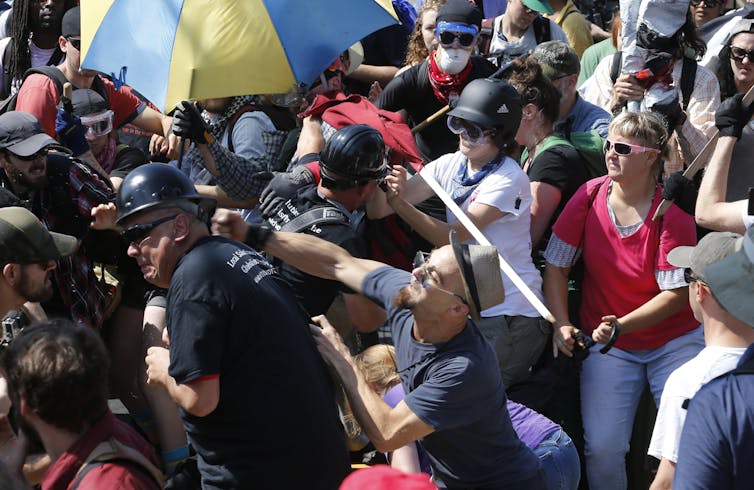 Courtesy of Arash Javanbakht, Wayne State University
Fear is arguably as old as life. It is deeply ingrained in the living organisms that have survived extinction through billions of years of evolution. Its roots are deep in our core psychological and biological being, and it is one of our most intimate feelings. Danger and war are as old as human history, and so are politics and religion.
Demagogues have always used fear for intimidation of the subordinates or enemies, and shepherding the tribe by the leaders. Fear is a very strong tool that can blur humans' logic and change their behavior.
I am a psychiatrist and neuroscientist specializing in fear and trauma, and I have some evidence-based thoughts on how fear is abused in politics.
We learn fear from tribe mates

Like other animals, we humans can learn fear from experience, such as being attacked by a predator. We also learn from observation, such as witnessing a predator attacking another human. And, we learn by instructions, such as being told there is a predator nearby.
Learning from our conspecifics – members of the same species – is an evolutionary advantage that has prevented us from repeating dangerous experiences of other humans. We have a tendency to trust our tribe mates and authorities, especially when it comes to danger. It is adaptive: Parents and wise old men told us not to eat a special plant, or not to go to an area in the woods, or we would be hurt. By trusting them, we would not die like a great-grandfather who died eating that plant. This way we accumulated knowledge.
Tribalism has been an inherent part of the human history. There has always been competition between groups of humans in different ways and with different faces, from brutal wartime nationalism to a strong loyalty to a football team. Evidence from cultural neuroscience shows that our brains even respond differently at an unconscious level simply to…

by ilene - January 11th, 2019 10:36 am
How a government shutdown affects the economy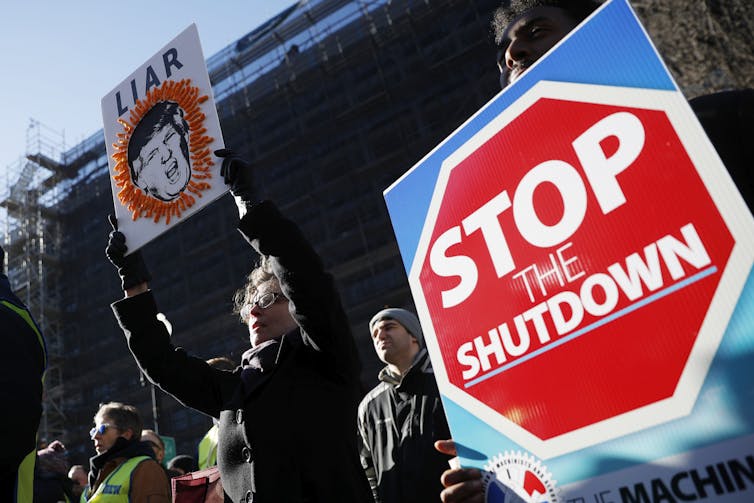 Courtesy of Scott R. Baker, Northwestern University
Parts of the federal government have been closed since midnight on Dec. 22, making it the second-longest shutdown on record. It's also the third since President Donald Trump took office.
The immediate and most visible impact of a shutdown is in the government's day-to-day operations. Many national museums and parks are closed, immigration hearings are being postponed and the Food and Drug Administration isn't doing routine inspections of domestic food-processing facilities, to name a few examples. Of the 800,000 federal employees affected by the shutdown, 420,000 are working without pay while the rest have been furloughed.
But beyond the individual workers and families affected, could a short or lengthy shutdown affect the broader U.S. economy as well?
Constantine Yannelis, a business professor at New York University, and I examined data from the 2013 government shutdown to better understand its impact.
An economic speed bump

While a shutdown affects the economy in a number of ways – from delaying business permits and visas to reducing service hours at innumerable agencies – a primary channel through which a shutdown affects the economy is through withheld or foregone pay from federal employees who don't receive their paychecks.
Since consumer spending makes up about 70 percent of economic activity in the United States, withholding pay from even some government workers could introduce a significant economic speed bump in the short run.
And that's exactly what we saw in 2013.
Similar to the situation today, a partisan standoff in Congress led to a partial shutdown of the government that lasted a little over two weeks beginning on Oct. 1 of that year.
Well over a million federal employees were affected and didn't receive a paycheck during the shutdown. Some were furloughed – sent home and told not to do anything related to their job. Those deemed "essential" or "exempted" – such as security personnel screening passengers at airports or border patrol…

by ilene - January 11th, 2019 3:00 am
Courtesy of Michael Batnick
Today's Animal Spirits is presented by YCharts.
On today's Animal Spirits we discuss:
The gap is closing between active and index
Can unemployment signal a recession
Some more unemployment numbers
J.P. Morgan's Guide to the Markets
Alphabeticity Bias
Do women hedge fund managers outperform?
High earners living paycheck to paycheck
Listen here:
Recommendations
The Wealthy Barber
The Coddling of the American Mind
Impossible to Ignore
Charts mentioned
Tweets mentioned
Multi-factor ETFs… 2 beat $SPY in 2018 $OMFL $GSLC… together these ETFs took in $2.6 billion pic.twitter.com/q5Ig9PT2DF

— Tom Psarofagis (@tpsarofagis) January 7, 2019
U.S. employers added 312k jobs in December, and the unemployment rate rose to 3.9%. If the economy is slowing, it's not yet affecting the (headline) jobs data.https://t.co/zcbAYojhdP

— Ben Casselman (@bencasselman) January 4, 2019
The awesome @mdc wrote this article based on my paper — thanks Mary! I thought I'd add a few more details about our findings. 1) A TINY 4.6% of funds in our sample have a female manager (439 of 9520 funds) 2) Of these, 244 are female only, 195 have at least 1 female manager. 1/x https://t.co/iVYei0tNwo

— Nicole Boyson (@nikir1) January 2, 2019
Mention Animal Spirits to receive 20% off (*New YCharts users only).
by ilene - January 11th, 2019 1:36 am
Courtesy of Joshua M Brown
What does it mean when the stock market makes a low and then stages a large bounce in a short period of time? Is that sort of price action meaningful? How should traders think about? How should long-term investors think about it? What are the signs that a big bounce will lead to a new high instead of a new low later on?
Michael Batnick and Downtown Josh Brown attempt to answer these questions the best way they know how – with context, data, historical information and common sense.
Leave us a comment below, and make sure to subscribe to The Compound if you haven't already! We love your feedback and we love our subscribers.
by ilene - January 10th, 2019 8:51 pm
For LIVE access on Wednesday afternoons, join us at Phil's Stock World – click here.
Major Topics:
00:01:38 – Checking on the Markets
00:05:46 – Portfolio Adjustments and Recap
00:10:25 – IBM
00:10:37 – TZA
00:10:40 – More Adjustments on Portfolios
00:30:20 – SCO
00:35:51 – JO
00:37:30 – ALK
00:42:00 – BHC
00:44:20 – CDE
00:44:41 – FTR
01:00:33 – OIH
01:01:38 – SPWR
01:07:57 – S&P 500
01:22:19 – California Governor Newsom
01:28:37 – GS | JPM
01:35:52 – Trade Techniques
Phil's Weekly Trading Webinars provide a great opportunity to learn what we do at PSW. Subscribe to our YouTube channel and view past webinars here. For LIVE access to PSW's Weekly Webinars – demonstrating trading strategies in real time – click here to join us at PSW!