Author Archive for Zero Hedge
by Zero Hedge - January 16th, 2019 10:37 am
Courtesy of ZeroHedge. View original post here.
WTI has dropped, popped, dumped, and jumped since last night's surprisingly small crude draw and major product builds from API, but remains around the $52 level ahead of DOE data this morning.
"The Chinese are throwing everything they can" at their economy, said John Kilduff, founding partner at hedge fund Again Capital LLC.

"That's the big key to oil markets, especially when you have OPEC and Russia starting to rein in production."
Saudi Arabia's energy minister said he was sure inventories will start to "return to normal averages and this will increase confidence" in the market.
API
Crude -560k (-2.5mm exp)

Cushing -796k – biggest draw since Sept 2018

Gasoline +5.99mm

Distillates +3.214mm
DOE
Crude -2.683mm (-2.5mm exp)

Cushing -743k – biggest draw since Sept 2018

Gasoline +7.503mm

Distillates +2.967mm
For the 3rd week in a row, gasoline (and distillates) inventories soared. However, crude stockpiles slipped slightly more than expected and Cushing inventories dipped most since Sept 2018.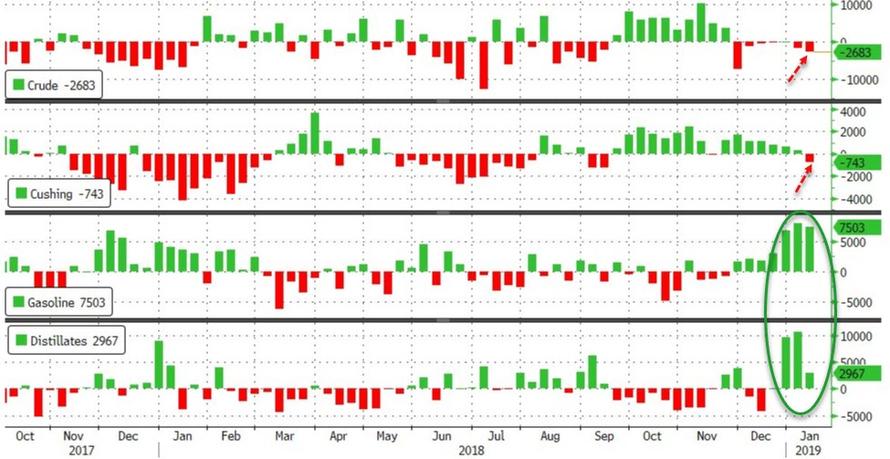 Gasoline stockpiles started the year at a record seasonal high.
Aggregate inventories have been sliding for six weeks to its lowest since November but Cushing stockpiles have been rising…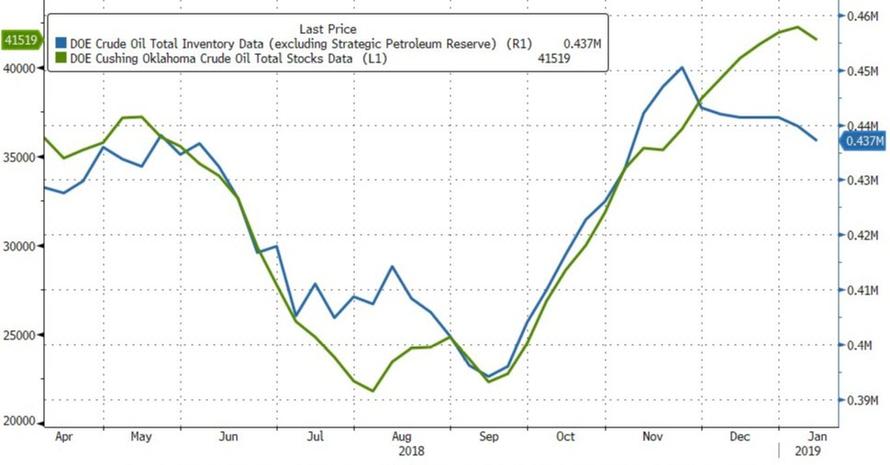 "Production cuts by OPEC+ together with lower prices will, in our view, be enough to balance the market, thus avoiding a strong rise in inventories," said Bjarne Schieldrop, Oslo-based chief commodities analyst at SEB AB.
However, US Production soared 200k to a new record high in the last week…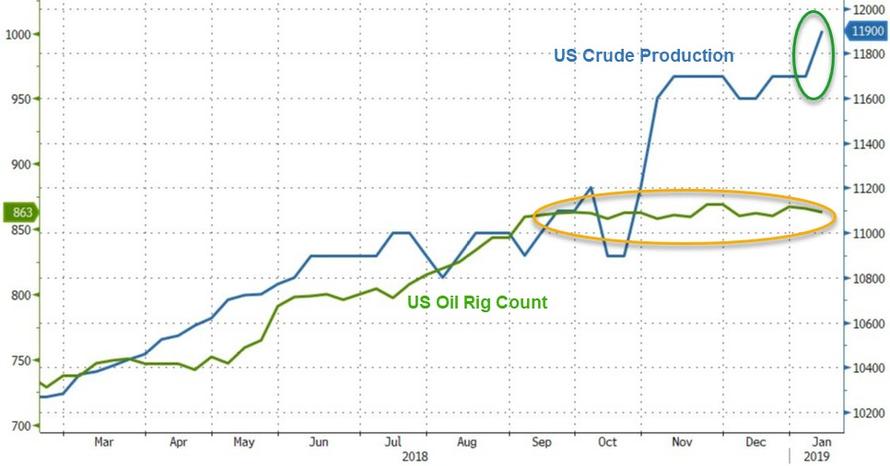 Shrugging off the Crude draw, WTI dipped after the huge product builds and production surge…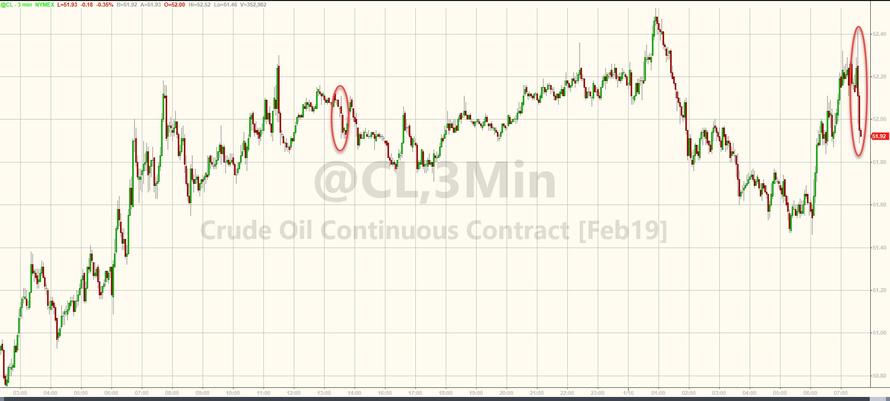 by Zero Hedge - January 16th, 2019 9:26 am
Courtesy of ZeroHedge. View original post here.
US equity futures are set to continue the post-Christmas rally, boosted by both a record liquidity injection in China overnight…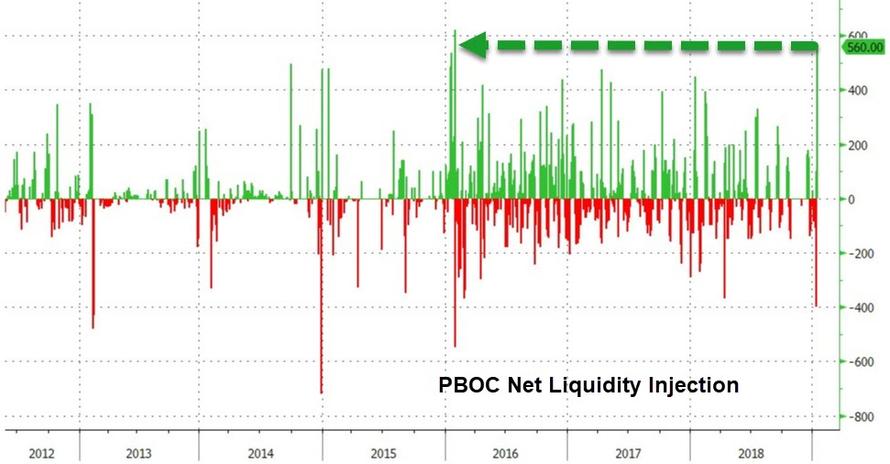 … and a pair of earnings from Bank of America and Goldman which were "not as bad" as some had expected, but the key catalyst for the continued upside now that the S&P has risen above the key resistance level of 2,600 may be the equity "force-in" which as we discussed previously commenced yesterday, as systematic trend funds reduced their prior "Max Short" positions in SPX, NDX and SX5E through meaningful notional buying (and following the prior day's covering in "Max Shorts" in Russell 2k, DAX, FTSE, Hang Seng, ASX and KOSPI as well), with CTA Equities trades now sized-down to a smaller "-82% Short" position according to Nomura's Charlie McElligott.
As the Nomura strategist continues, with some systematic investors still on the fence about joining in the rally as we pointed out on Tuesday, the performance of equities continues to dictate the overall cross-asset sentiment, with the sliding VIX and "macro calm" provided by EPS season critical in maintaining this rally and further perpetuating this scramble back into adding exposure (gradually increasing net- and gross- hedge fund exposure) from the fundamental/discretionary side of the universe — and as McElligott observes, so far investors are increasingly comfortable "buying the lowered bar" following the powerful negative earnings revision impulse, although macro traders and risk parities continue voicing a desire to "short the rally," currently identifying the 2630-35 area (50% retrace of SPX 1Y move and 50DMA) as the next key resistance zone.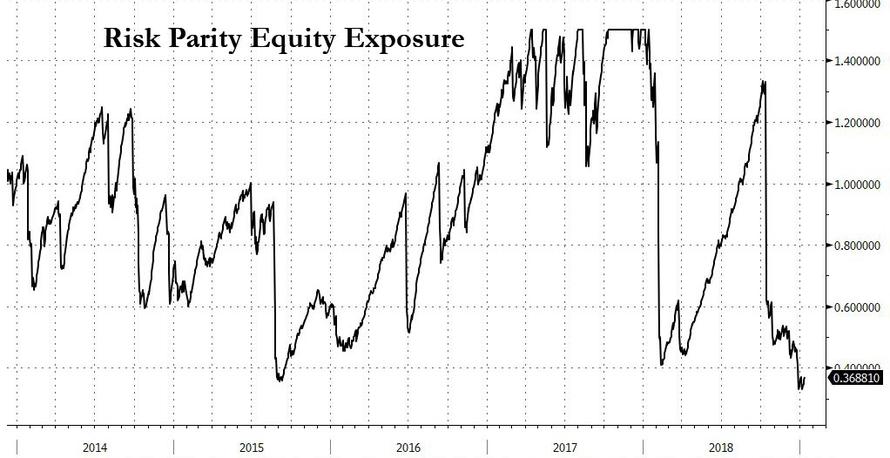 So while the technicals (as one unexpected Trump tweet could bring chaos back in a hurry) suggest there appears to be nothing but smooth sailing ahead for the next 20 or so point in the S&P, storm clouds may be gathering, and as Nomura once again cautions, it is worth noting from a "tactical sequencing" perspective the bank's Sep 2018-Jan 19 S&P "comp" to the Oct 2007-Oct 08 analog (highest correlation btwn current environment and prior "trigger dates" of -17.5% SPX selloff in 67 days or less)…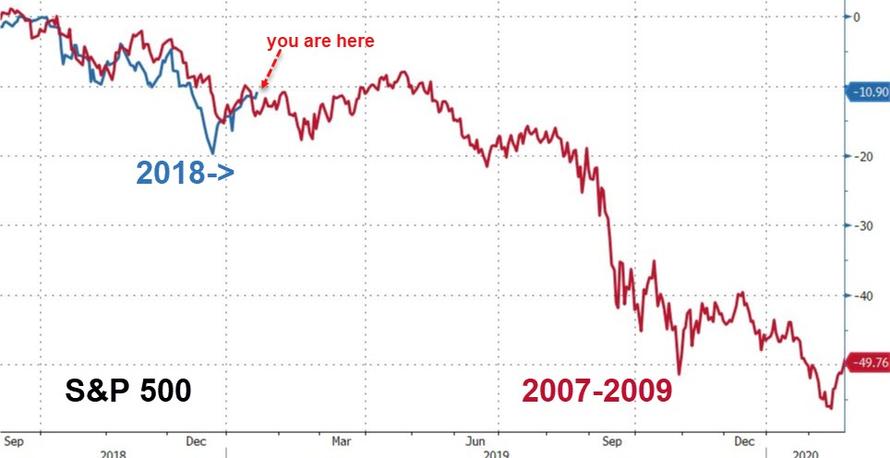 … would suggest that Friday could mark a "local high" in SPX before resumption of a -5% selloff over the 9 sessions thereafter… before then commencing another extended rally thereafter (see…

by Zero Hedge - January 16th, 2019 8:39 am
Courtesy of ZeroHedge. View original post here.
After a mixed picture from producer prices yesterday, import (and export) prices are expected to tumble MoM (as China's deflationary impulse ripples across the globe).
US import prices tumbled 0.6% YoY in December – the weakest since Sept 2016 - and export price growth slowed to its weakest since July 2017.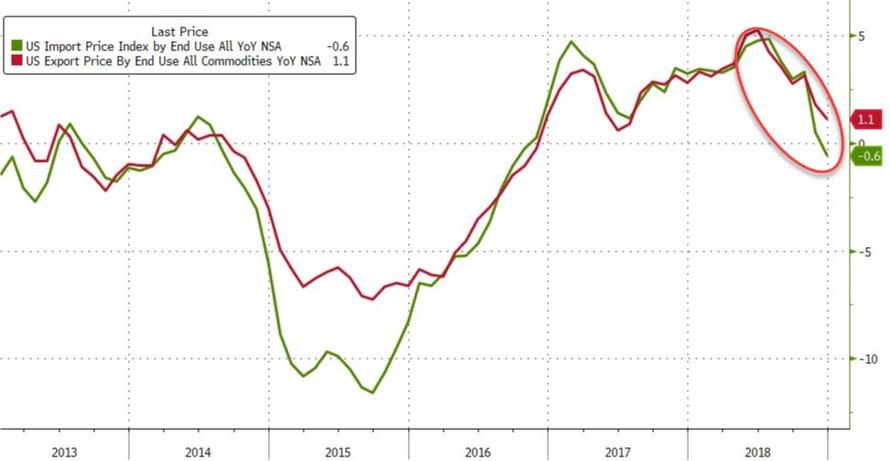 Although MoM shifts were modestly better than expected (Import -1.0% vs -1.3% exp, and Export -0.6% vs -0.7% exp), the slowdown from November (extending the slowing trend of the last six months) has accelerated.
The biggest downbeat factor is the 11.6% plunge in Petroleum import prices (following a 16% drop in November) and export prices of industrial supplies tumbled 3.2% in December (after dropping 2.8% in November).
Interestingly, despite the recent China data, import prices from China flatlined in December – admittedly hovering near their lowest since 2007.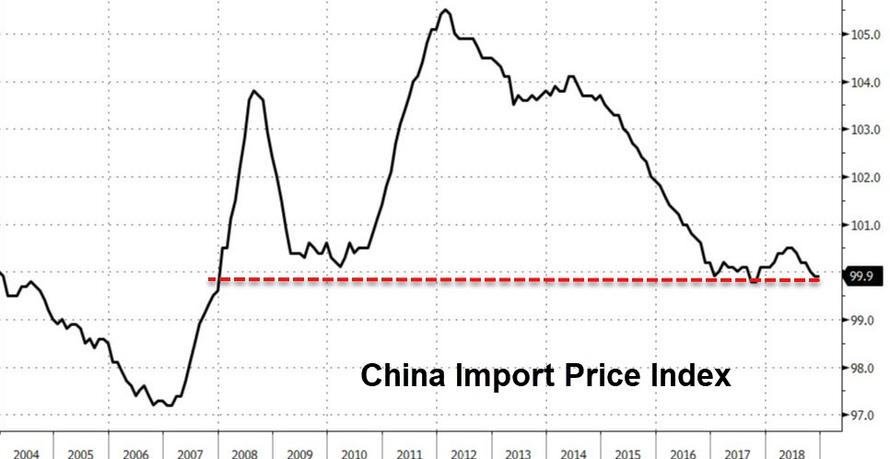 So, What Will Jay Powell Do?
by Zero Hedge - January 16th, 2019 8:21 am
Courtesy of ZeroHedge. View original post here.
With Goldman the latest big bank to miss expectations on the closely watched FICC revenue line, that makes it 4 out of 4 big banks that have failed to hit consensus expectations for this all important segment.
The good news, for Goldman and the first reporting quarter for its new CEO, is that all other segments performed well, and with Wall Street expecting Goldman to report $7.54BN in revenue, the world's biggest FDIC-backed hedge fund surprised to the upside, with Q4 net revenue of $8.08BN, a 3.1% increase compared to Q4 2017.
The bottom line also beat solidly, with Goldman reporting adjusted EPS of $4.83, above the $4.53 expected, with Bloomberg noting something remarkable: the firm got almost half a billion dollars in income tax tax benefits of $467 million from the Trump tax cut in the final quarter alone providing the bank with an "enormous boost." As a result, in 2018, Goldman paid an effective tax rate of 16.2%, although looking ahead Goldman expects a tax rate this year of about 22 or 23% .
Going back to the top line, first the good news: Investment Banking revenue of $2.04BN was better than the $1.93BN expected, as was Equity Sales and Trading, which came at $1.60BN, above the $1.57BN estimate. Prop trading (i.e. investing and lending) also reported a strong number, coming in at $1.9BN, well above the $1.66BN year ago.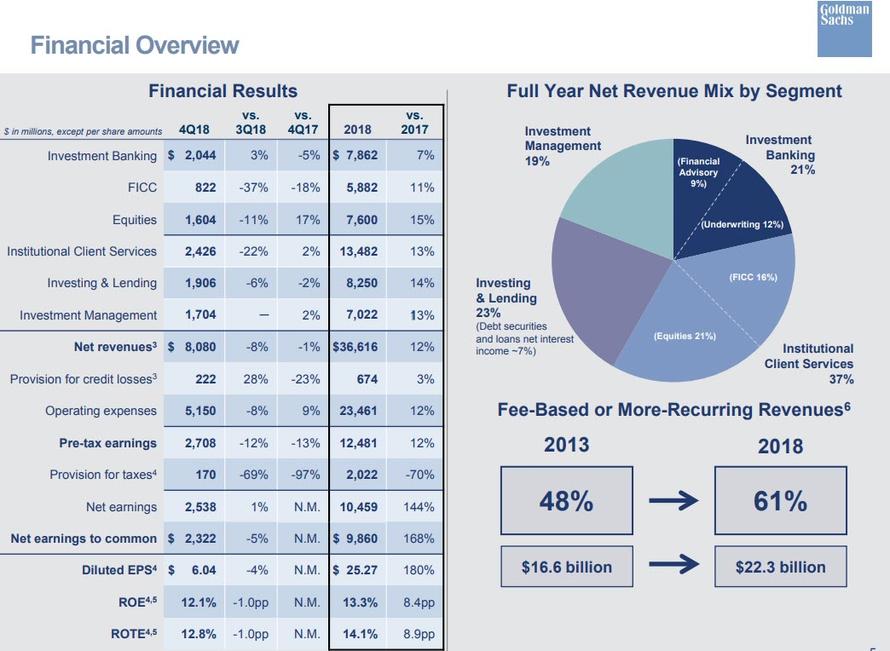 And now the bad news: Goldman's FICC revenue plunged 18% Y/Y, dropping to just $822MM – missing expectations of $976.3MM – and the lowest number for what is traditionally Goldman's most profitable segment since the financial crisis!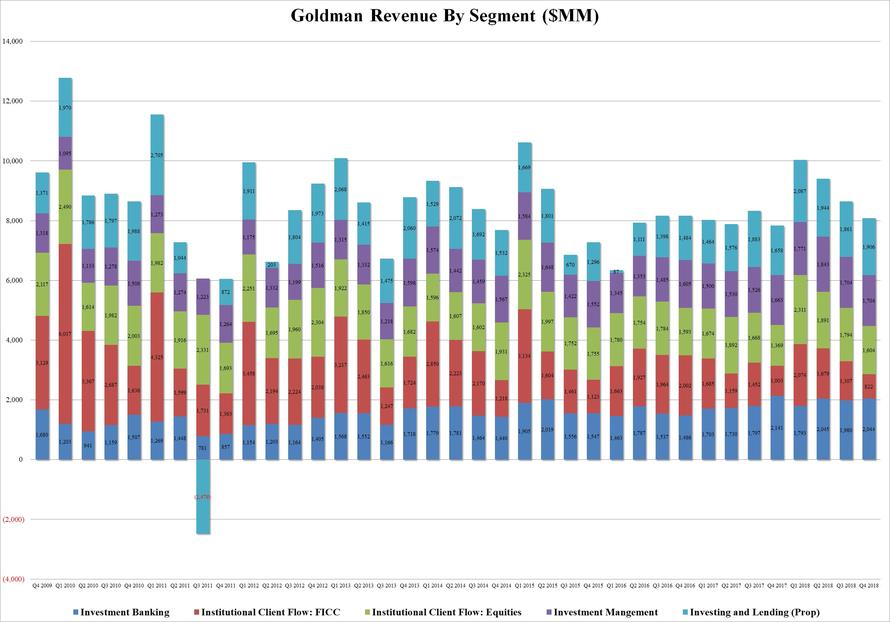 Commenting on the shockingly bad FICC number, Goldman said that 4Q18 net revenues decreased YoY "reflecting significantly lower net revenues in credit products, amid wider credit spreads and increased volatility, and lower net revenues in interest rate products."
And while the bank said the trouble in FICC came from significantly lower revenues in credit products and lower revenues in interest rate products, its commodities, currencies and mortgage trading revenues were essentially unchanged.
Additionally, in a new breakdown, GS noted that 10% of the FICC revenue mix…

by Zero Hedge - January 16th, 2019 7:40 am
Courtesy of ZeroHedge. View original post here.
Following disappointing earnings from Citi and JPMorgan, which yesterday reported the first EPS miss in 15 consecutive quarters, the market breathed a sigh of relief when Bank of America reported strong top and bottom-line results, with revenue rising 6% Y/Y to $22.7BN, beating consensus estimates of $23.35BN, and resulting in stronger than expected Net Income of $7.3BN and EPS of 70 cents, up 49% Y/Y, and well above the 63 cent forecast.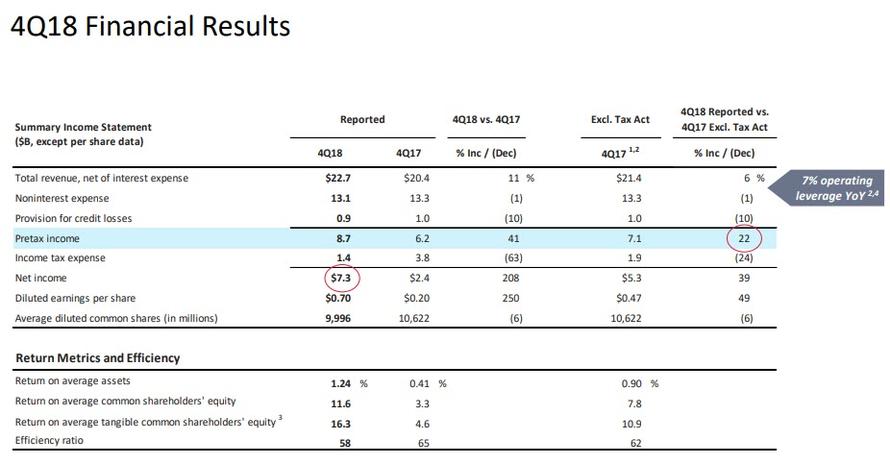 BofA performance, like Citi and JPM, has been a function of strong consumer banking income, which posted an impressive increase in 2018, even as Global Markets were generally flat for the full year…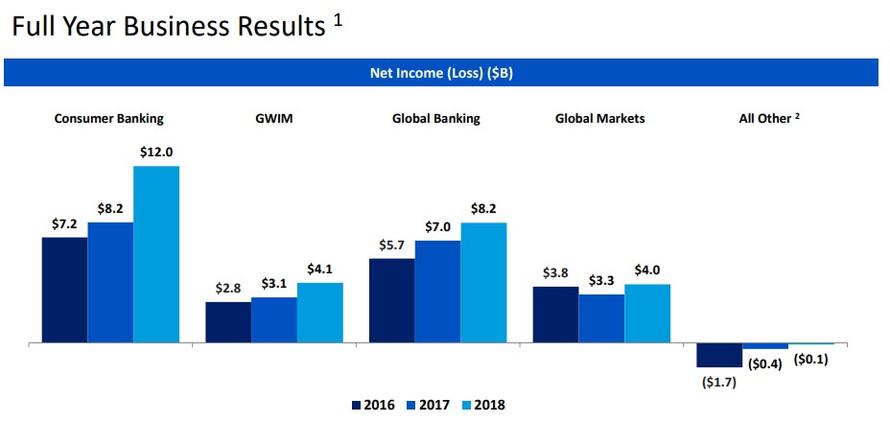 … largely the result of continued cost cuts across the business, which has seen its non-interest expense drop to the lowest this decade.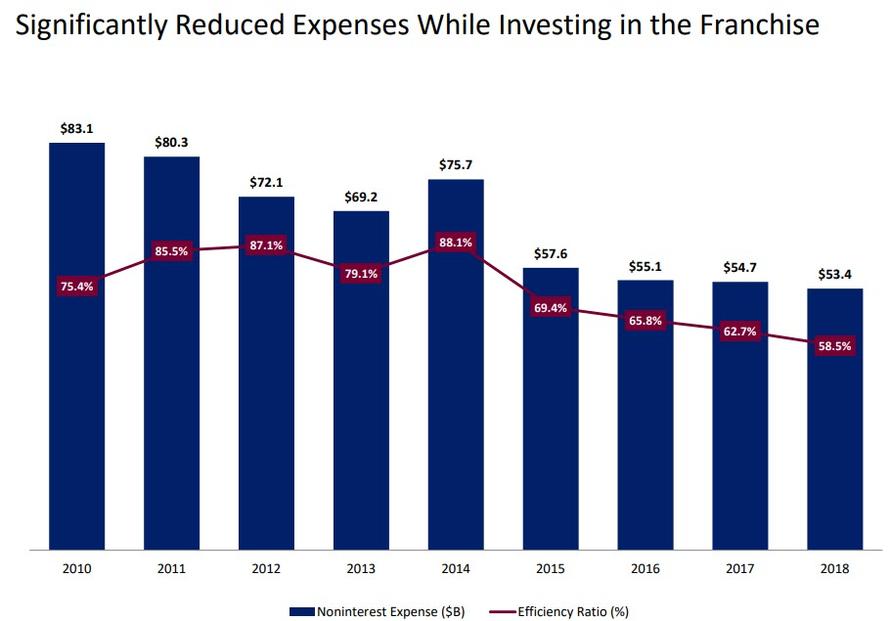 Meanwhile, even as Net Interest Income continued to grow…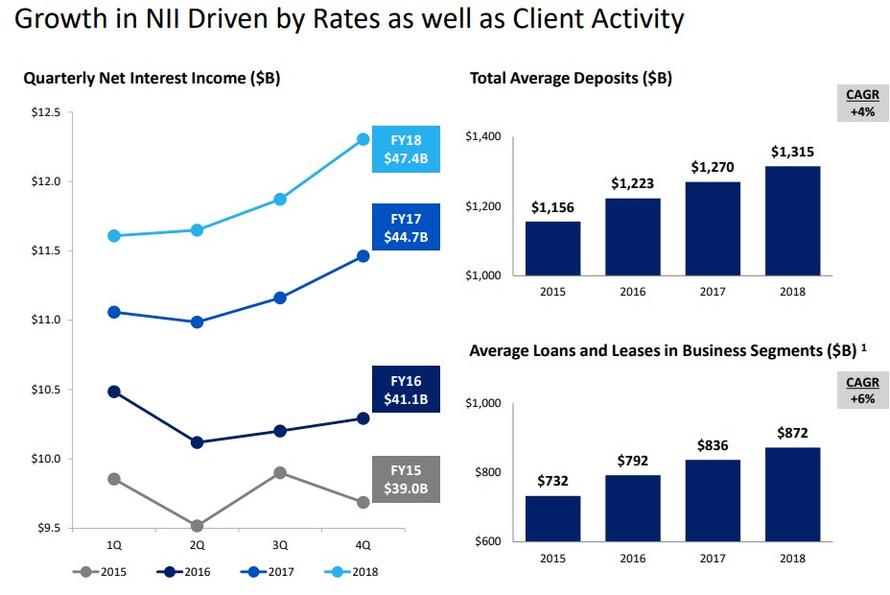 … one can argue that the bank's strong bottom line performance has been mostly a function of aggressive stock repurchases.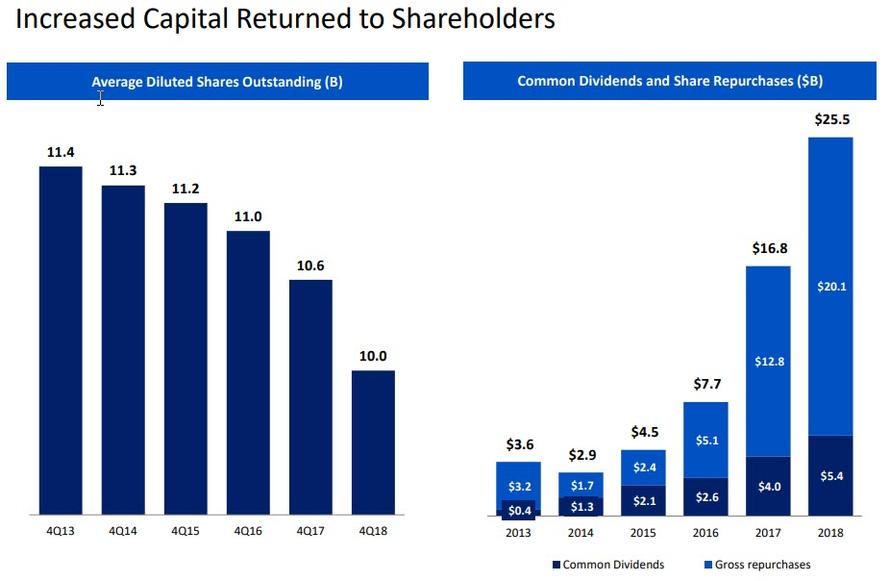 Going back to the 4th quarter, and looking at what did well, BofA is quick to note that it saw a 4% increase in total average deposits to a record high $1.345TN, driven by a 9% increase in Global Banking deposits.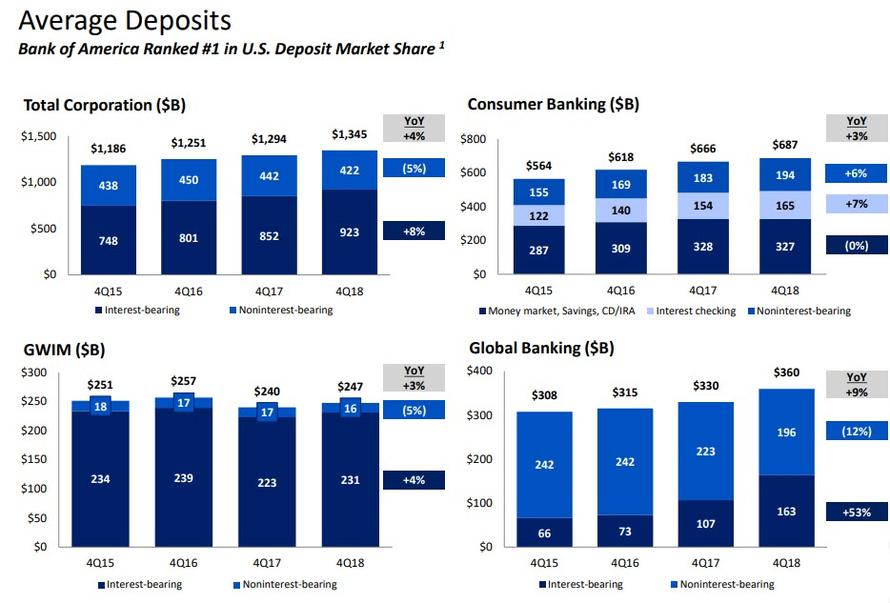 At the same time, and in keeping with the overall cost-cutting theme, total noninterest expense was flat in Q4 versus 3Q18, as the impact of :Shared Success" year-end bonus to associates as well as higher marketing spend offset lower FDIC expense. According to BofA, compared to 4Q18, 1Q19 expenses expected to include approximately $0.5B for seasonally elevated personnel costs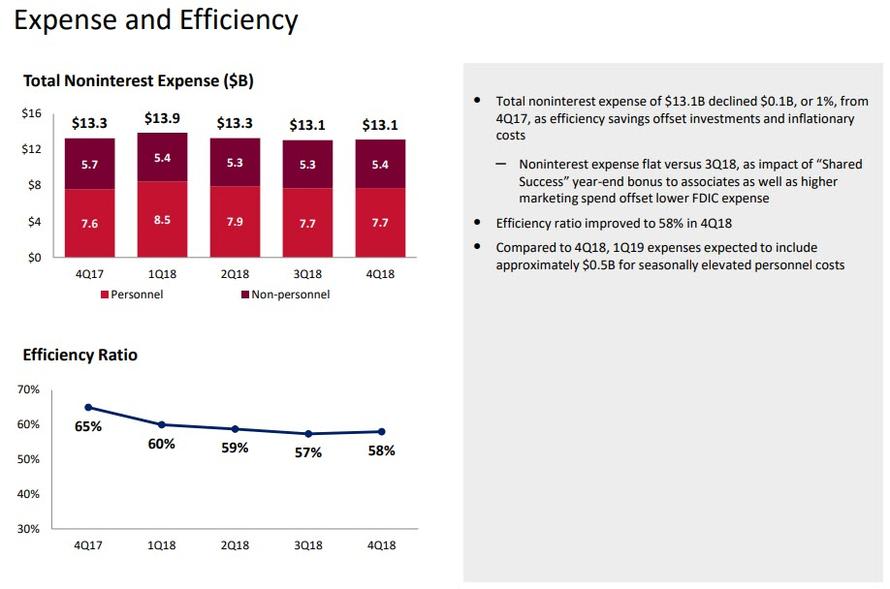 While not as impressive, average loans and leases also rose 1% Y/Y to $935BN, driven by a 5% increase in Consumer Banking loans despite a clearly slowdown in loan increases as shown below.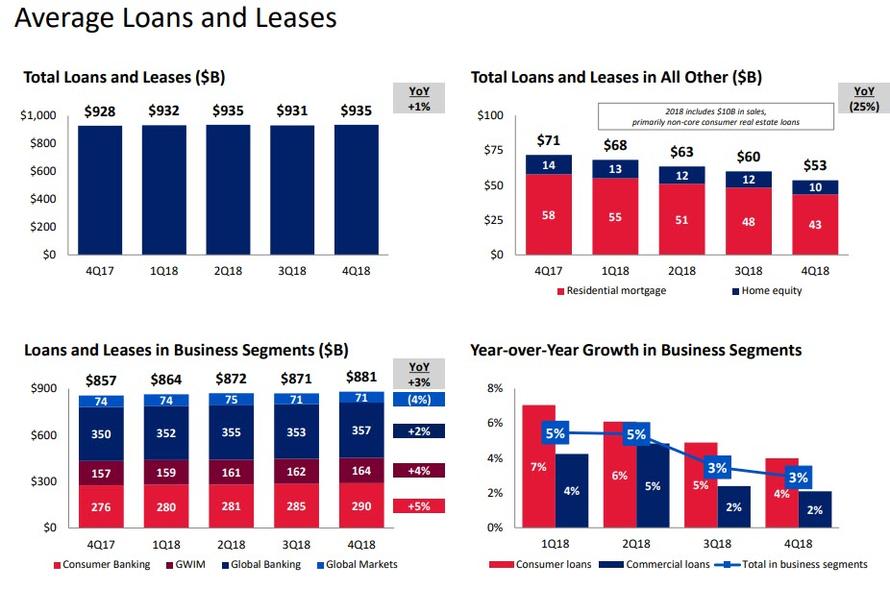 Confirming the strong performance of the consumer bank, Net Interest Income increased $0.8B from 4Q17 to $12.3BN, thanks to "benefits from higher interest rates as well as loan and deposit growth, modestly offset by loan spread compression and higher funding costs in Global Markets." Meanwhile, Net interest margin (or yield) of 2.48% increased an impressive 9 bps from 4Q17, while excluding Global Markets, the net interest yield was 3.03%, up 14 bps from 4Q17.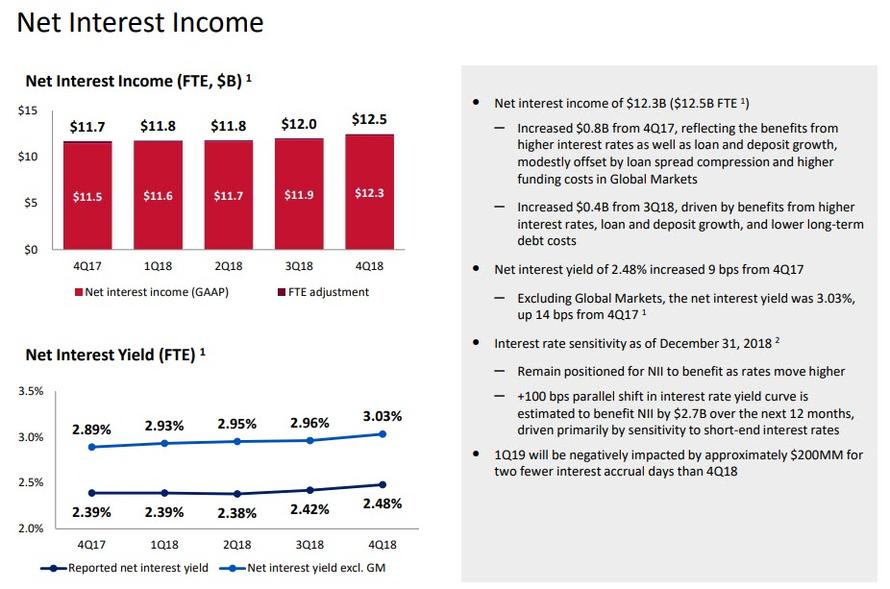 Now the not so good news: looking at the bank's asset quality, while total net…

by Zero Hedge - January 16th, 2019 6:55 am
Courtesy of ZeroHedge. View original post here.
Stocks in Europe gained along with U.S. futures while Asian stocks were muted as investors saw potential for legislative deadlock to force London to delay its departure from the EU following the heavy parliamentary defeat for British Prime Minister Theresa May's Brexit deal. The pound fluctuated and gilts fell before a no-confidence vote in Prime Minister Theresa May's government…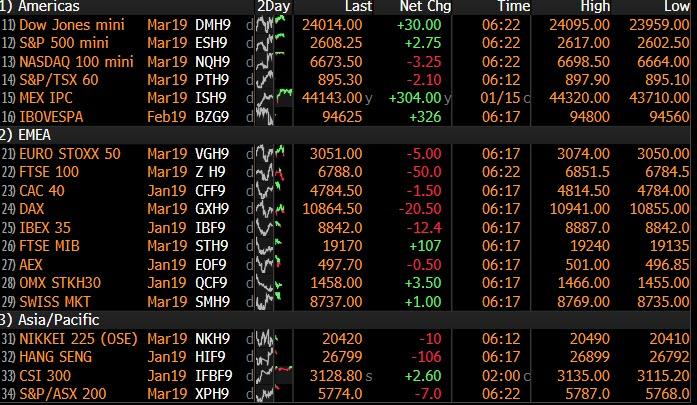 … while S&P futures rose initially then faded some of their gains.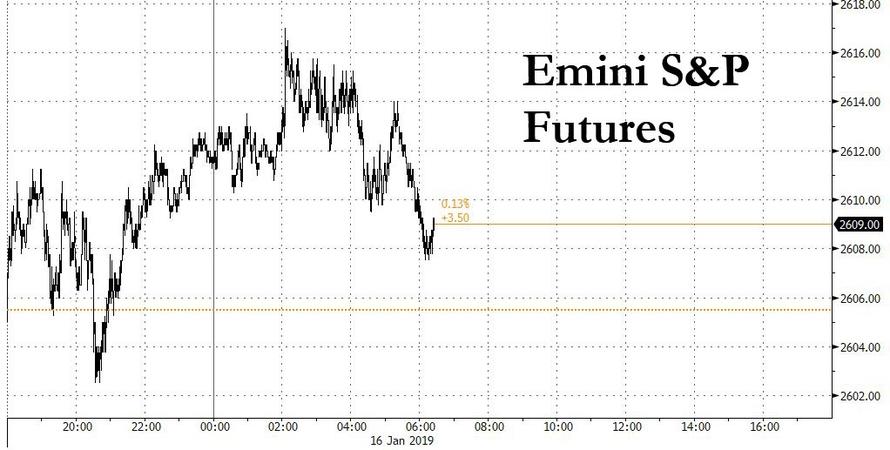 The MSCI world equity index, which tracks shares in 47 countries, was flat, while MSCI's main European Index gained 0.3 percent. Europe's Stoxx 600 Index was modestly in the green, led by banks and insurers following China's plans to boost fiscal stimulus, cut taxes and shore up growth and President Mario Draghi's comments that stimulus is still needed in the euro area. The U.K.'s FTSE 100 declined as investors contemplated May's Brexit defeat and the pound squeeze higher continued.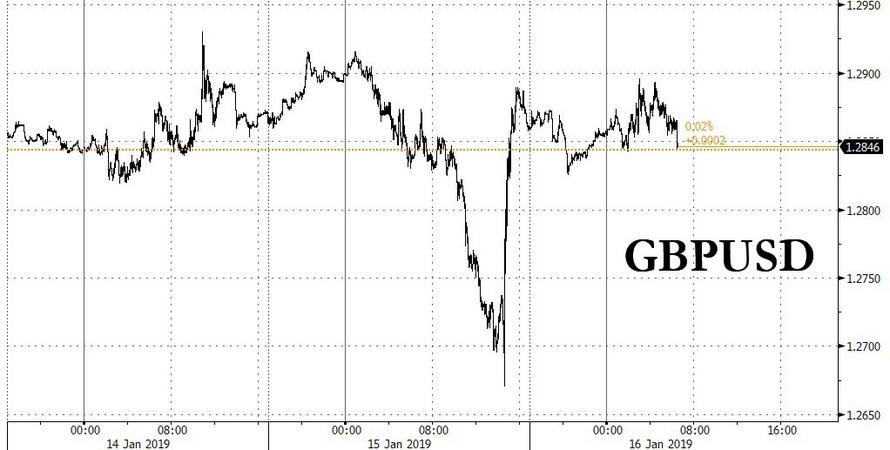 Earlier in the day MSCI's broadest index of Asia-Pacific shares outside Japan ticked up 0.2 percent, with South Korea's Kospi and Hong Long's Hang Seng both scaling six-week highs. Asian shares responded well to China's central bank injecting a record amount of money into the country's financial system. That underscored Chinese officials' commitment to signal more measures to stabilize a slowing economy.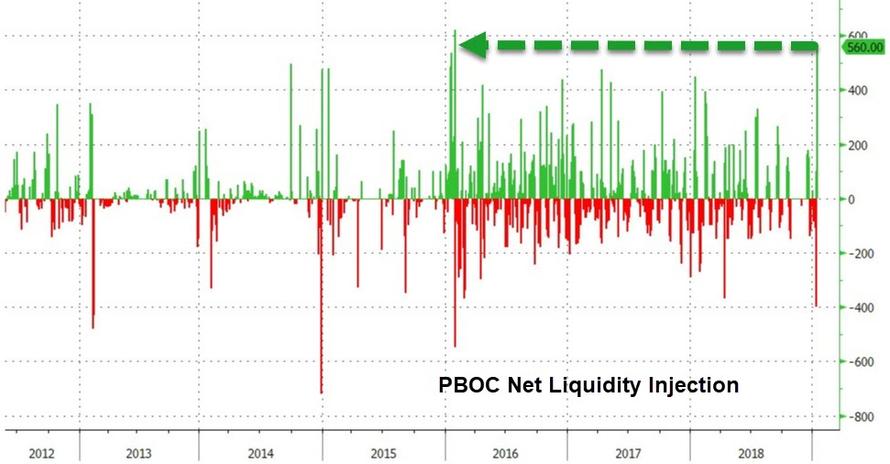 Global markets have drawn succor from the resumption of Sino-U.S. trade talks, though scepticism over the absence of detailed progress was underlined overnight as the U.S. trade representative that he did not see any progress made on structural issues during U.S. talks with China last week.
May's government faces a no confidence vote on Wednesday after the shattering rejection left Britain's exit from the European Union in disarray. May is expected to survive the vote but investors see little sign of breakthrough on the Brexit impasse. As a result, they are increasing betting on Britain being forced to postpone its planned March 29 exit, though few have any clarity on what that would mean for the country in the longer run.
Markets had largely priced in the…

by Zero Hedge - January 16th, 2019 4:38 am
Courtesy of Zero Hedge
A few weeks after Citi unexpectedly announced that it was facing a $180 million loss on a loan to an Asian hedge fund which saw major losses on its FX trades, now it's BNP Paribas turn: the French bank reportedly lost $80 million in derivative trades linked to the S&P500-linked derivative trades late last year, Bloomberg reports.
In what appears to be a junior, if even more entertaining version of Jerome Kerviel's infamous SocGen blow up which forced the shocked Fed to cut by 75bps to avoid a crash, the trading loss emerged after Antoine Lours, BNP's head of US index trading, put on positions on the S&P 500 which then quickly started losing money; amusingly, Lours has yet to return to the bank from his Christmas vacation even though the majority of the S&P-linked losses came over several days in the run-up to the holiday. Having seen Kerviel's fate, he may decide to never come back.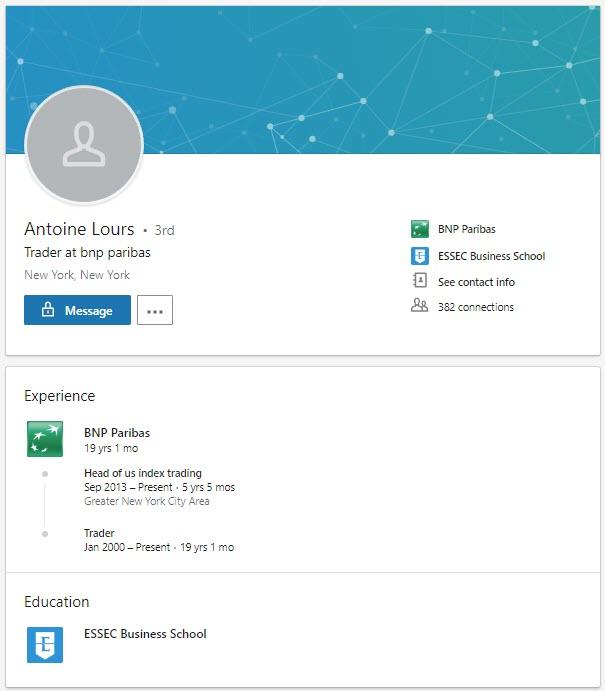 Lours, who was confident enough in his trade, decided to leave for vacation after putting the trade on when said trade began losing large amounts of money as the S&P 500 tumbled. As a reminder, the S&P plunged in the days headed into Christmas, suffering the worst ever "Christmas Eve Massacre" in history shortly after Steve Mnuchin announced he was calling the Plunge Protection Team to stabilize markets. It only made things worse.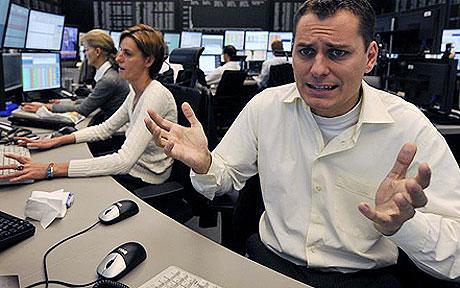 Understandably, Lours didn't respond to a Bloomberg request for comment made through his LinkedIn account, and a colleague at his desk in New York said the trader was strangely not in the office this week. We would not hold our breath for him to come back… ever.
Needless to say, the losses won't help BNP's trading division, which has been seeking to revive growth as the bank focuses on improving the investment-banking unit as a whole. As Bloomberg wryly notes, Q4 trends at rival firms aren't encouraging for the French bank, either: Citigroup Inc. and JPMorgan Chase & Co. both posted plunging bond-trading revenue this week.
Finally, adding insult to injury, the…

by Zero Hedge - January 16th, 2019 4:15 am
Courtesy of ZeroHedge. View original post here.
Israel has confirmed it is in extensive talks with Egypt to build a new sub-sea natural gas pipeline between the two countries as part of a previously agreed $15 billion deal to export Israeli gas to Egypt over a decade. Most significant is that the new line would hugely expand Israel's export capacity to its southern Arab neighbor, taking it far beyond the maximum 7 billion cubic meters per year currently able to flow through the existing EMG pipeline to Sinai.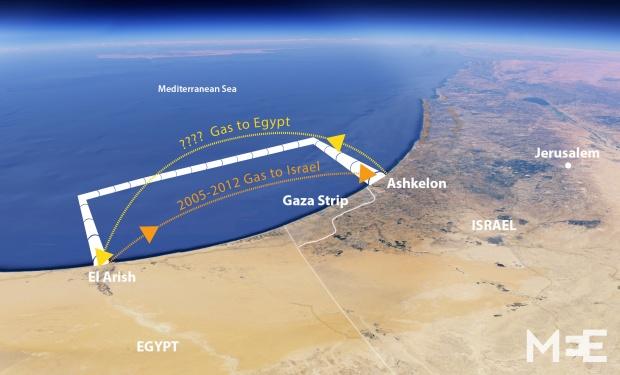 Israeli Energy Minister Yuval Steinitz proclaimed the ambitious project under negotiation to be part of broader "efforts to transform the eastern Mediterranean into an energy export hub on the doorstep of Europe," according to Bloomberg.
"There's no final decision yet, but there are talks," Steinitz told Bloomberg while attending the Cairo-sponsored first East Mediterranean Gas Forum, a cooperative forum aimed at expanding east Mediterranean energy transformation and joint ventures.
Notably, oil ministers from Israel, Greece, Egypt, Cyprus, Jordan, Italy, and the Palestinian Authority took part, and are set to participate again at another meeting in April. Reporting from the conference, Bloomberg described a common agreed upon goal "to work together to monetize reserves by using existing infrastructure and adding more capacity."
Also significant is that this marks the first time an Israeli energy minister has visited Egypt since 2011, when "Arab Spring" demonstrations eventually brought down Hosni Mubarak, ushering in uncertainty and chaos, including brief Muslim Brotherhood rule, which for the first time brought the future of Egypt's peace treaty with Israel into question. 
Steinitz described further to Bloomberg that, "Construction could begin as early as next year on the pipeline that would transport gas from Israel's offshore Leviathan and Tamar fields to Egypt's existing liquefied natural gas plants for processing and re-export."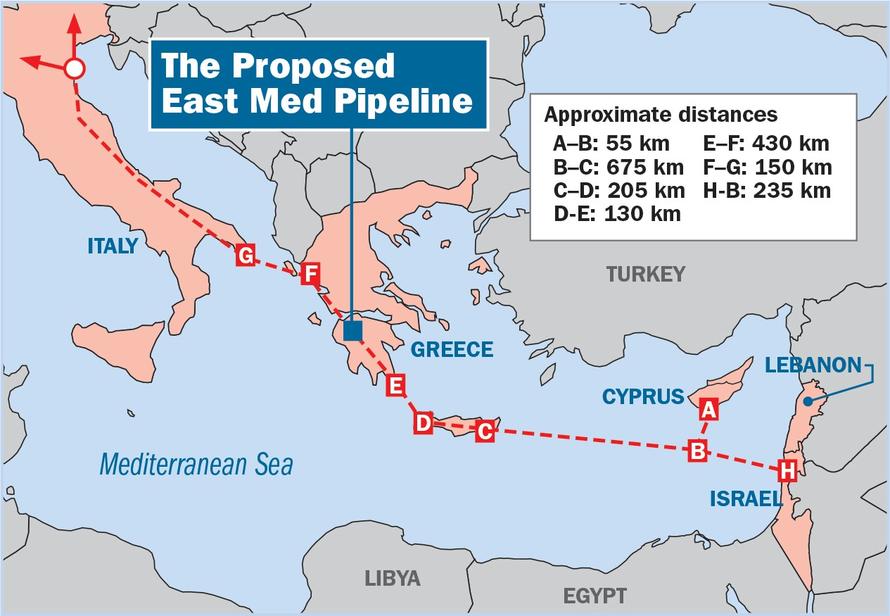 The underground, sub-sea pipeline is proposed to connect Israel, via Cyprus, to Greece and Italy, in a massive construction project estimated to take five or six years to complete, with work to begin as early as next year. 
The transformation of the eastern Mediterranean into an "energy hotspot" could have huge…

by Zero Hedge - January 16th, 2019 1:00 am
Courtesy of ZeroHedge. View original post here.
While president Trump is cracking down on Chinese technology theft "transfer" in the US, with Canada somehow caught in the middle of the ongoing crossfire (as random Canadians are now getting arrested on the mainland in retaliation for Trump's aggressive practices), it has emerged that China's Belt and Road initiative may be nothing more than one giant, global tax fraud/trade laundering operation.
Take Greece for example, where the European Union's Anti-Fraud Office (OLAF) just issued a fine of more than 200 million euros to Greece for failing to stop a wide-scale tax fraud by Chinese criminal gangs importing ultra-cheap goods through the country's largest port of Piraeus, Politico reported on Monday.
The Chinese criminal network, which took advantage of Greece's arguably most valuable asset, the port of Piraeus which has been dubbed "China's Gateway into Europe", dodged import duties and value-added tax on imported footwear and clothing items, and represents merely the latest "loophole" that Chinese criminals utilize to bypass China's draconian firewall.
"OLAF can confirm that it has concluded an investigation concerning the fraudulent import of undervalued textiles and shoes into Greece in the period 1 January 2015 to 31 May 2018," OLAF was quoted as telling Politico in a statement when asked on the investigation it had conducted.
"Based on its findings, OLAF has issued a financial recommendation to Greek Customs to recover the sum of 202.3 million euros in lost customs duties related to the fraudulently under-declared values for such products," it added.
Piraeus is part of China's Belt and Road infrastructure project; it was acquired by China's COSCO Shipping, the largest shipping company in the world, in 2016 when the Chinese shipping giant acquired a 51% stake. This cemented the entrepôt's significance to the future of Sino-European trade and its critical position on China's Maritime Silk Road as China's critical hub into the Mediterranean Sea and from there, into the Atlantic Ocean and beyond.
As Altay Alti, associate professor at Turkey's Koç University affirmed: 'Piraeus has become a gate of entry into the European market for the Chinese.' Indeed, this is no secret and is highlighted as a main priority in the port authority's strategic plan.
The Port of Piraeus and the surrounding regions have…

by Zero Hedge - January 15th, 2019 11:05 pm
Courtesy of ZeroHedge. View original post here.
YouTube star Alejandro Salmondrin was devastated after his 789 horsepower McLaren Sienna caught fire after just 11 days of ownership and 400 miles under its belt.
A former Hollywood filmmaker turned supercar blogger and entrepreneur, Salmondrin has a giant social media footprint with over 1.5 million YouTube subscribers and over a million on Instagram.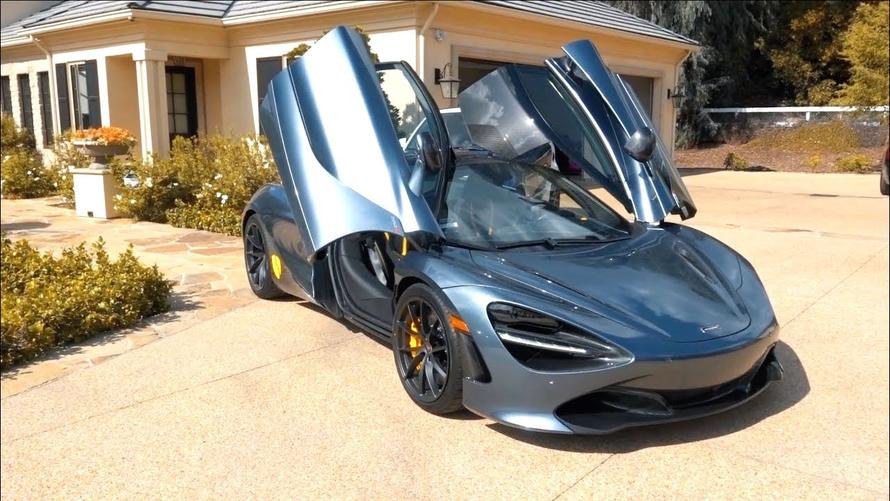 While driving with his wife one night in October, Salmondrin noted flames coming out from underneath his Sienna which he says he paid $1 million dollars for (a "market adjustment" on top of a MSRP of $837,000). He dropped the car into neutral, pulled over, tried to put the fire out with a bottle of water, and then whipped out his camera to film it melting to the ground.
Watch:
The aftermath: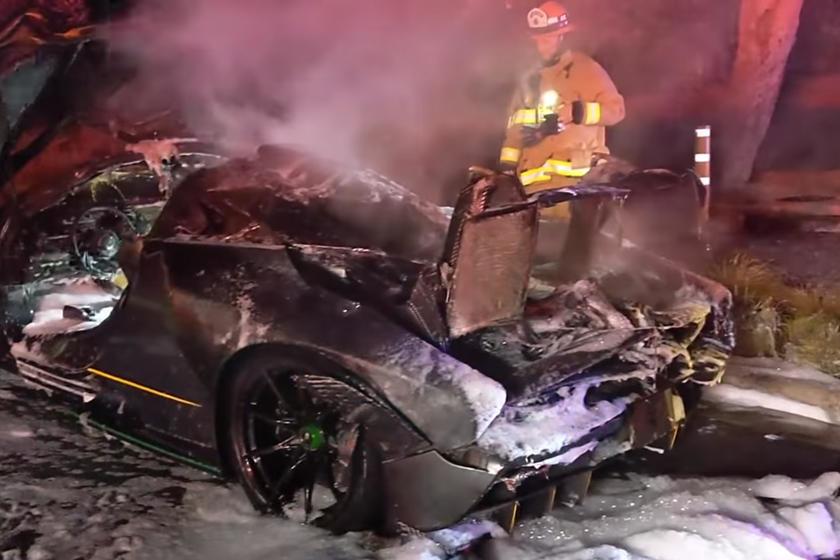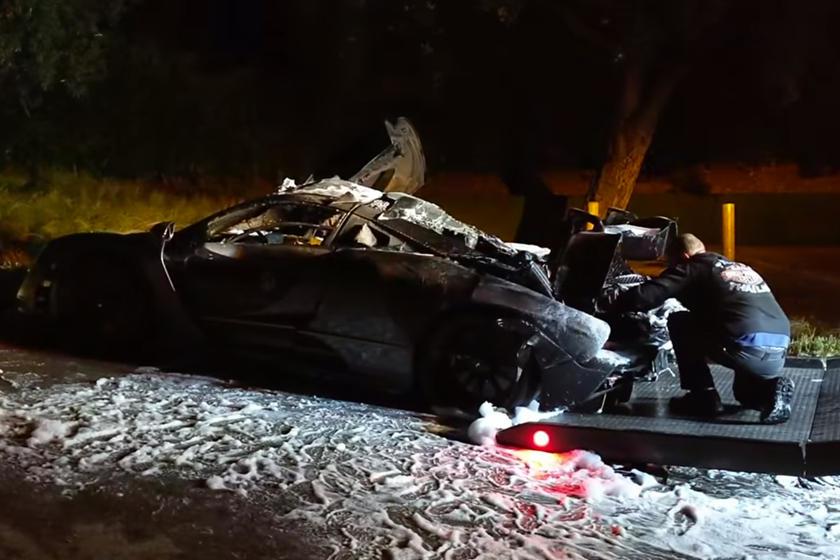 Here's the McLaren's last drive before the fire:
Salmondrin made a blog post about the incident:
I've gotten a lot of questions from you and to me the most notable ones are:
1 – HAS MCLAREN REACHED OUT TO YOU?
Yes, I messaged a few of the principals at first, because I was interested in getting another car and to make them aware of the problem but NOT A SINGLE question has been made about the incident.
This worries me a lot, because I'm not sure what the process is like in a situation like this. But I would assume you want to learn more about the cause of the accident to perhaps stop other cars from having the same problem and putting lives at risk. I could be totally wrong and this is 'standard procedure'.
2 – Will insurance or warranty cover you?
I'm the first registered owner of the car, but I did pay the market adjustment on top of the actual price of the car. However, I insured the car for the value of what I paid…