Posts Tagged 'David Koch'
by ilene - March 10th, 2011 1:46 am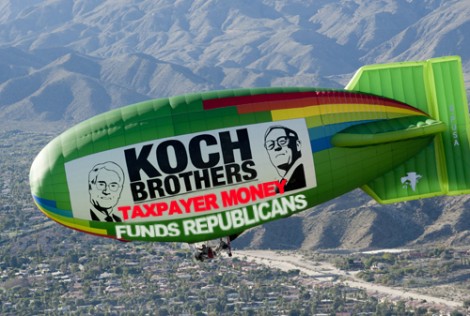 Why are American taxpayers forced to subsidize the billionaire Koch brothers' massive campaign contributions to Republican Party politicians, the Tea Party movement, and policies that ensure greater subsidies to the Kochs, while cutting more public services to the taxpayers who fund the Kochs' business and political activities?
It is an important question, but not one you'll hear discussed much by our political class. Instead, right-wing pundits whinge endlessly about the public sector union bosses' evil schemes to shake down taxpayers for union dues that eventually flow towards the Democratic Party. Here, for example, is Michael Barone, American Enterprise Institute resident fellow and senior Moonie political analyst, complaining in the Washington Examiner last week:
Follow the money, Washington reporters like to say. The money in this case comes from taxpayers, present and future, who are the source of every penny of dues paid to public employee unions, who in turn spend much of that money on politics, almost all of it for Democrats. In effect, public employee unions are a mechanism by which every taxpayer is forced to fund the Democratic Party.
Okay, fine, you're serious about not wanting taxpayer dollars going to finance partisan political campaigns. But before we start talking about public sector unions, let's test this: if think-tank jockeys like Barone are genuinely concerned with saving taxpayers' money, would they extend this concern to the fake private sector (i.e.: the publicly-funded private sector)? Would they be in favor of demanding that publicly subsidized billionaires like Charles and David Koch stop funneling money to fund corrupt Republicans and Tea Party campaigns as long as they keep sucking billions in taxpayer subsidies?
Fair is fair, right?
The Kochs could start by giving up the $1 billion their biofuels division is scheduled to receive in 2011 alone. That's $1 billion in savings from just one of many massive taxpayer subsidies the Kochs profit from. Not only will that help balance the budget, but taxpayers will no longer be forced to watch helplessly as their hard-earned money is used to fund radical right-wing Tea Party Republicans or is spent on causes that deny Americans the same universal health care that every other First World country offers its citizens.
This talk about Koch Industries being a huge beneficiary of taxpayer money might come as a surprise—especially to all the gullible Tea Party libertarians who believe the Kochs actually…

by ilene - February 28th, 2011 1:24 pm
The really sad story is that this is what our political system has become. It has nothing to do with representing the people and working on their behalf. Obviously, to anyone who is not a corrupt and lying a******, something needs to be changed dramatically if our country is ever going to reclaim its greatness. – Ilene
The call made by a Buffalo blogger pretending to be billionaire right-wing activist David Koch to Wisconsin Governor Scott Walker is quickly making an impact on the news cycle. (You can listen to the call on YouTube: Part 1 | Part 2.)

Walker is extremely frank with the man he believes to be an important financial supporter, both of his own campaign and right-wing causes. Below are the six most important revelations we learn from listening to the Governor speak his mind.

1. Walker and the Senate Republicans are conspiring to withhold Democratic lawmakers' paychecks.

A minute into the call, Governor Walker describes a plan by the Senate Majority Leader to institute a new rule that would stop automatic deductions of lawmakers' paychecks if they do not appear in the Senate for more than two days. It would require lawmakers to appear in person to collect their checks.

Walker describes this as part of a plan he is working on with GOP Senators: "Each day, we're going to rachet this up a little bit."

2. Walker sees billionaire David Koch as "one of us."
Read the rest here: Jesse Berney: Top Six Revelations in the Call Between Fake David Koch and Governor Scott Walker.
by ilene - August 31st, 2010 1:33 am
The billionaire brothers who are waging a war against Obama.
Excerpts:
DiZerega, who has lost touch with Charles [Koch], eventually abandoned right-wing views, and became a political-science professor. He credits Charles with opening his mind to political philosophy, which set him on the path to academia; Charles is one of three people to whom he dedicated his first book. But diZerega believes that the Koch brothers have followed a wayward intellectual trajectory, transferring their father's paranoia about Soviet Communism to a distrust of the U.S. government, and seeing its expansion, beginning with the New Deal, as a tyrannical threat to freedom. In an essay, posted on Beliefnet, diZerega writes, "As state socialism failed . . . the target for many within these organizations shifted to any kind of regulation at all. 'Socialism' kept being defined downwards."
Members of the John Birch Society developed an interest in a school of Austrian economists who promoted free-market ideals. Charles and David Koch were particularly influenced by the work of Friedrich von Hayek, the author of "The Road to Serfdom" (1944), which argued that centralized government planning led, inexorably, to totalitarianism. Hayek's belief in unfettered capitalism has proved inspirational to many conservatives, and to anti-Soviet dissidents; lately, Tea Party supporters have championed his work. In June, the talk-radio host Glenn Beck, who has supported the Tea Party rebellion, promoted "The Road to Serfdom" on his show; the paperback soon became a No. 1 best-seller on Amazon. (Beck appears to be a fan of the Kochs; in the midst of a recent on-air parody of Al Gore, Beck said, without explanation, "I want to thank Charles Koch for this information." Beck declined to elaborate on the relationship.)
[...]
As their fortunes grew, Charles and David Koch became the primary underwriters of hard-line libertarian politics in America. Charles's goal, as Doherty described it, was to tear the government "out at the root." The brothers' first major public step came in 1979, when Charles persuaded David, then thirty-nine, to run for public office. They had become supporters of the Libertarian Party, and were backing its Presidential candidate, Ed Clark, who was running against Ronald Reagan from the right. Frustrated by the legal limits on campaign donations, they contrived to place David on the ticket, in the Vice-Presidential slot; upon becoming a candidate, he could lavish…