Posts Tagged 'free markets'
by ilene - August 15th, 2010 5:29 pm
Courtesy of Jim Quinn of The Burning Platform
"Men, it has been well said, think in herds; it will be seen that they go mad in herds, while they only recover their senses slowly, and one by one." – Charles Mackay - Extraordinary Popular Delusions and The Madness of Crowds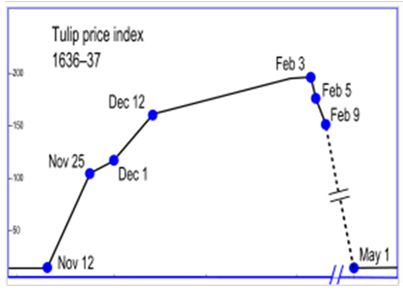 The American public thinks they are rugged individualists, who come to conclusions based upon sound reason and a rational thought process. The truth is that the vast majority of Americans act like a herd of cattle or a horde of lemmings. Throughout history there have been many instances of mass delusion. They include the South Sea Company bubble, Mississippi Company bubble, Dutch Tulip bubble, and Salem witch trials. It appears that mass delusion has replaced baseball as the national past-time in America. In the space of the last 15 years the American public have fallen for the three whopper delusions:
Buy stocks for the long run
Homes are always a great investment
Globalization will benefit all Americans
Bill Bonner and Lila Rajiva ponder why people have always acted in a herd like manner in their outstanding book Mobs, Messiahs, and Markets: Surviving the Public Spectacle in Finance and Politics
:
"Of course, we doubt if many public prescriptions are really intended to solve problems. People certainly believe they are when they propose them. But, like so much of what goes on in a public spectacle, its favorite slogans, too, are delusional – more in the nature of placebos than propositions. People repeat them like Hail Marys because it makes them feel better. Most of our beliefs about the economy – and everything else – are of this nature. They are forms of self medication, superstitious lip service we pay to the powers of the dark, like touching wood….or throwing salt over your shoulder. "Stocks for the long run," "Globalization is good." We repeat slogans to ourselves, because everyone else does. It is not so much bad luck we want to avoid as being on our own. Why it is that losing your life savings should be less painful if you have lost it in the company of one million other losers, we don't know. But mankind is first of all a herd animal and fears nothing more than not being part of the herd."
Stocks for the
…

by ilene - June 20th, 2010 5:15 pm
Courtesy of Mark Thoma, Economist's View
There's been a lot of speculation about the motives of the Austerians — those who want to begin balancing budgets now because they believe that's what markets want. For example, Paul Krugman attributes it, in part, to
moralizing and posturing. Germans tend to think of running deficits as being morally wrong, while balancing budgets is considered virtuous, never mind the … economic logic. "The last few hours were a singular show of strength," declared Angela Merkel … after a special cabinet meeting agreed on the austerity plan. And showing strength — or what is perceived as strength — is what it's all about.
But there is another argument based upon the notion of "never let a crisis — or the manufactured threat of one — go to waste." This is an opportunity to "starve the European Beast" in the eyes of many European conservatives, and there are those who are using the "that's what markets want" argument as cover for an ideological agenda:
The spectre of laissez-faire stalks Britain, by Jeremy Seabrook, CIF: The relish with which David Cameron announced that our whole way of life would be affected for years by impending cuts, and no one in the land would be exempt from the asperities about to be inflicted, suggested to many that he and his fellow cabinet-millionaires will probably weather the coming storm better than the rest of us.

His parade of Margaret Thatcher, who resembled nothing so much as a faded kabuki performer, outside 10 Downing Street, was also highly symbolic. It was a redemptive moment, the "ultimate" triumph of policies she advocated (but did not entirely follow) 30 years ago. It exhibited the qualities of purification ritual, reversion to a more severe form of capitalism; and in the process a transformation of nanny state into stepmother state.

Nick Clegg's pious assertion that cuts would be fair and compassionate was at odds with Cameron's gusto, which is familiar enough in Conservative rhetoric: Cameron confronting an overweening state, which will be shrunk so the private sector might flourish once more. When he said the effects of his policies would be felt for decades to come, he meant something more than a mere diminution of the structural deficit. He admitted as much…

While cutting back big government may appear a
…

by ilene - May 1st, 2010 9:36 am
Courtesy of Tyler Durden
Eric King reports the breaking news that in a letter obtained by Ted Butler, the DOJ's Antitrust department is considering launching an investigation into silver market manipulation by JP Morgan. Should an announcement of a full formal probe of manipulation by JPM follow, it would be tantamount to a confirmation of what numerous individuals have been claiming over the years, that JP Morgan, the LBMA, the CFTC, various banks, and even that kindly old grandpa who was so much against derivatives except when he was about to lose money as a result of regulation that he is spending the whole weekend telling his investors in Omaha to run, not walk, to Borsheim's, and buy all their massively overpriced trinkets (you can't be a quadrillionaire without first being a trillionaire), are nothing but a borderline criminal cabal that traffics in wealth extraction courtesy of a few monopolist players. As Eric King discloses in its letter the Anti-Trust division announces that "it will carefully consider the issue of silver market manipulation by JP Morgan and other traders. Generally the CFTC investigates these types of market manipulations. However, the suggestion that JPMorgan Chase may be signaling other traders, warrants further analysis. The DOJ will carefully consider the issue you raise, and you can be assured that if we conclude that silver traders have engaged in anti-competitive conduct, we will take appropriate enforcement action."
Ted Butler, always cutting to the point, says: "It's about time a major government organization stepped up to end what has been a very serious crime in progress that has basically covered two decades…[JP Morgan's] level of concentration only exists in the silver markets. Concentration is the hallmark of manipulation or a monopoly. Our markets are supposed to be free markets, they are not supposed to be controlled by anybody. Right now the silver market is a monopoly, the chief monopolist is JP Morgan, and the only entity that can step up to JPM is the Antitrust division of the DOJ…If you want to put it into perspective, more important and more serious than what is currently happening with Goldman Sachs. This is a crime in progress, this is an allegation of current market manipulation. This is as serious as you get. You don't get bigger than market manipulation."
And, as a scheduled daily reminder to Christine Varney: if you are evaluating JP Morgan…

by ilene - January 31st, 2010 1:31 pm
"At Davos, the Globalizers Are Gone," is an excellent article by Ian Bremmer, and in sharp contrast to another excellent article I posted yesterday by George F. Smith writing at Mises Daily, By the Way, Free Markets Are Free. I would submit that the ideals of a truly free market are an illusion because we do not have the political system and laws framed in such a way as to support a truly free market system. We cannot go straight to free market remedies because we cannot dispense with the need for a functional, non-corrupted, political and legal system – laws constraining freedom – to provide the framework in which a free market can operate. And hence, "free" is not completely free and it can't be. – Ilene
Courtesy of Michael Panzner at When Giants Fall
Say what you will, but one reason why globalization has had the traction it has up until recently, despite anecdotal and other evidence that it has not lived up to many of the promises of its proponents, is because of the support of the movers and the shakers. In America and elsewhere, corporate executives and other powerful interests have used their money and influence to ensure that policymakers were not swayed to move in a different direction. But the times are a-changin'. As foreign policy expert Ian Bremmer notes in a commentary for the Washington Post, "At Davos, the Globalizers Are Gone," some of the biggest supporters of unfettered cross-border trade and free markets, no doubt shaken by the events of the past two years, seem to have lost their mojo.
For 40 years there's been a consensus view at the Davos World Economic Forum that globalization's increasingly free cross-border flow of ideas, information, people, money, goods and services is both irreversible and a powerful force for prosperity. As with meetings of the G7 group of industrialized nations, there was broad agreement on the proper role for the state in the performance of markets. Sure, a French cabinet official and an American investment banker might spar over the relative merits of state paternalism and Anglo-Saxon labor laws, but the bargaining table was still reserved for champions of Western-style free market capitalism.

Davos has always had its critics. For those who believe globalization empowers the rich at
…

by ilene - October 16th, 2009 12:04 pm
To make an analogy with the living body – growth is good. Nutrition and a healthy environment are vital for healthy cells growing in a healthy organism. Cancer – uncontrolled, excessive growth of a renegade line of cells – is not good. One way or another, it kills the whole system. Greed in an economic/political system is like cancer in a living being. – Ilene
Courtesy of Edward Harrison at Credit Writedowns
In the 1987 movie classic Wall Street, the sinister protagonist Gordon Gekko played by Michael Douglas gives this famous quote:
In the last seven deals that I've been involved with, there were 2.5 million stockholders who have made a pretax profit of 12 billion dollars. Thank you. I am not a destroyer of companies. I am a liberator of them! The point is, ladies and gentleman, that greed, for lack of a better word, is good. Greed is right, greed works. Greed clarifies, cuts through, and captures the essence of the evolutionary spirit. Greed, in all of its forms; greed for life, for money, for love, knowledge has marked the upward surge of mankind.
Since that time, this quote has become famous as the "Greed is Good" philosophy of capitalism. Gekko symbolizes an era in which it is believed that the free hand of market capitalism will steer the economy efficiently and effectively with little need for government intervention or regulatory oversight. Instead, so the theory goes, we are each allowed encouraged to pursue our manifest destiny of getting filthy rich. Screw everybody else.
Well, let me tell you something greed is not good. Greed is corrosive and it is tearing at the very fabric of our democracy. A generation ago most people in America worked for a few institutions in their lifetimes. Many had employer-paid healthcare and employer-financed defined benefit pension plans.
But, since the 1980s the moorings have come off and set us adrift in a world of economic insecurity.
…